Together with the awesome rides, wonderful characters and amazing themed lands, there are also a lot of delicious snacks served in Hollywood Studios! From Star Wars-themed delights to colorful Toy Story treats, here's our guide to the best snacks at Hollywood Studios in Walt Disney World!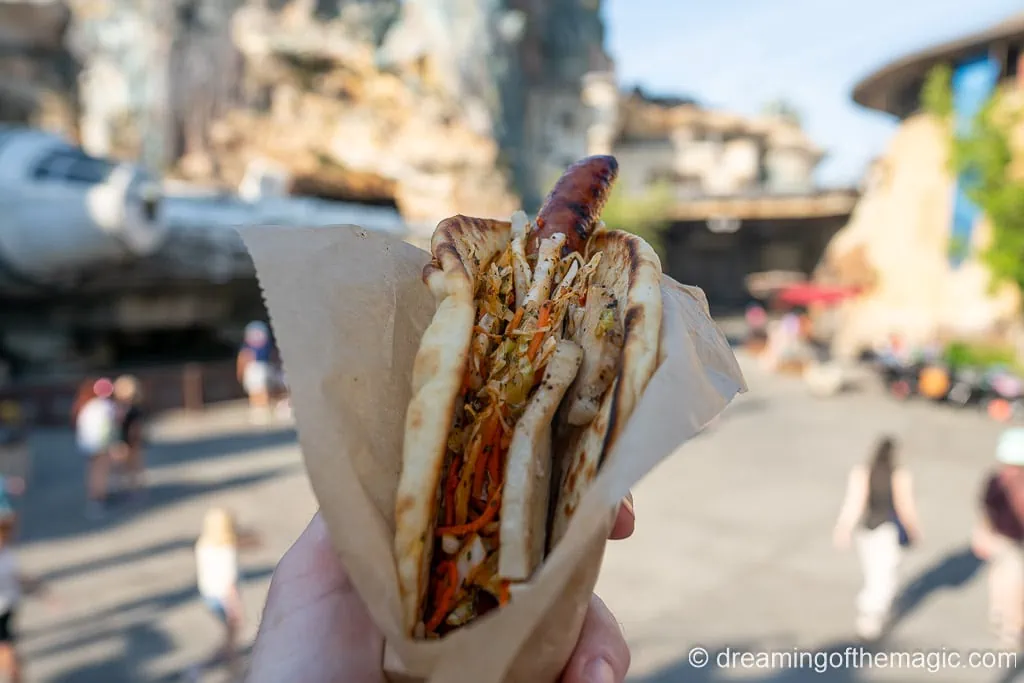 11 Best Snacks in Hollywood Studios
We've included our 11 favorite snacks (and beverages!) in Hollywood Studios. We've grouped them by location so they are easy for you to locate in the park, otherwise, they are in no particular order – all 11 snacks are equally awesome and worth sampling!
Toy Story Land
In the land where guests shrink to the size of a toy in Andy's backyard, the snack offerings are fun, colorful and delicious!
1 |Totchos
Location: Woody's Lunch Box in Toy Story Land
Menu Description: Potato Barrels coated with Beef and Bean Chili, Shredded Cheese and signature Queso with Tomatoes and Corn Chips finished with Sour Cream and a sprinkle of Green Onions
With awesome theming and fun food, Woody's Lunchbox is one of our favorite places to eat in Hollywood Studios and their Totchos are one of our go to snacks. A cross between nachos and tater tots, the loaded potato barrels totally hit the spot for an afternoon snack. A plant-based version is also available and is loved by our dairy-free child.
Best snacks Hollywood Studios: Woody's Lunch Box is extremly popular but don't be deterred by the long lines – the service is extremely fast and the line moves really quickly. You can also mobile order to save time.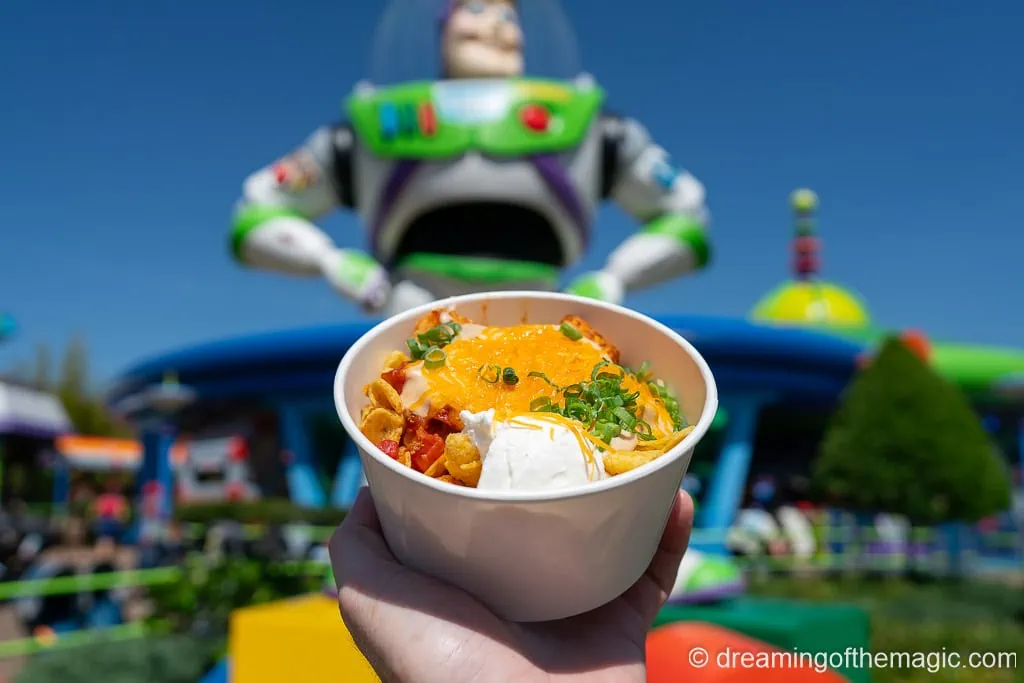 2 | Raspberry Lunchbox Tarts
Location: Woody's Lunch Box in Toy Story Land
Menu Description: Raspberry Marmalade stuffed Pastry coated in a Strawberry Fondant and Crispy Pearls
Another Woody's Lunch Box offering, this time it's a sweet treat in the form of Raspberry Lunchbox Tarts. They are remarkably similar to a Pop Tart: a raspberry marmalade is sandwiched between layers of puff pastry and topped with a strawberry fondant and crispy pearls.
It's a fun and filling snack and looks beautiful in photos!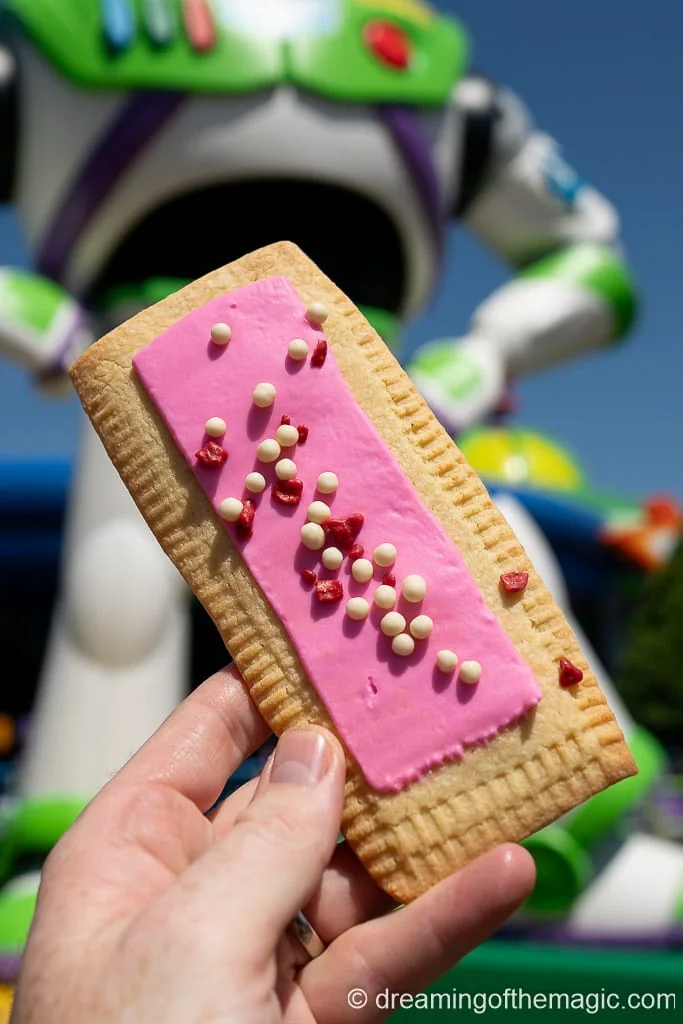 Pixar Plaza
Just off the entrance to Toy Story Land, Pixar Plaza celebrates Pixar favorites The Incredibles and Monsters Inc and is home to a delicious Incredibles-inspired snack.
3 | Jack-Jack's Num Num Cookie
Location: Neighborhood Bakery, Market
Menu Description: Warm, Crunchy but Gooey Chocolate-Chip Cookie Tart
Having absolutely loved Jack-Jack's Num Num Cookie in Disneyland California, we were so excited to find this snack in Hollywood Studios! The Incredibles-inspired snack is served warm and is deliciously gooey with generous chocolate chips. The cookies are huge and are a perfect snack to share.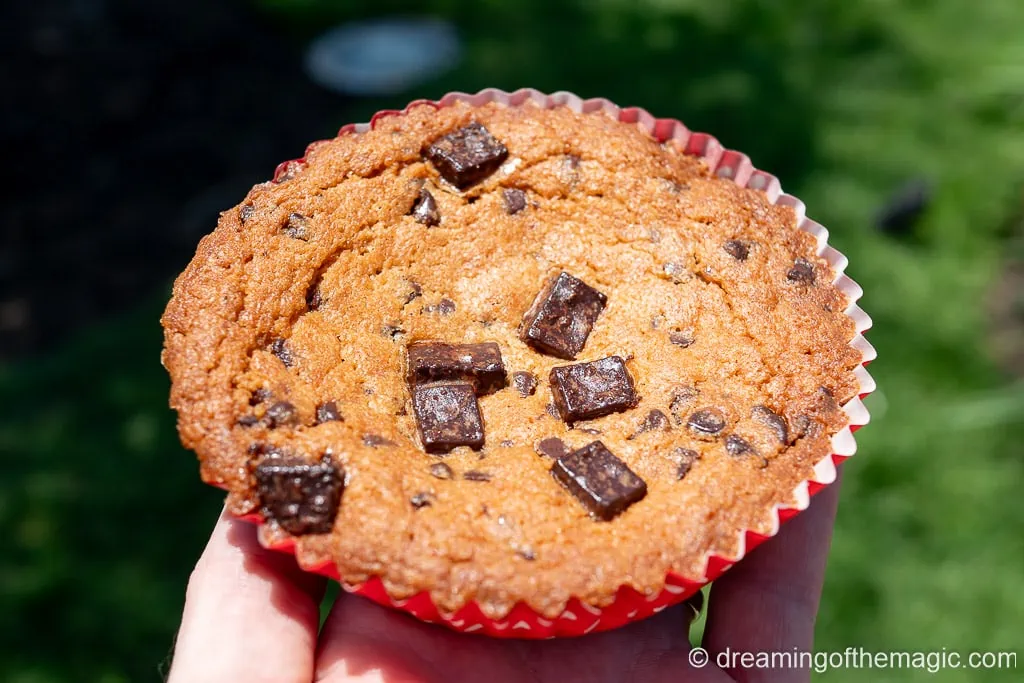 Star Wars: Galaxy's Edge
Transport yourself to the remote planet of Batuu in a land far, far away for these Star Wars-inspired snacks!
4 | Cold Brew Black Caf
Location: Kat Saka's Kettle in Star War's Galaxy Edge
Menu Description: Joffrey's Coffee™ Cold Brew topped with Sweet Cream Cheese and Chocolate Puffs (a spiked version is also available with Chocolate Liqueur)
Available in a regular or spiked version, this cold brew is an interesting mix of sweet and crunchy. Each sip is a delight with the sweetness of the cream cheese canceling out the bitterness of the cold brew with the bonus of chocolate puffs to munch on in between!
The spiked version, with chocolate liqueur, is our favorite and is incredibly easy to drink – likely because neither of us really notice the addition of the alcohol as it blends in so well with the other flavors!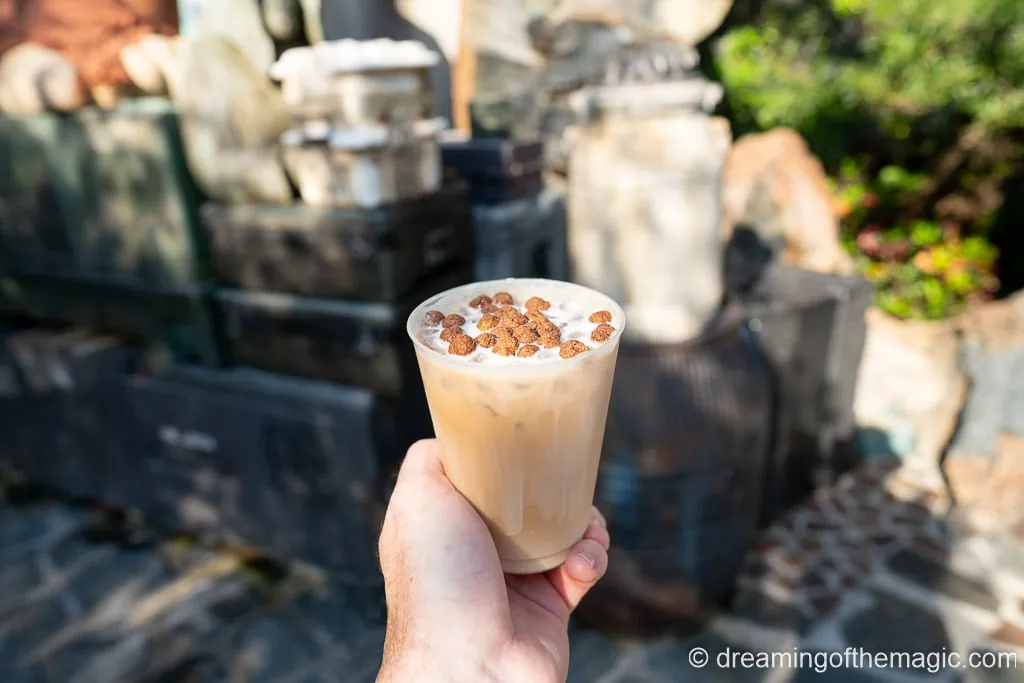 5 | Ronto Wrap
Location: Ronto Roasters in Galaxy's Edge
Menu Description: Roasted Pork, Grilled Pork Sausage, Peppercorn Sauce, and Tangy Slaw wrapped in Pita Bread
A must for meat lovers, the Ronto Wrap consists of roasted pork, grilled pork sausage, peppercorn sauce, and a tangy slaw wrapped in soft pita bread. The highlight is the tangy slaw which adds a lovely twist to the meat-heavy wrap.
Best snacks Hollywood Studios: if you are visiting during breakfast time make sure to ask for the regular Ronto Wrap – there is a also a Ronto Morning Wrap with eggs and cheese on the menu so you'll want to make sure to get the Ronto Wrap!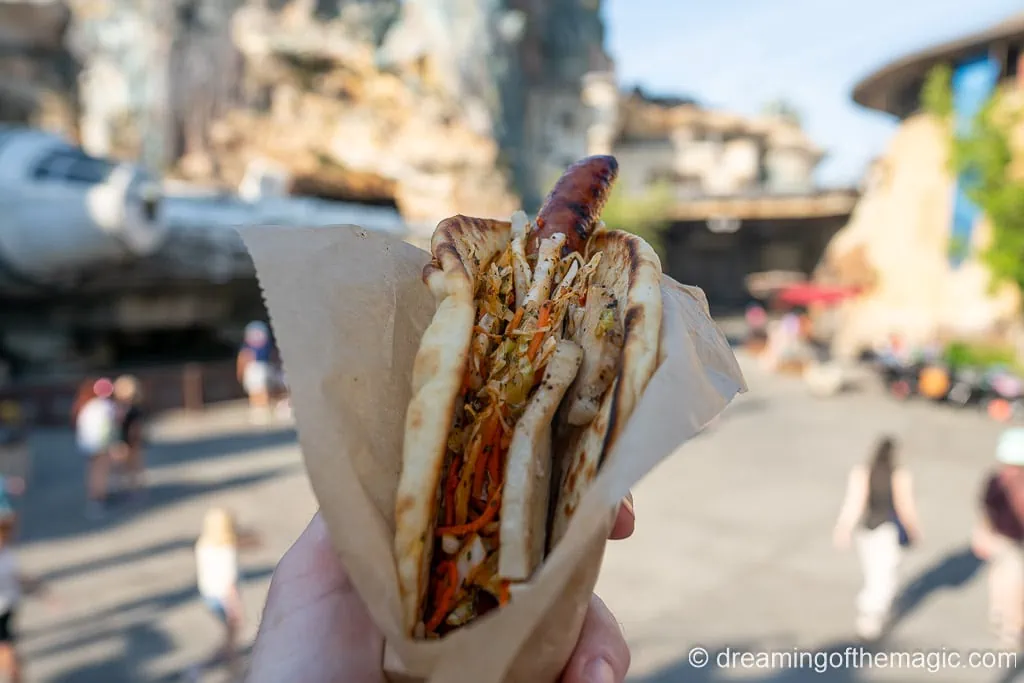 6 | Blue / Green Milk
Location: Milk Stand in Galaxy's Edge
A Galaxy's Edge signature drink, it's almost a Disney rite of passage to order Batuu's legendary blue or green milk from the Milk Stand. The milk is coconut and rice milk based – we think the blue milk tastes like blueberries, while the green is a more citrus, limey taste.
Both drinks have spiked options, with the possibility to add Bacardi rum to the Blue Milk and Tequila to the Green Milk.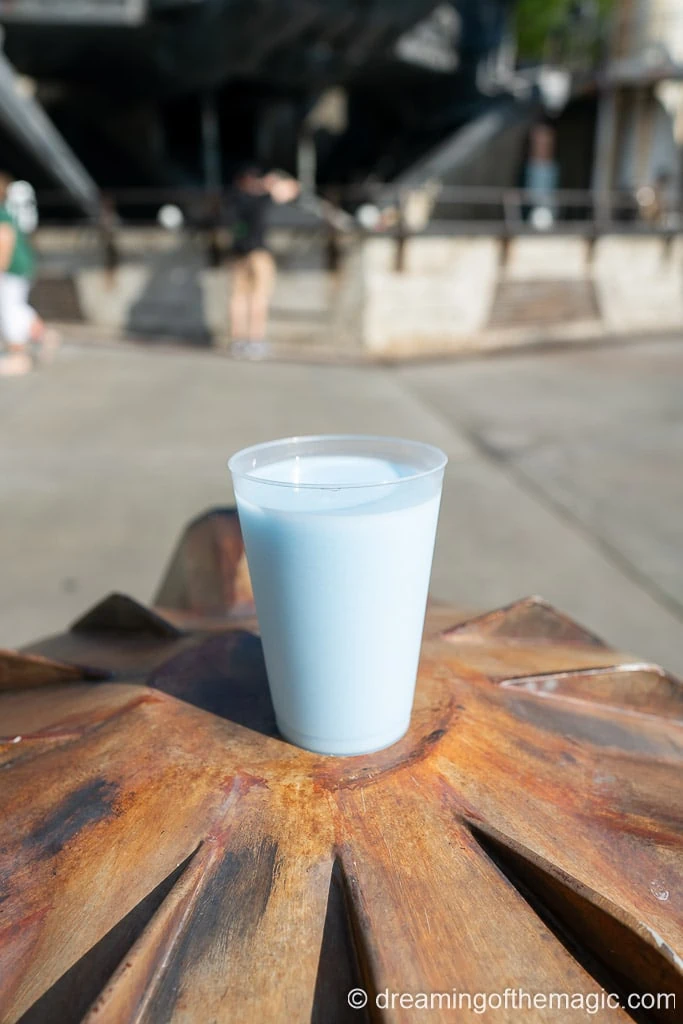 7 | Oga's Obsession
Location: Oga's Cantina
Menu Description: Minute Maid® Premium Lemonade, Cotton Candy Flavor, Blueberry Popping Pearls with a Bursting Dried Fruit Mixture
Oga's Cantina is the hottest reservation in Galaxy's Edge! The dimly lit watering hole has music courtesy of droid DJ R-3X, a former Starspeeder 3000 pilot, and the theming is beyond this world!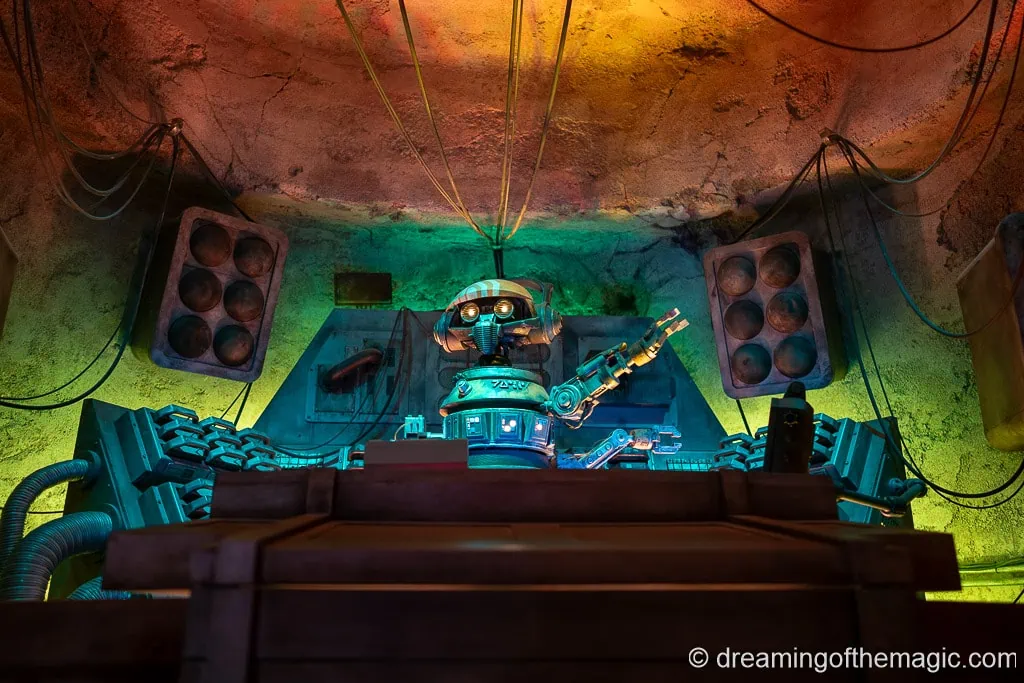 Our favorite cocktail is a Bespin Fizz, a red, fizzy number served with a cloud of steam. The snack menu is limited but Oga's Obsession is the stand-out must-try, especially for its entertainment value.
Oga's Obsession is pretty much Jello with Pop Rocks which we all agreed were the highlight and my science mad 5 year old insisted it was concocted in a laboratory! It's also a great snack to amuse the kids while mom and dad enjoy a cocktail!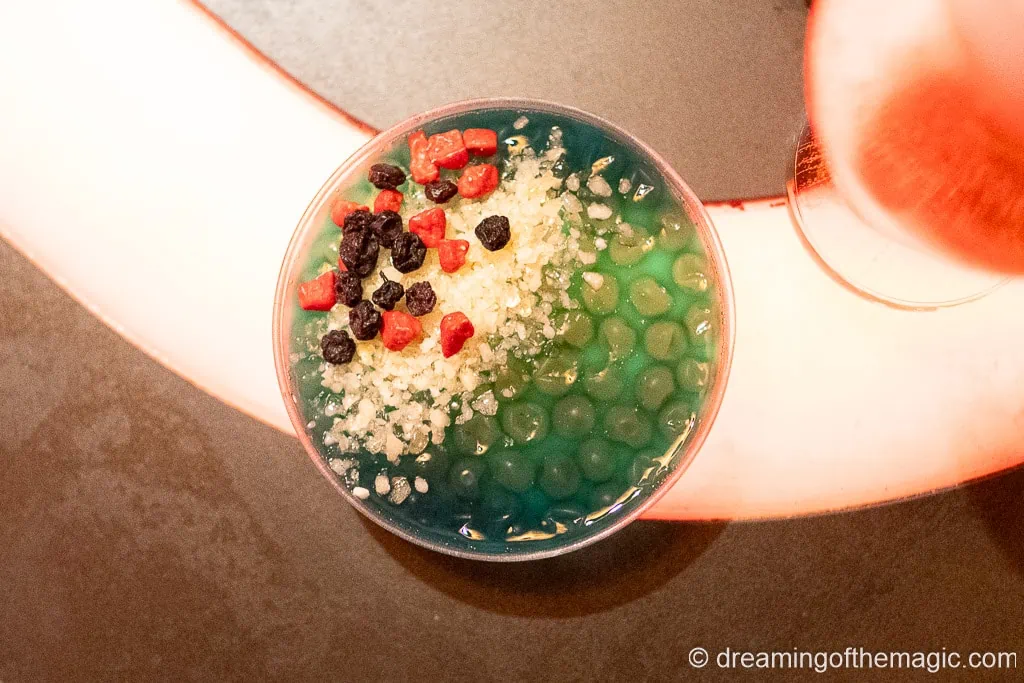 Best snacks in Hollywood Studios tip: Oga's Cantina is an extremely popular location in Walt Disney World so we'd definitely recommend reserving well in advance. Dining reservations typically open 60 days in advance at approximately 6am EST (plus resort guests can reserve in advance for the duration of their stay, up to 10 days maximum, 60 days out from the start of their reservation).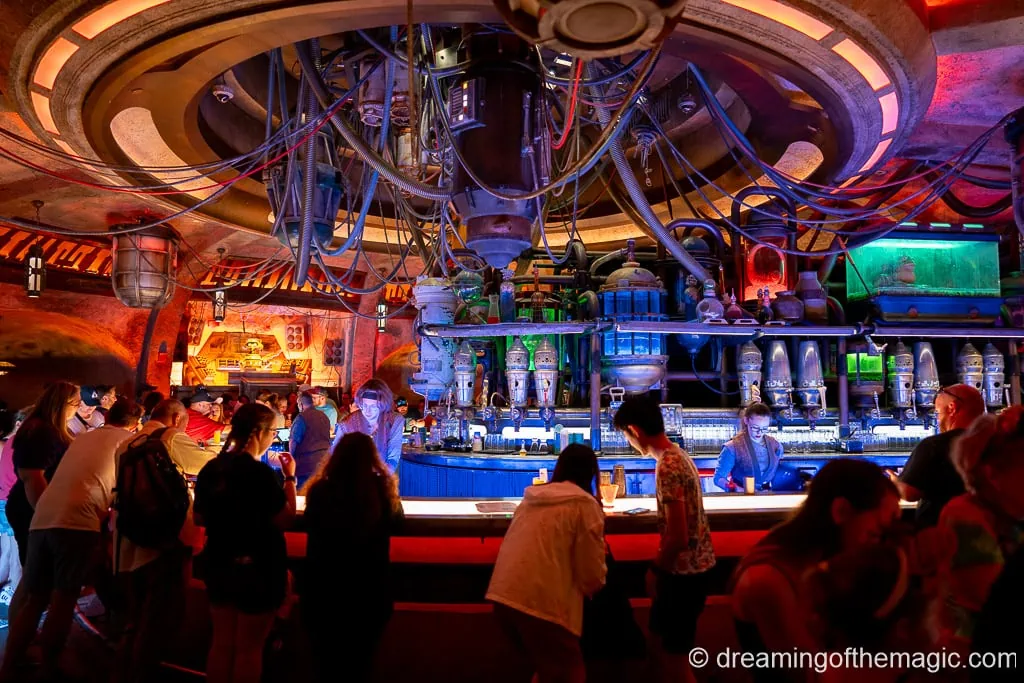 8 | Outpost Popcorn Mix
Location: Kat Sakas Kettle
Menu Description: a colorful blend of Sweet and Spicy flavors
A colorful serving of Outpost Popcorn Mix is the perfect accompaniment when exploring Black Spire Outpost. The eye-catching popcorn is a compelling mix of sweet and spicy (we love the spicy chili lime flavour) and it kind of reminds us a little of Fruit Loops!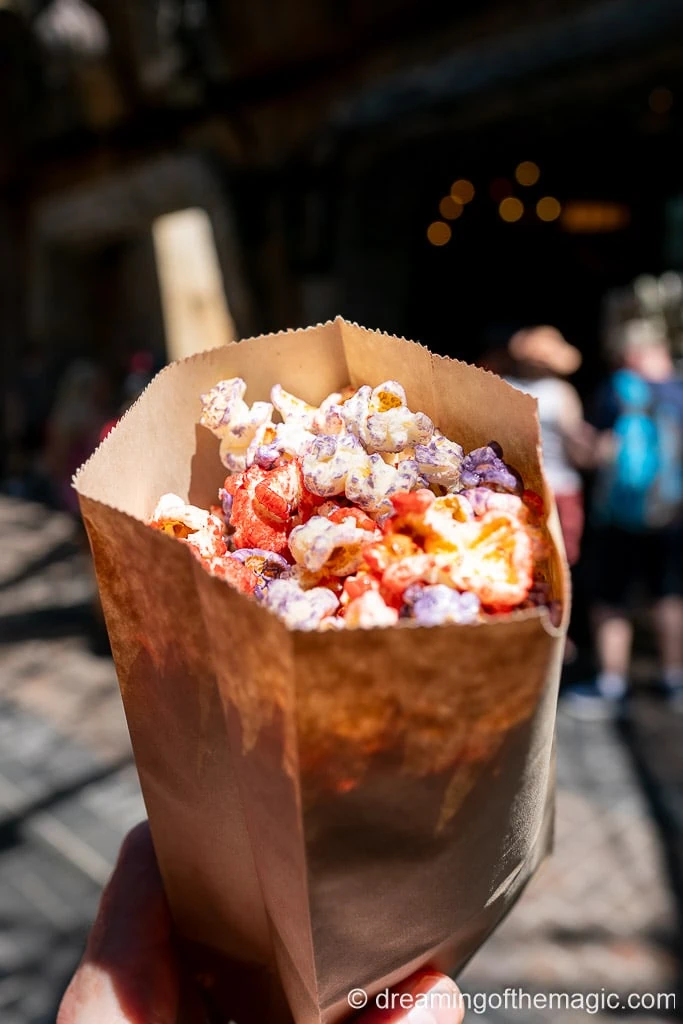 Grand Avenue
The LA style Grand Avenue is located close to the entrance of Star Wars Galaxy's Edge. It's home to Baseline Tap House, and a classic Disney snack, the giant pretzel.
9| Giant Bavarian Pretzel
Location: BaseLine Tap House
Menu Description: Bavarian Pretzel with Beer cheese fondue and Spicy Mustard
The Giant Bavarian Pretzel is everything a pretzel should be – fresh, warm, soft, salty and delicious. However, it is the beer cheese fondue that is the real superstar of this Hollywood Studios snack and we just can't get enough of this dipping sauce!
It is available from BaseLine Tap House which is one of our favorite spots for some time out in Hollywood Studios. Their craft beers and charcuterie board are also high on our food and drinks list every time we visit.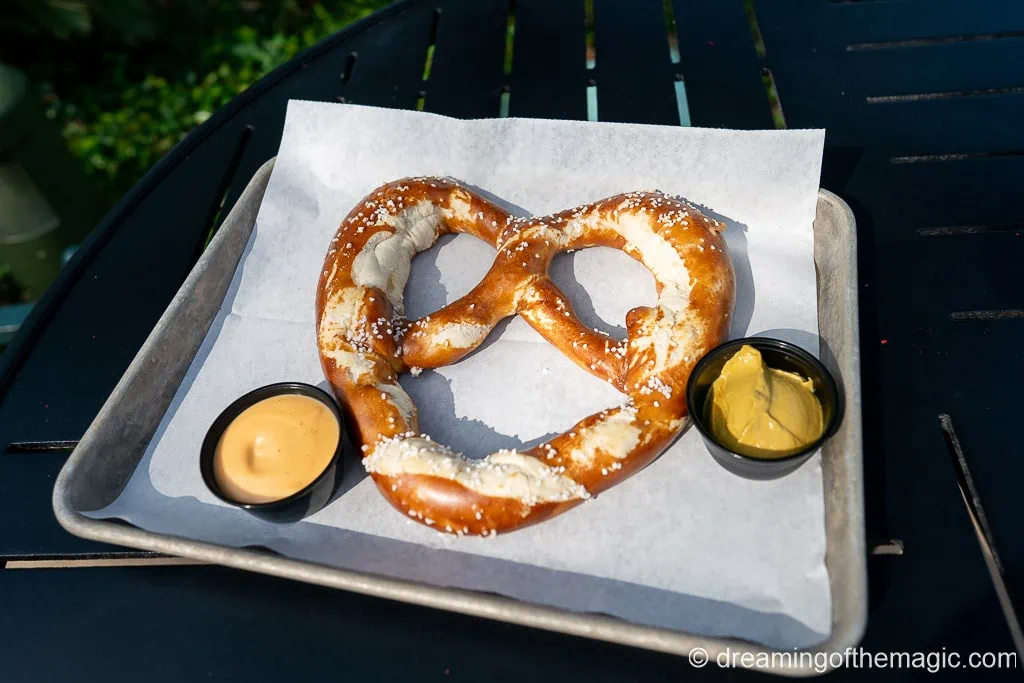 Echo Lake
Nestled around Hollywood Studio's oval Lagoon, Backlot Express serves up an iconic Star Wars-inspired treat. It is located close to the first Star Wars attraction in Hollywood Studios, Star Tours: the Adventure Continues.
10 | Wookie Cookie
Location: Backlot Express
Menu Description: two Oatmeal Cookies with Vanilla Cream Filling garnished with a Milk Chocolate Sash on top
Another awesome Star Wars-themed snack, the Wookie Cookie contains not one but two oatmeal cookies! It is stuffed with vanilla cream in the middle and topped with a milk chocolate sash inspired by Chewbacca's bandolier.
Currently retailing at $6.29, this is one of the best value snacks in Hollywood Studios – it's huge and delicious and is a great sweet treat which we easily share between 4!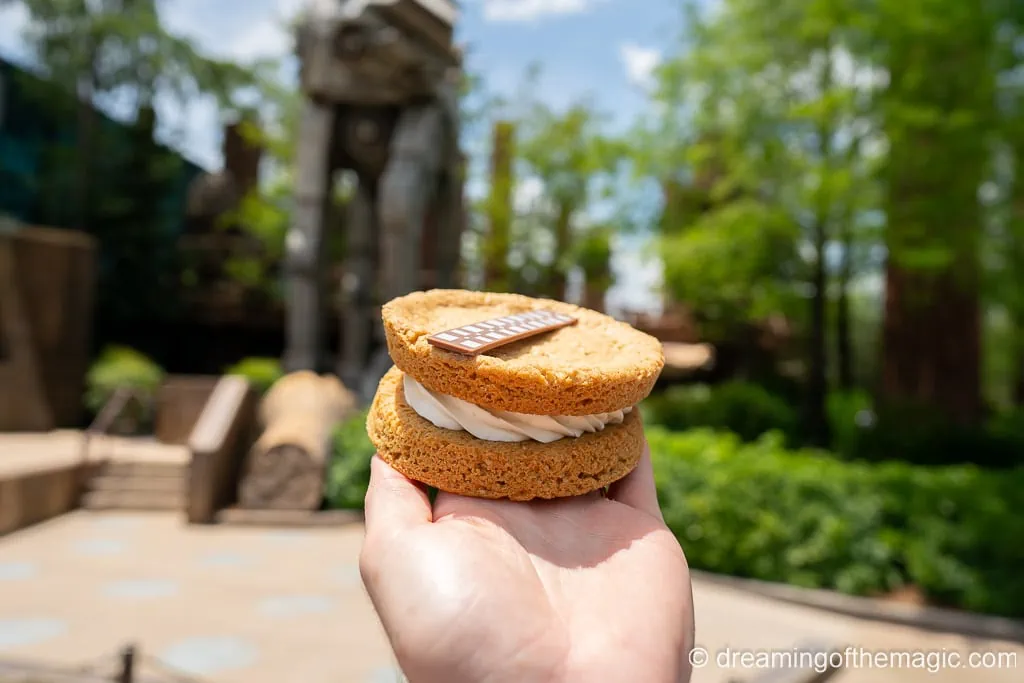 Hollywood Boulevard
Hollywood Studio's main thoroughfare has lots of shops and dining but it's the Trolley Car Cafe that draws us in time and time again for one of our favorite snacks in the park!
11 | Carrot Cake Whoopie Pie
Location: Trolley Car Cafe
Menu Description: Carrot Cake Whoopie Pie
The Carrot Cake Whoopie Pie is another Hollywood Studios classic. Two generous slices of carrot cake (it might be a cake, it might be cookies, we're not entirely sure!) sandwich a rich cream cheese frosting. It's sweet and zesty and a must for carrot cake fans.
It's available from Trolley Car Cafe, which is actually a Starbucks!
Best snacks in Hollywood Studios: the Carrot Cake Whoopie pie is often switched out with a red velvet version during the Christmas season – it's a great alternative so do try it if you visit during the holidays!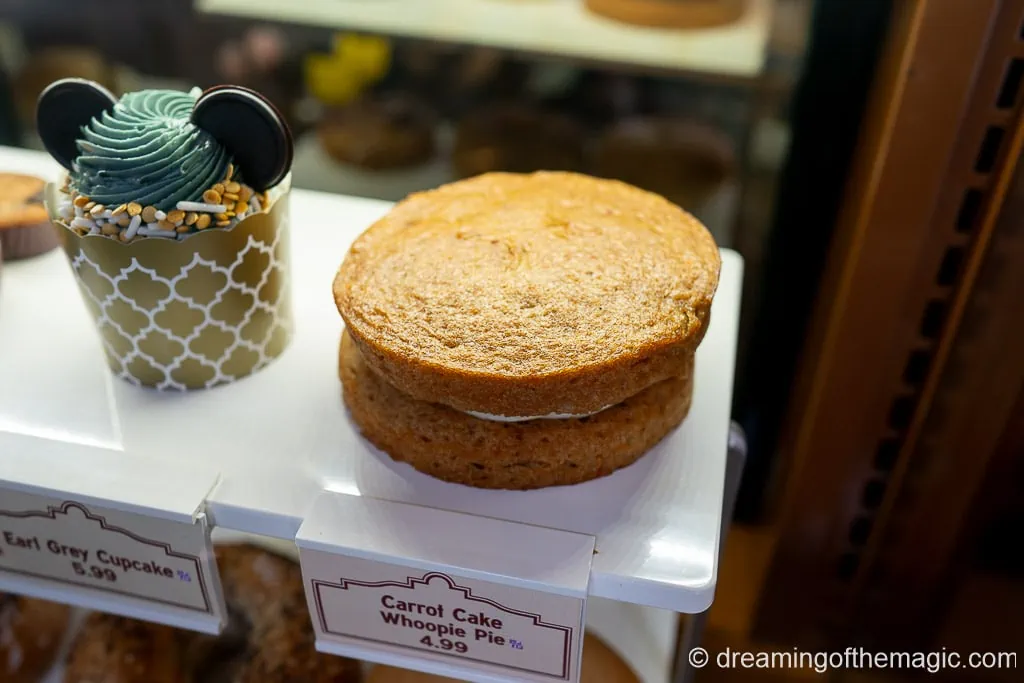 For more on Hollywood Studios at Walt Disney World
Check out: