Alongside the awesome rides, shows and characters, there are some must-try snacks in Universal Studios Hollywood. From the iconic Harry Potter Butterbeer to a gigantic pink donut, we've put together this list of the best snacks at Universal Studios Hollywood – we hope you love these snacks as much as we do!
1 | Butterbeer
Cost: Butterbeer will set you back $8
Location: Wizarding World of Harry Potter
Most visitors heading to Universal Studios Hollywood make a beeline for the delicious wizarding beverage Butterbeer. Butterbeer is served exclusively in The Wizarding World of Harry Potter and is one of the most popular snacks in Universal Studios Hollywood.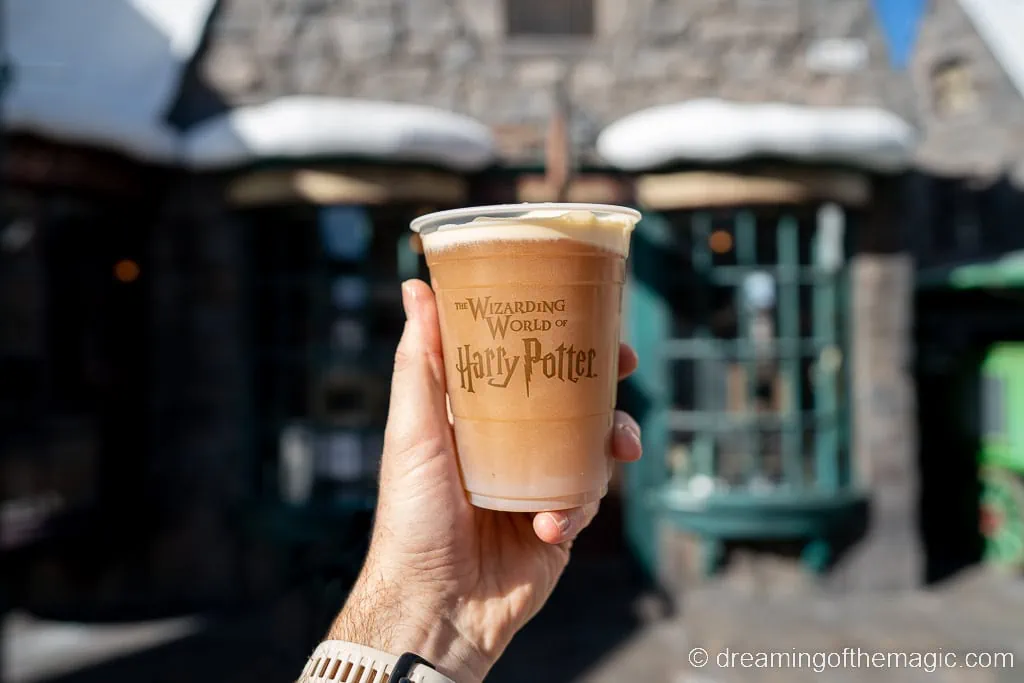 What does Butterbeer taste like?
We're often asked what Butterbeer tastes like! We'd describe it as a very sweet drink that tastes like a cream soda malt shake crossed with butterscotch. Despite its sweetness, it's very easy to drink and we can easily drink a couple in a day at Universal – our favorite is the milkshake-like frozen Butterbeer.
Does Butterbeer contain alcohol?
No! Butterbeer is a non alcohol drink.
What kind of Butterbeer is sold at Universal?
There are three types of Butterbeer at Universal Studios: frozen, hot, or regular. Our favorite is frozen Butterbeer as it's more like a milkshake and is great on a hot day.
There are three locations in Universal Studios Hollywood where you can purchase Butterbeer, all of which are located in the Wizarding World of Harry Potter:
Butterbeer Carts
The Three Broomsticks
Hog's Head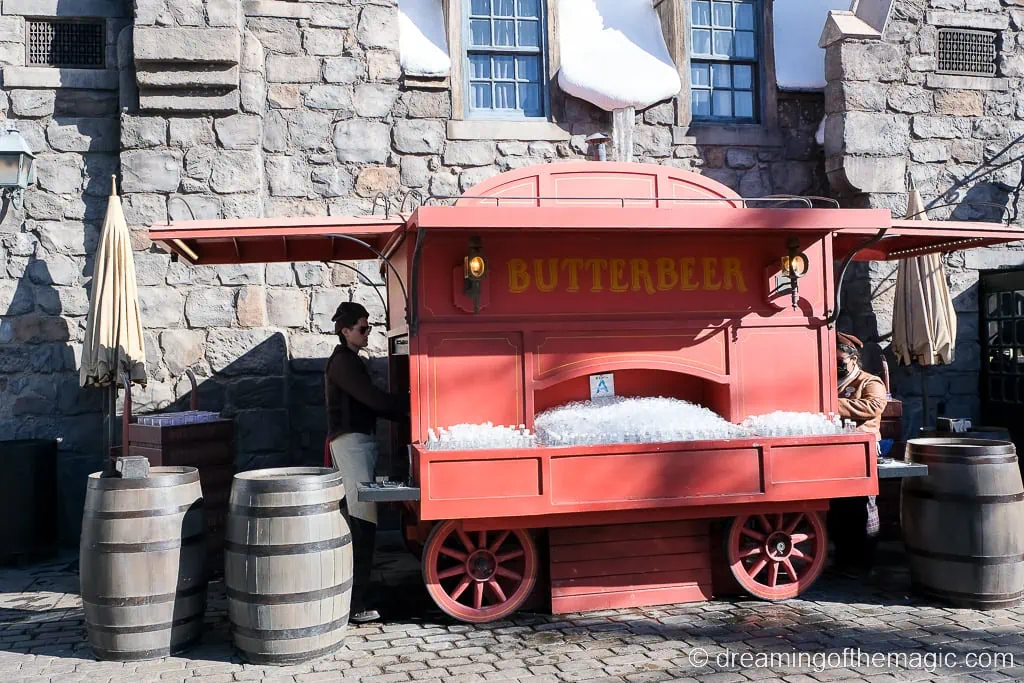 Best snacks at Universal Studios Hollywood tip: we highly recommend purchasing a Butterbeer early in the day, especially during weekends and busier holiday periods, as the queues can get really long during peak times.
2 | "The Big Pink" Donut
Cost: The Big Pink is $10
Location: Lard Lad Donuts, Springfield
You'll find a steady line through the day at Lard Lard Donuts, and for good reason! Its most popular donut, "The Big Pink", is one of the cutest (and one of the tastiest!) snacks in the park. This gigantic donut measures around 8 inches across and is easily shared between 2 to 4 people!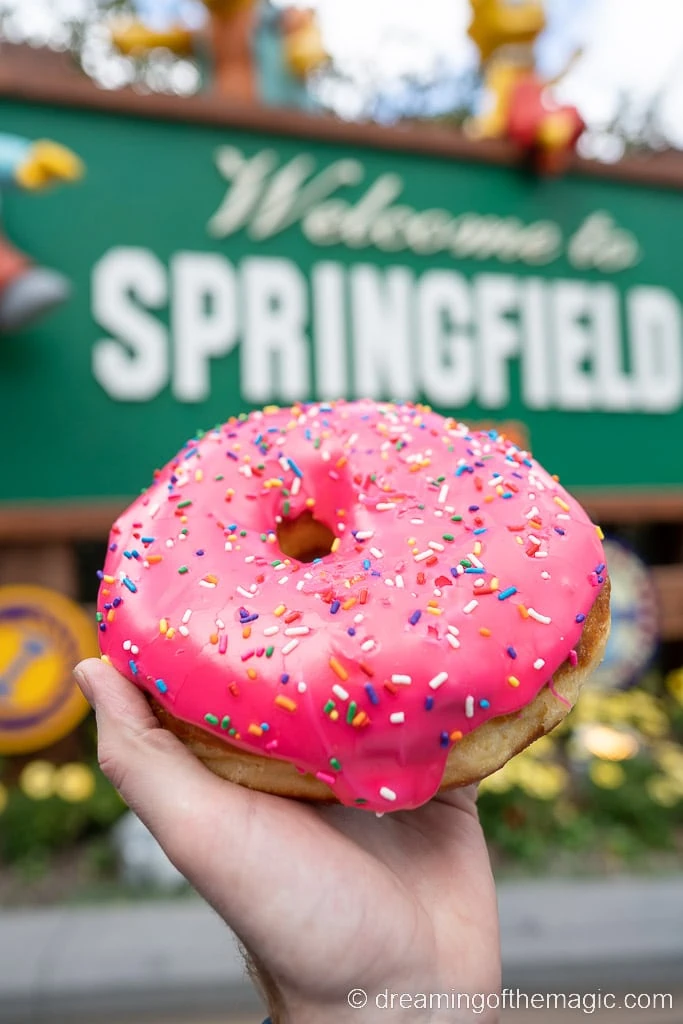 "The Big Pink" costs $9.99 and is surprisingly good value considering how huge and tasty it is.
3 | Hooray for Everything Pretzel
Cost: the pretzel costs $7
Location: Suds McDuff's Hot Dog Stand, Springfield
Pick up a Hooray for Everything Pretzel at the hot dog stand in Springfield. We first bought a Hooray for Everything pretzel as a side snack to the hot dog and it turned out to be the star of the show!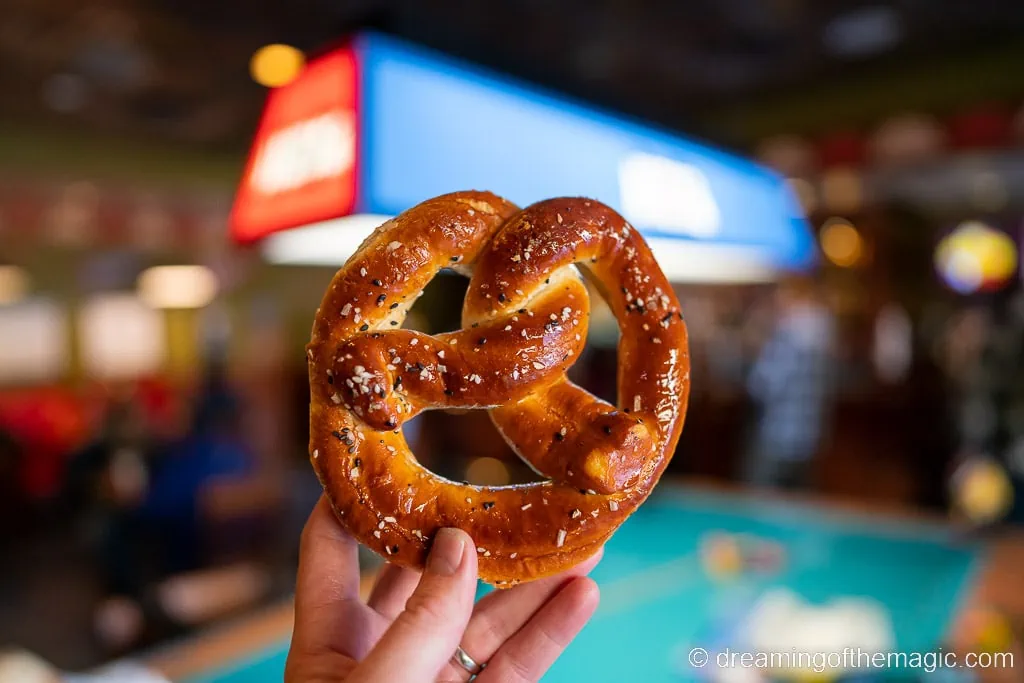 While the Krusty hot dog was pretty average if we're being honest, the Hooray for Everthing pretzel is surprisingly good. It's very filling and great for sharing. If you're looking for somewhere to sit and enjoy it we recommend grabbing a seat in Moe's Bar just across the street.
Best Snacks in Universal Studios Hollywood: A word of warning, make sure to have extra napkins on hand, this one is greasy!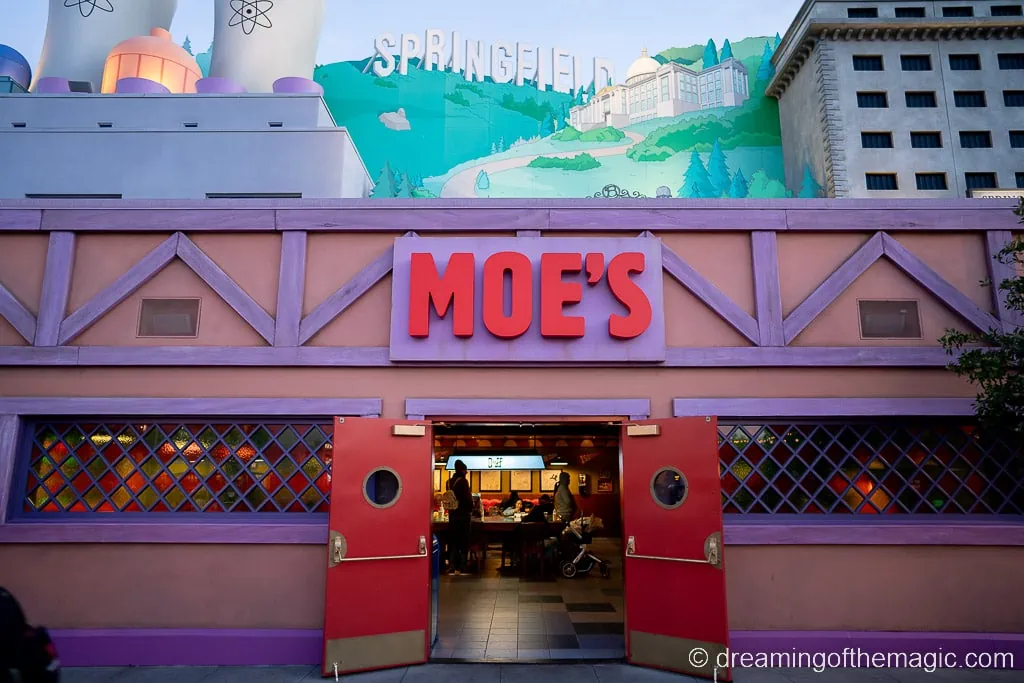 4 | Tropical Sunset Cone
Cost: a Tropical Sunset Cone costs $7.29
Location: Studio Scoop (between the Mummy Returns and Transformers in the Lower Lot)
Make sure not to miss this amazing ice cream cone when you're exploring the Lower Lot at Universal Studios Hollywood. Located between the Mummy Returns and Transformers, Studio Scoop sells the best ice creams in the park. While all the options are mouthwatering, there is something special about the Tropical Sunset Cone.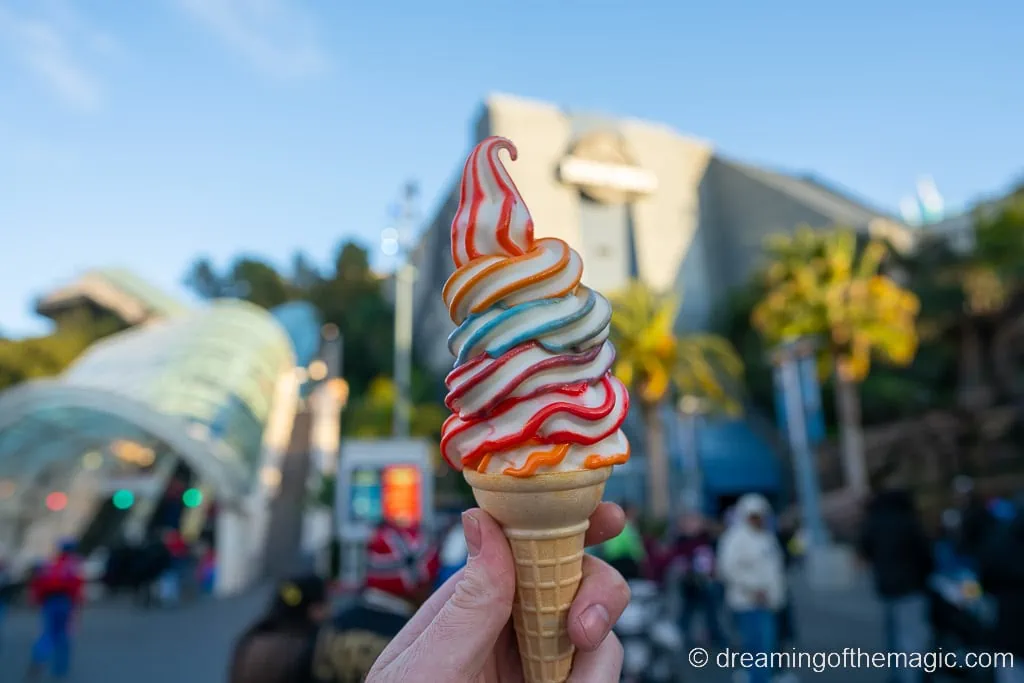 The ice cream is delicious and the different flavors of watermelon, orange, and blue goo on a single cone make it divine. Plus it looks great in photos!!
5 | Duff Beer
Cost: $15 for Duff or Duff LIte
Location: Moe's Tavern and Duff Brewery Beer Garden, Springfield
Sipping on Homer Simpson's favorite Duff Beer is a rite of passage in Springfield!
You can enjoy a Duff beer in both the Duff Brewery Beer Garden and Moe's Tavern in Springfield. Our favorite was Moe's Tavern and it's the perfect spot to enjoy some time out from a hectic day at Universal Studios Hollywood. We grabbed some food from Cletus' Chicken Shack next door to Mo's Tavern and enjoyed a chilled Duff beer in Mo's.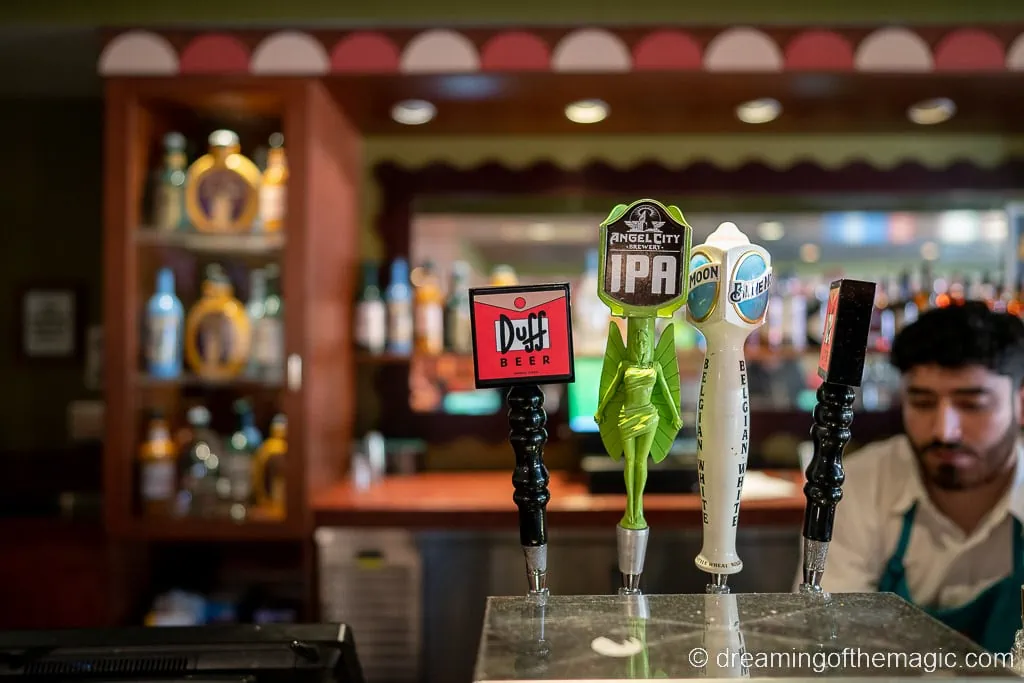 So what does the Duff beer taste like? We found it quite nice and would compare it to a darker, hoppier version of Budweiser.
Bonus Citywalk Locations
If you have time make sure to stop by some of the fantastic spots on CityWalk – if you are parking in the main park lot you will walk through CityWalk to enter Universal Studios Hollywood.
7 | Toothsome Chocolate Emporium
Cost: Milkshakes cost around $15/$16
Location: CityWalk, Universal Studios Hollywood
Toothsome Chocolate Emporium is home to some of the prettiest milkshakes we ever did see. From Red Velvet to chocolate brownies and Key Lime Pie, the stunning milkshakes are the perfect sweet treat.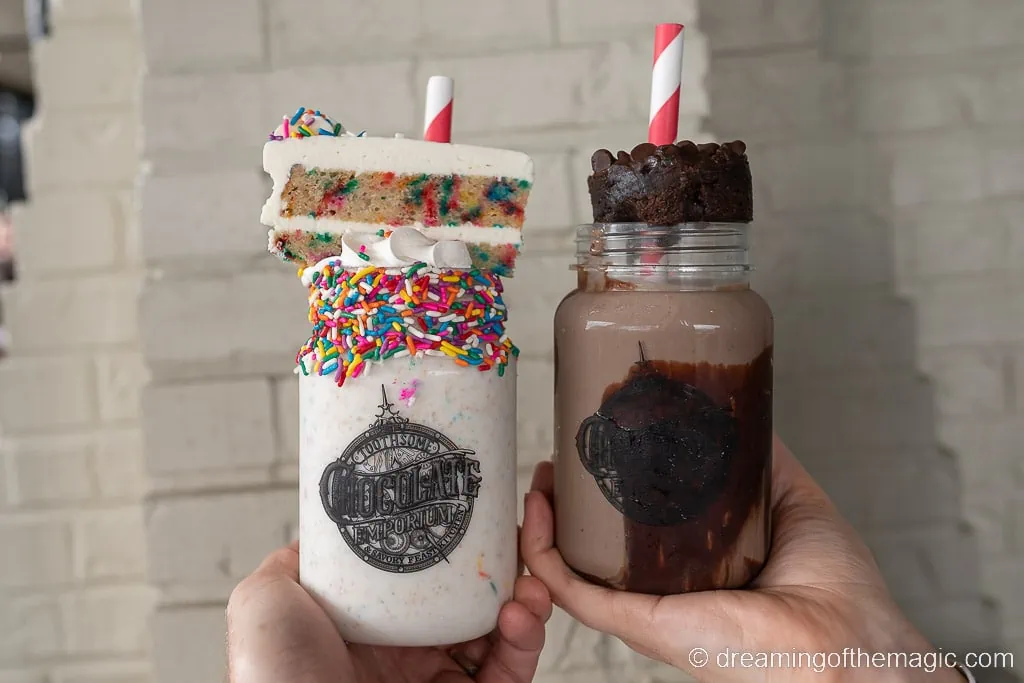 6 |Voodoo Donuts
Cost: donuts start at around $2 for a regular donut
Location: CityWalk, Universal Studios Hollywood
Renowned for the crazy variety and unique toppings that it puts on its doughnuts, the decor is colorful and quirky and the donuts are delicious.