After two recent visits with our youngest at 6 and 9 months old we've figured out all there is to know about visiting Legoland California with a baby – from baby-friendly rides, to using parent swap and navigating the park with a stroller we've been there!
We've put together this guide to visiting Legoland California with a baby – it includes everything you need to know to help with your Legoland trip planning!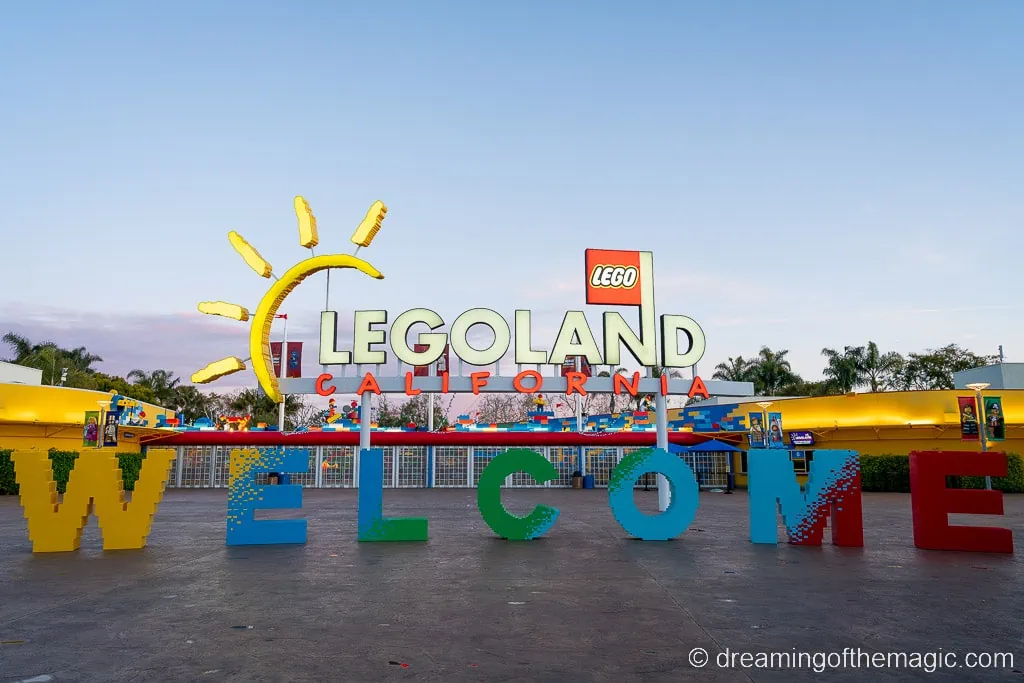 Everything you need to know about visiting Legoland California with a bay
Here's everything you need to know:
1 | Are babies free at Legoland Calfornia?
One of the best things about visiting Legoland with young kids is that you don't need to purchase a ticket! Children under 3 can enter the park for free and without a ticket.
Everyone else with need a ticket. We purchase ours from Undercover Tourist, an authorized Legoland California ticket seller or through Legoland California if we are reserving a hotel onsite. You can typically get a discount on tickets – we got a 2 day park hopper for the price of 1 day. You will need to reserve a dated ticket.
Legoland California Tickets
We highly recommend purchasing your Legoland California tickets well in advance of your visit. Reservations are required in advance and Klook.com offers all the ticket options, including some second-day free offers – check prices now!
Buy your Legoland California tickets now
2 | Where to stay at Legoland Calfornia with a baby
Legoland California is focused on younger kids and, as such, there is lots of family-friendly accommodation to choose from:
Onsite
There are two hotels onsite, the Legoland Castle Hotel and the Legoland Hotel.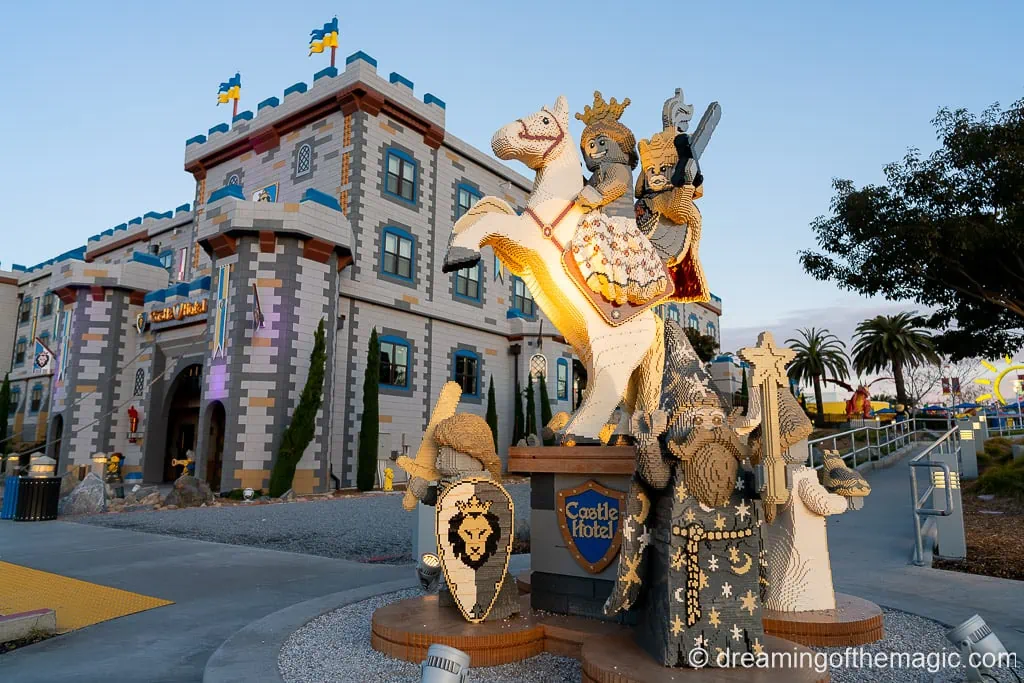 Staying onsite is awesome for three reasons – you are right by the entrance to the park, the hotels are incredibly well-themed and a dream for Lego fans, and hotel guests are granted 30 minutes early entry to the theme park (check out our guide to Legoland California Early Entry).
Each hotel has 250 themed rooms and both are located right by the entrance to the Legoland California theme park. The Legoland Hotel has 5 themed room types – Adventure, Pirate, Kingdom, LEGO Friends & Ninjago while Legoland Castle has Knights & Dragons, Royal Princess & Magic Wizard.
Both hotels have restaurants and swimming pools with lifeguards and the Legoland Castle Hotel has a playground. Rooms have a separate sleeping area for kids and the theming is magical.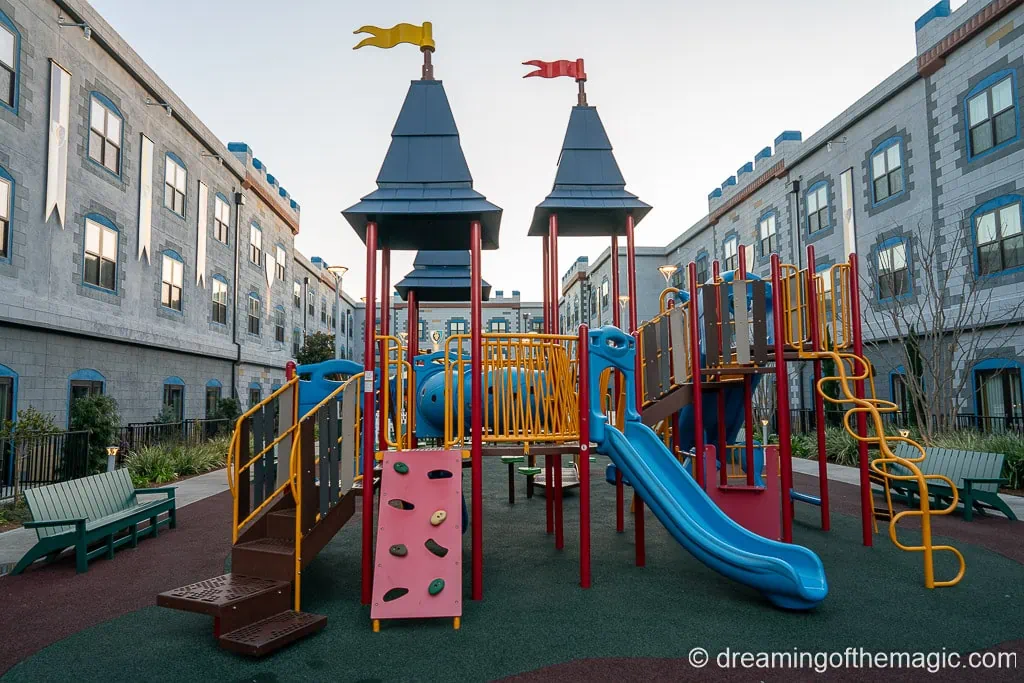 We stayed in a Magic Wizard deluxe room at the Legoland Castle Hotel and absolutely loved it. There was plenty of room for a cot in the main sleeping area.
Offsite/nearby hotels
Some of our favorite hotels close to Legoland California include:
Book your stay at Legoland California now
3 | What rides are baby-friendly at Legoland California?
There are 6 baby friendly rides at Legoland California:
Coast Cruise: a slow boat ride through Miniland and the replicas of sights like the Taj Mahal, the Eiffel Tower and the New York skyline. The cruise also passes other Lego creations including building blocks, dinosaurs and an ocean-themed band! Riders sit on rows of bench seats and our infant sat on our lap for the ride.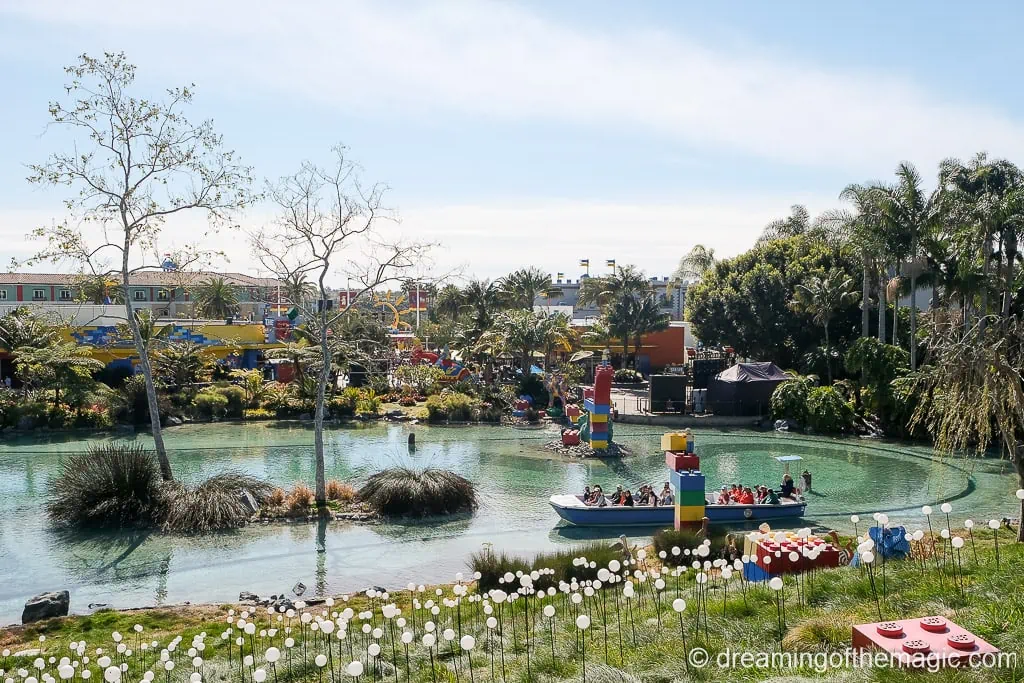 Lego Ninjago: NINJAGO is one of the most popular rides at Legoland Califonia. Guests use ninja skills and flick their hands to throw fireballs, ice, and lightning at villains – it reminds me of Webslingers if you are familiar with Disneyland California. Infants are allowed to ride provided they can sit in the carriage next to the adult rider. Our infant was able to ride this on our most recent visit when she was 9 months old although we always made sure to have a protective arm around her so lost out on exercising some of our ninja skills!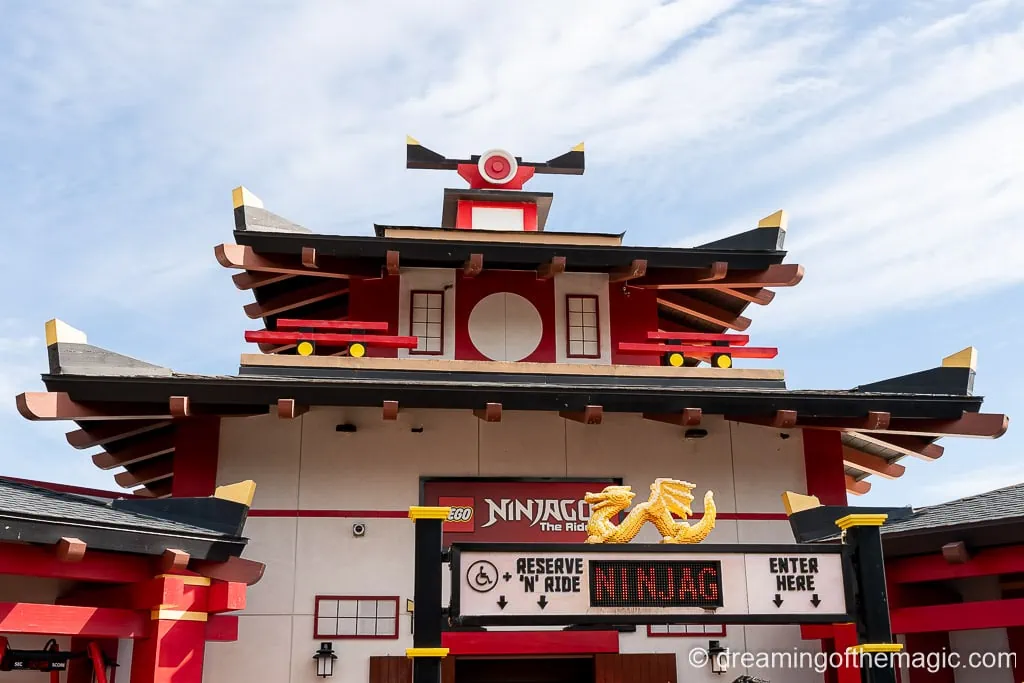 Queen Watevra's Carousel: Legoland's version of the traditional oscillating carousel, Queen Watevra's Carousel has 60 horses. There is a car style carriage which is suitable for infants.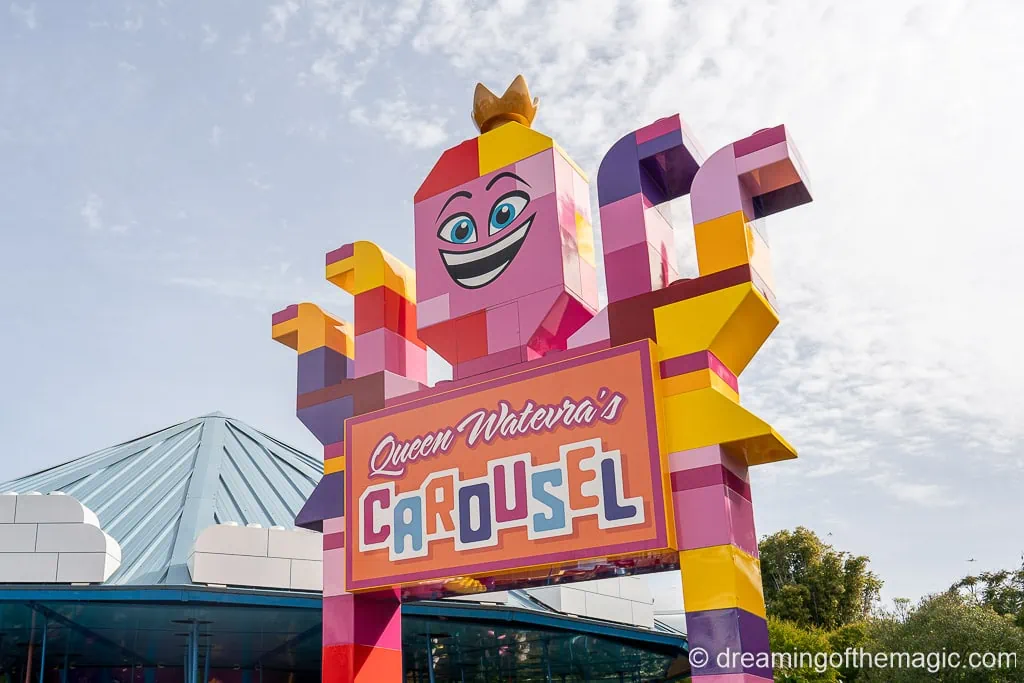 LEGO® City Deep Sea Adventure: riders board a Lego submarine to submerge underwater and explore an aquarium with sharks, manta rays and fish. Each guest has an interactive screen where they can participate in a treasure hunt as the submarine passes through the aquarium. Our infant sat on our lap for the duration of the ride.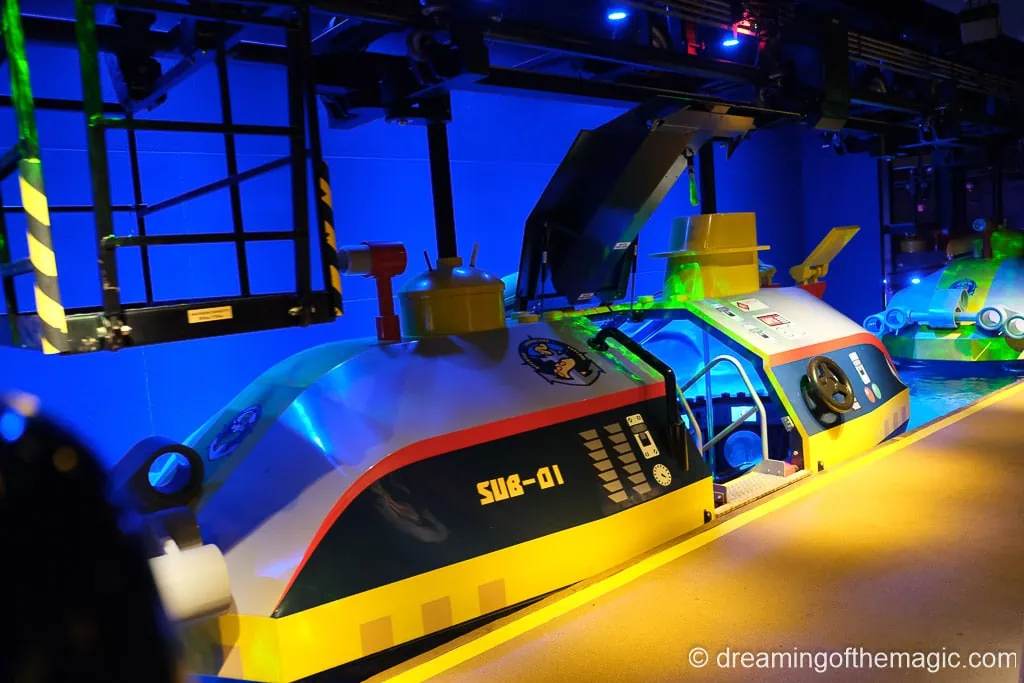 Legoland with a baby tip: this indoor underwater ride is awesome for escaping the elements! We last visited on a cold March day and loved having the opportunity to warm up inside!
Make sure to try out Granny's Apple Fries from the desert shack close to the ride – they are one of the best snacks in Legoland California!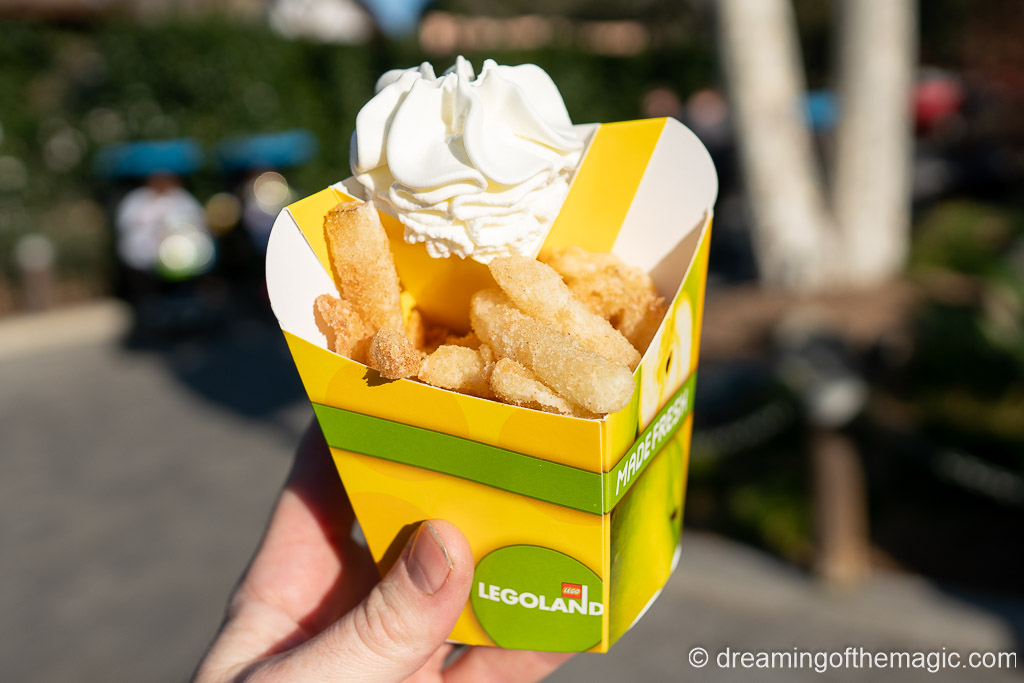 Fairytale Brook: a lovely and gentle boat ride through Lego scenes from popular fairytales. There are scenes from classics including Little Red Riding Hood, Aladdin, Jack and the Bean Stalk, Billy Goats Gruff, Hansel and Gretel, and The 3 Little Pigs. The boats are shaped like giant leaves and our infant sat on our lap for the boat ride.
Legoland Express: all aboard this lovely Lego train for a short ride in Fun Town. Babies can ride with an adult.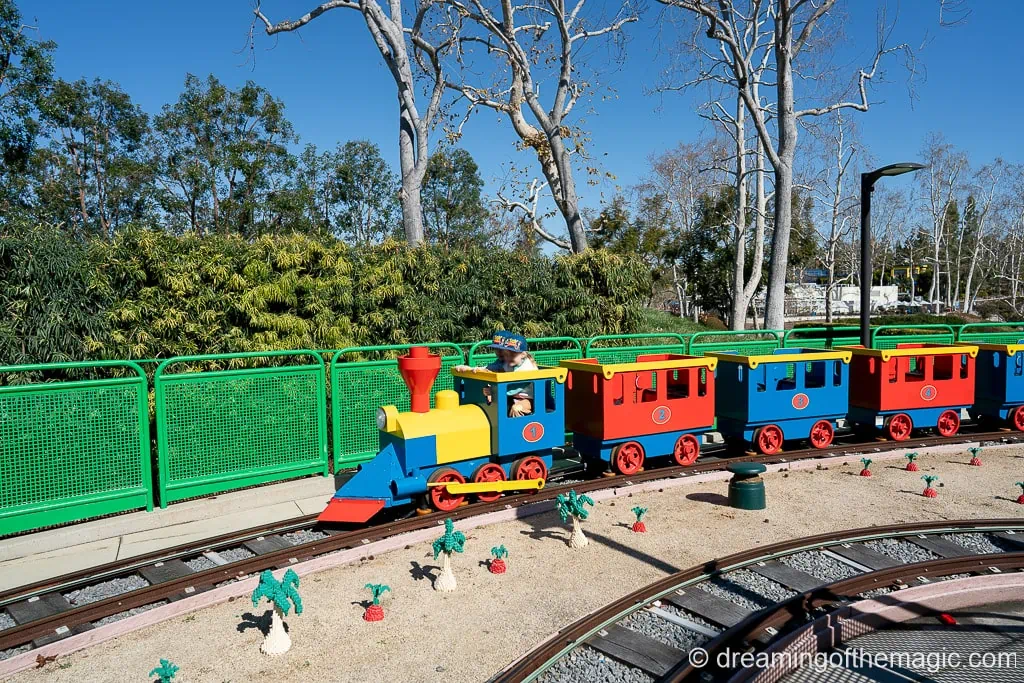 4|Legoland California Baby Care Center
Legoland California has a fantastic Baby Care Center located in Fun Town. It has baby changing facilities, a kitchen (fridge, bottle warmer and microwave) and private seats for feeding.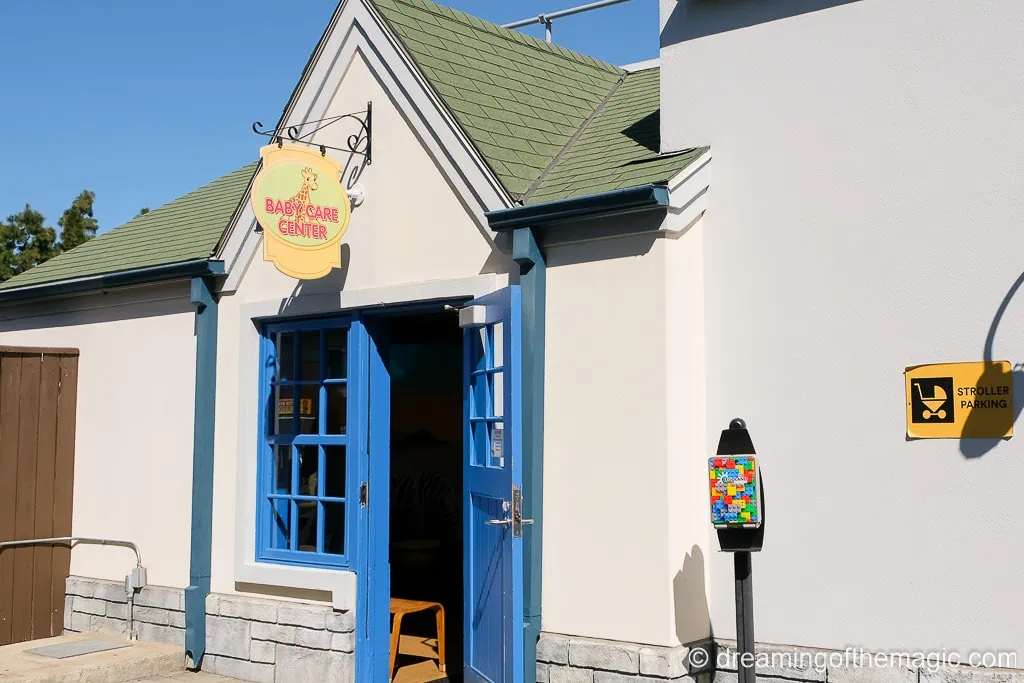 There's a small play area if you have a toddler or older infant.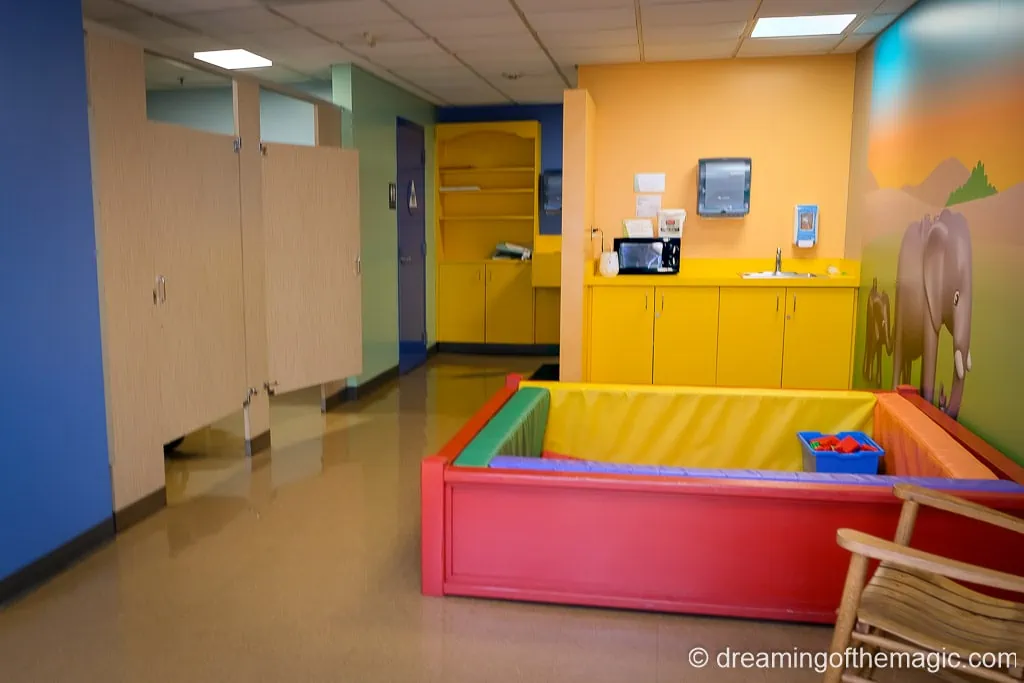 5|Parent Swap
If you are visiting with a baby, parent swap is an awesome offering at Legoland California. On rides where babies are unable to ride, parent swap allows one parent to stay with the non-riding infant while the other rides and then they swap – it means that the two adults can ride while only having to queue once rather than twice.
In Legoland, all members of the party are required to wait in line together and inform the ride operator that they want to use parent swap at the top of the queue.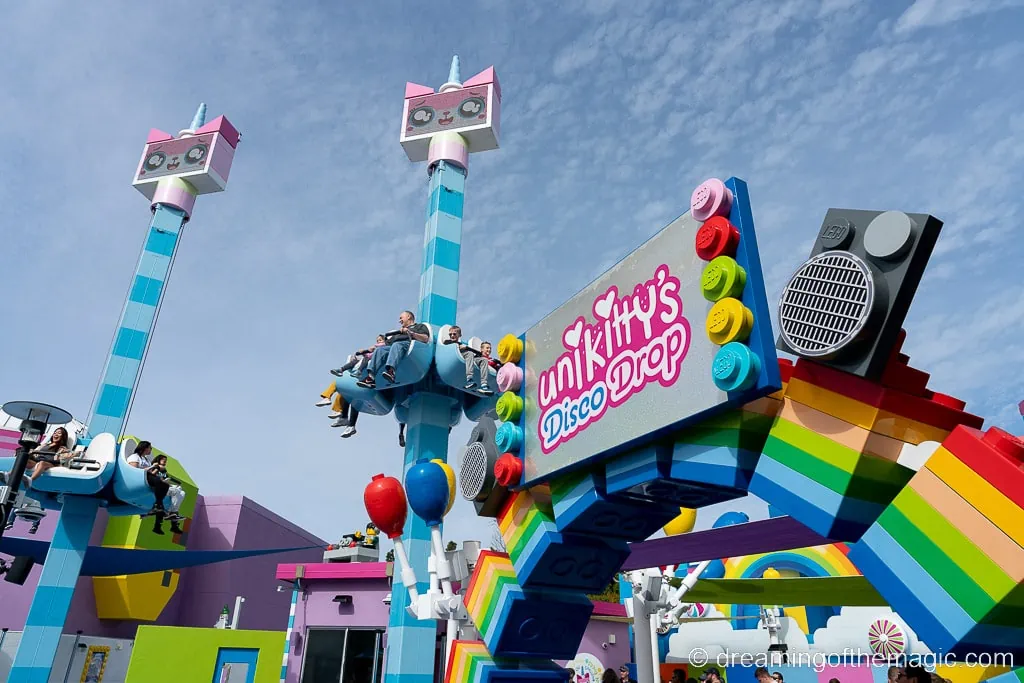 6|Stroller or Carrier
Both! We used a mix of stroller and baby carrier!
A stroller is fantastic for naps and walking through the park and a carrier works great for waiting in line or if you want to breastfeed on the go. Now that she's a little older, our 9-month-old isn't crazy about spending hours in the stroller so the carrier makes a nice change.
We brought our Babyzen Yoyo for our 9-month-old – the Yoyo is a compact travel stroller which can be taken on board most airplanes and stored in the overhead locker during flights – and an Ergobaby 360. These have accompanied us on our travels for almost 5 years through 3 babies and we highly recommend both! We attached a buggy board to the Babyzen Yoyo so the older kids could hop on as they wished.
If you have a wagon, they are allowed in Legoland California and we did see a few Wonderfold and Keenz wagons in the park. Wagons are not allowed at Disneyland or Disney World if you are planning to visit on the same trip.
Strollers are available to rent at the Marketplace at the entrance to the theme park: single strollers and infant strollers are $17 and a double stroller is $20.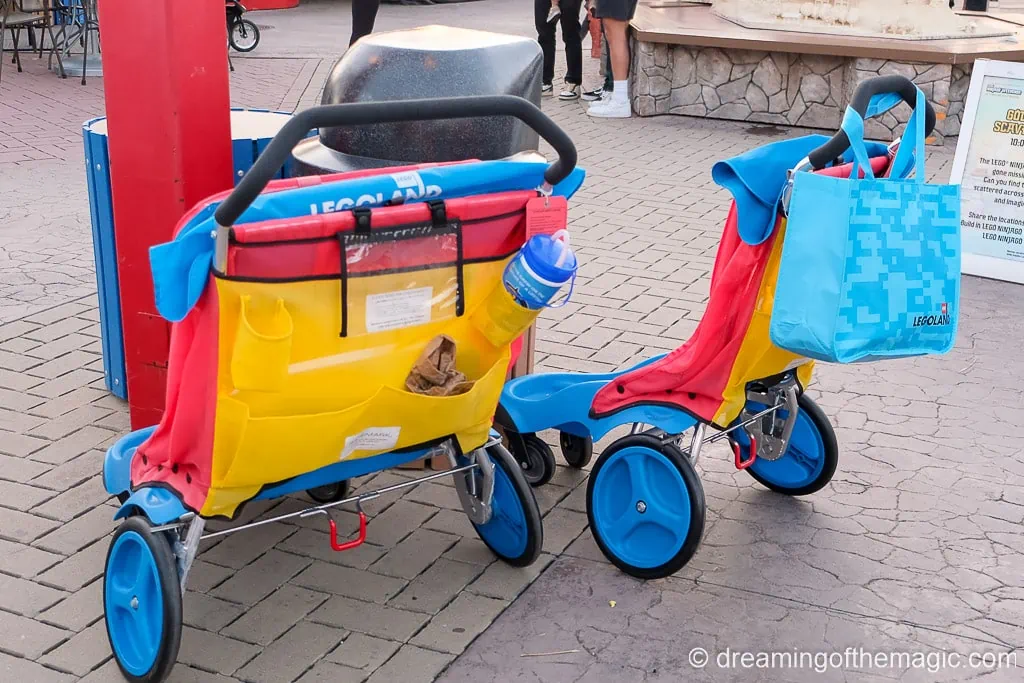 7 | Ride info
If you are traveling with younger kids as well as your baby then there are a few things to be aware of:
Most of the rides require younger guests to be accompanied by a rider over 14 years old and 42″ or taller so you will need an extra adult to be available to ride– our kids could ride Beetle Bounce, Junior Driving School, the Legoland Express and Royal Joust on their own but we had to accompany them on everything else.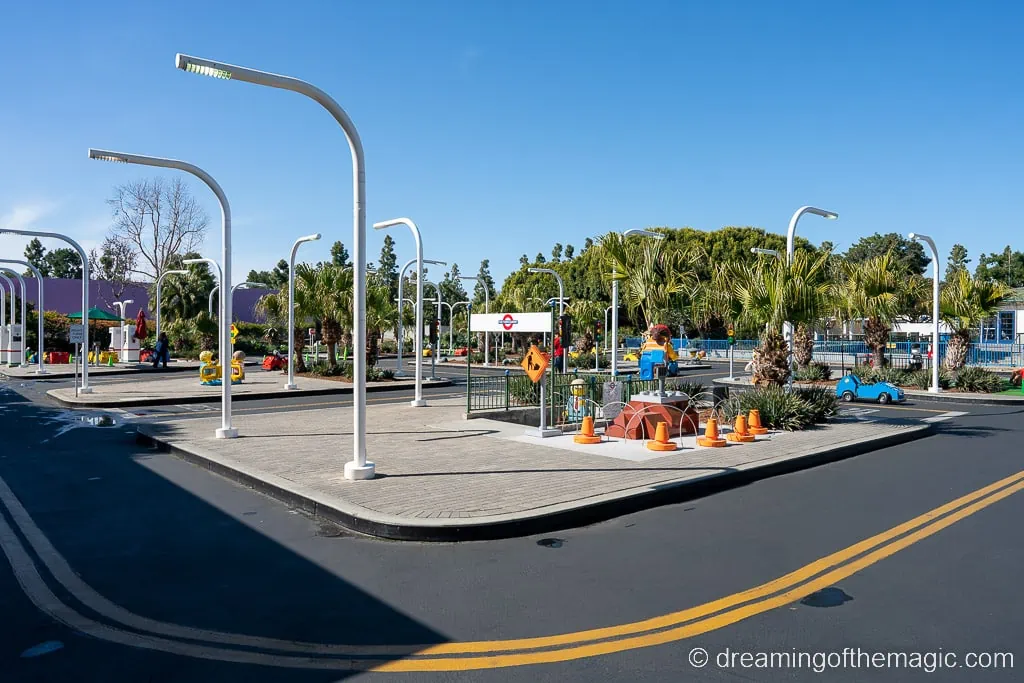 Most of the rides allow an adult to accompany only one child at a time – on our most recent visit (with our 3-year-old and 5-year-old) we hadto ride each attraction twice so both of our kids could have a turn. We were able to use parent swap to switch riders but it js really time-consuming having to wait in (an albeit shorter) line and then ride again! We purchased a Legoland California Reserve 'n' Ride add-on to help cut our wait times.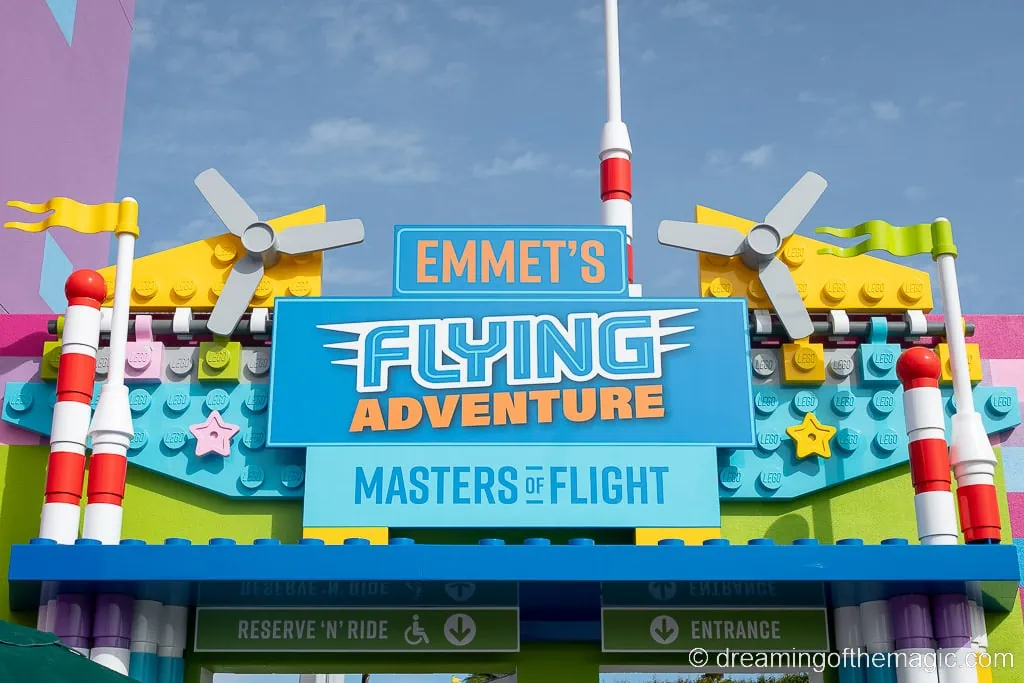 8 | Legoland California Water Park
If you have a park hopper ticket then you can enter the Legoland California Water Park (you cannot buy a standalone ticket to the Waterpark). Most rides are aimed at toddlers and young kids but there are splash areas where you can take a baby. There is also one ride which might be suitable for older infants:
Duplo Splash Safari: designed for kids aged 6 and under, there are 3 small slides that don't have a height requirement. However, babies must ride next to you and cannot sit on a parent's lap. Dave was able to hold our 9-month-old beside him with his arms around her so she could have a turn – she loved it!
9 | Sealife Aquarium
Our ticket included access to the small but wonderful Sea Life Aquarium located at the entrance to Legoland California. There are lots of awesome exhibits which will appeal to kids.
Note that strollers are not permitted in the Aquarium due to the narrow walkways. We were thankful we'd brought our carrier into the park and could carry our 9-month-old hands free through the aquarium.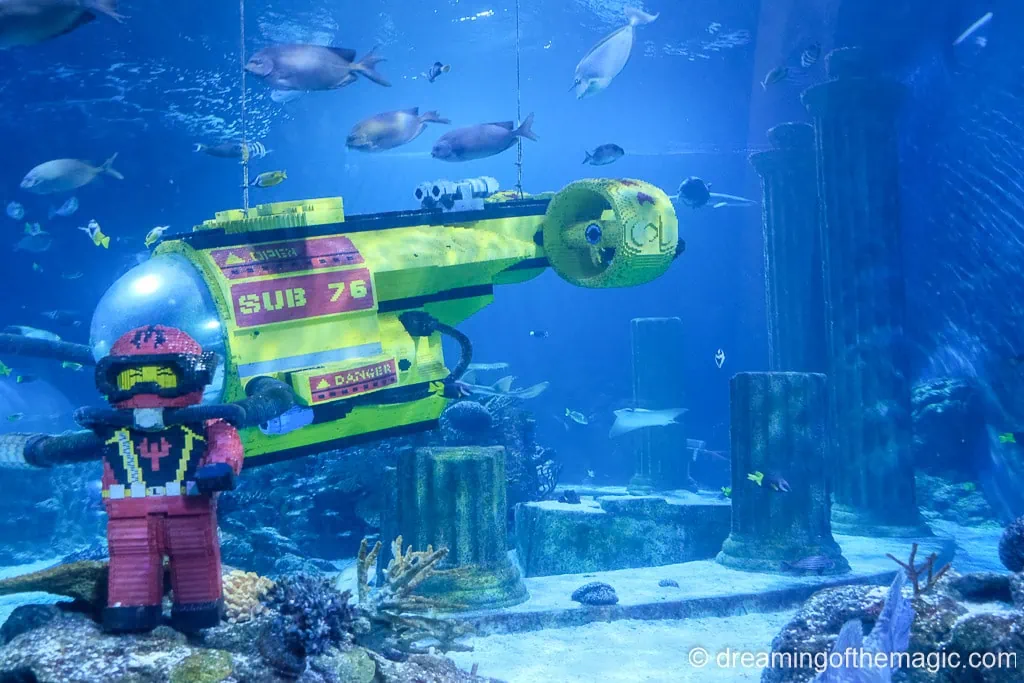 10 | Food and Drinks
Guests can bring water and small snacks into Legoland California so we brought some baby pouches and snacks for the kids. There are restaurants and food stalls throughout the park.