Disneyland California is home to some wonderful Disney Princesses and there are Princess experiences in both parks. From meeting a Princess at the Royal Hall to enjoying a royal dining experience at Napa Rose or greeting the Frozen Princesses, we have you covered! Read on to discover how to see a Disney Princess in Disneyland California!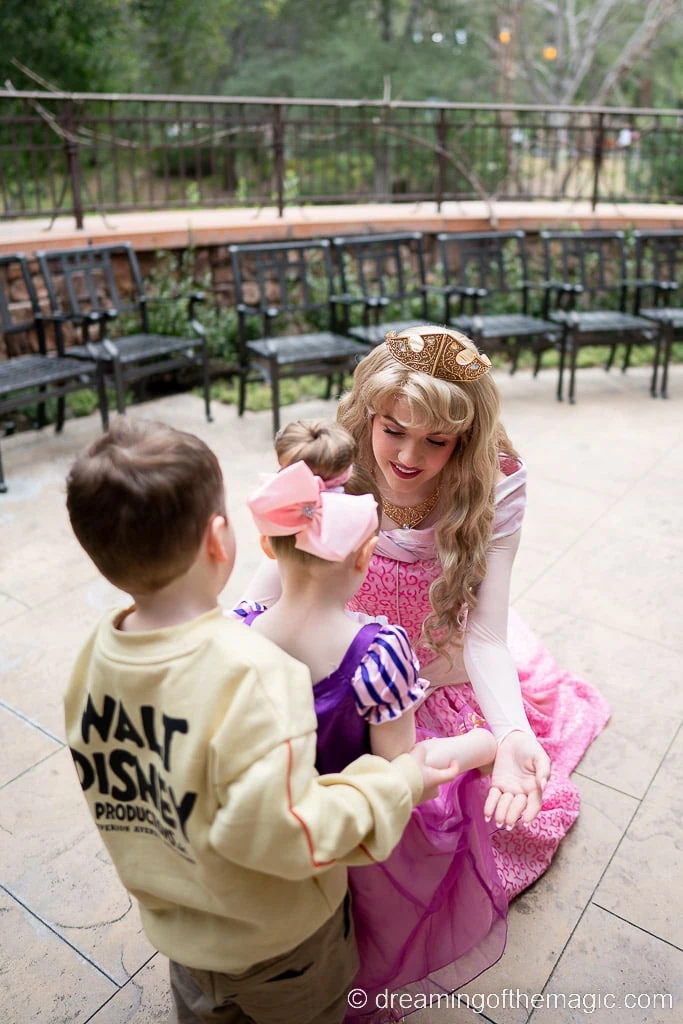 1| Royal Hall
Location: Fantasy Faire, Fantasyland, Disneyland Park
Fantasyland's Royal Hall is the regular location for princess meet and greets at Disneyland California. It's located in Fantasy Faire, a quaint little medieval square just off the main Fantasyland thoroughfare.
There are 3 rooms within Royal Hall meaning there can be up to 3 princesses meeting guests although there have only been 2 princesses in attendance on the days we visited. During our most recent trip, Belle, Snow White, Mulan, Ariel, Cinderella and Jasmine were all in attendance at the Royal Hall when we checked.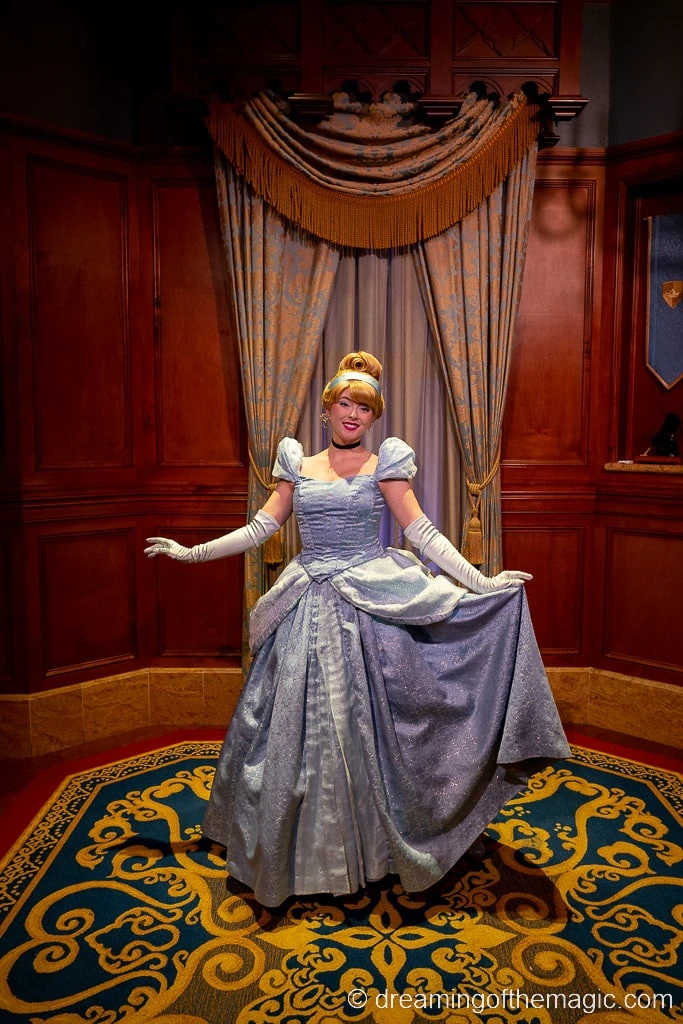 You can also meet the Princesses outside of the Royal Hall. We saw Gaston and Belle and Rapunzel and Flynn meeting guests just outside the Royal Hall in Fantasy Faire.
Royal Hall opens at 10am and the line can be quite long – often the wait time hovers around 45 to 60 minutes and there is no option to use Genie+. Sometimes the line can open early so we recommend doing this at the start of the day.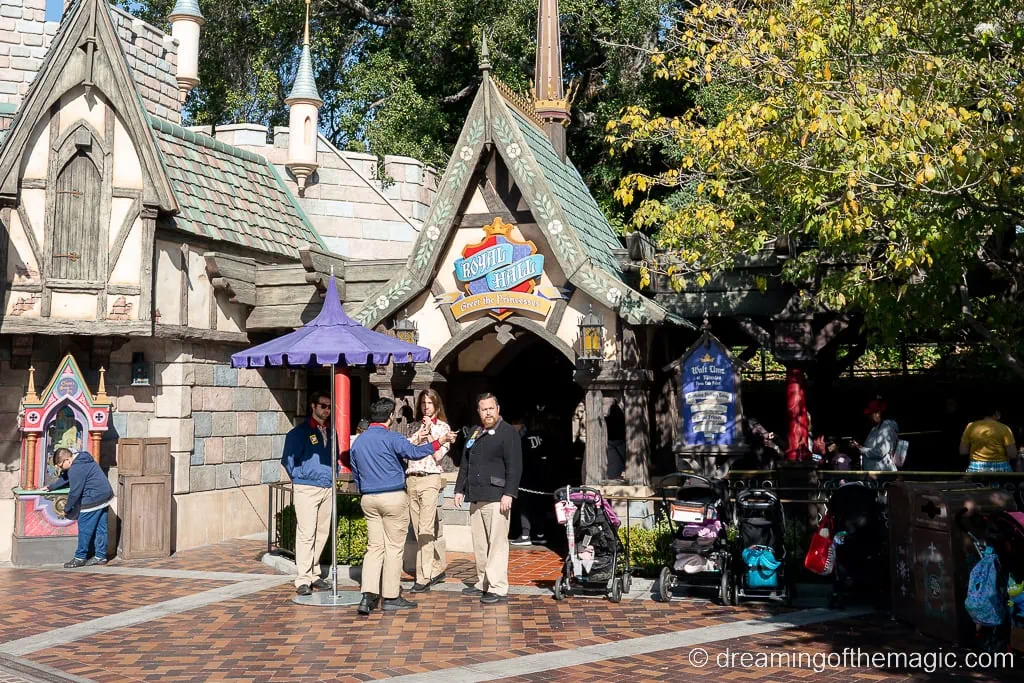 2 | Princess Breakfast Adventures at Napa Rose, Grand Californian
Location: Napa Rose, Grand Californian, Downtown Disney District
Reservations: open 60 days in advance
The Princess Breakfast Adventures at Napa Rose are the Ultimate Disneyland California princess meet and greet! We met 7 princesses during our recent Princess Breakfast (March 2023) – we met Jasmine, Rapunzel, Belle, Ariel, Mulan, Aurora and Tiana.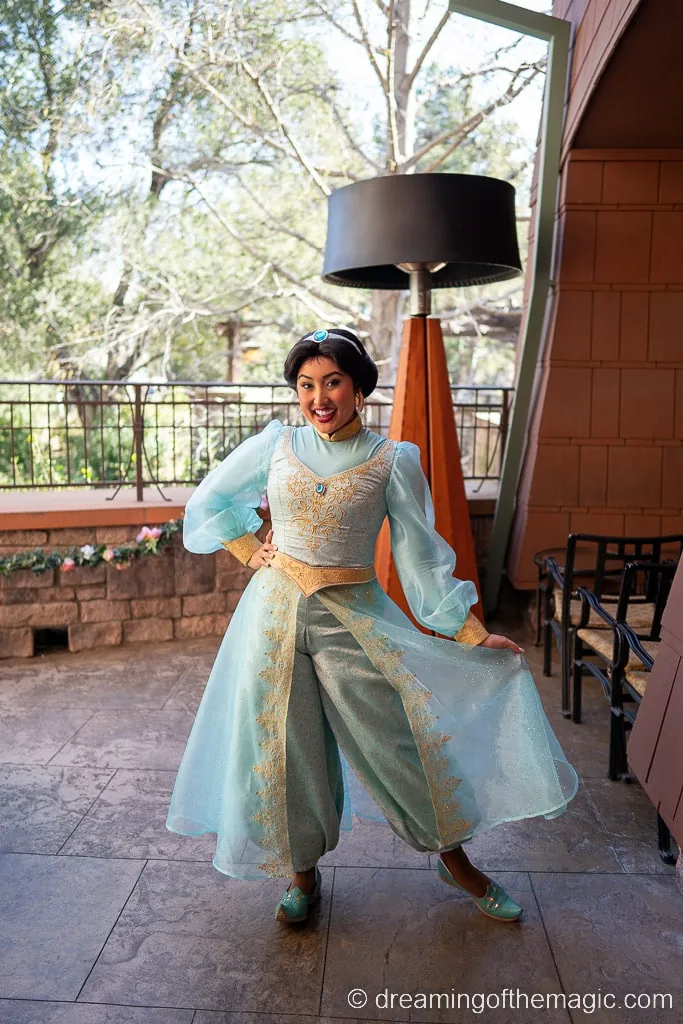 As well as the wonderful princess meets, guests are served a delicious 3-course breakfast in the beautiful Napa Rose restaurant in the luxurious Grand Californian.
The princess breakfast is a wonderful opportunity to meet multiple princesses and our entire family agrees it is one of our biggest highlights from Disneyland California!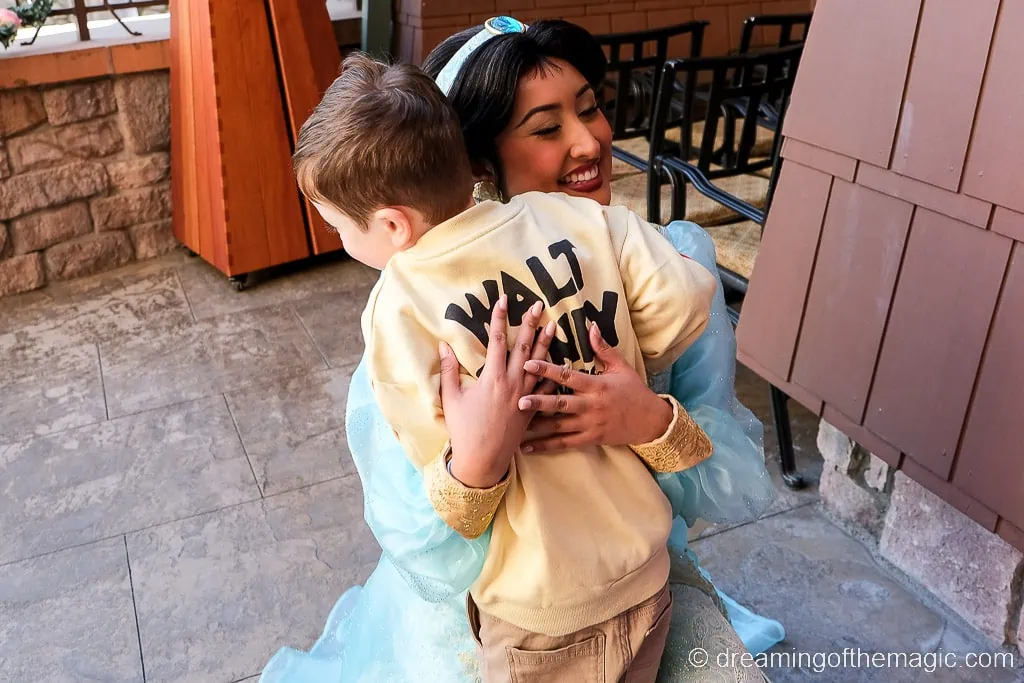 As of March 2023, the Princess Breakfast costs $125 per person (plus tax and gratuity) for guests aged 3 and over.
The Princess Breakfast Adventures is one of the hottest reservations in Disneyland so we'd definitely recommend reserving well in advance. Dining reservations typically open 60 days in advance at 3am PST/6am EST.
Disneyland Princess Breakfast at Napa Rose tip: don't despair if you don't manage to make a reservation when they drop at 60 days out. We only decided to go to Disneyland three weeks in advance of our Princess Breakfast and, with a bit of work, we managed to grab a cancellation at a great time.
Breakfast must be canceled at least 2 hours in advance or a $25 per person cancellation fee applies.
You can read more about our experience at the Princess Breakfast here – Princess Breakfast Adventures in Napa Rose!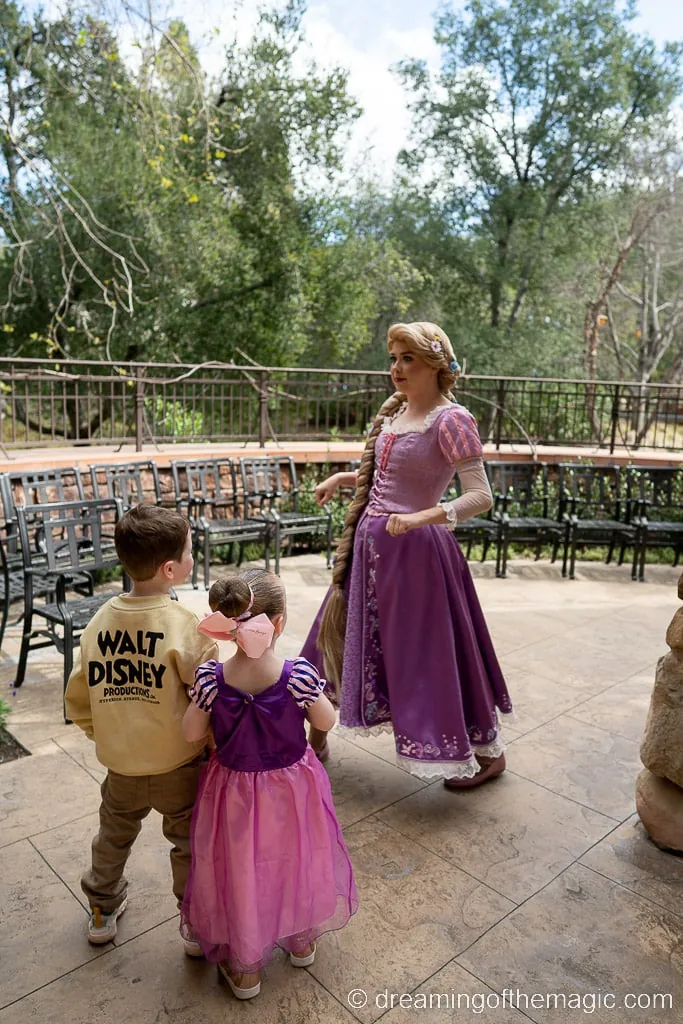 3 | Storytelling at the Royal Theatre
Location: Fantasy Faire, Fantasyland, Disneyland Park
The medieval-style open-air Royal Theatre hosts unique and witty performances of Tangled and Beauty and the Beast. Belle appears in Beauty and the Beast and Rapunzel in Tangled.
The Royal Theatre is an intimate and laid-back setting and kids are invited to sit on cushions in front of the stage so they're close to the action.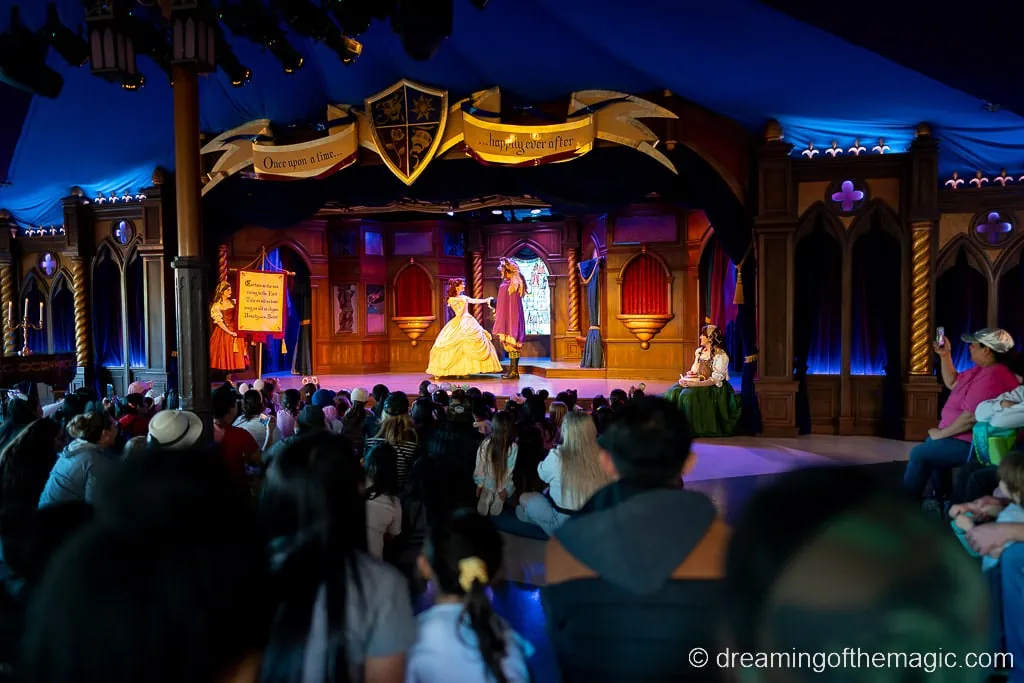 Belle and Rapunzel often return to the theatre for photos and to meet guests after the stage show finishes.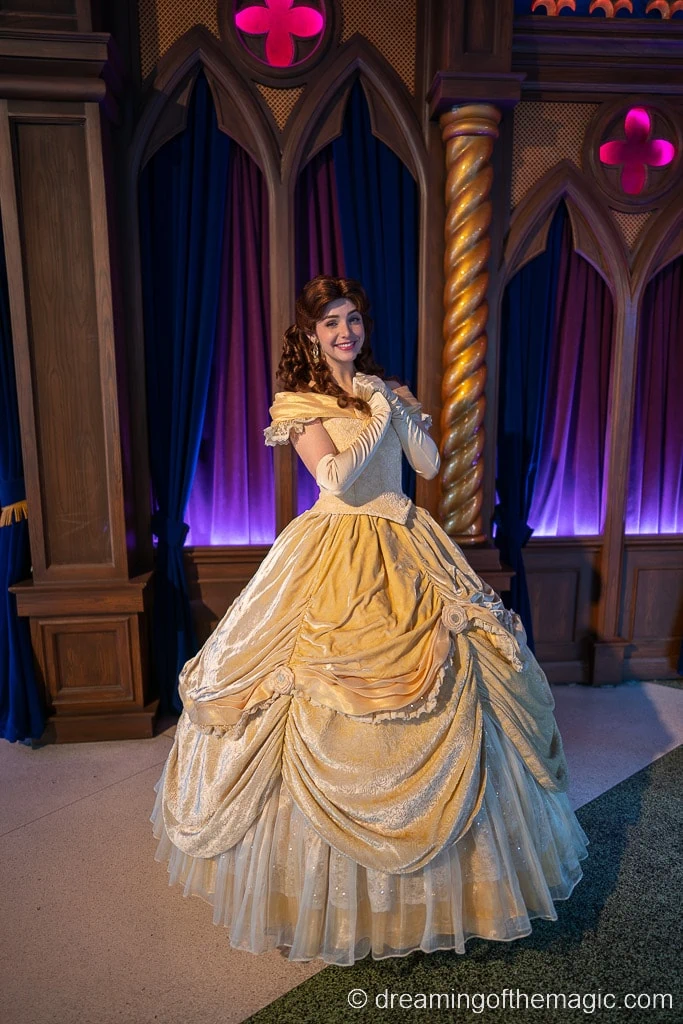 4 | Anna and Elsa's Royal Welcome
Location: Disney Animation Building, Hollywood Land, Disney California Adventure
Frozen's Anna and Elsa greet guests in the Animation Building in Disney California Adventure. Often Anna and Elsa are both in attendance, sometimes it is only one of them and occasionally Olaf has stopped by to join them.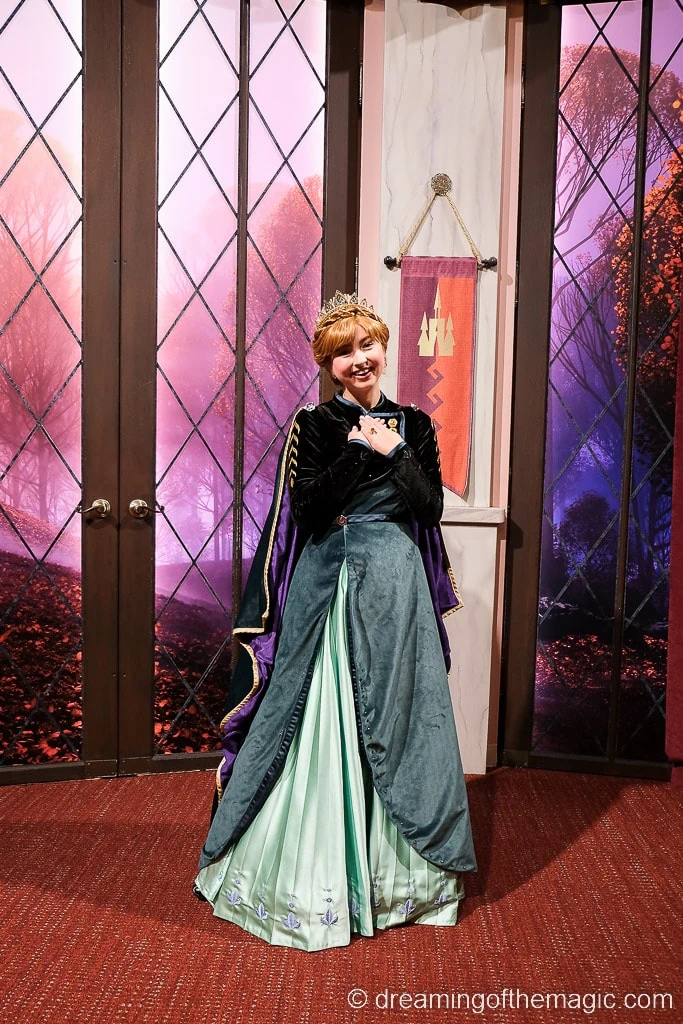 The main queue is in the reception area of the Animation Building – we found the wait passed quite quickly as there is some really cool media playing on the screens and projections dancing on the floor (it's also a great place to escape from the summer heat/winter rain!). Guests are then ushered into the meet and greet room where Anna and Elsa await.
Anna and Elsa meet guests from the park opening. This a popular meet and greet so the line can get long – we waited for around 40 minutes mid-morning on our most recent visit.
Disneyland California princesses: there are loads of great things to do in the Animation Building. We love taking an Animation Academy class from the Disney drawing experts – sometimes you can even catch a lesson on sketching Frozen's very own Olaf! There's also a Turtle Talk with Crush, the Sorcer's Workshop and the Beauty and the Beast Library.
5 | Princess Meet and Greets
As well as the Royal Hall, there are other Princess Meet and Greets across the parks.
Check the app for scheduled meet and greets, they are listed on the map under the character dropdown. Currently, there is one princess meet and greet listed:
Raya: Raya meets guests at the Redwood Creek Challenge Trail in Disney California Adventure. The star of Raya and the Last Dragon is visiting from the newly-reunited lands of Kumandra.
You might also be lucky enough to catch a princess on a walkabout in the parks. We've seen Moana by It's a Small World and Cinderella, Ariel and Elena of Avalor walking through the parks. Fantasyland is a favorite for the princesses to hang out (we've had the most luck in the main area around the carousel, over by It's a Small World and in Fantasy Faire where the Royal Hall is located) or sometimes you might see them by the flower display at the entrance. In Disney California Adventure, Mulan makes more frequent appearances during the Luna New Year celebrations.
If you are planning on doing the Minnie and Friends Breakfast in the Park at Plaza Inn, we recently met Suzy, one of Cinderella's mice friends during breakfast.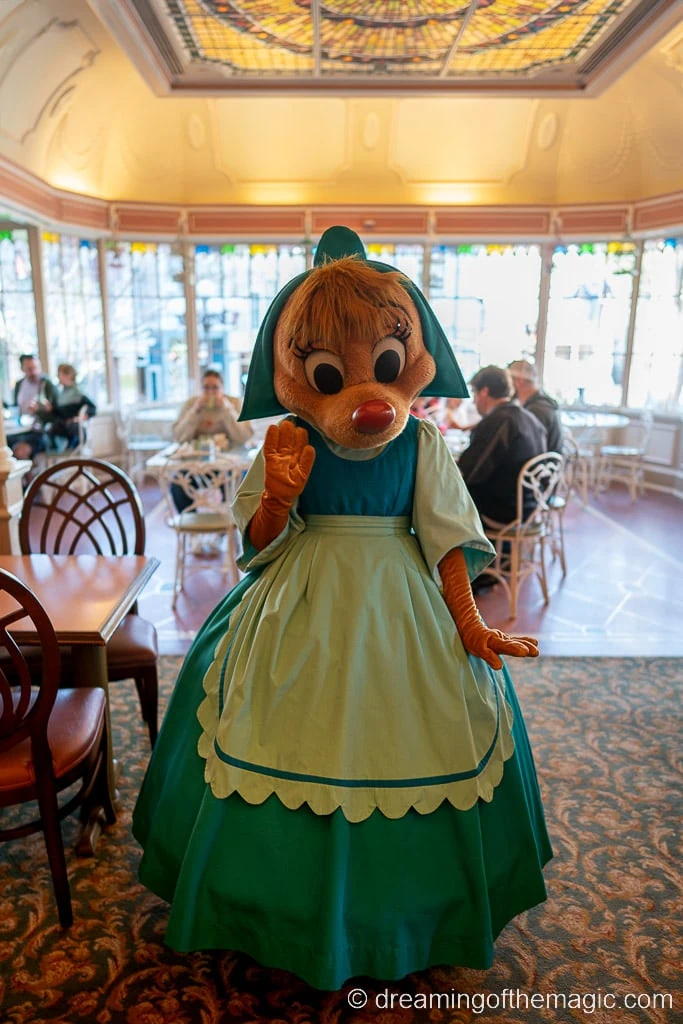 Encanto's Mirabel is also doing meet and greets in Frontierland in Disneyland Park.
6 | Disneyland After Dark: Princess Nite
Disneyland hosts a series of Disneyland After Dark events – these are separate, ticketed events which run for 4 hours after park closing (the park typically closes early on these nights). Guests can enjoy the rides and special dining offerings as well as take part in unique meet and greets.
In 2023, Disneyland introduced a new After Dark event for princess fans – Disneyland After Dark: Princess Nite took place on two nights in March 2023. There were appearances from lesser seen Disney Royalty including Princess Minnie Mouse and Princess Daisy, Princess Leia and her R2-D2, Elena of Avalor and Princess Atta.
Disneyland Califorina Princess tip: The 2024 schedule has not been released so it is yet to be confirmed if we will see another Disneyland After Dark: Princess Nite.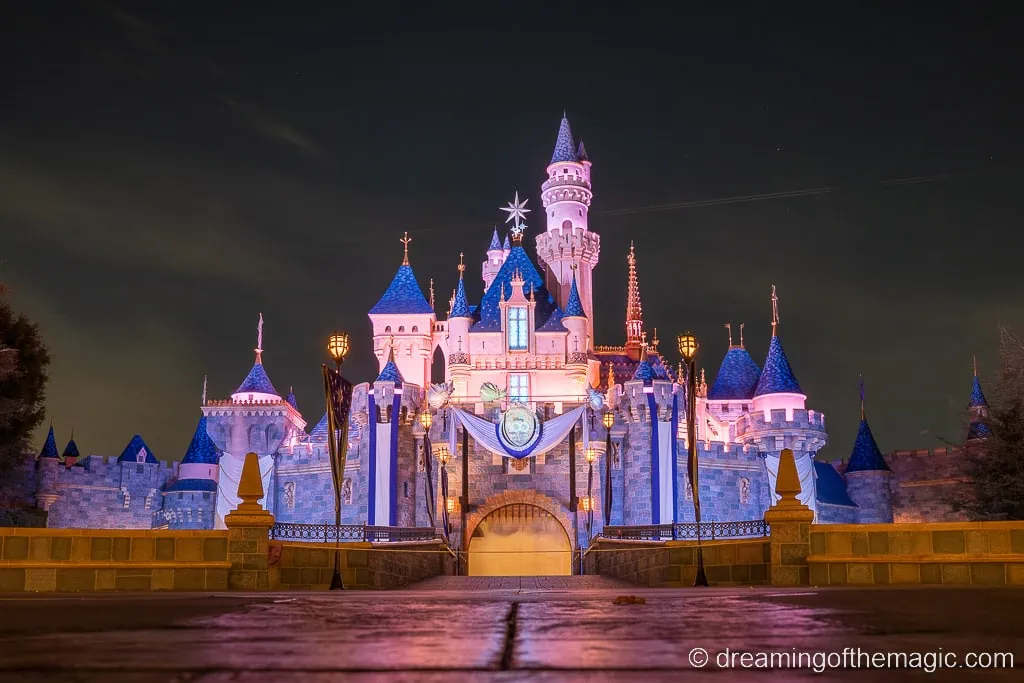 Other Princess Experiences at Disneyland California
There are a few other opportunities for Princess experiences at Disneyland:
7 | Parades
The Disney Princesses star in some of the biggest parades at Disneyland:
Magic Happens (Disneyland Park): Moana has two floats, the first carries Moana and the second Maui and Pua. The Frozen 2 float features Anna, Elsa, Olaf, Sven and Kristoff. The final floats include Tiana and Naveen, Cinderella and Aurora and Phillip.
Mulan's Lunar New Year Procession: in Disney California Adventure we saw Mulan in Mulan's Lunar New Year Procession which celebrates the Lunar New Year.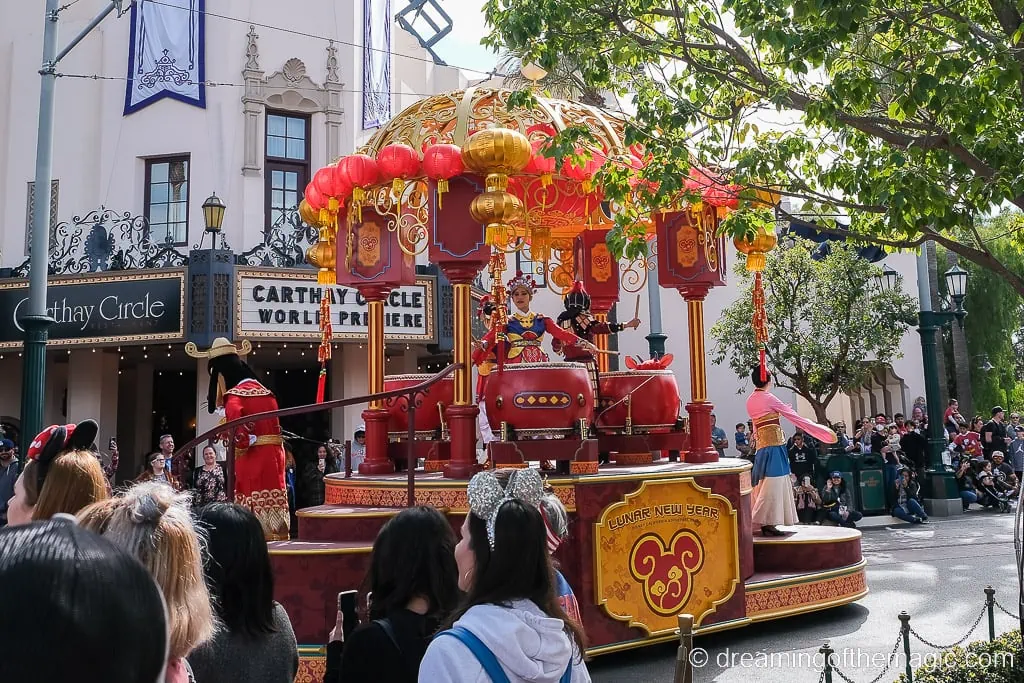 8 | Royal Makeover at Bibbidi Bobbidi Boutique
Location: Fantasyland, Disneyland Park
Guests aged 3 to 12 are transformed into Princesses and Knights during a Royal Makeover at the Bibbidi Bobbidi Boutique. It's such a wonderful experience for a little princess or knight!
There are a number of packages available with the starter package including makeup, face gems and hair ($99.95+tax) and increasing in price depending on extras – children can choose a tutu and t-shirt ($149.95 + tax) or a princess gown and photos at Cinderellas carriage ($199.95 + tax). Guests can also upgrade to a deluxe princess gown ($229.95 + tax). Knight packages with hair styling and a sword and shield start at $19.95 + tax.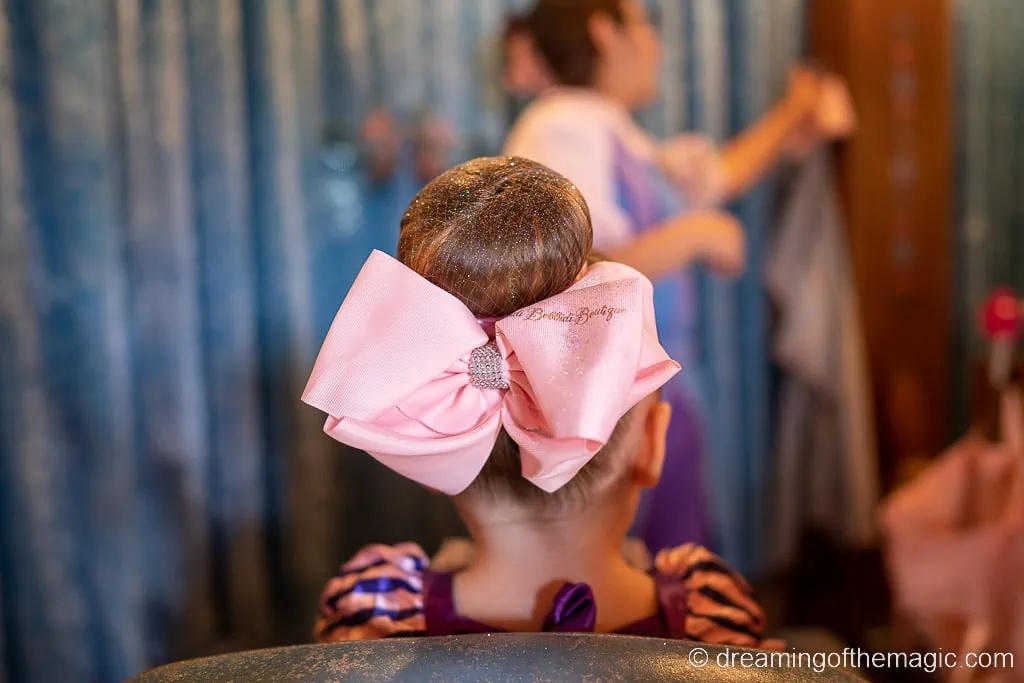 Little princesses and knights are then seated on their makeover thrones and a Fairy Godmother sets to work on their royal transformation. There's lots of glitter, gems and hairspray (we were given some hair products in our goodie bag to help wash everything out later!) and a big reveal!
Our 3-year-old absolutely loved her Bibbidi Bobbidi experience and she was treated like a superstar for the rest of the day!
Disneyland California princesses tip: we reserved our Bibbidi Bobbidi makeover for the morning of our princess breakfast and it worked great!
Bibbidi Bobbidi is another of Disneyland's most popular reservations so we'd definitely recommend reserving when reservations are released, typically open 60 days in advance at 3am PST/6am EST.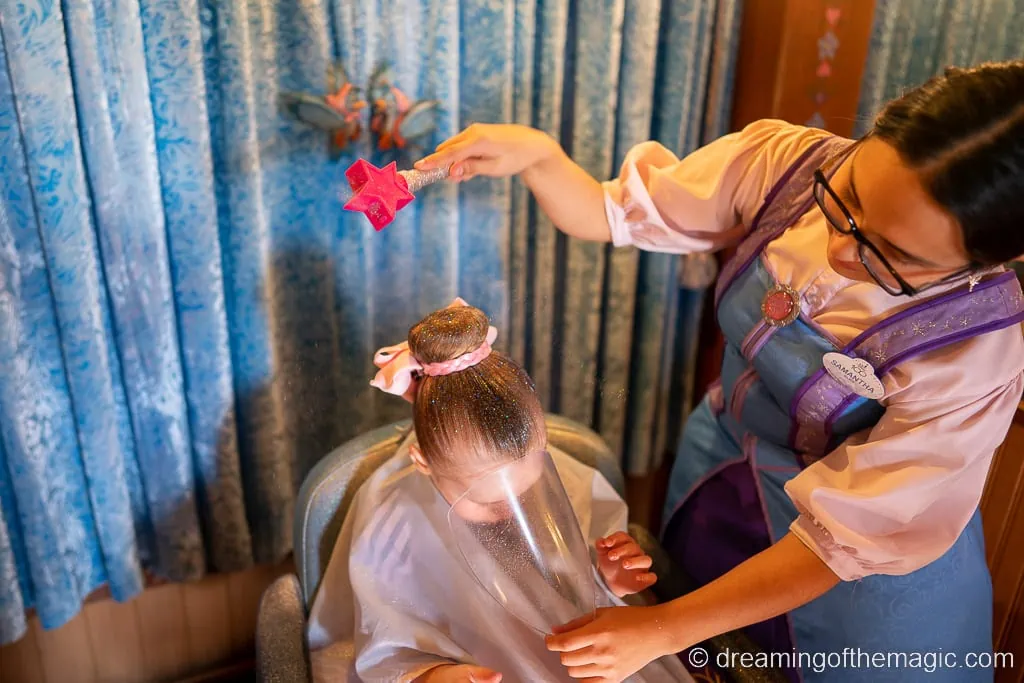 9 | Meet Tinkerbell in Pixie Hollow
Location: Pixie Hollow, Fantasyland, Disneyland Park
Ok, so Tinkerbell is not an official Disney Princess but, given our 3-year-old's confidence that she is indeed a princess with wings, we wanted to mention her on our list!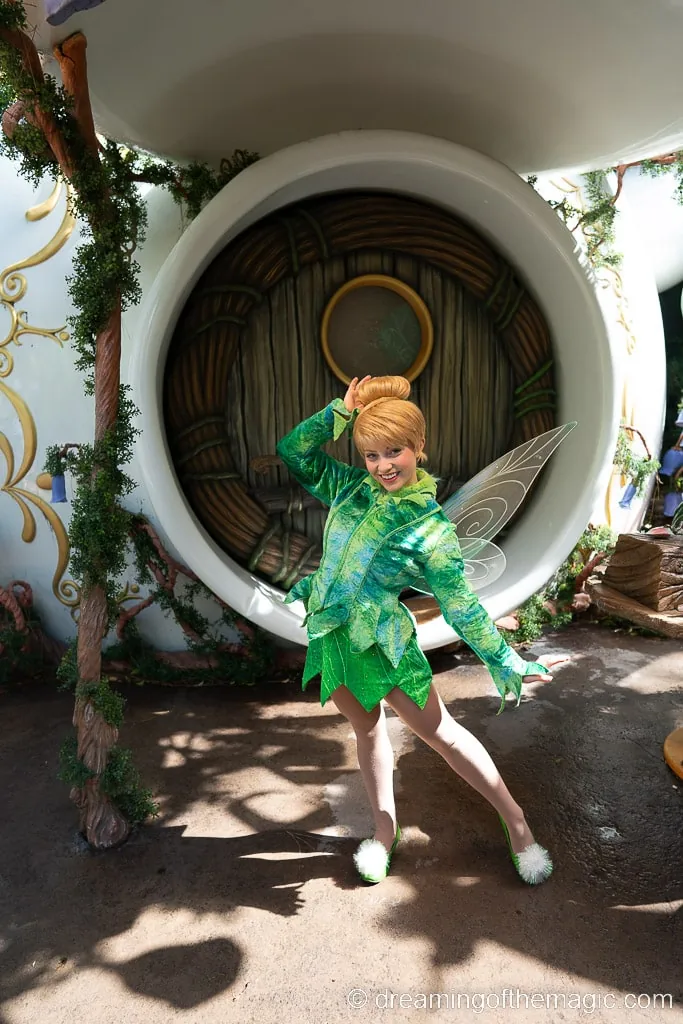 After reaching the top of the line we were directed into the enchanted forest where we met with Tinkerbell. She was wonderful and made a huge fuss of our 3 kids.
Tinkerbell greets guests at Pixie Hollow in Fantasyland from 10am to 2.15pm. Times can vary so make sure to check your app when you visit.
10 | Sleeping Beauty's Castle
The heart of Disneyland California, Sleeping Beauty's Castle sits at the entrance to Fantasyland at the end of Main Street.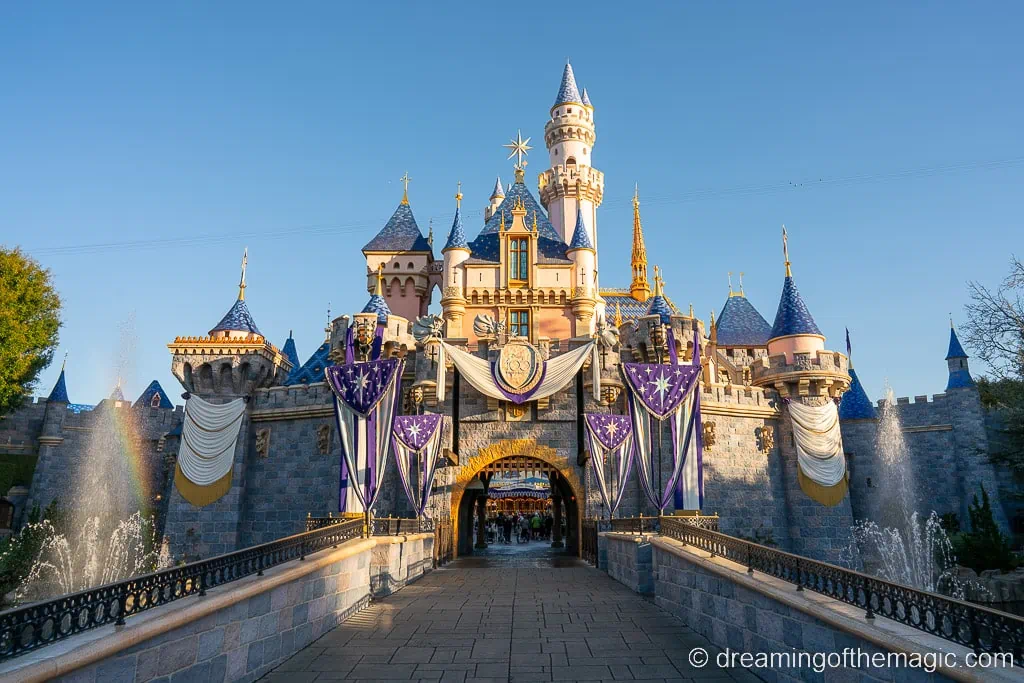 Take Photos
The castle is the backdrop to millions of Disneyland California photos and we took some adorable photos of our 3-year-old after her Royal Makeover at Bibbidi Bobbidi Boutique. You can usually catch a Photopass Photographer in front of the castle if you want to capture some group/family photos.
Walk Through the Castle
Many guests aren't aware that they can actually walk through the castle interior. Mesmerising 3D scenes depicting the tale of Princess Aurora are dotted along the winding passageways and stairwells.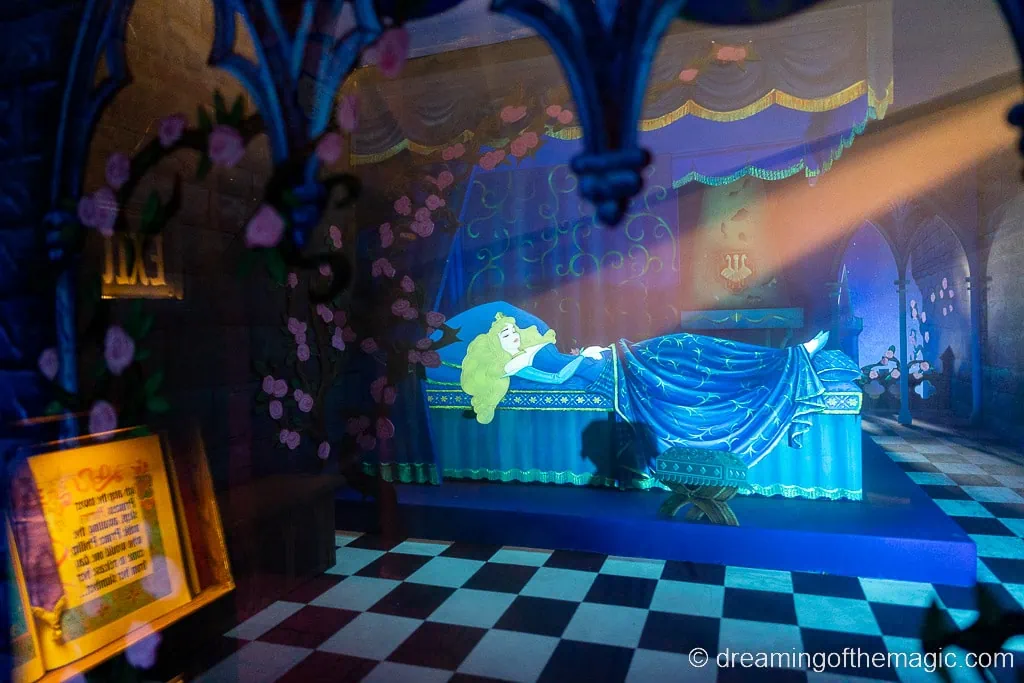 Snow White Grotto
Snow White's Grotto is located to the east of the castle (on the Matterhorn side). It is home to Snow White's Wishing Well where guests can throw coins and make a wish – these are donated to a children's charity. There are statues of Snow White and the Seven Dwarves around a small waterfall.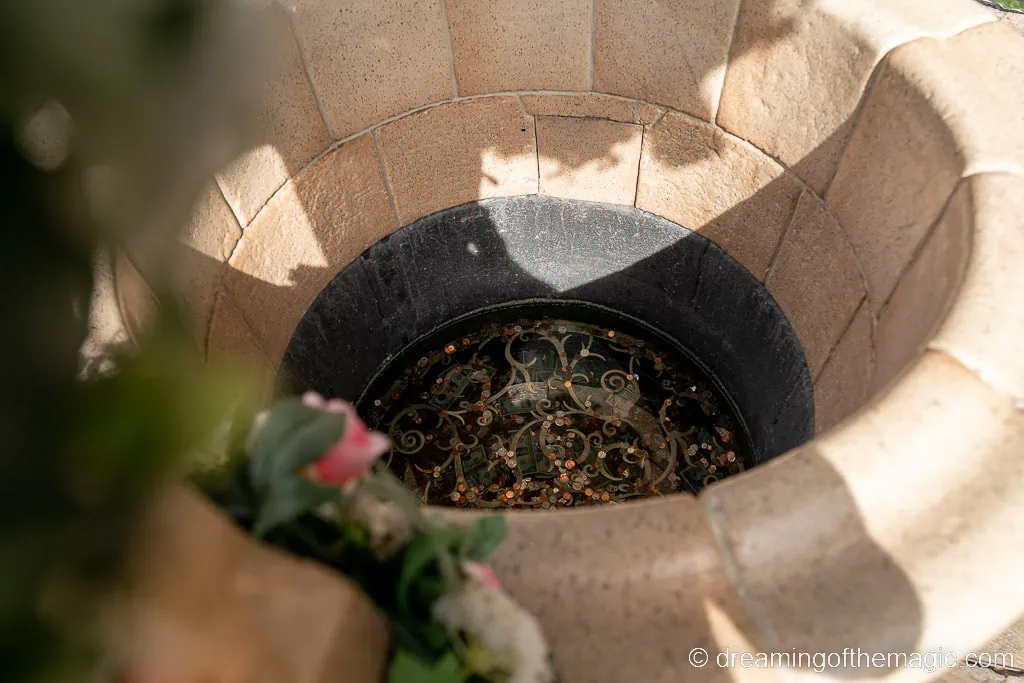 Disneyland California Princess tip: the Snow White grotto contains one of our favourite hidden gems in Disneyland – the Peter and Wendy tree! Just beyond the Wishing Well there is a small set of steps and, on the right of the steps, there is a tree with PP + WD carved on its trunk. PP + WD are the initials of Peter Pan and Wendy Darling!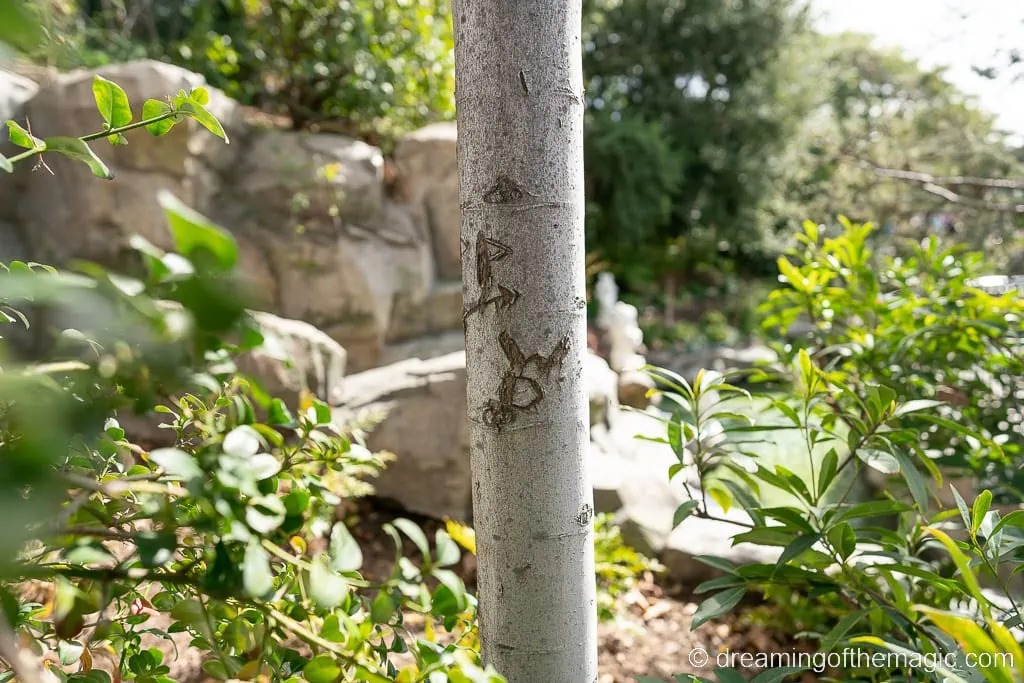 11 | Rides Fit for a Princess
Ariel is the star of the show on the wonderful Little Mermaid – Ariel's Undersea Adventure in Disney California Adventure. Snow White also has her own ride, Snow White's Enchanted Wish, in Fantasyland in Disneyland Park.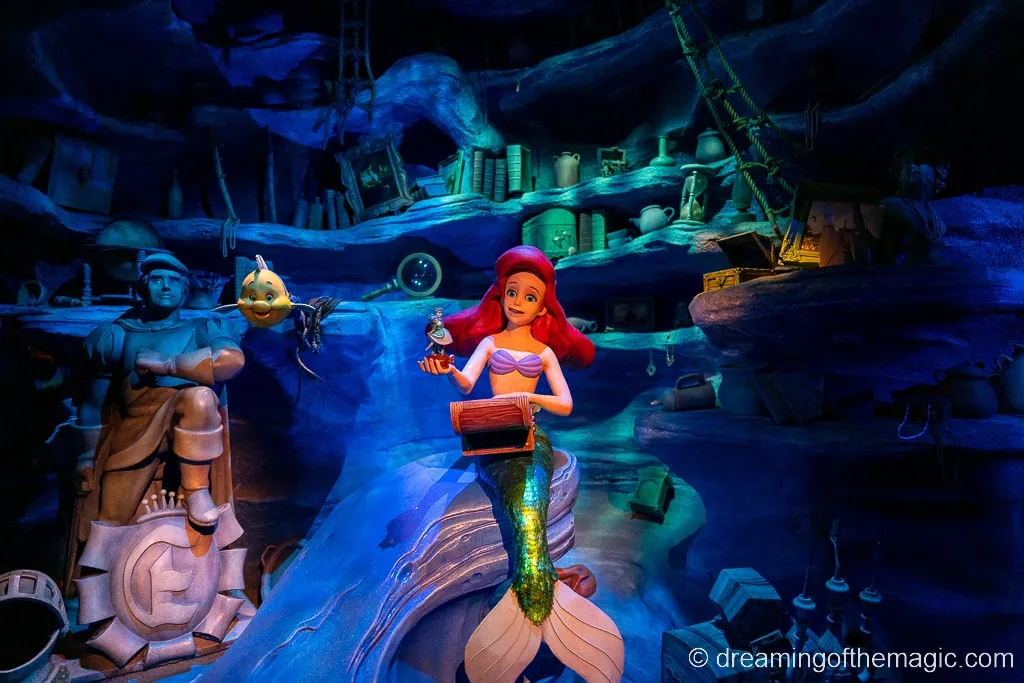 Another Fantasyland ride, Storybook Land Canals Boats, takes guests on a winding boat ride through miniature villages from Disney movies. For Princess fans there are:
Frozen: Arendelle and Elsa's ice palace
Snow White and the Seven Dwarfs: Cottage of the Dwarfs
Cinderella: castle and village
Aladdin: Agrabah and the Cave of Wonders
The Little Mermaid: palace and underwater castle
Disneyland California Princess tip: Tiana's Bayou Adventure, a Princess and the Frog adventure, is currently under construction in Critter Country in Disneyland Park. It will be a log flume ride where guests will join Tiana, Naveen and Louis on a bayou adventure as they prepare to host a Mardis Gras Celebration. It is scheduled for completion in 2024.