Having learned that guests with a valid theme park ticket can stay overnight in motorhomes and campervans at Disneyland Paris we decided to include a stopover during our Summer 2023 France road trip.
Forty-five nights into our Europe campervan adventure, we parked up our camper in the Disneyland Paris car park and hit the parks! Here's everything you need to know about staying in a motorhome at Disneyland Paris.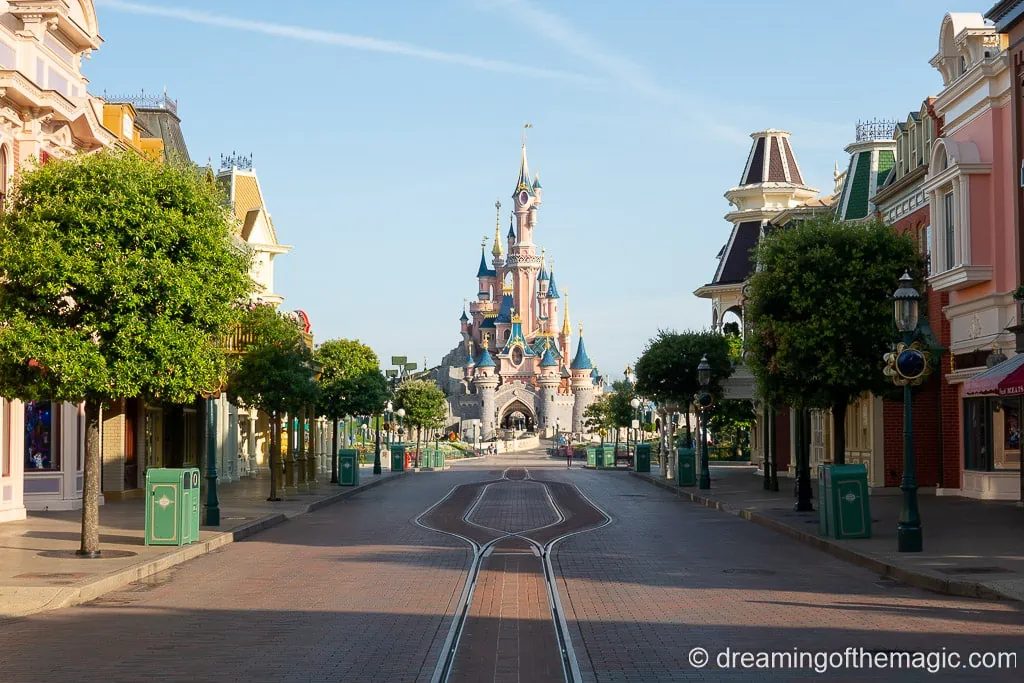 Our experience of staying in a campervan at Disneyland Paris
During a recent visit to Disneyland Paris, we spent two nights in our campervan at the Disneyland Paris car park.
Camper/motorhome parking at Disney tip: We decided to split our stay between our camper (first and last night) and the rest of our time in one of the Disneyland Paris onsite hotels as, surprisingly, there was very little price difference between the two – I've explained this in more detail later!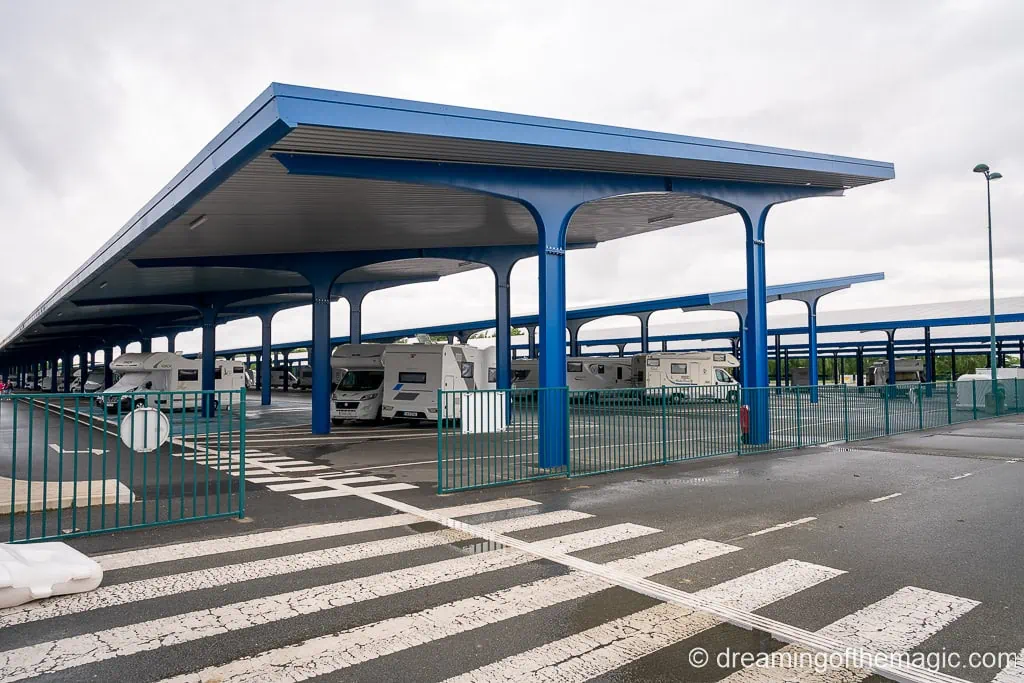 On our first night at Disneyland Paris, we arrived at the main parking lot late in the evening having traveled over 5 hours from Europa Park in Germany. We knew that entry to the parking lot closed half an hour after the park closes which, on that day, was 11.30 pm. Determined not to miss the opportunity to camp so close to the park entrance we made sure to arrive well in advance of the closing time!
Camper/motorhome parking at Disney tip: Overnight guests must arrive at the parking lot during regular opening hours. Parking opens daily at 8am and closes 30 minutes after the parks close – this varies throughout the year so make sure to check the park calendar here.
On arrival at the parking payment booths, we showed our park tickets for the following days and paid for one night (EUR 40) before proceeding to the overnight parking area.
Camper/motorhome parking at Disney tip: Additional nights can be paid for by credit card at the Animal Care Center or at the car park Toll Plaza if not paying by credit card.
Camper and motorhome parking is located adjacent to the main parking area and has its own separate entrance controlled by a security barrier. The barrier lifted automatically upon reading our registration and we had a quick drive around to suss out our favourite parking spot.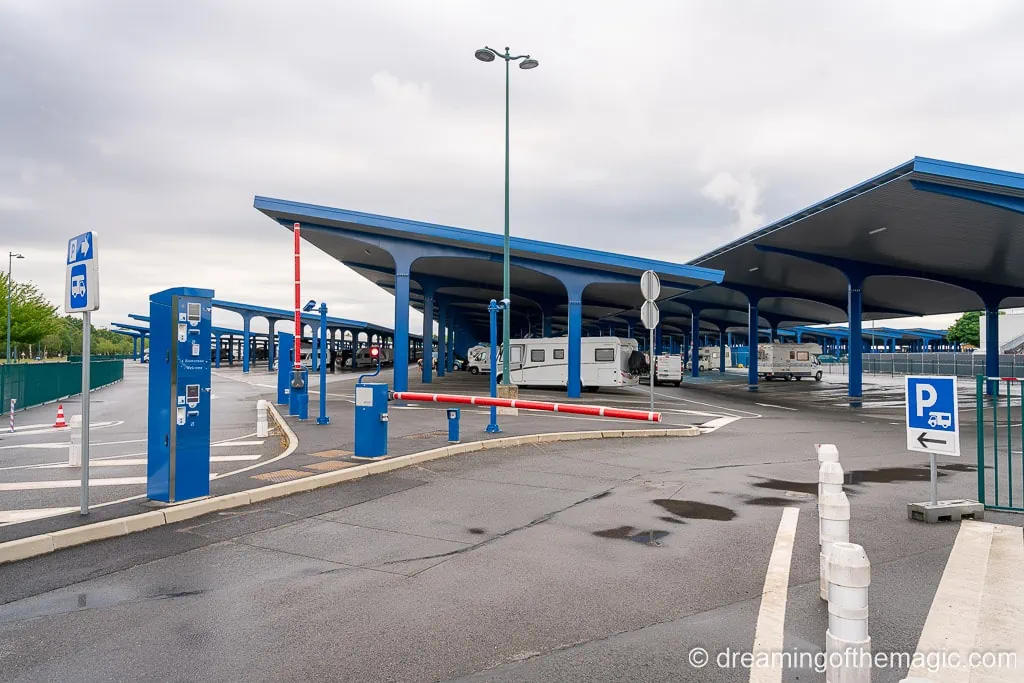 The camper/motorhome parking is effectively just a large car park covered by solar panels. Some of the rows were on a slight incline so we picked a flat area and parked up – there were less than 100 vans in the parking lot so everyone had lots of space surrounding their vans.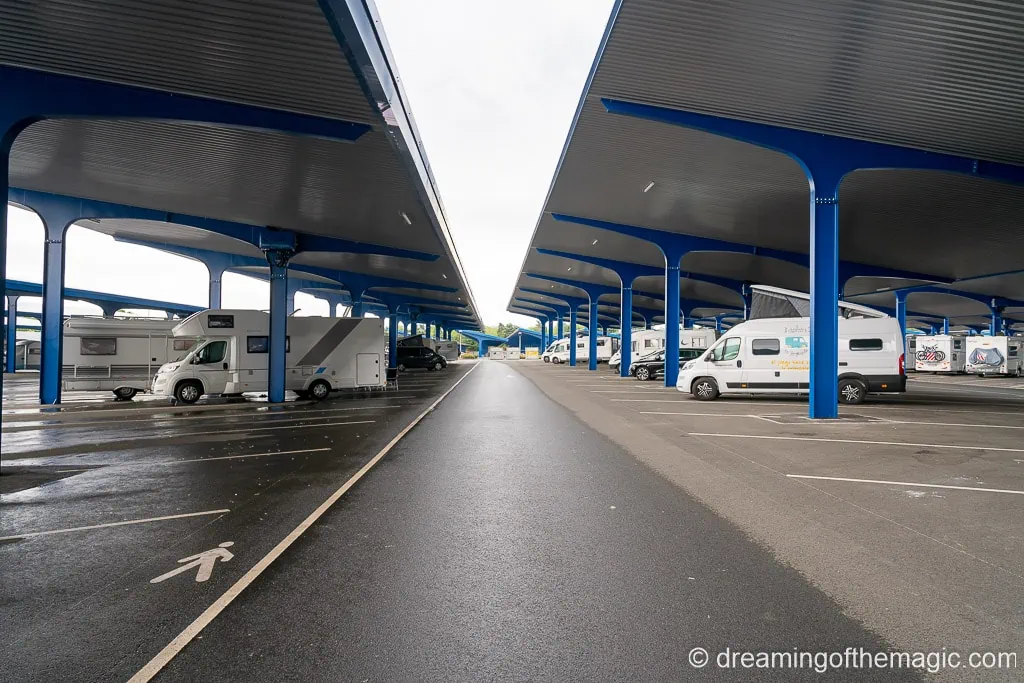 Our kids (aged 5, 4 and 1) were tired after a morning at Europa Park followed by a long drive so we quickly set up the van for sleeping. They realised the nightly fireworks were just about to start over in Disneyland Park so their bedtime was postponed – we grabbed our camping chairs and enjoyed the audio before heading to bed!
The parking area was really quiet overnight so everyone slept pretty well and only woke when the sweepers passed through a couple of times in the early hours.
Disneyland Paris Tickets
Tickets for Disneyland Paris must be purchased in advance so you need to plan ahead. You cannot buy Disneyland Paris tickets at the entrance.
Only special-rate tickets for guests with disabilities, their accompanying guests, and certain tickets related to Annual Pass holder benefits can be purchased at the gate on the day. We recommend booking your tickets directly on the Disneyland Paris site. You can check prices and availability for each day directly on the site – check prices now!
Tickets are also included when you book a hotel and ticket package. Staying onsite at Disneyland Paris is a real treat and the Disney hotel and ticket packages are amazing value– check prices now!
Book your Disneyland Paris tickets and hotels now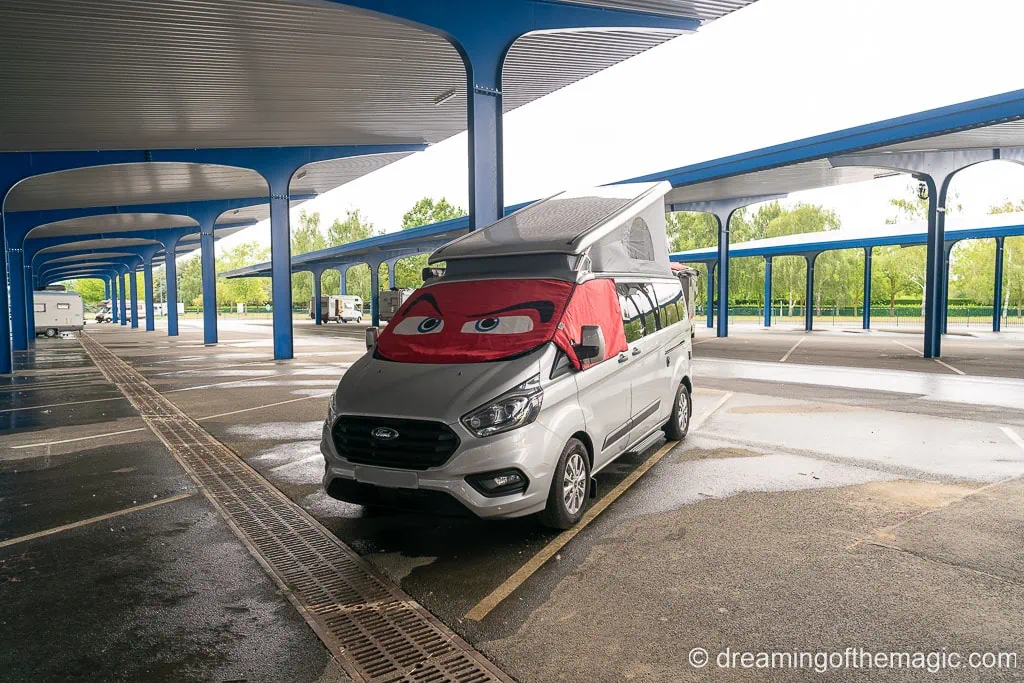 The parking area was full of activity the next morning as the overnight occupants were preparing for either a day in the parks or moving on. Everyone was busy with general camper tasks like preparing breakfast, packing up and emptying waste water.
With our next few nights reserved at the Disney Newport Bay Club we quickly packed up anc emptied our waste water. Dave moved our van over to the hotel parking lot where we enjoyed free guest parking as part of our hotel stay and I walked into the park with the kids.
After wrapping up our final day in the parks, we moved our van from Disney Newport Bay Club back to the camper overnight parking and paid EUR 40 at the parking booth before setting off early the next morning to continue our travels.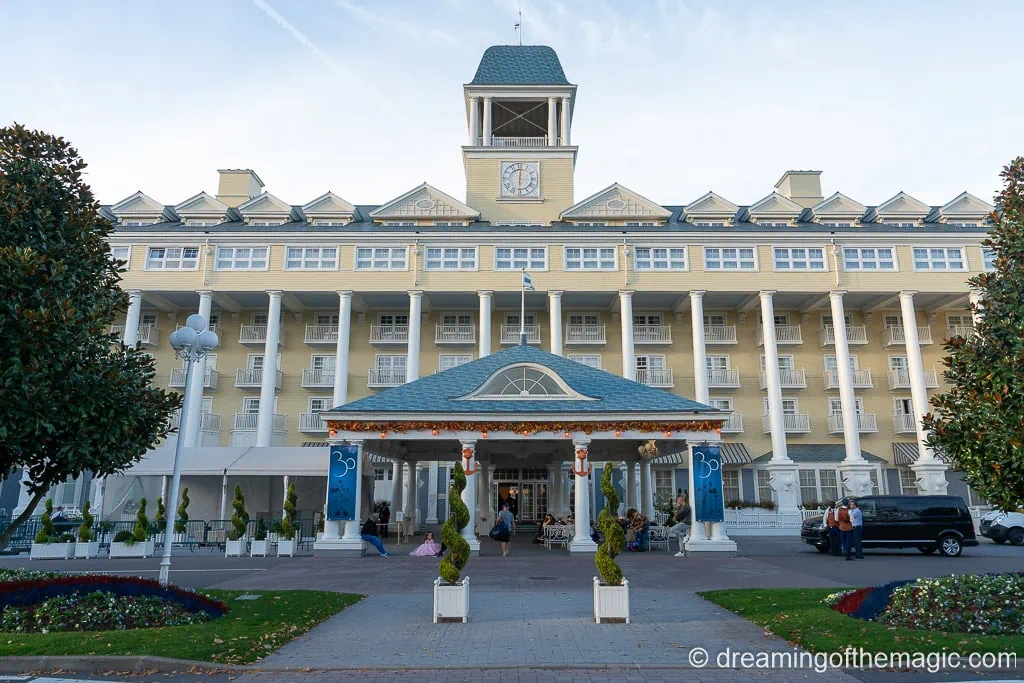 Why we split our stay between camper and hotel
For our family of five (2 adults, 2 kids and an infant), the cost of staying 3 nights in our campervan was pretty much the same price as staying onsite in a Disneyland Paris hotel Hotel! When we priced tickets and overnight camper parking versus a stay at an onsite Disney hotel with park tickets included the hotel didn't work out much more expensive – we were so excited to stay in a hotel after camping for over 7 weeks!
Camper/motorhome parking at Disney tip: make sure to compare your camping + park tickets price with the cost of staying in one of the onsite Disneyland Paris hotels (which include park tickets if booked directly).
Splitting our stay between our campervan and Disney Newport Bay Club was a fantastic experience – one of our favourite benefits is being able to access the park one hour for Extra Magic Hour, a dedicated hour for Disney hotel guests every morning in advance of regular opening! It's definitely something to consider if you are purchasing tickets for 4!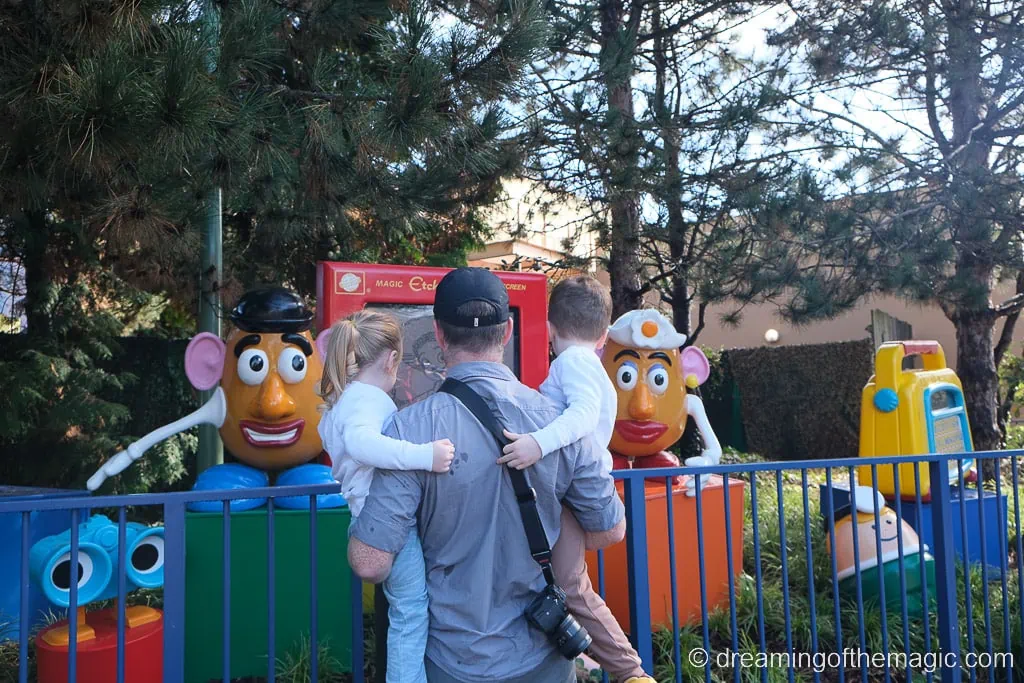 If you're wondering how it works, I'll use this example from the next weekend we're visiting Disneyland Paris in November – this is based on the price in August 2023 so it would likely be even cheaper if you planned in advance, something we never do!
Campervan/Motorhome for 3 nights:
3 nights overnight parking: €120
4-day 2-park ticket mid-November: €1,048 for 2 adults and 2 children (our 1 year old doesn't require a ticket)
Total = €1,168
Staying onsite at Disneyland Paris hotel for 3nights:
3 nights in Hotel Cheyenne (including 4-day park tickets, parking at the hotel and Extra Magic Hour): €1,362
The Verdict:
For an extra €194, or €65 a night, we can stay onsite and benefit from a hotel room with a hot shower and have access to the park for Extra Magic Hour – if you booked further in advance the price difference would likely be even less.
We've stayed in all the Disney onsite hotels and Hotel Cheyenne is a great 3* hotel with a Wild West/Toy Story theming. The rooms are lovely and it's a pleasant 15 minute walk to the park entrance.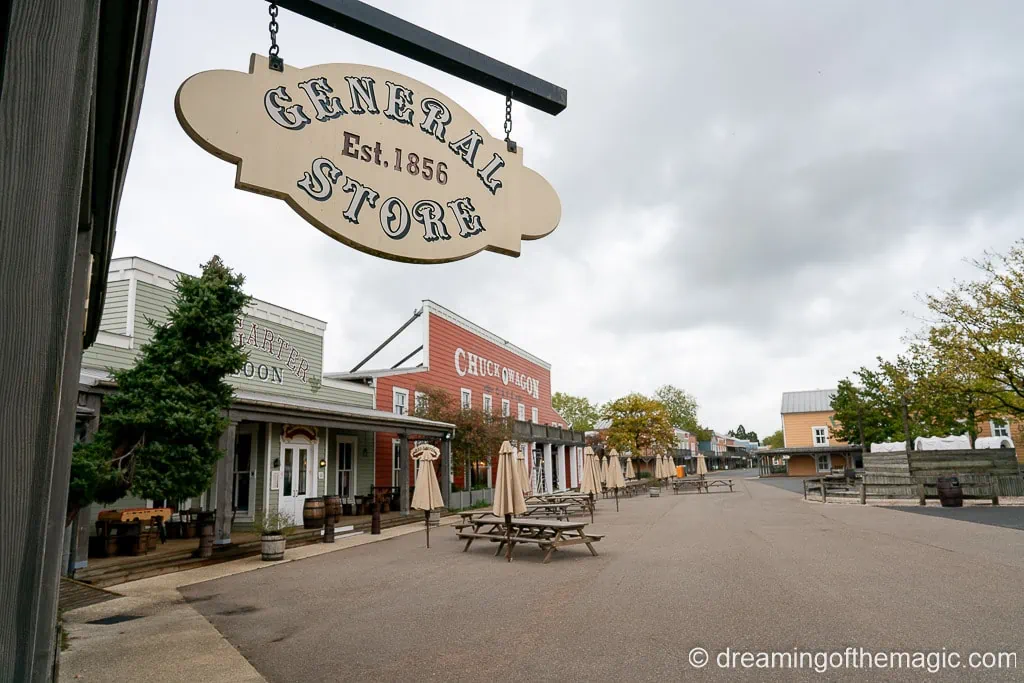 Camper/motorhome parking at Disney tip: If you are buying fewer tickets obviously overnight parking will be a more cost-effective option but I wanted to include this as we were surprised!
Our Guide to Overnight Motorhome Parking at Disneyland Paris
Here's all the information you need on camper/motorhome parking at Disneyland Paris.
Who can park overnight at Disneyland Paris?
Campervans and motorhomes can park overnight in a dedicated parking area with access controlled by a barrier. Vehicles must be self-contained and camping/tents are not permitted.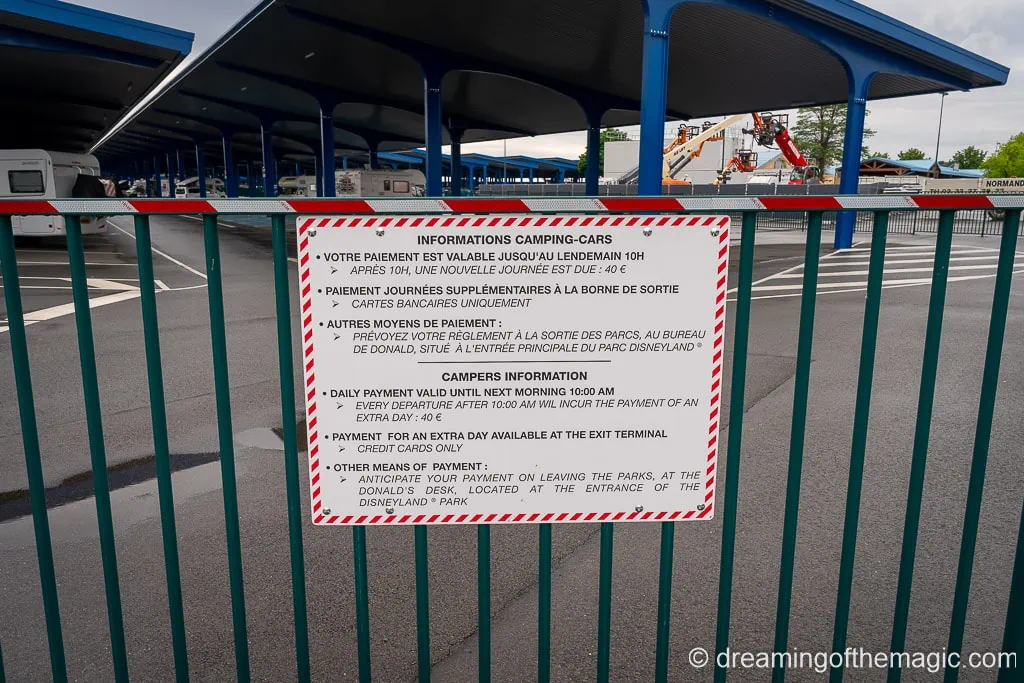 Where is Overnight Parking at Disneyland Paris?
Overnight parking is located within the main Disneyland Paris car park. There is a dedicated area for motorhomes and campervans with a barrier for entry and exit – we paid for one night at the parking booths upon entry and the barrier lifted automatically after reading our registration.
Map of Overnight Motorhome Parking at Disneyland Paris
We've put together this map of where the motorhome parking is located, along with the walking route to the parks and the location of the waste water station.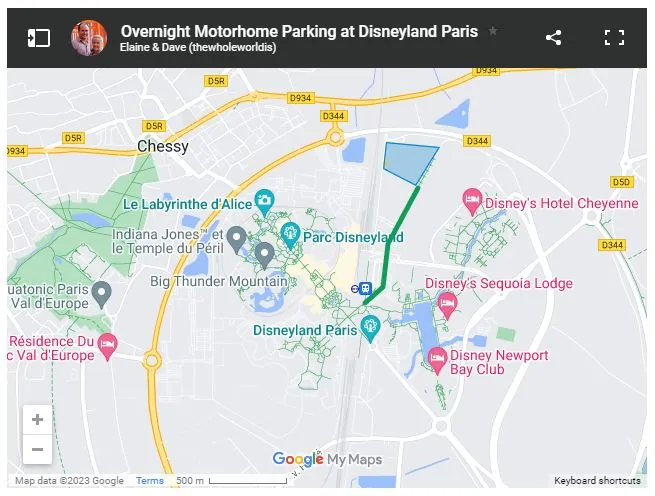 How much is overnight parking at Disneyland Paris?
Parking costs €40 per night and this covers a stay until 10am the following morning – if you stay beyond 10am, you are charged for a full day. Additional nights can be paid for by credit card at the Animal Care Center or at the car park Toll Plaza if not paying by credit card.
Park tickets are required in addition to the overnight parking fee.
What facilities are there for motorhomes?
Facilities are limited to waste, water taps and waste water disposal. Campervans and motorhomes must be self-contained as there are no toilets/showers available for campervan/motorhome overnight guests.
Waste bins are located around the perimeter of the parking area and were easy to access.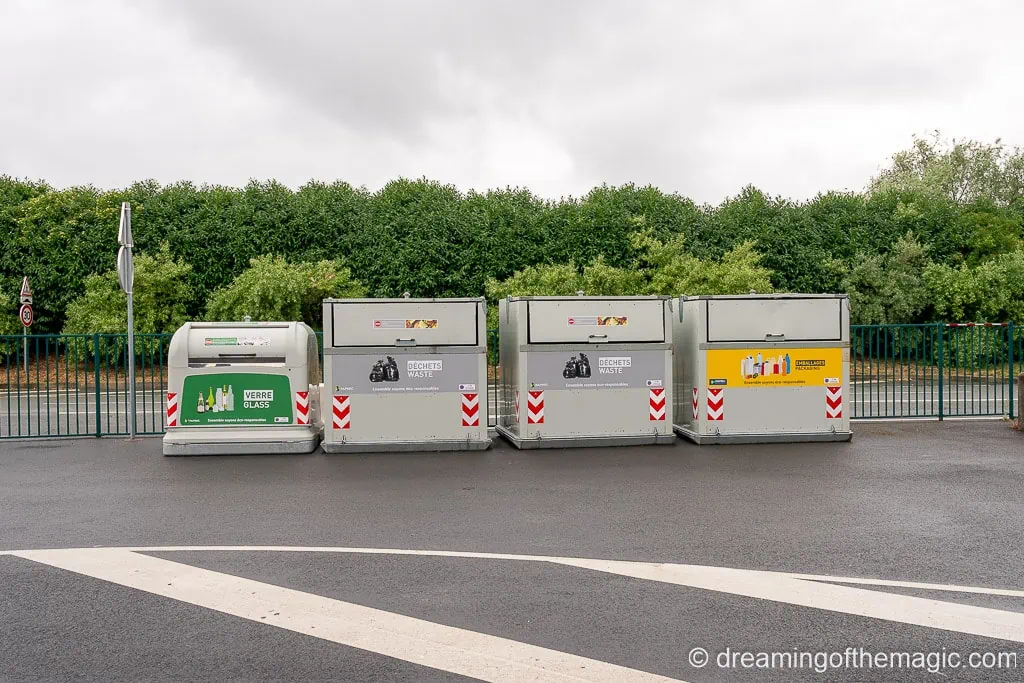 From April to November water taps and waste water disposal is in operation. It took us a little while to locate the waste water as it is in a different section of the car park – we had to exit the overnight parking area and enter the adjacent bus parking section.
How do I get to the parks from the overnight parking?
There is a central walkway through the main car park to the Disney Village and the entrances for Walt Disney Studios Park and Disneyland Park. It took us around 15 minutes to walk to the entrance.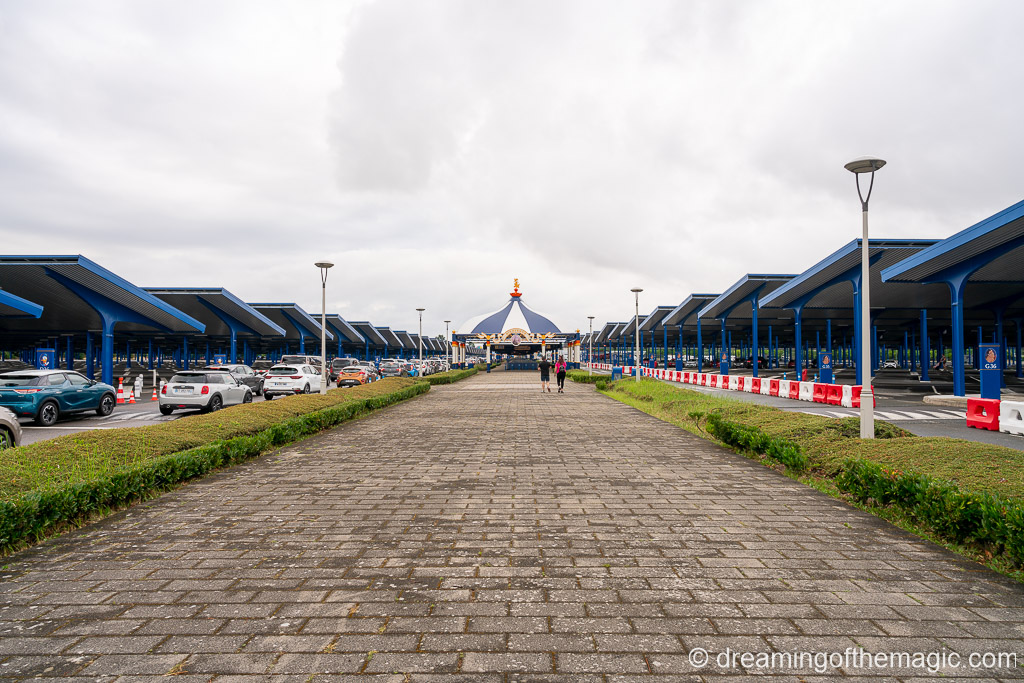 Do I need to reserve in advance?
No, advance reservations aren't required or necessary. There are over 500 spaces for motorhomes and campervans – we stayed in peak summer and had masses of space around us. There were probably less than 100 campers on either night.
Is overnight parking secure?
As mentioned, overnight parking is managed by registration reading and a barrier upon entry/exit. Security passed through a few times when we were there and the parking lot was swept twice overnight.
Rain
The parking area is mostly covered by solar panels so it is quite sheltered. It rained heavily on our second night but we were mostly spared by the solar panels. We were still able to sit outside the camper and stay dry. There was some water run off so maybe don't leave your chairs underneath the van like we did!
Can I bring pets?
Pets are permitted in motorhomes and campervans but not in the parks – only service animals are permitted in Disneyland Paris. There is an Animal Care Center located near Guest Parking where pets can be boarded for the day while guests visit the parks – it currently costs EUR 25 per day and an additional 25 EUR if pets stay overnight.