If you're planning a visit with younger kids you are probably considering if you should bring a stroller to Walt Disney World. We ask ourselves the same question when we travel to Disney with our 3 young kids! To help with your decision, we've put together this guide with everything you need to know about visiting Walt Disney World with a stroller.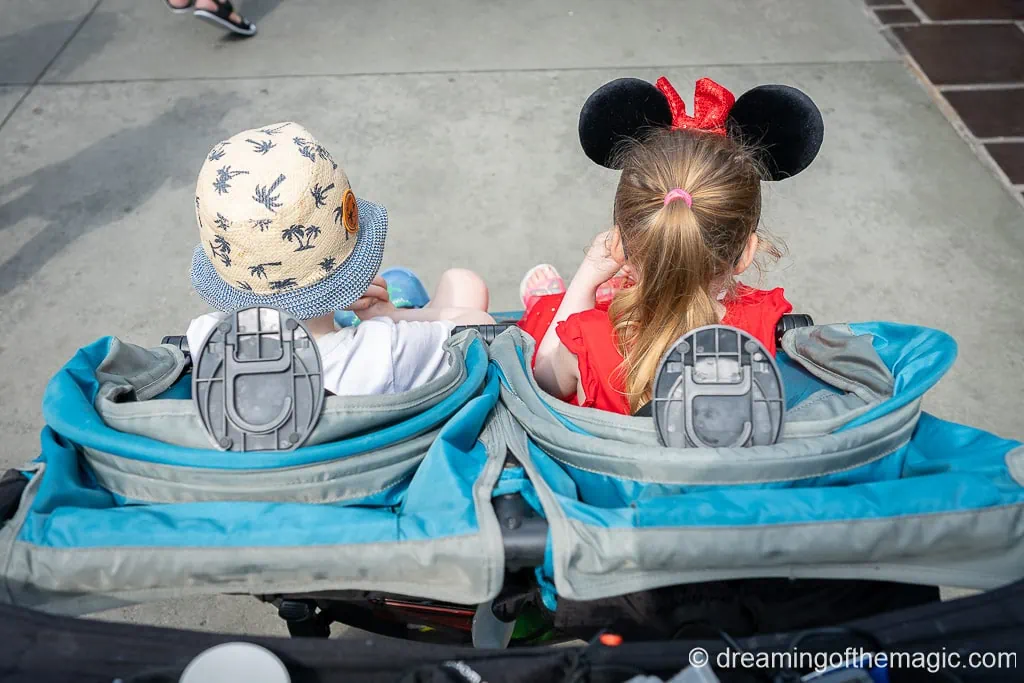 Strollers at Disney World: Overview
If you want to get straight to our recommendations, here is an overview of our guide to strollers at Disney World:
For kids aged 6 and under we absolutely recommend a stroller for Walt Disney World – the combination of long days, extensive walking, high temperatures and crowds mean it is so much easier with a stroller
Strollers must be less than 31" (79cm) wide and 52" (132cm) long and wagons are not permitted unless there is a medical need
You can bring your own stroller or rent one through one of the Orlando stroller rental companies – we always rent a City Mini GT single or double through Kingdom Strollers – check prices here
Book your Kingdom Stroller now!
If you opt not to bring a stroller or rent one in advance then you can hire a stroller on the spot for use in each individual Disney World park – note, these are hard plastic strollers with no recline so are not suitable for babies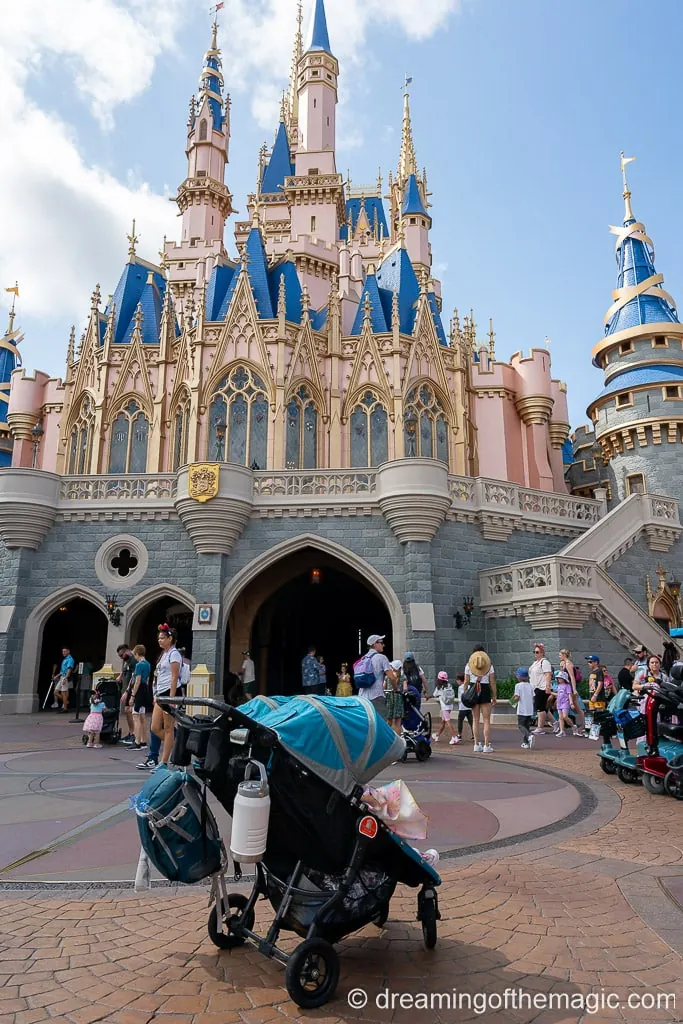 Now for the detail!
Do I need a stroller for my 3, 4, 5, or 6-year-old at Disney World?
In most cases for kids aged 6 and under, we'd absolutely recommend using a stroller at Disney World. Here's why:
we regularly cover 20,000 to 30,000 steps each day at Disney World and this is typical of many parkgoers – this equates to about 10 miles which is a lot to ask of kids aged 6 and under
there are lots of early starts and late finishes if you rope drop or watch the fireworks
you might switch between parks or, depending on wait times, end up walking across a park multiple times to ride specific rides
sometimes you might need to walk fast e.g. if you are rushing for a dining reservation or want to make a Genie +/ virtual queue ride reservation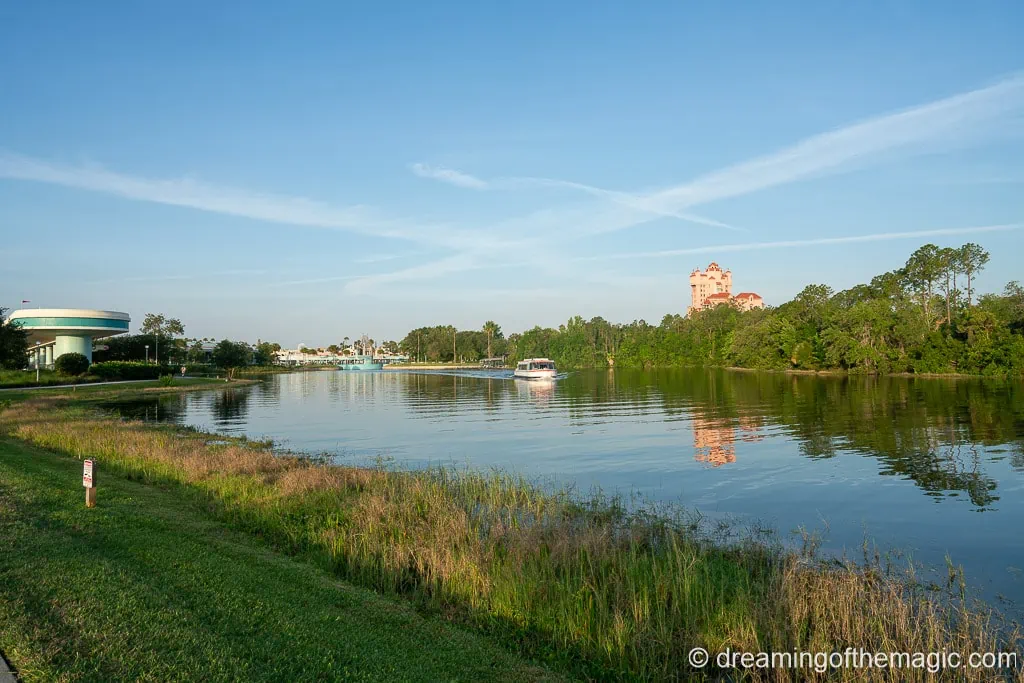 our kids use their stroller for time out from the crowds, the sun and the rain!
our four-year-old still enjoys the occasional Disney nap (it's been 2 years since she last napped regularly!) and often falls asleep on the way home if we make it to the fireworks or park closing
a stroller is awesome for storage – you can load it up with water bottles, cooler bags, spare clothes, snacks and sunscreen.
Strollers at Disney World: We've traveled to Disney since our kids were newborns. Our two eldest (currently 4 and 5 years old) haven't used a stroller outside of Disney since they were 2 but both request stroller time at Disney World – we rent a double stroller from Kingdom Strollers and both use it throughout every day at Disney – check stroller rental options here.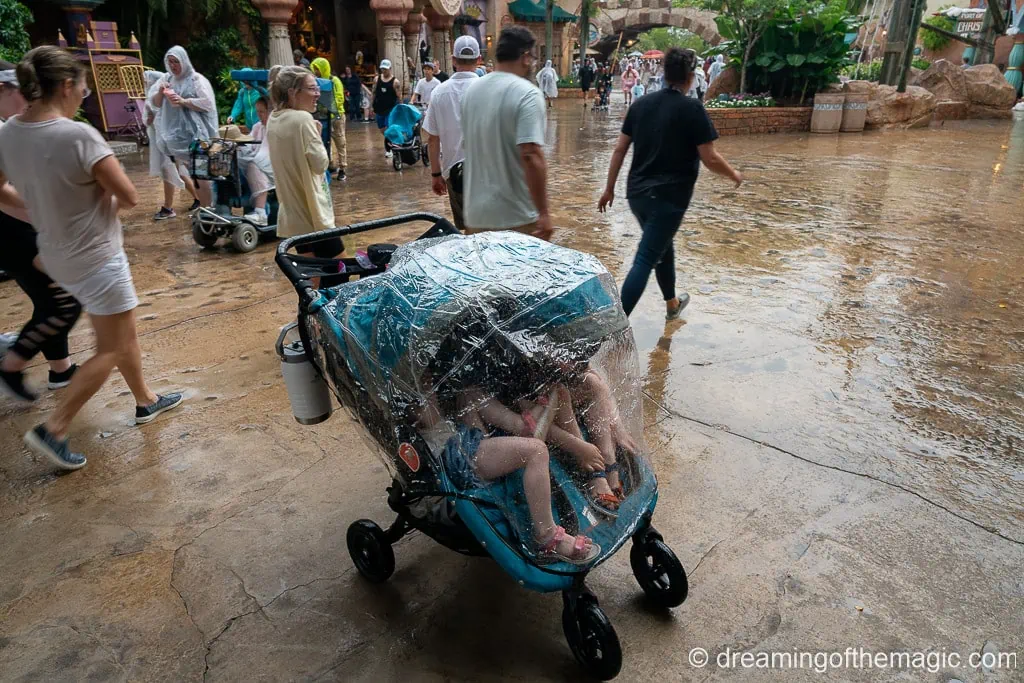 What about older kids?
It really depends on your individual kids and how far they can walk. I've seen plenty of older kids having a rest in a stroller or sharing a seat with their younger siblings.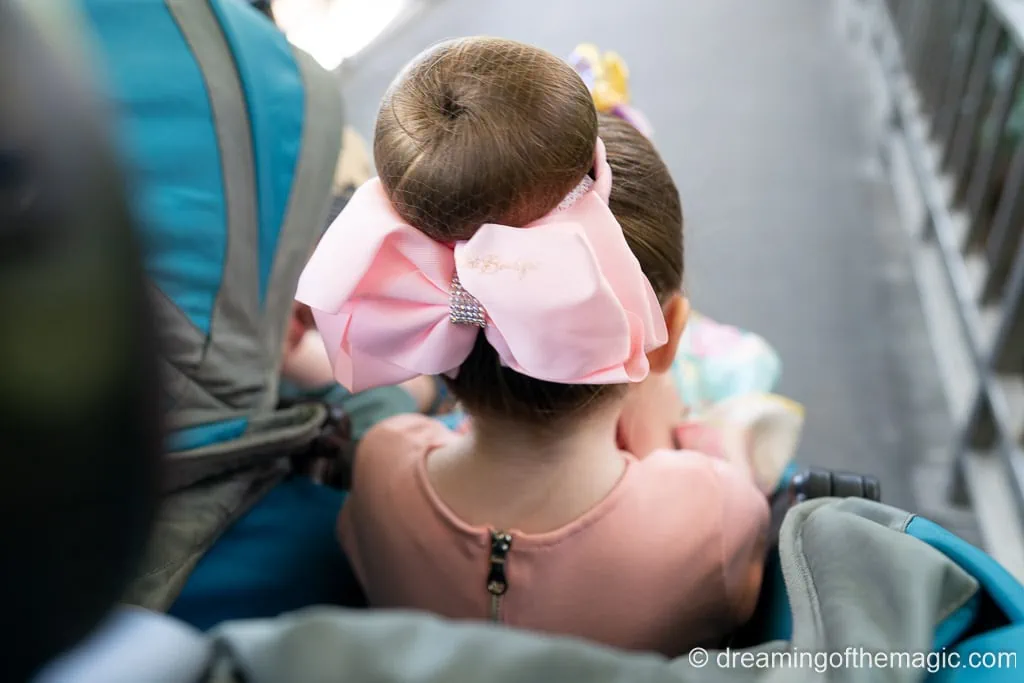 What do I do if I don't have a suitable stroller?
Rent one! There are loads of guests in the same situation and you will come across hundreds of rental strollers at Disney World.
Our favorite rental company is Kingdom Strollers – they deliver to Disney Resorts and Orlando Hotels or you can pick the stroller up from Terminal A in Orlando International Airport. Every stroller we've reserved has arrived in pristine condition and their customer service is amazing – our pick-ups and drops offs are always as promised and they've been super flexible on occasions when we've requested to extend our rental period.
Book your Kingdom Stroller now!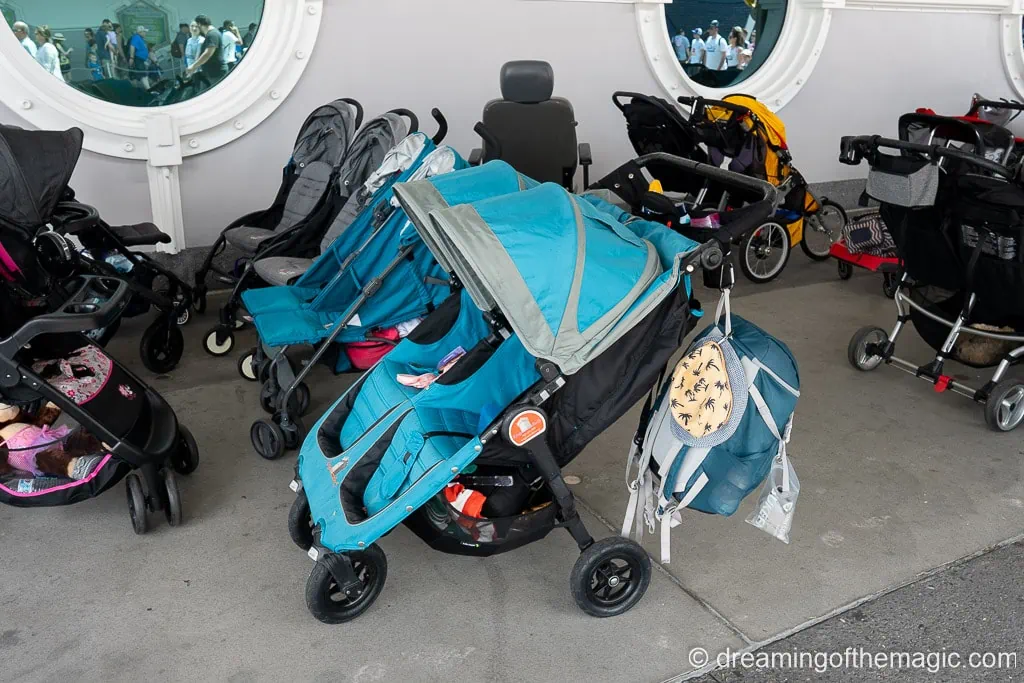 Best rental stroller
We've researched all the options extensively when choosing for our own kids and the City Mini GT stroller has always been a winner for us – we love the adjustable handlebar, side brake lever, ease of collapsing and opening, the substantial sun canopy (essential for the Florida sun) and rain cover and the forever-air wheels which ensure a smooth ride. Another important feature is that they have removable covers so are washed fully prior to rental – read more about the City Mini GT stroller here.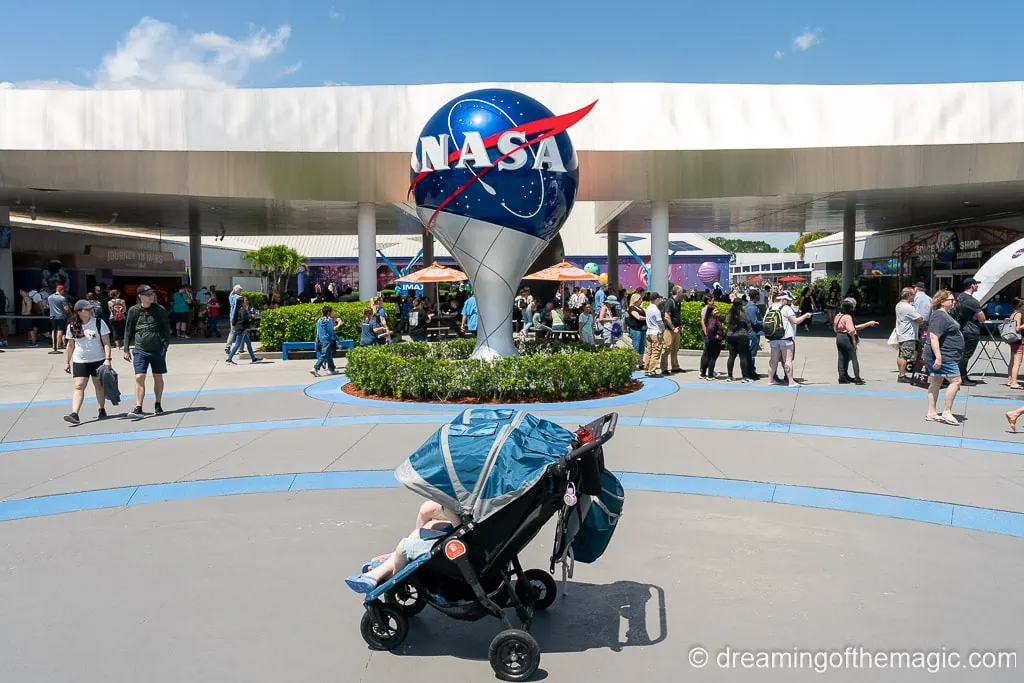 Can I use a baby carrier for younger kids?
We bring both a stroller and a baby carrier for our 1-year-old! A carrier is really useful for waiting in line, nursing or for a break from the stroller when they get fussy – little ones can even stay in the baby carrier for some of the gentler rides.
However, I wouldn't visit Disney World without taking/renting a stroller for them as well. As expected, it gets extremely hot and the carrier can be uncomfortable for both the baby and I. It's also great for naps and getting them out of the sun.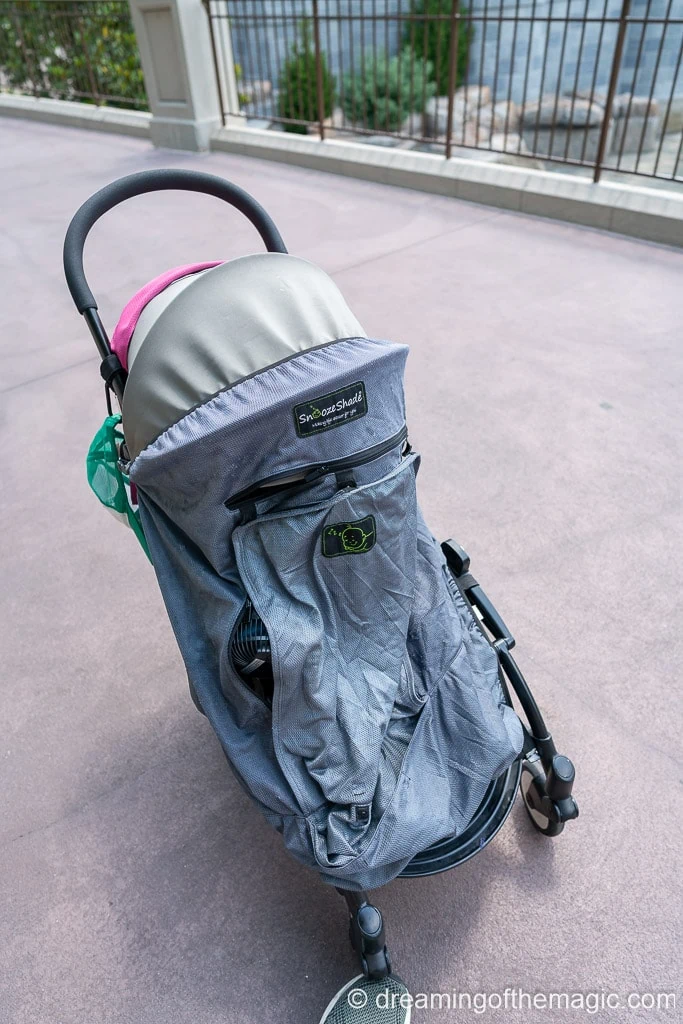 Disney World Stroller Policy
Strollers must be less than 31" (79cm) wide and 52" (132cm) long:
Can I use a double stroller at Disney World?
Yes, you will see tons of single and double strollers in the parks! A double stroller is fine as long as it is less than 31" (79cm) wide and 52" (132cm) long.
And a triple stroller?
With 3 young kids, we get asked about triple strollers a lot! We didn't find any rental options for a triple stroller but I have seen the Zoe Trio+ suggested (make sure to check out the dimensions and suitability for Disney World yourself).
Our kids are a little old to invest in a triple stroller so, if we're venturing into the park solo with the kids we use an Ergobaby 360 baby carrier for our youngest and the double stroller for the older two – we rent a City Mini Double so our youngest (who has just turned 1) is also able to use it comfortably.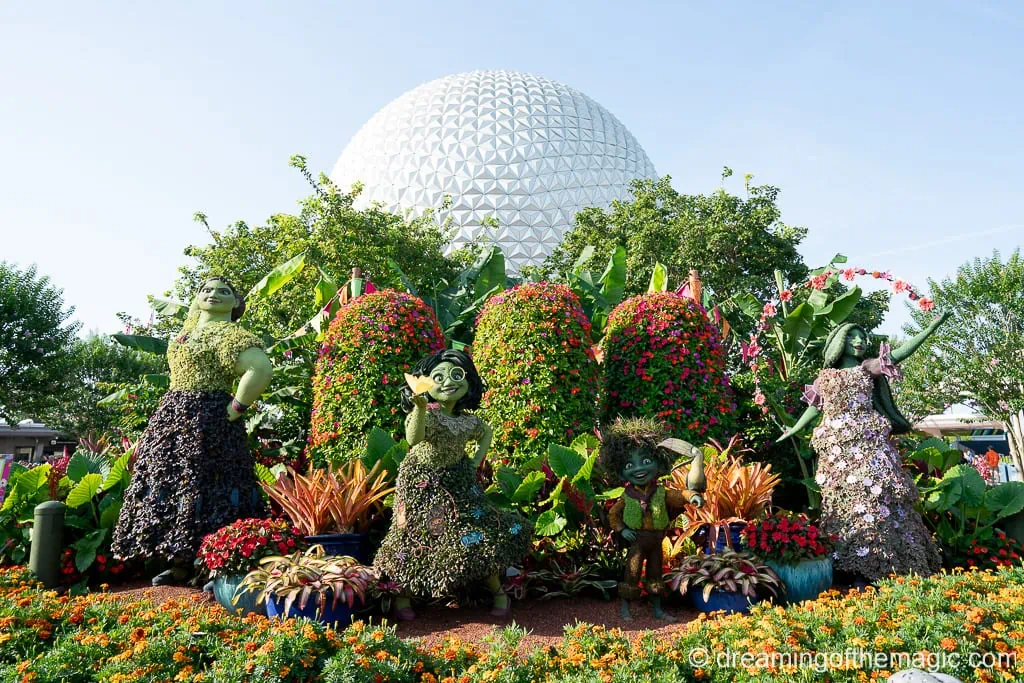 Can I bring a wagon to Disney World?
No, wagons are not permitted at Walt Disney World. This includes both push and pull-style wagons and applies to all wagons, even those which meet the dimension requirement for strollers. The only exception is in cases where there is a medical need for a wagon – this is approved by Cast Members on a case-by-case basis.
Can I use a stroller/buggy board at Disney World?
No, stroller/buggy boards are not permitted. Disney World policy states that any trailer-like object that is pushed, pulled, or towed by an Electric Conveyance Vehicle, wheelchair, stroller or person is prohibited on property – buggy boards fall under this definition.
Renting a stroller for Disney World
If you glance around the stroller parking areas at Disney you'll notice that there are huge numbers of rental strollers emblazed with the names of local stroller rental companies and renting a stroller makes complete sense especially if your kids don't use a stroller at home.
Should I bring a stroller or rent a stroller?
If your kids are past the stroller stage and you don't have anything suitable or you don't want to bring your travel system from home then renting is a fantastic option.
We always rent from Kingdom Strollers and highly recommend them for Disney World – check stroller rental options here. We've had multiple strollers from them and all have been in immaculate condition, the delivery has always been waiting for us at our accommodation and their customer service is wonderful.
Book your Kingdom Stroller now!
They deliver and pick up from most of the hotels around Universal Studios and Walt Disney World and you can take them anywhere during your rental – on our most recent trip we used ours at Walt Disney World, Legoland Florida, Kennedy Space Center and Universal Studios!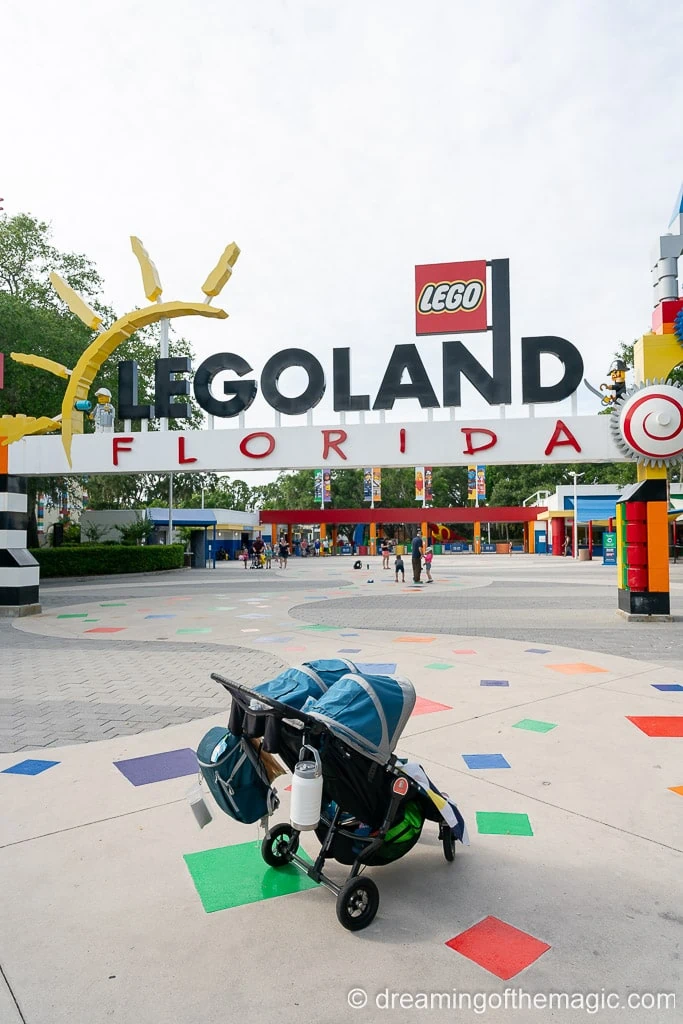 Why would I rent a stroller if I already have one/can buy one?
This is something we considered as well! There are a few reasons we rent rather than purchase a stroller or bring our own:
we always leave our primary stroller at home when we travel – this means we don't need to worry about it getting damaged in transit or the extra wear and tear of a park visit
a good rental stroller (like the City Mini GT double) has all the features needed for Disney World – we were especially keen to have a stroller with a huge sun canopy so our kids were protected from the sun and had a quiet space to relax in. We also needed things like a rain cover. Our regular stroller has neither of these features (huge sun canopy/rain cover) as we don't use them day to day so it makes sense to rent.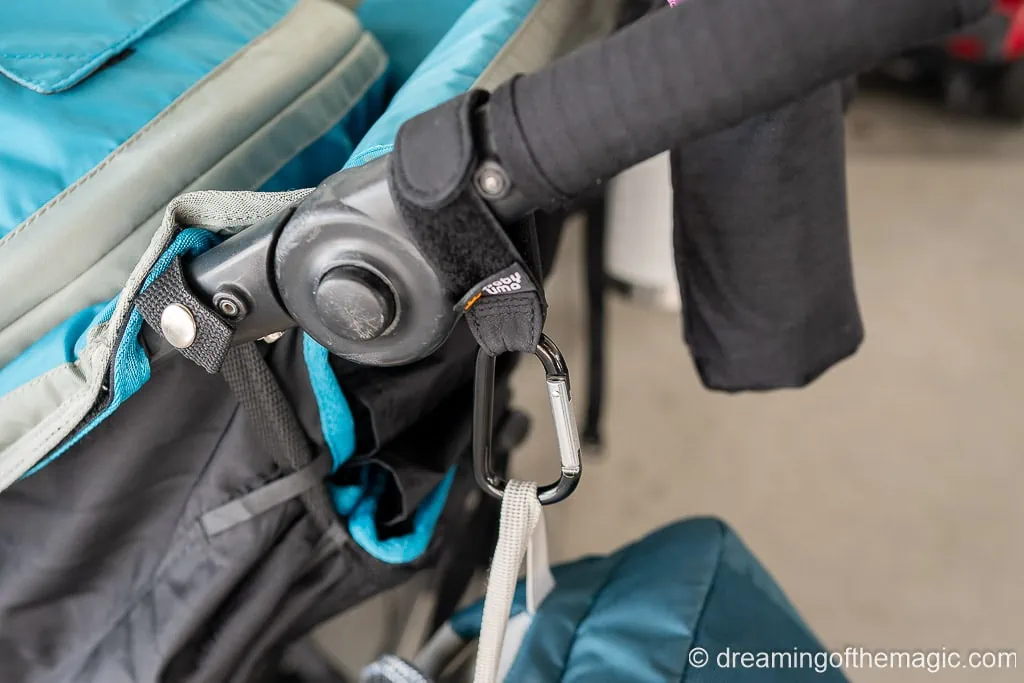 it's rare but there are reports of strollers being stolen or guests accidentally taking the wrong stroller – we love our stroller so renting means losing it is one less thing we have to worry about!
it's less expensive, I don't have to take it on the plane or store it at home and I just hand it back at the end of our visit to Disney World! I priced our rental stroller and it is $700 + tax if I bought on arrival or $930 if I purchased it in the UK before I traveled – in comparison, it cost us $95 to rent for 7 days and $175 to rent for 21 days on our most recent trip. I considered purchasing a cheap double stroller but I couldn't find anything with the features and quality we wanted and it just seemed so wasteful to dispose of it at the end of a trip especially given we visit Disney World and Disneyland regularly – check stroller rental prices here.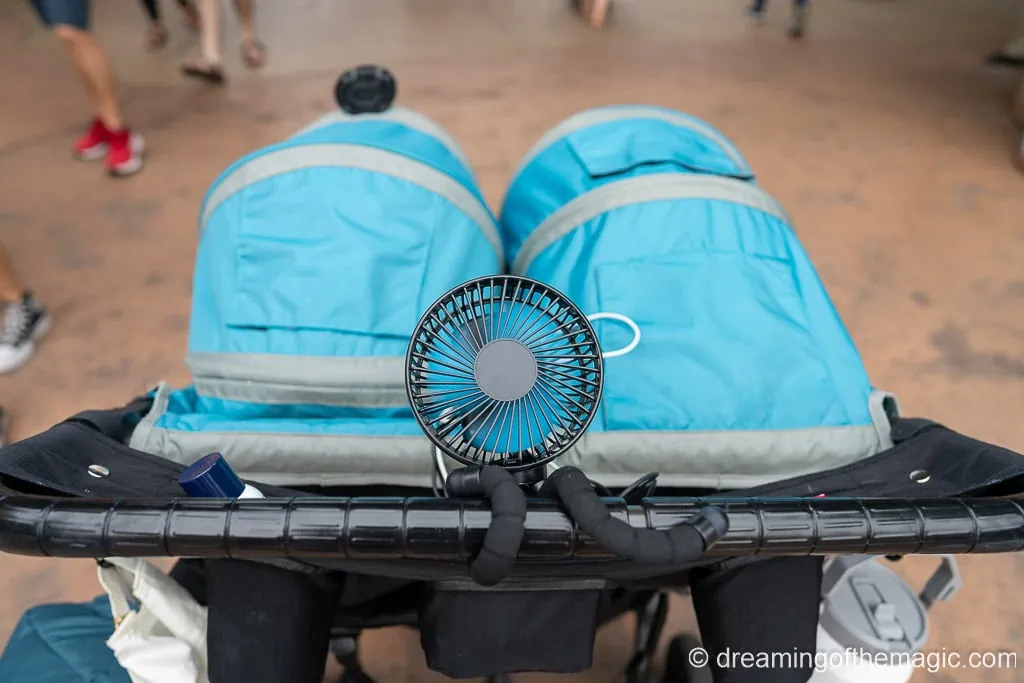 Can I rent a Stroller at/directly from Disney World?
The distinctive red single and double Disney strollers are available to rent throughout the parks and at Disney Springs (a $100 deposit is payable for Disney Springs rentals).
The Disney strollers are great if you're stuck and need a stroller on the spot – however, if you know in advance that you will likely need a stroller then bringing your own or renting locally (we use KIngdom Strollers) are by far our preferable options.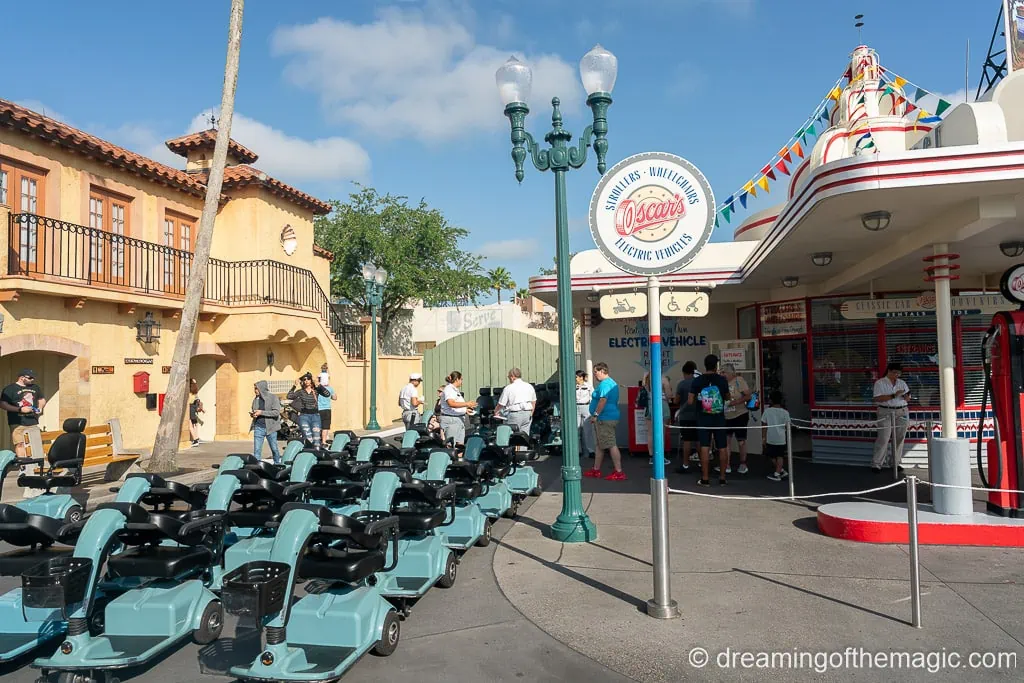 What you need to know about renting a Disney stroller
It's important to note that these strollers are made of hard plastic with no recline or padding – they are not suitable for babies and are uncomfortable for naps.
The strollers cannot be moved between parks or taken to your accommodation – although if you are park hopping you can show your receipt to collect a stroller in your new park.
Single Stroller
Daily rental fee: $15 / Multi-Day (prepay for multiple days) daily rental fee: $13
50lbs weight limit
Double Stroller
Daily rental fee: $31/ Multi-Day (prepay for multiple days) daily rental fee: $27
100lbs weight limit
Navigating Disney World with a Stroller
It's no surprise that Disney World is relatively easy to navigate with a stroller. Here's some information that you might find useful:
Strollers are not permitted in lines (unless approved and tagged): you must park your stroller close to the ride/attraction entrance and carry younger kids in line. We use a baby carrier for long lines.
Stroller Parking: there is stroller parking close to all of the rides and attractions at Disney World. You will see standalone signs or signs attached to fences identifying the stroller parking areas.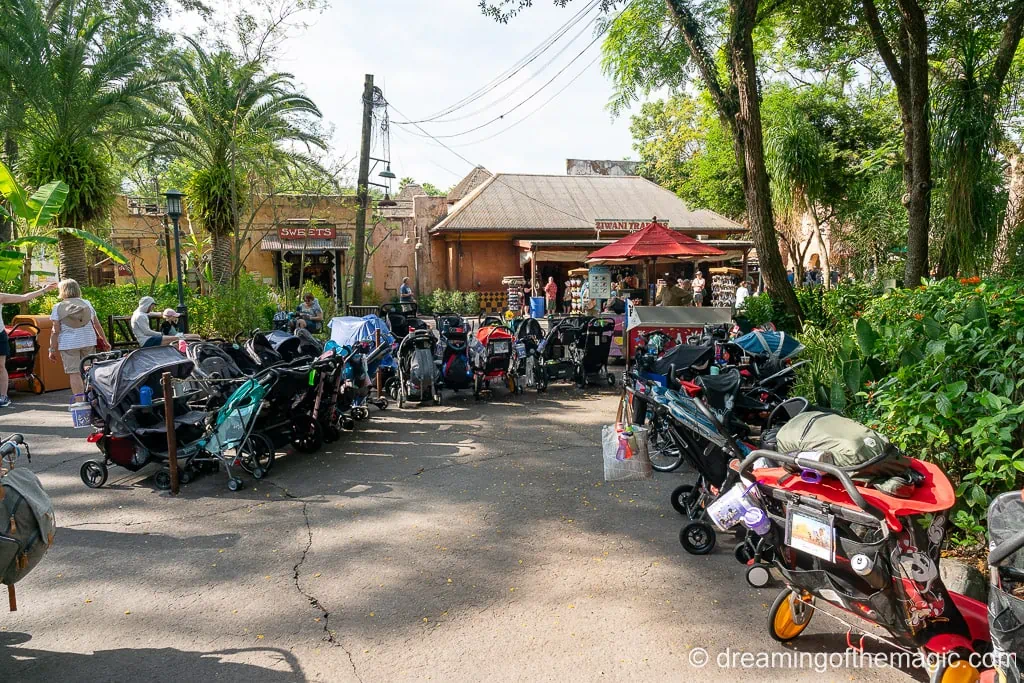 Cast Members move strollers: it's common for Cast Members to move strollers if they're parked in the wrong place or to make room for more strollers. Don't panic if you can't spot your stroller instantly, it's more than likely close by. Scan the stroller parking area or ask a Cast Member where it might have been moved to.
Make your stroller identifiable: any of the kid-friendly areas in Disney World (for example, Fantasyland in Magic Kingdom) are a sea of strollers and many are identical. Make sure to pop something identifiable on the handlebar so you can easily spot your stroller.
Don't leave valuables unattended on strollers: take all purchases and valuables with you when you leave your stroller unattended. We often leave our diaper bag and cooler bag on the stroller and haven't had any issues but some guests prefer to take them on rides.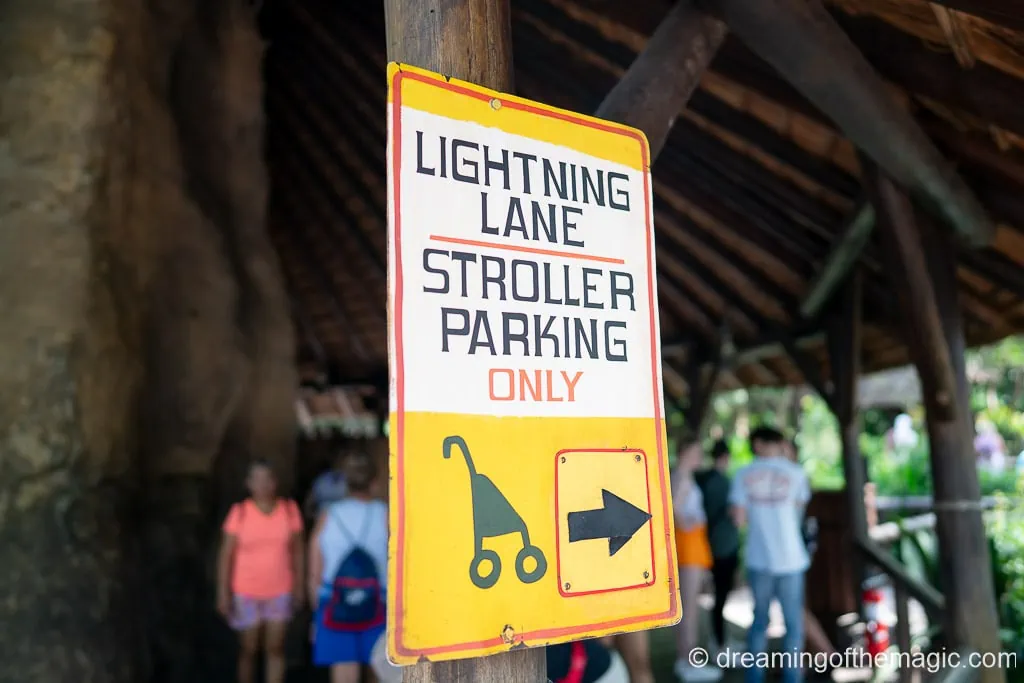 Some character meet and greets permit strollers in line: I've spent many hours wandering through Disney World with a sleeping baby in a stroller! Shops and casual dining are the obvious choice and the parade is also an option but I've only had about 50/50 success not waking the baby! I've also found some pop-up meet and greets where I can wait in line with a stroller – however,typically, anything inside or with a fixed line does not permit strollers.
Restaurants: some restaurants will allow you to take a stroller to your table if you have a sleeping baby although you may have to wait longer for a suitable table. It's dependent on the cast member and the venue but most are very accommodating when a baby is napping.
Disney transport: we've been able to take a single and double stroller on the Magic Kingdom ferry and the Monorail without having to fold them up. Single strollers can also be wheeled onto the Skyliner but side-by-side double strollers usually have to be collapsed as they don't fit between the Skyliner seats. Strollers have to be collapsed to ride the bus and the trams in the parking lots. They may also have to be collapsed on the water taxis between Hollywood Studios, Epcot and the Boardwalk area (it depends on how busy it is and if there are ECVs, wheelchairs or wagons that take priority.