Hosted in Artist Point in Wilderness Lodge, Story Book Dining offers a unique opportunity to meet Snow White, the Queen, Dopey and Grumpy. The rustic setting and storybook-themed menu make for a memorable evening and it is one of our favorite dining experiences in Disney World.
For those of you considering Story Book Dining at Artist Point, we wanted to share our review and our thoughts on whether it is worth it.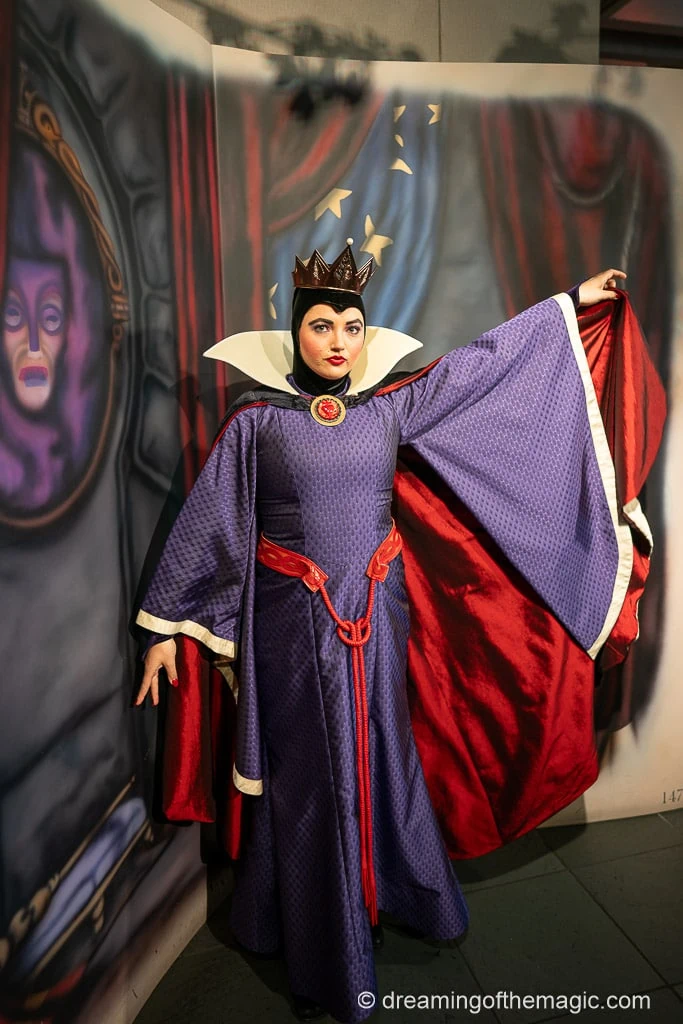 Story Book Dining at Artist Point with Snow White
The Snow White and Seven Dwarfs character meal is an evening dining experience in Artist Point at Wilderness Lodge. It features Snow White, the Evil Queen, Dopey and Grumpy and the meal is themed to the storybook.
The Setting
The dining room at Artist Point is rustic with a beautiful light-filled tree canopy as the centerpiece.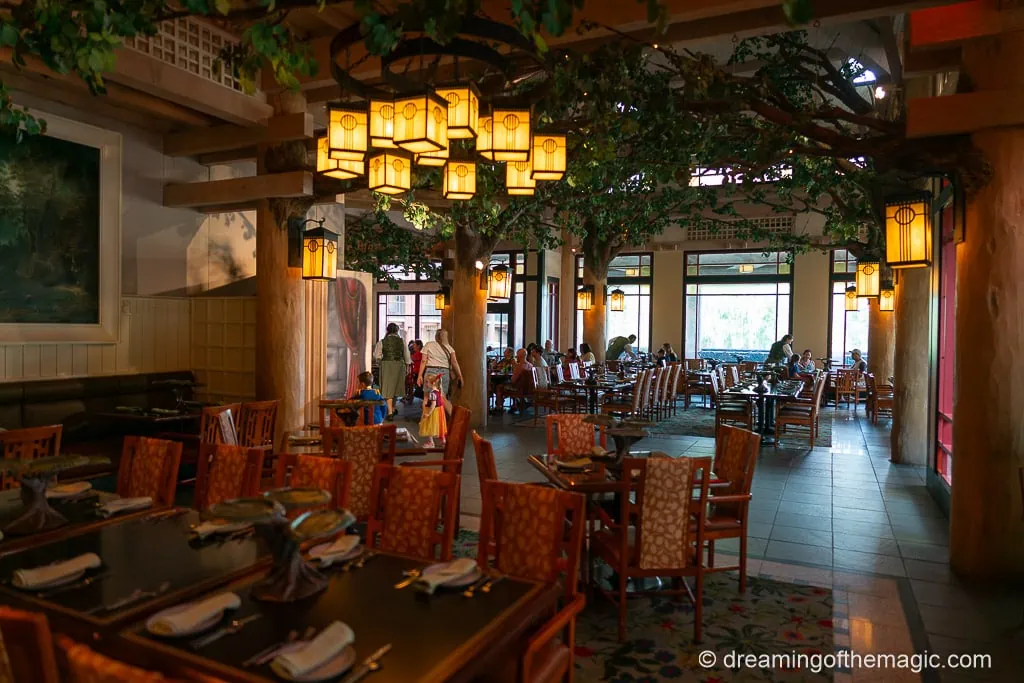 How to Reserve Story Book Dining
Story Book Dining is one of the most popular dining options at Disney World and it can be hard to get a reservation. It's not the hardest (we always find early appointments at Bibbidi Bobbidi Boutique or Cinderella's Royal Table the hardest to secure) but all the dining slots are usually snapped up when the Advance Dining Reservations are dropped.
Advance Dining Reservations: Guests with a Disney Resort Hotel reservation can make reservations 60 days + length of stay (up to a maximum of 10 nights) in advance. All other guests can make reservations up to 60 days in advance, with reservations opening at 6am EST 60 days out.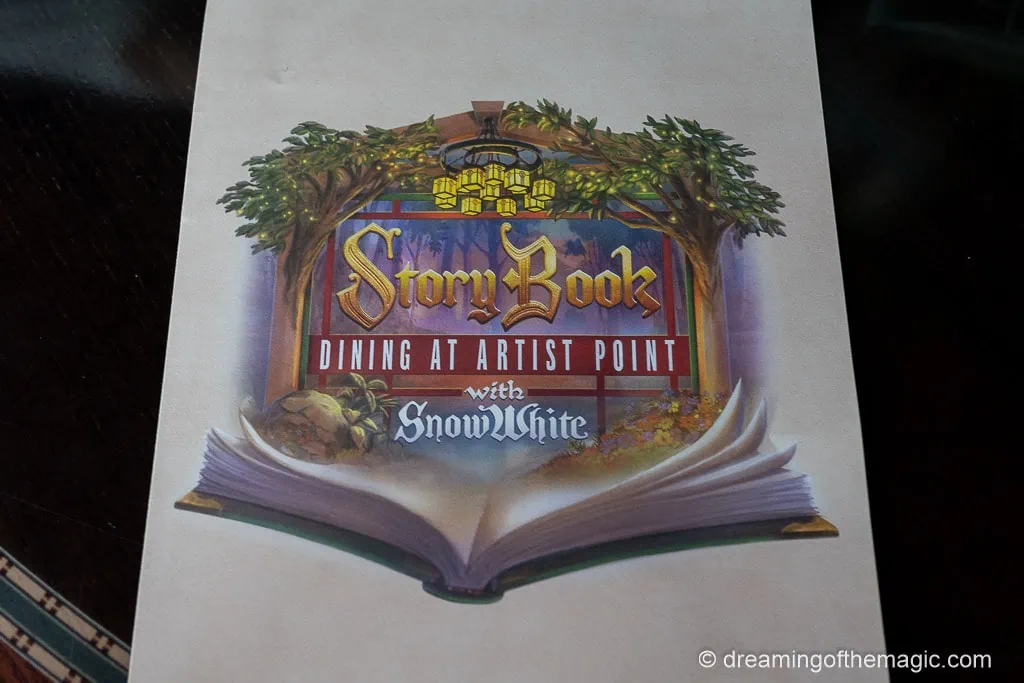 Tips for getting a reservation at Story Book Dining
Make a list of preferred dates and dining times and a backup list of other acceptable but not ideal dining times
Set a reminder for just before 6am EST opening 60 days out from your desired reservation (or 60 days + the duration of your stay, max 10 days, for Disney Resort hotel guests)
Reserve the moment your reservation window opens
Sign up for Mouse Dining and set text alerts for your preferred days and times if you don't get your favored appointment times.
Story Book Dining has a 2-hour cancelation window so there is still hope! If you arrive at Walt Disney World and still need an appointment then check availability every evening – we find most cancellations are made the evening before or same day.
Story Book Dining tip: dining alerts are a Walt Disney World essential and we recommend signing up to Mouse Dining. You sign up, set alerts to your desired reservations (e.g. 8am Bibbidi Bobbidi Boutique, dinner at Story Book Dining) and, as soon as a cancellation is made, the dining alert service will alert you via email and/or text so you can reserve it immediately. We rely heavily on dining alerts in the run up to all our Walt Disney World and Disneyland California trips and we've always been able to secure a reservation. We've tried a few services and always return to Mouse Dining. as their alerts are super speedy and reliable – there is a free service (email only, 6 alerts) but we use the monthly subscription ($9, email and text alerts, includes international texts) in the months leading up to our Walt Disney World visit. If you want one of the highly sought-after reservations or are planning lots of dining during a longer stay then we'd recommend the paid monthly subscription as you can set up alerts for all your Disney days and we always notice the text alerts instantly. Make sure to practice with an easy-to-secure reservation so you know the exact process – this is essential for popular reservations like Bibbidi Bobbidi, Story Book Dining and Cinderella's Royal Table reservations are snapped up almost instantly! – check out Mouse Dining here!
Characters at Story Book Dining
Snow White, The Evil Queen, Grumpy and Dopey are all in attendance at Story Book Dining.
Snow White, Grumpy and Dopey are introduced to the Silly Song and arrive in the dining room dancing to the music. They then visit guests at their tables during dinner.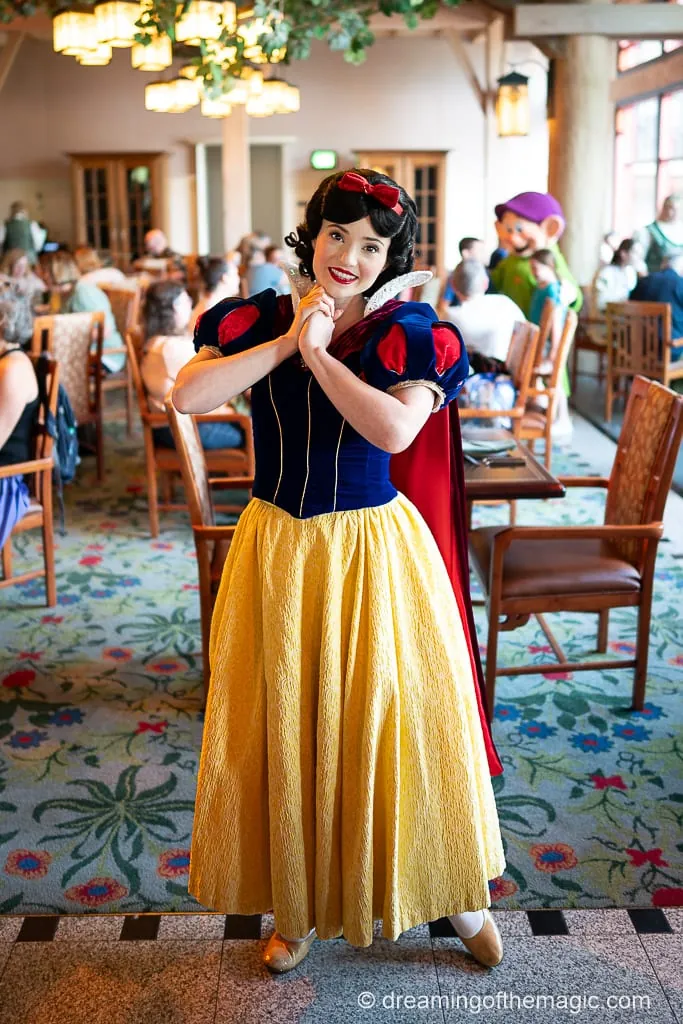 Grumpy and Dopey accompany Snow White at Story Book Dining.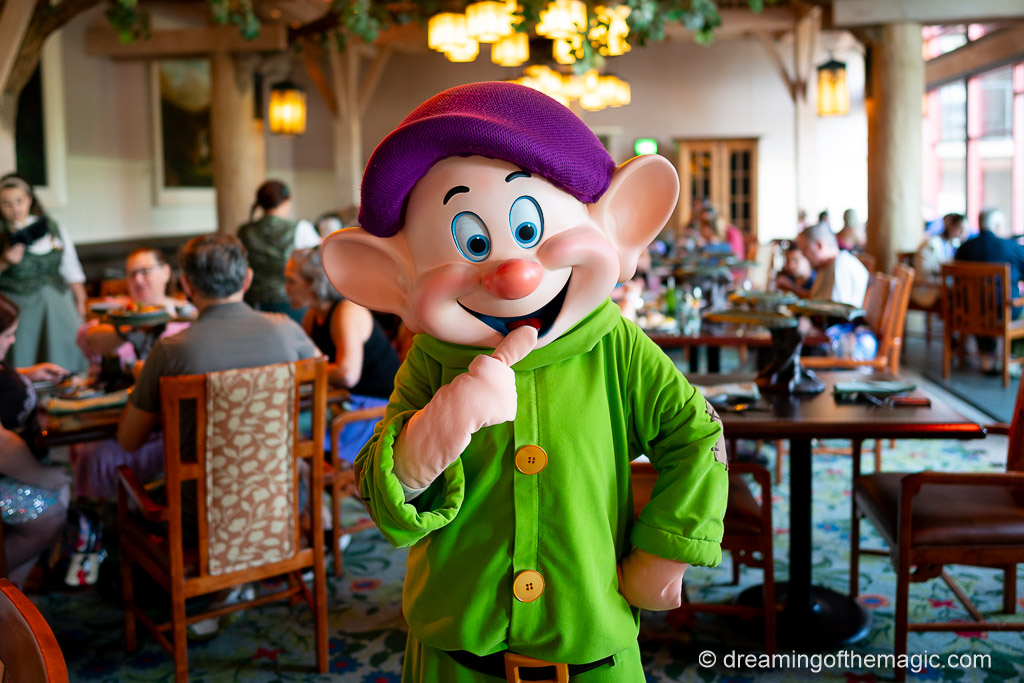 Story Book Dining is the only opportunity to meet Snow White's Dwarfs outside of special events at Walt Disney World.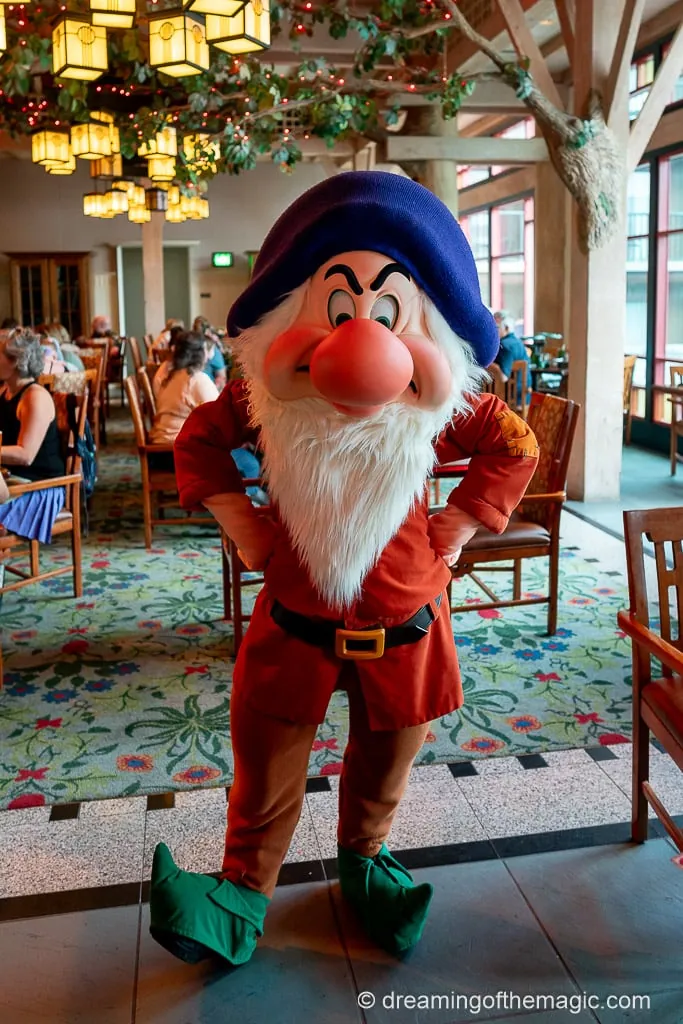 The Evil Queen does not visit individual tables during the meal. Instead, she meets guests by invitation only in front of a backdrop. Each table is issued with a written invitation – 'By Royal Decree, your presence is requested by her Majesty, The Queen'. Tables are invited to meet the Queen between meal courses so you're not waiting during the meal.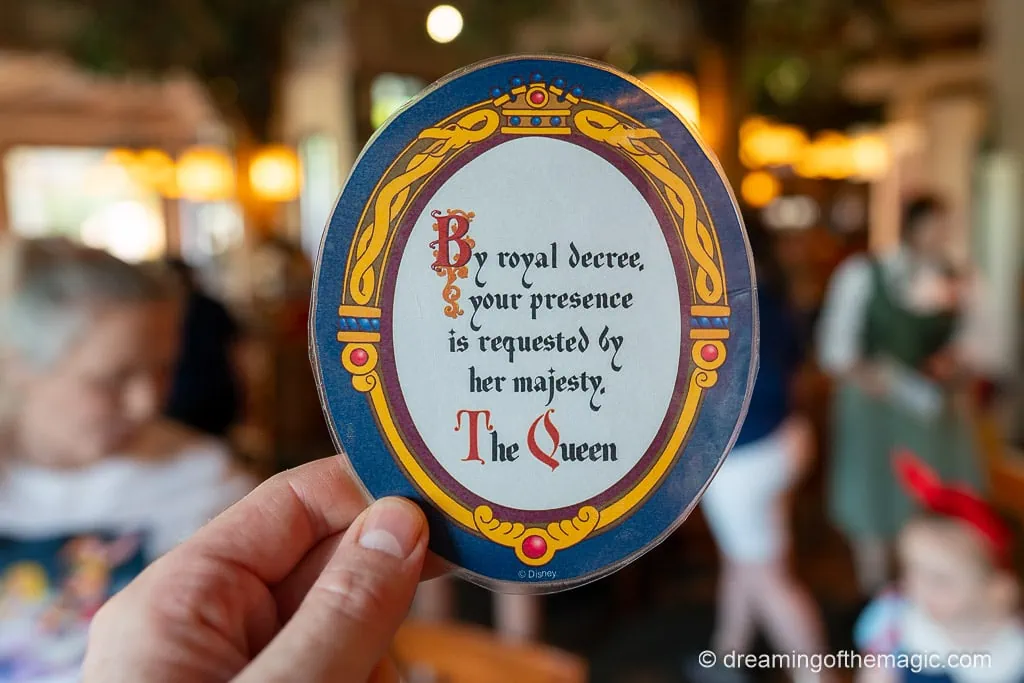 The Evil Queen stays in character throughout her appearance. She is offhand and dismissive and gives backhanded compliments at best! We loved the interaction but it can be a little confusing for younger kids – our 5-year-old was bemused by her but our 4-year-old was perplexed by the whole thing!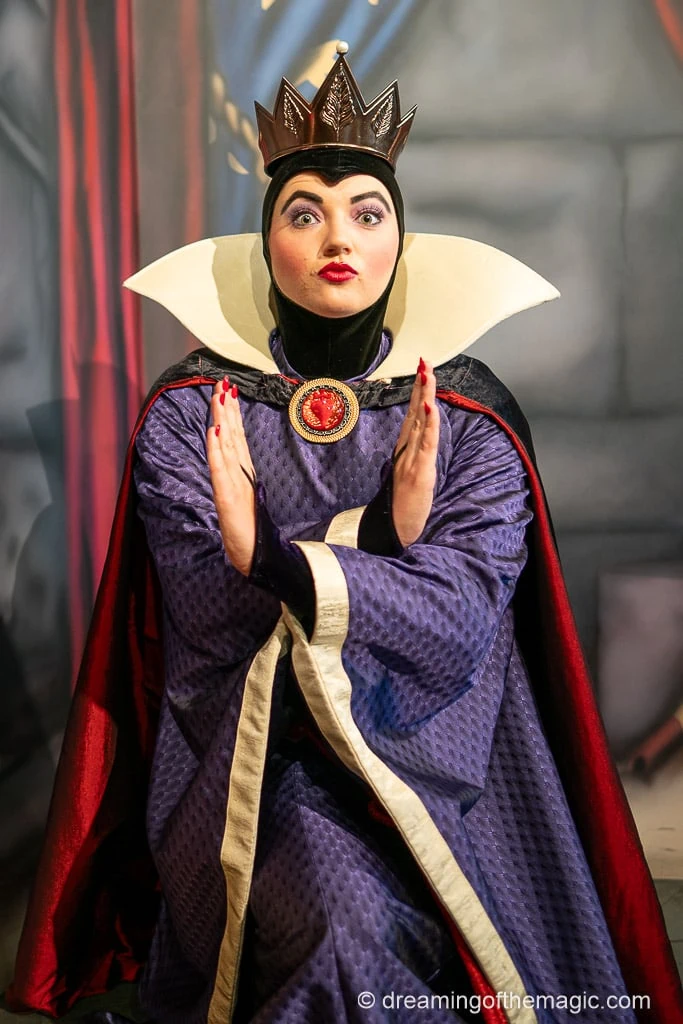 Food
Dinner is a 3-course meal with appetisers and desserts served sharing style. Entrees are served individually.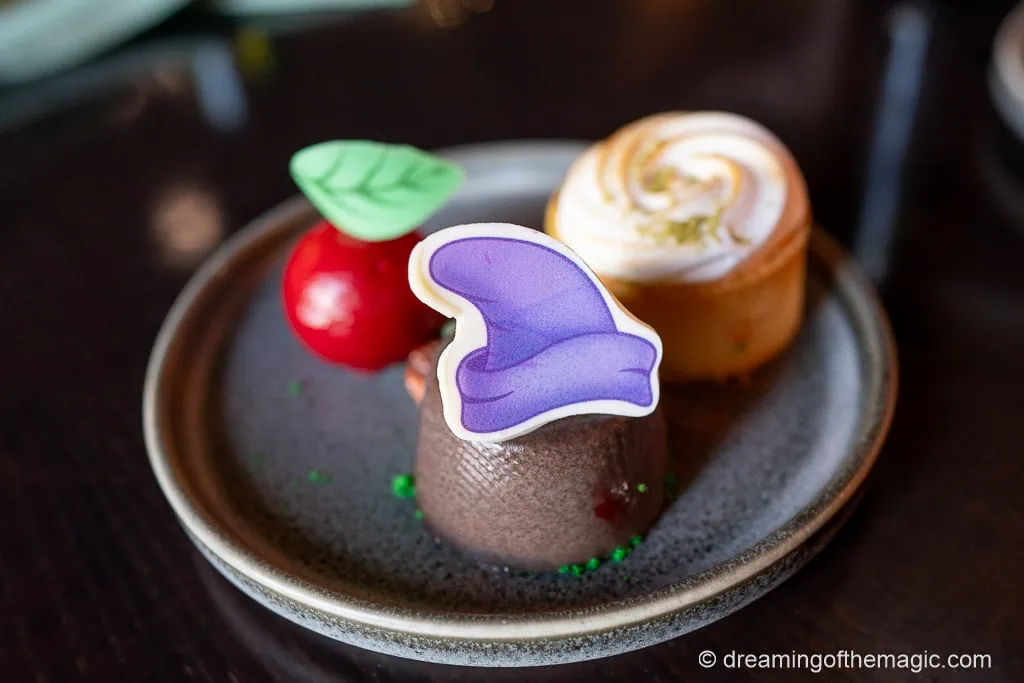 Shared Appetizers
There are three dishes in the shared appetizers are Wild Mushroom Bisque, Turkey and Chicken Hunter's Pie and Wicked Shrimp Cocktail.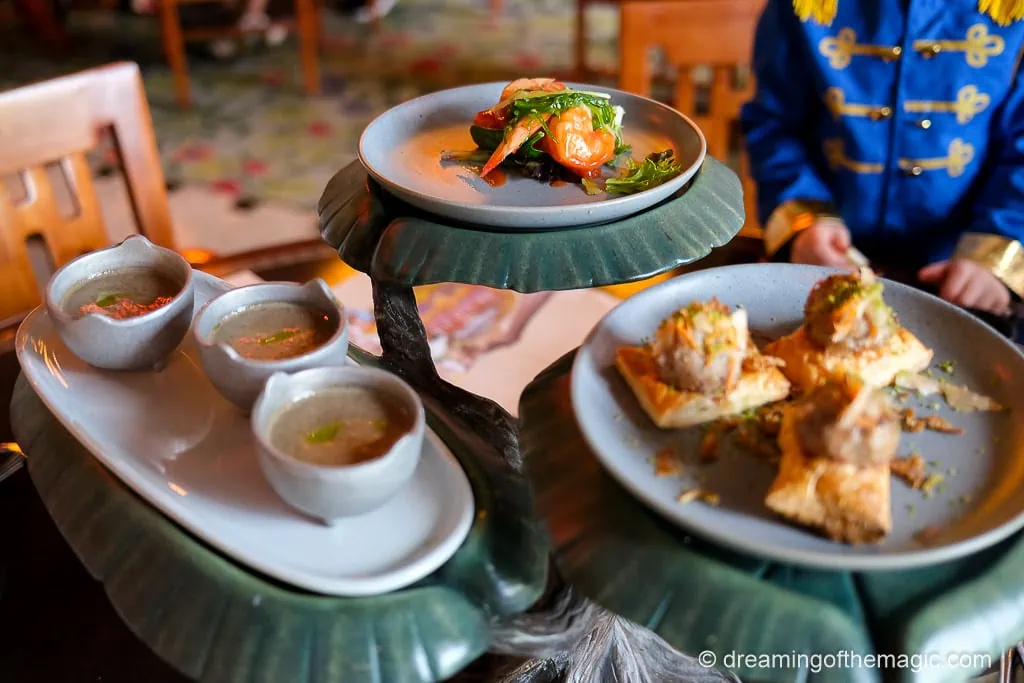 The shared appetizers were excellent and we really enjoyed the three dishes.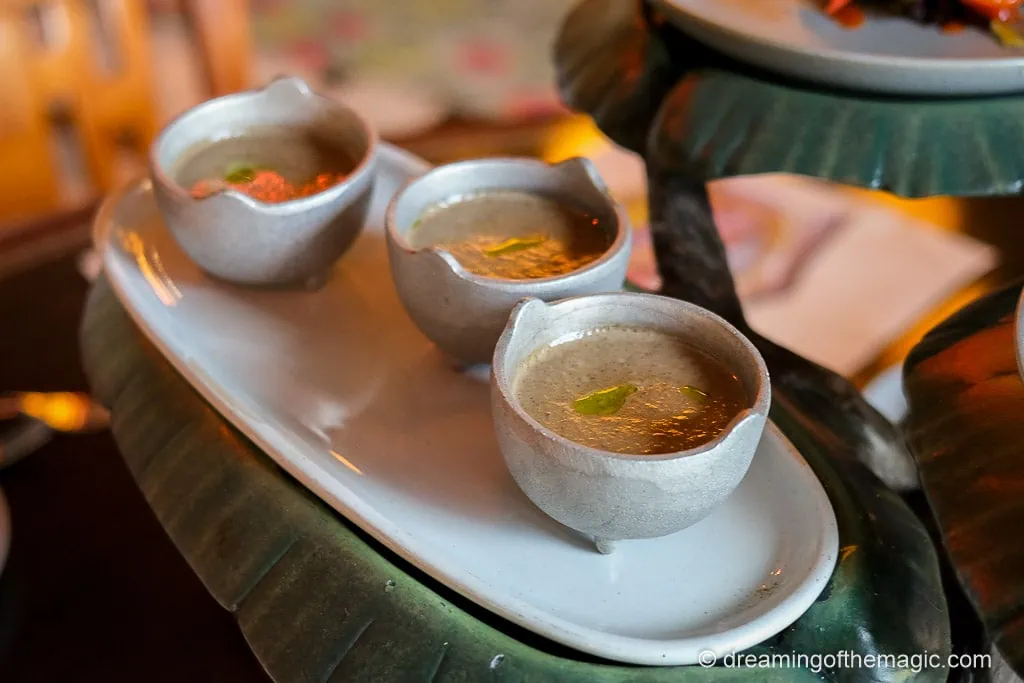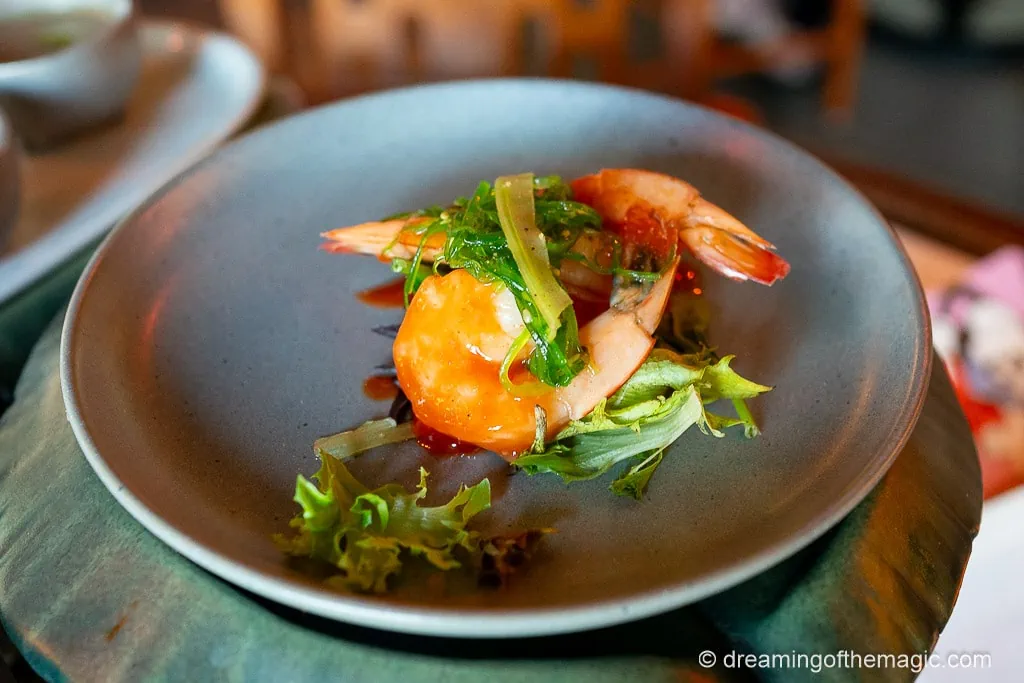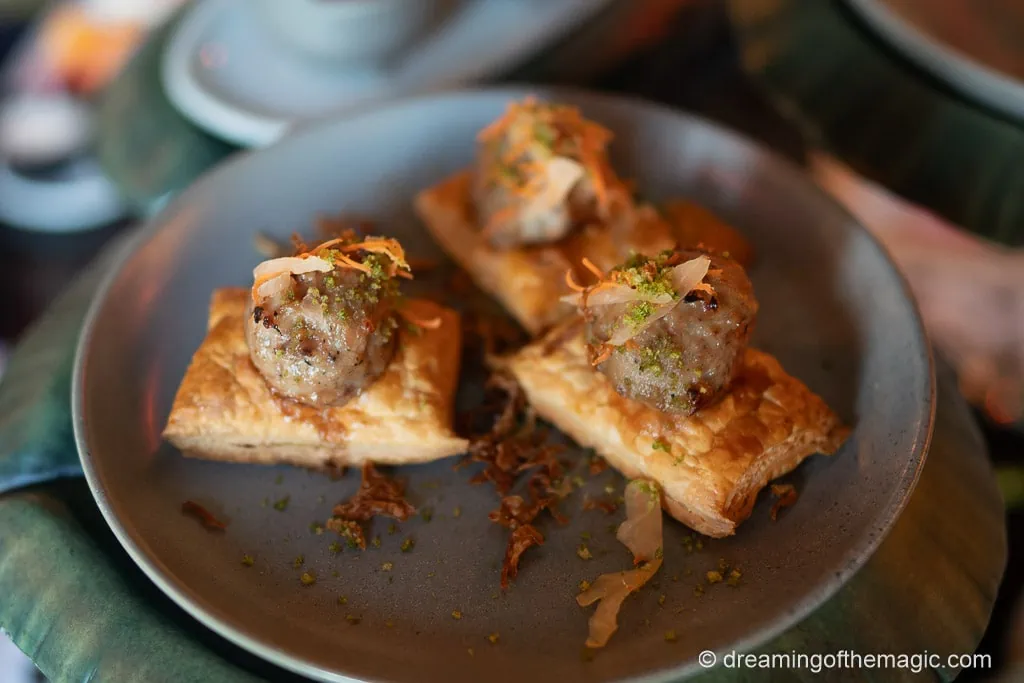 Entrees
Guests can choose one entree from "Cottage" Beef Stroganoff, Royal Prime Rib Roast, A Stroll through Nature (gnocchi), Magic Mirror's Slow-braised Pork Shank, Brother's Grimm Herb Chicken, Bashful's Sustainable Fish, Sorceress Spell of "Tricken" Chicken
We opted for a stroll through Nature with leeks, arugula, gnocchi, sage and parmesan.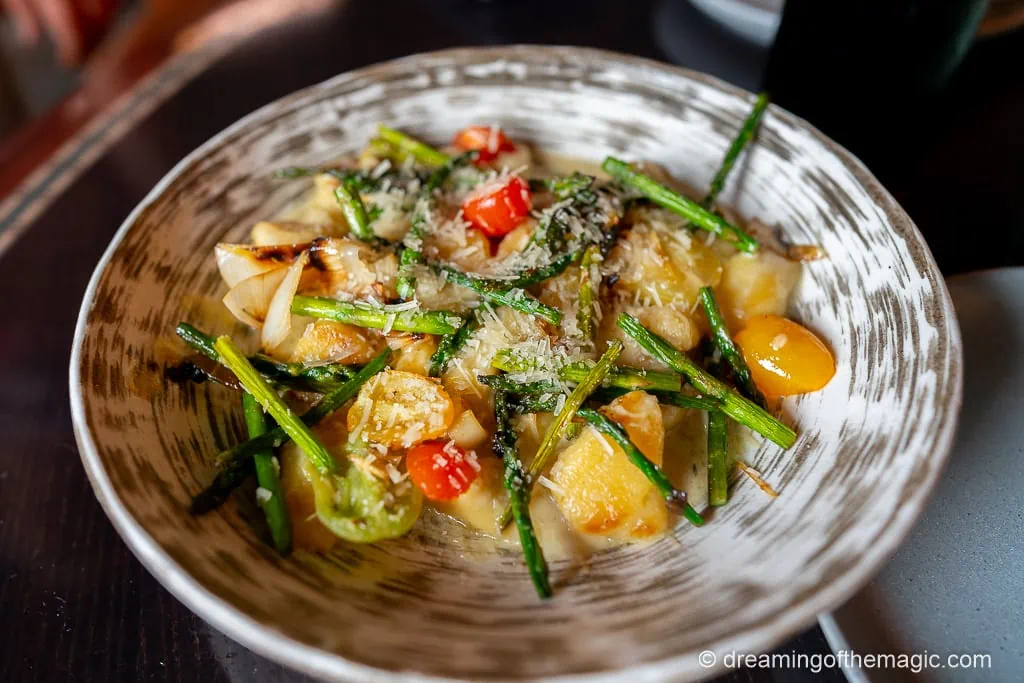 Our Royal Prime Rib Roast was served with Horseradish-Mashed Potato and Carrots.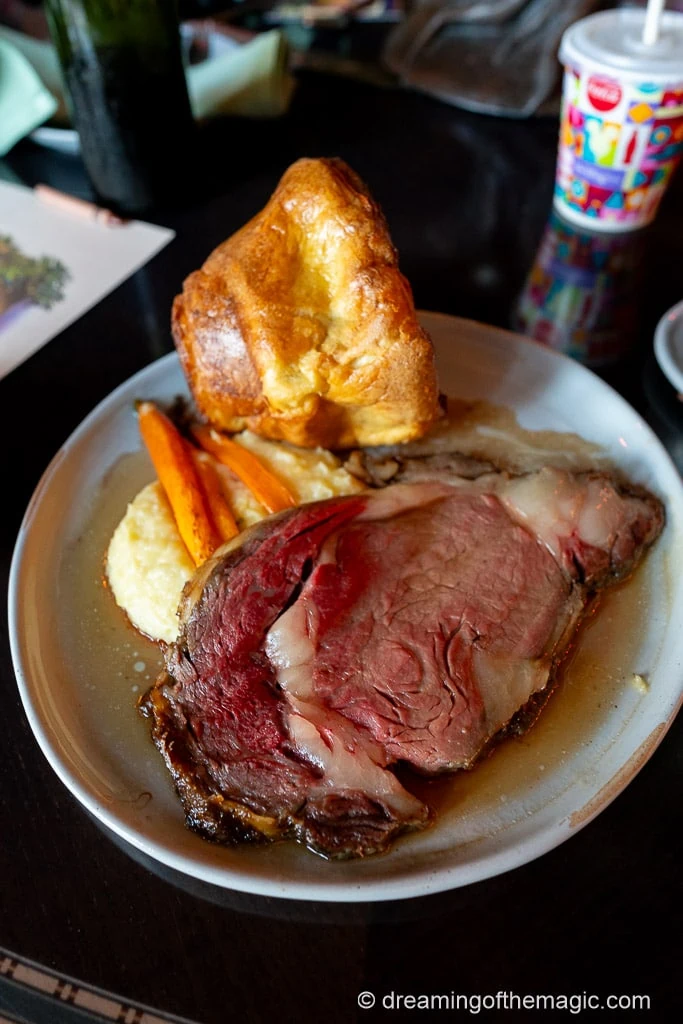 Shared Desserts
Desserts are served to share and include Miner's Treasures (Cookies 'n Cream Panna Cotta), Meringue and Fairy Tale Gooseberry Tart, "Poison" Apple (dark chocolate apple mousse) and The Hunter's Gift to the Queen (ganache heart).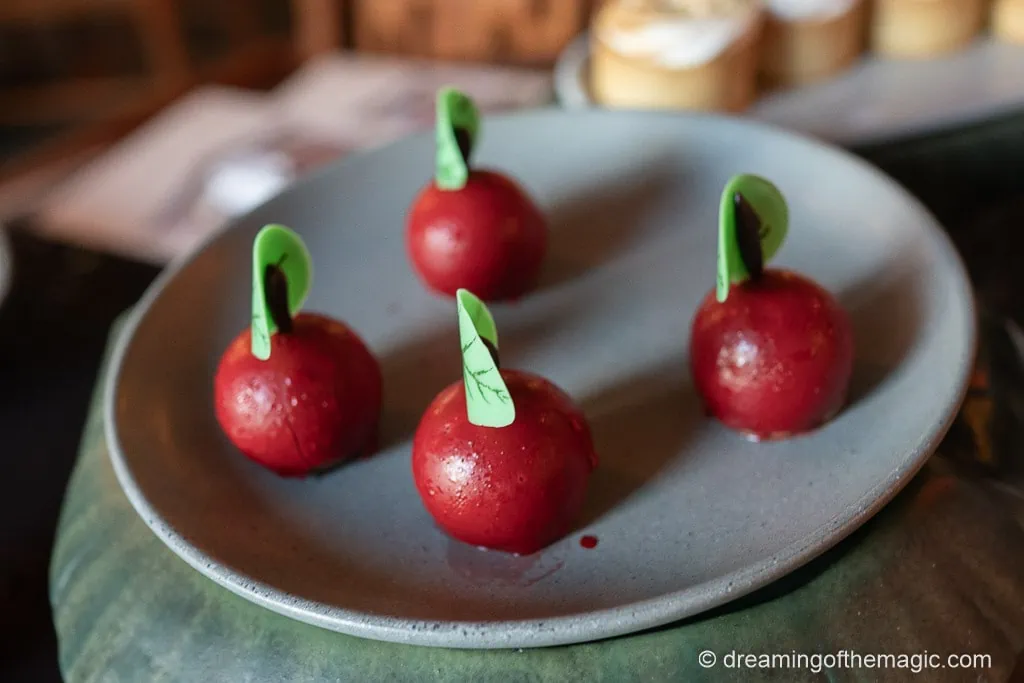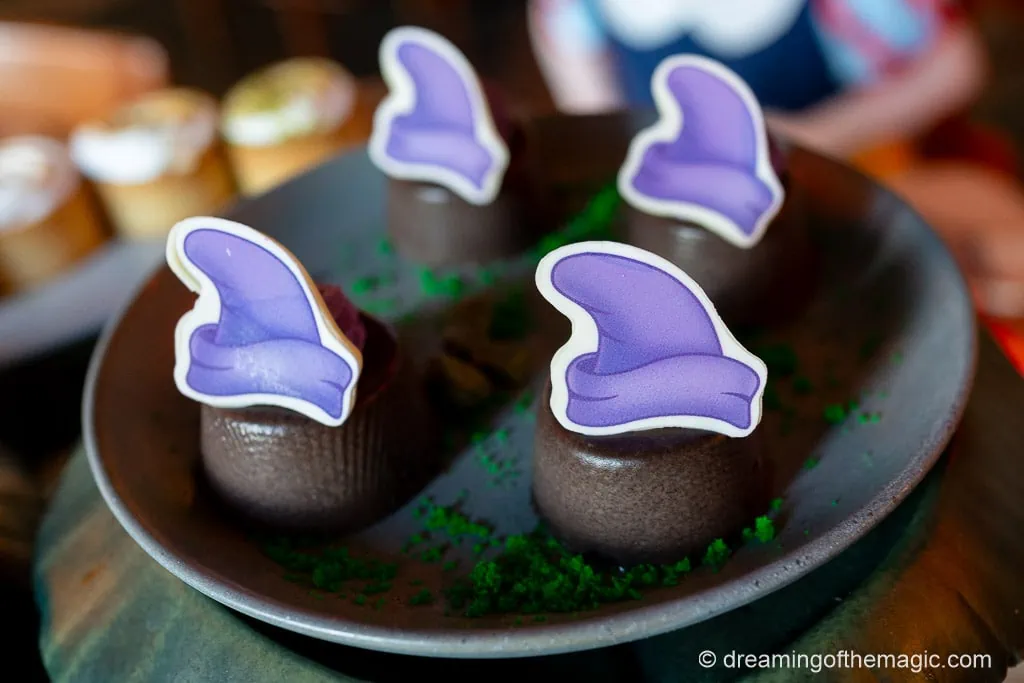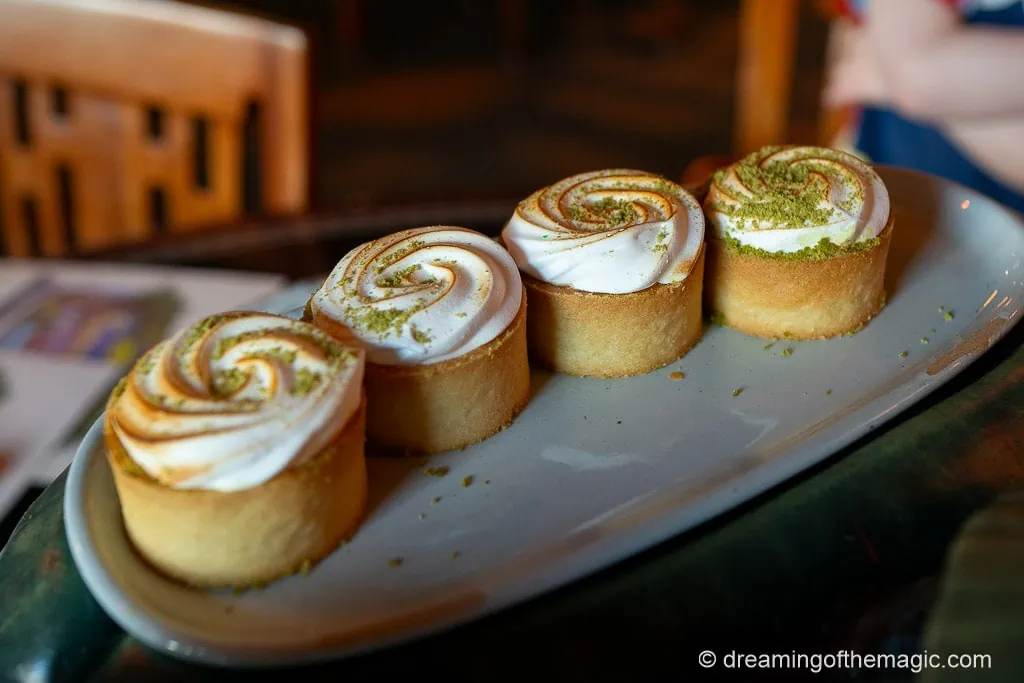 After finishing our desserts we were presented with The Hunters Gift to the Queen. The presentation was wonderful and the box opens in a cloud of smoke which clears to reveal the chocolates inside.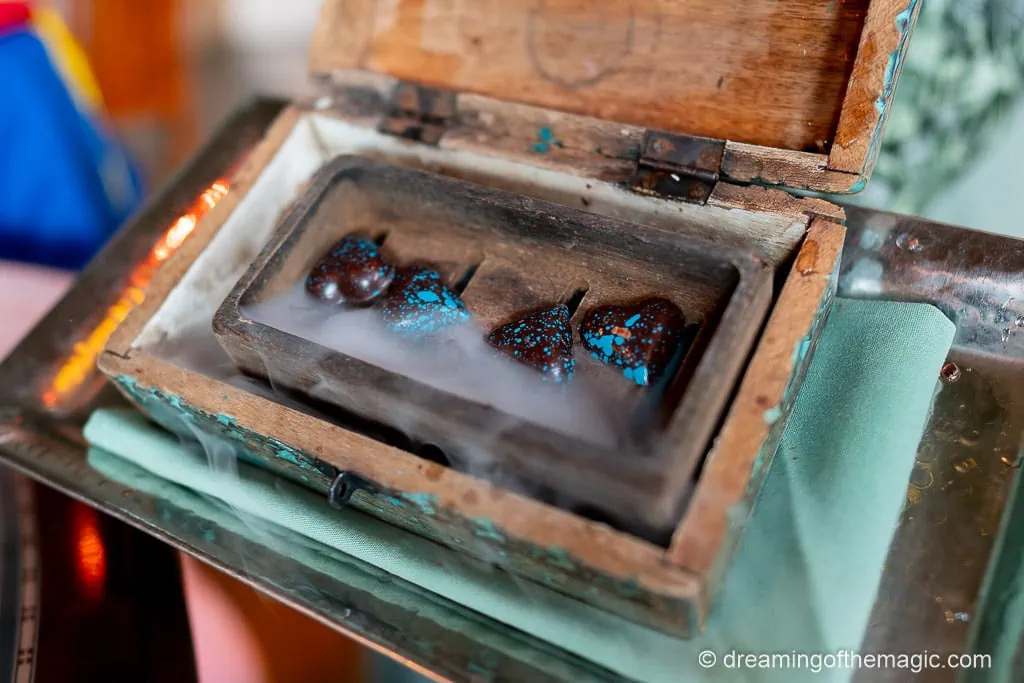 Kids Appetizers
Kids' appetizers are served individually. The appetizer is described as From the Garden: Create-Your-Own Honey-Butter with Fruit, Vegetables and Cheese.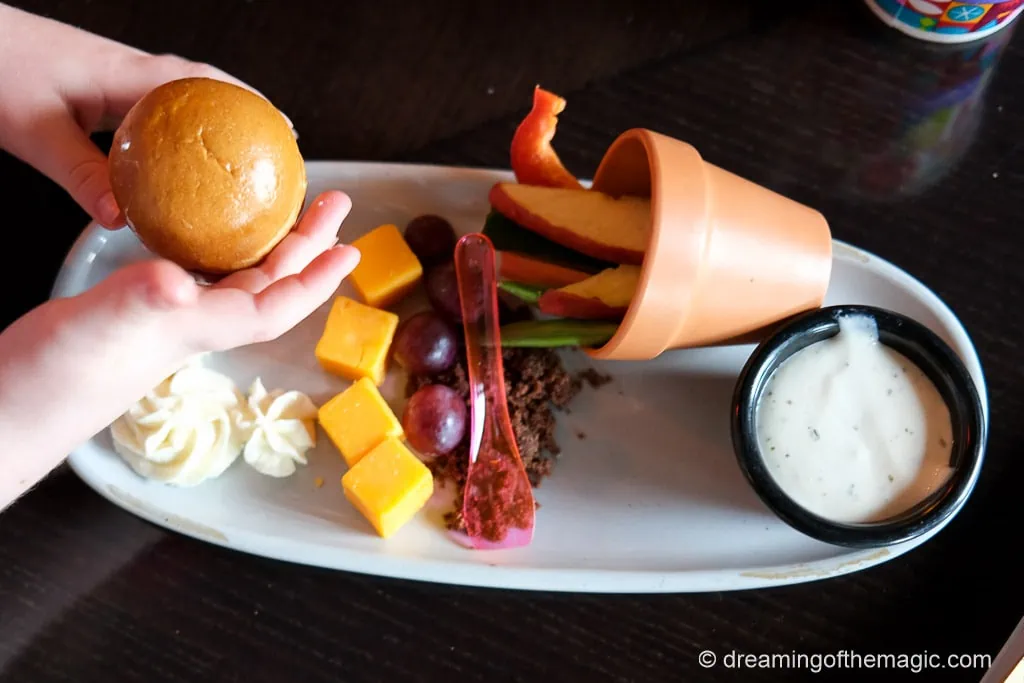 Kids Entrees
Kids have a choice of Grilled Chicken, Grilled Fish of the Day and Prime Rib Roast which are served with two sides. The choices for sides are roast potatoes, carrots, broccolini, mashed potatoes and macaroni and cheese.
Is Story Book Dining at Artist Point Worth it?
Absolutely!
The meal itself is one of the best character meals at Disney World and the food and presentation are excellent. Story Book dining also offers the opportunity to meet 3 of the most amazing classic Disney characters: meeting the Evil Queen is a real treat and it's wonderful to see Dopey and Grumpy in action.
Both us and our kids are huge fans of Story Book dining and it's always one of our favorite dining experiences at Disney World!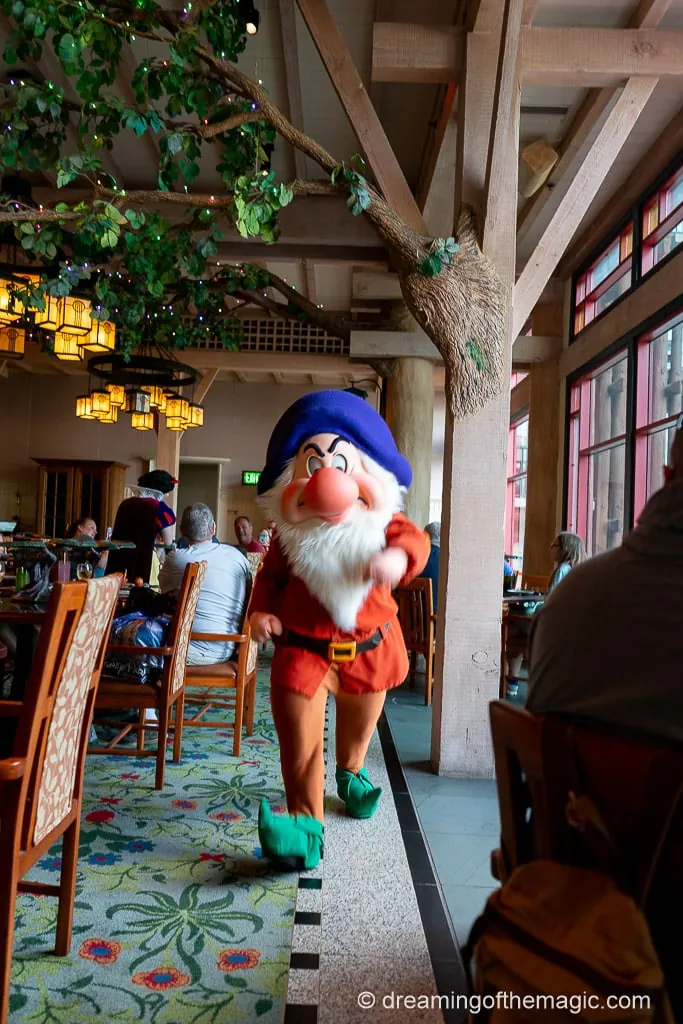 How to get to Story Book Dining at Wilderness Lodge
You will need to allow for travel time to Wilderness Lodge when planning for your dining reservation:
Magic Kingdom: you can take the boat to Wilderness Lodge from Magic Kingdom
Epcot/Animal Kindom/Hollywood Studios: take the complimentary resort buses from the parks to Wilderness Lodge
Drive: we usually drive over. Parking is complimentary for guests with a dining reservation.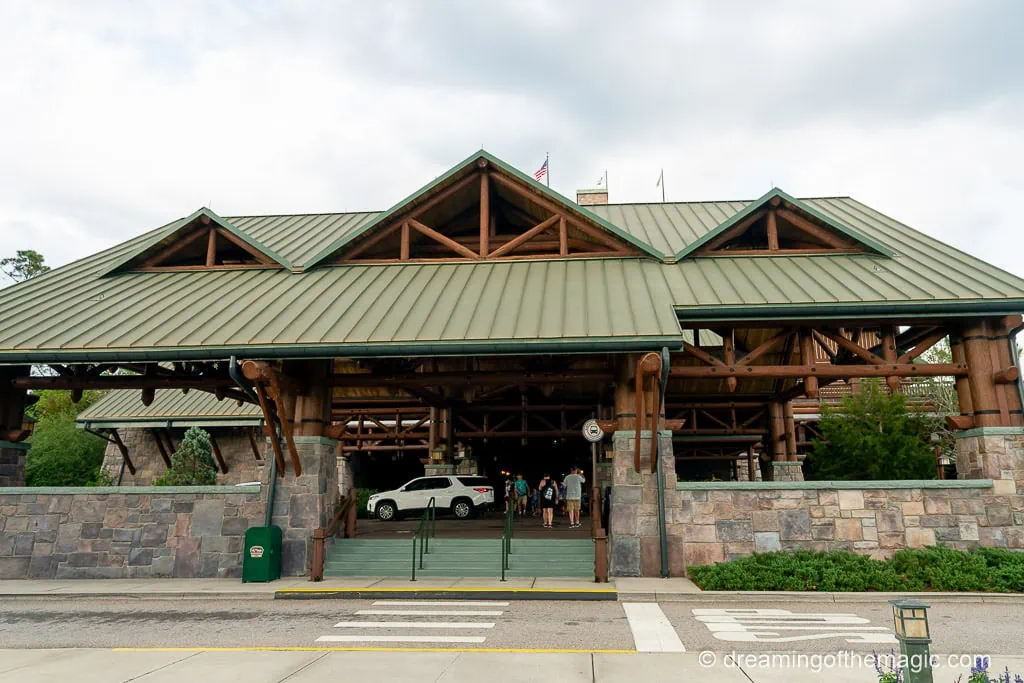 Everything you need to know about Story Book Dining
Here's everything else you might be wondering about Princess Dining at Cinderella's Royal Table in Walt Disney World:
Which characters attend Story Book Dining?
Snow White, Dopey, Grumpy and The Queen all attend Story Book Dining.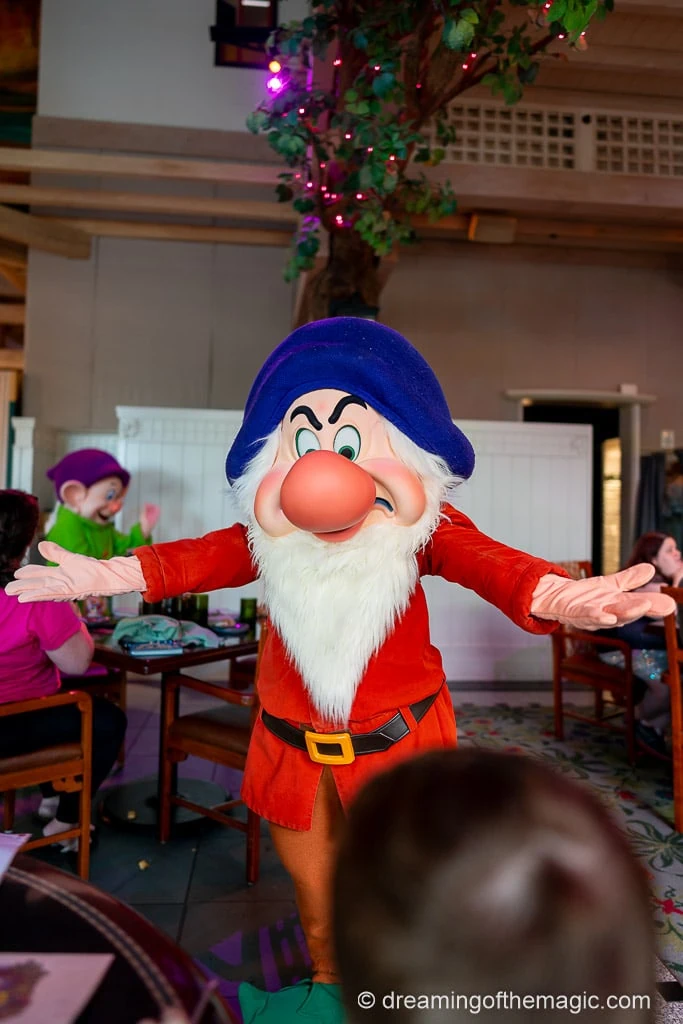 Snow White, Dopey and Grumpy visit guests at their tables during meals. The Queen meets guests by invitation only – each table is issued an invitation and this is used to meet the Queen when she graces the dining hall with her presence!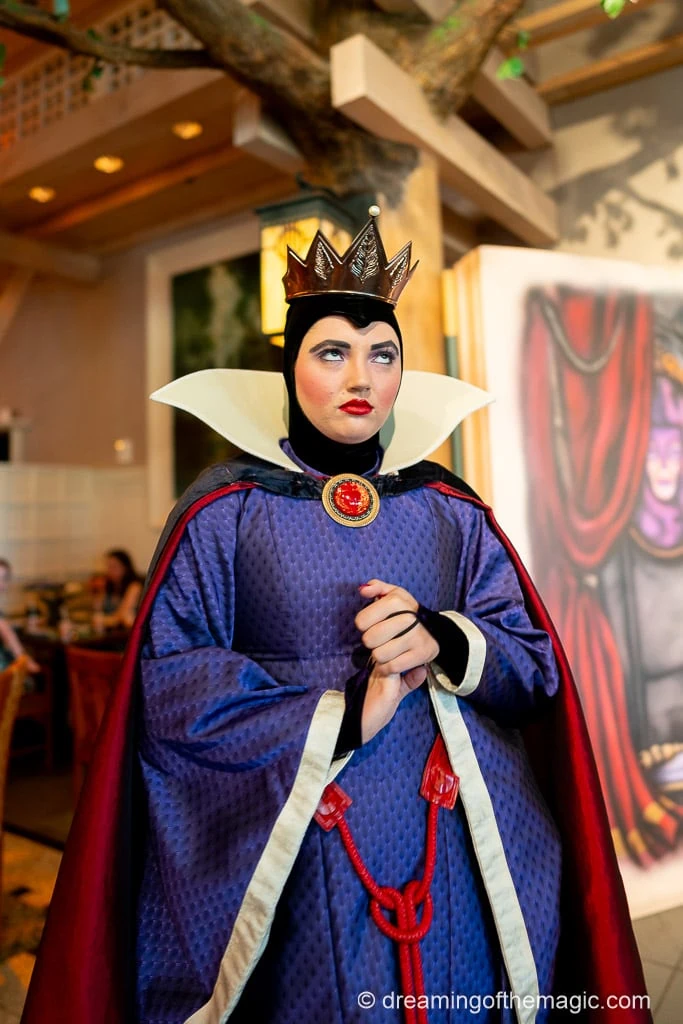 What days/times is Story Book Dining Served?
Story Book Dining runs from 4pm to 9pm daily.
How much is Story Book Dining?
Dinner costs $65 adults/$39 kids plus tax and gratuity.
A fountain drink is included (or milk/water/juice for kids).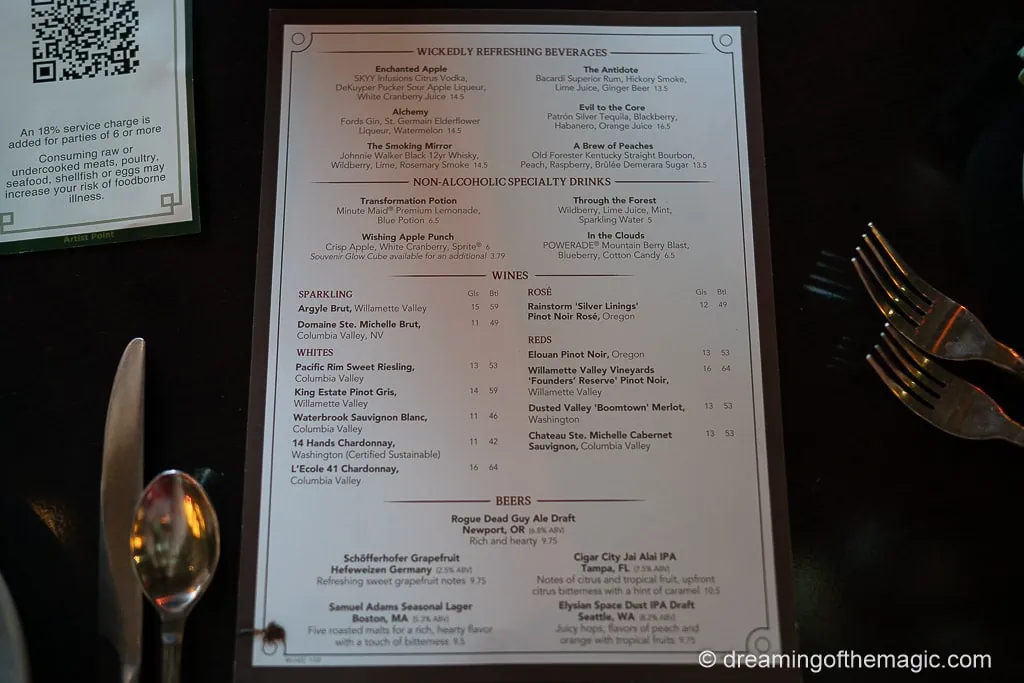 Do I need to reserve Story Book Dining?
Absolutely! Story Book Dining is one of the most popular dining experiences at Walt Disney World. All of the dining slots are regularly snapped up on release day (for guests with a Disney Resort hotel reservation, advance reservations for Cindrellas Royal Table open at 6am 60 days + the duration of your stay (up to a maximum of 10 days). For all other guests, reservations open 60 days in advance starting at 6am EST).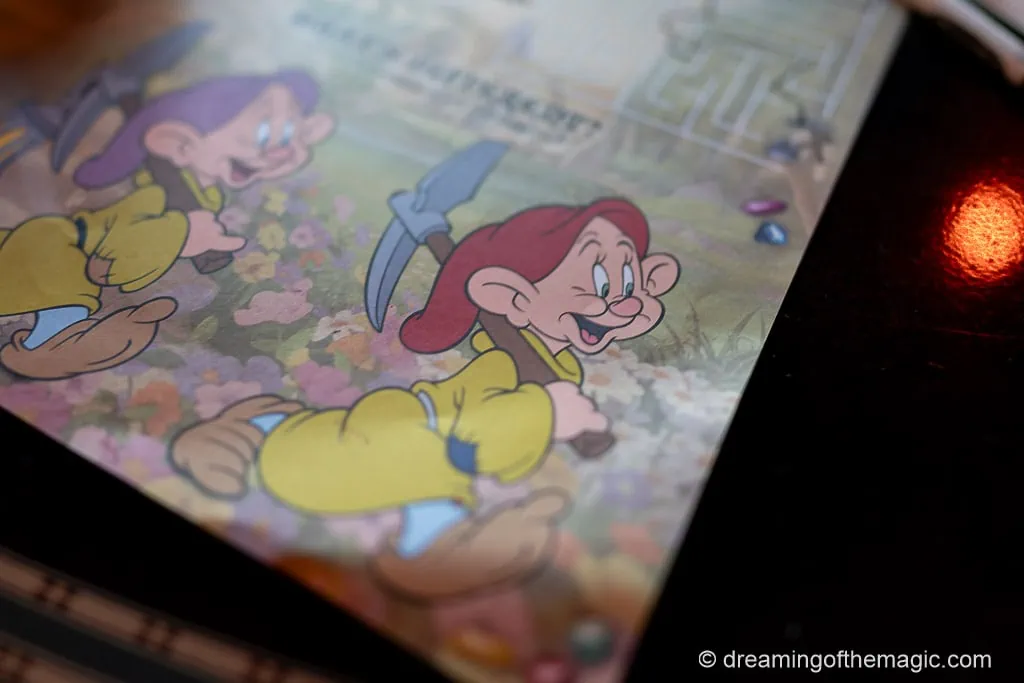 Do kids dress up for Story Book Dining?
Yes, for sure! Many of the young guests dress like Snow White and the Queen. My 4-year-old wore a Snow White dress and my 5-year-old a jacket fit for a Prince.
Adults were dressed casually and we wore our regular theme park clothes.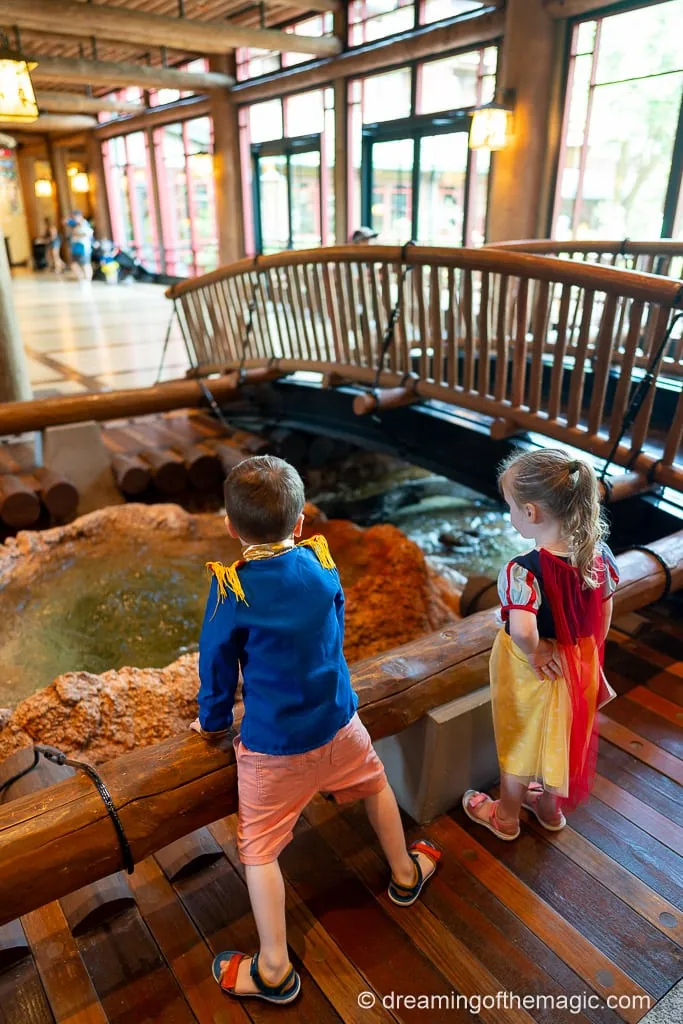 Is there at PhotoPass Photographer at Cinderella's Royal Table?
A PhotoPass photographer is present at the meet and greet with the Evil Queen. The photographers are only in the dining room when the Queen is present so you will need to capture your own photos of Snow White, Grumpy and Dopey.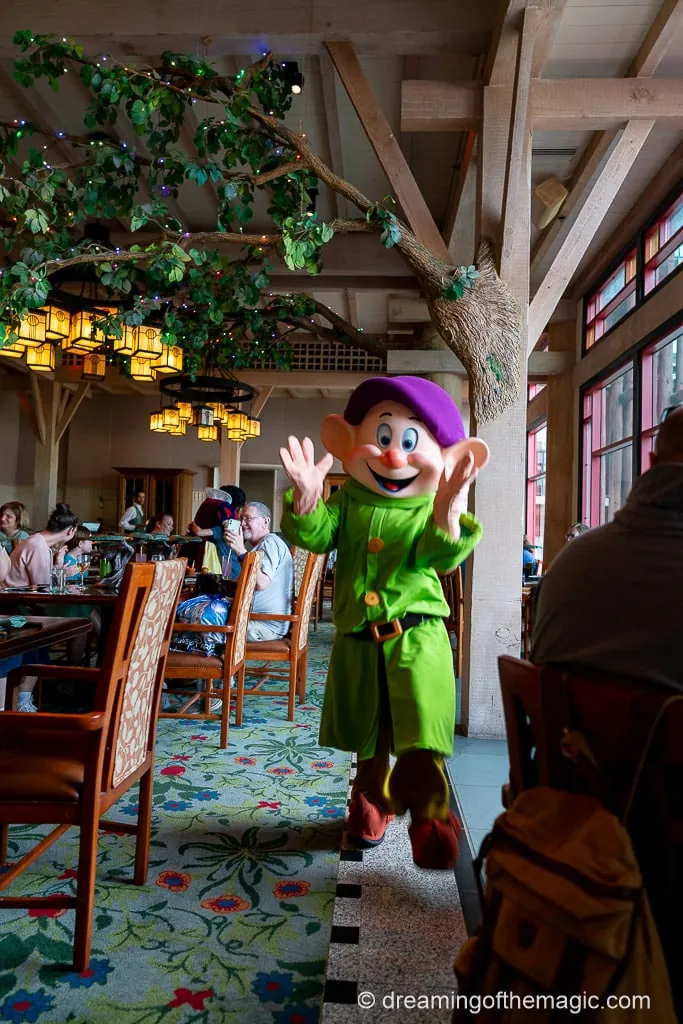 Are special dietary requests/allergies accommodated at Story Book Dining?
Talk to the Cast Member and check out the allergy-friendly dishes are listed on the menu. We requested vegan options for one of our children and they were served a modified appetizer and a vegan dessert plate.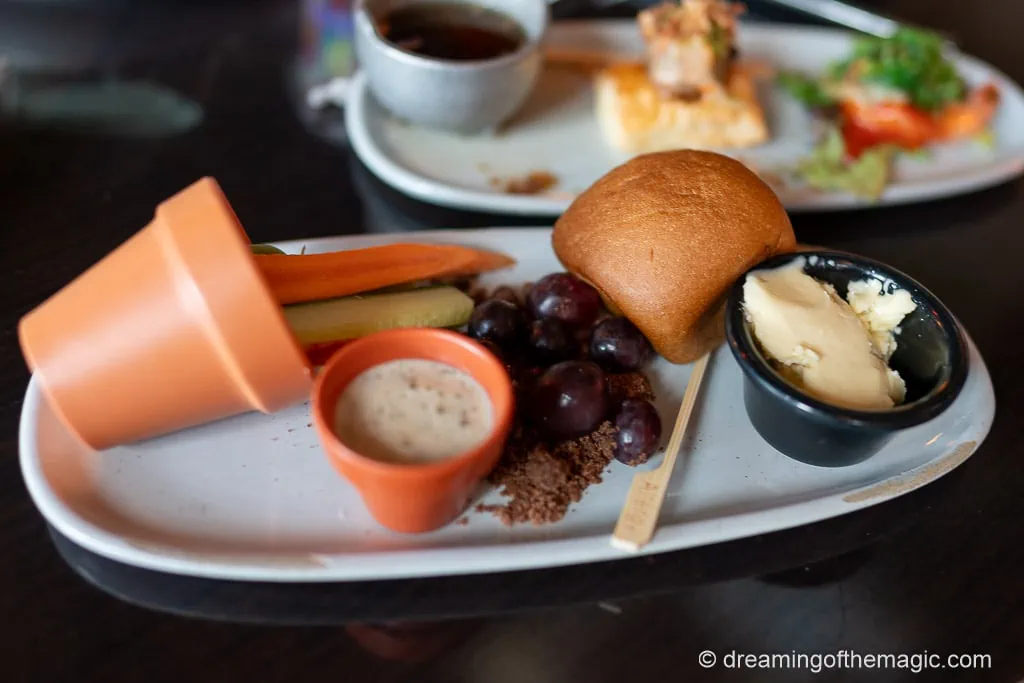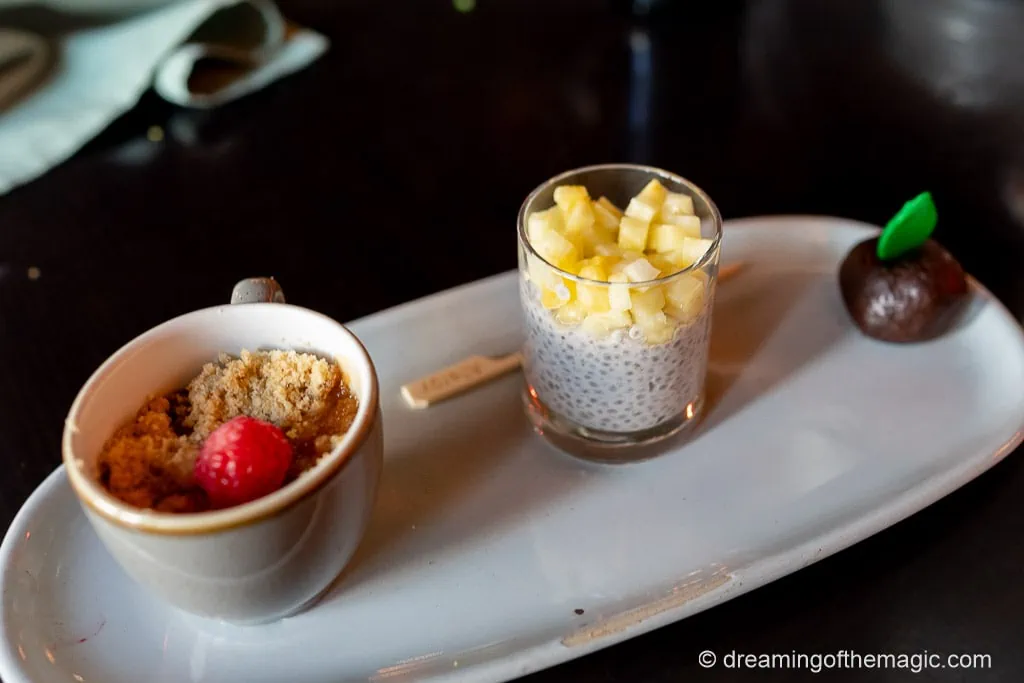 Do the characters sign autograph books at Story Book Dining?
Yes! Snow White, Dopey, Grumpy and the Queen all sign books.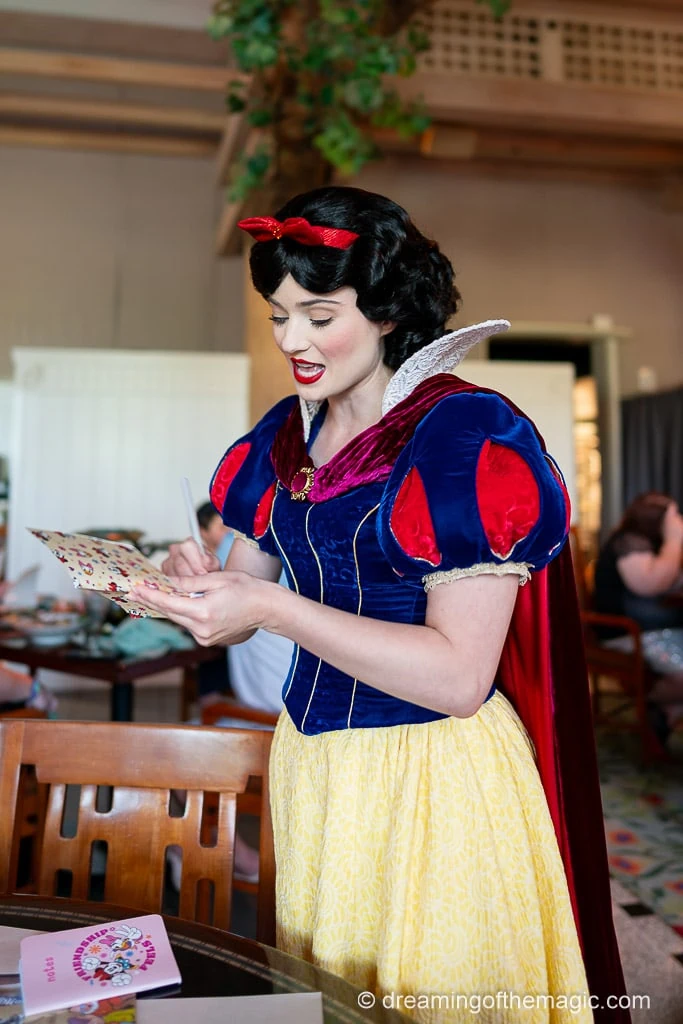 How long does the Story Book Dining take?
I'd say allow around 1.5 to 2 hours in total: it takes around 1 to 1.5 hours to dine and a little time waiting to be called for dining after checking in.
Do I need a theme park ticket/reservation to attend Story Book Dining?
No. Story Book Dining takes place at Wilderness Lodge, one of Disney's Deluxe Resorts. You do not need park tickets to dine at the resorts.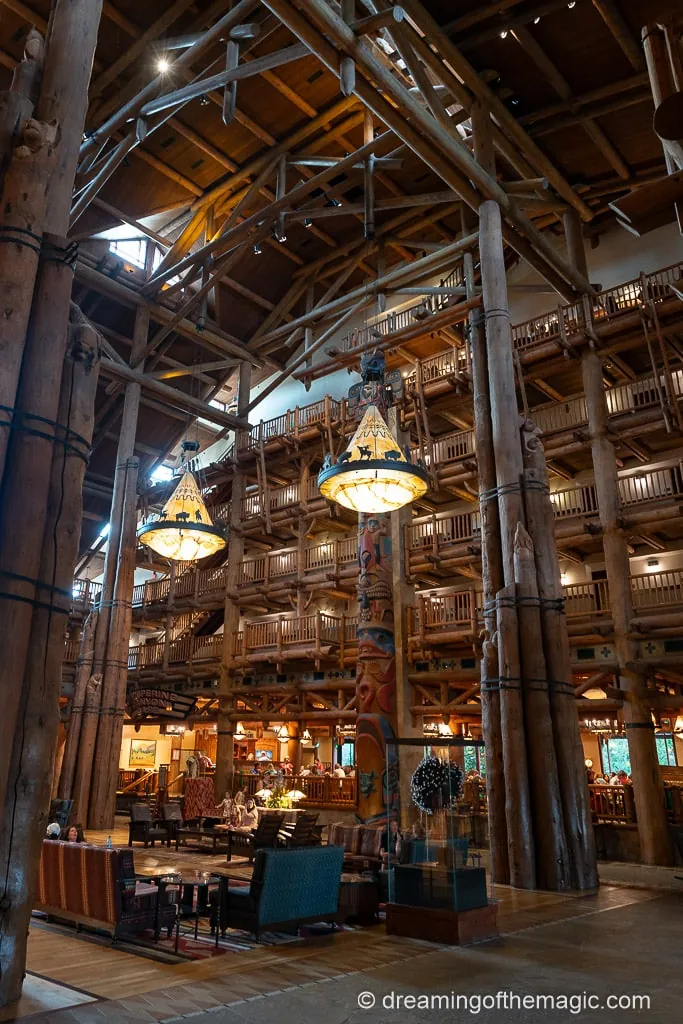 Where else can I meet Snow White/Dopey/Grumpy/the Evil Queen?
You can meet Snow White in Magic Kingdom and Epcot but the other characters do not host regular meet and greets at Walt Disney World.
Snow White typically meets guests at:
Cinderella's Royal Table in Magic Kingdom
Pop up meet and greet at the exit to Meet Mickey at Town Square Theater in Magic Kingdom
Akershus in Epcot
Germany Pavillion in Epcot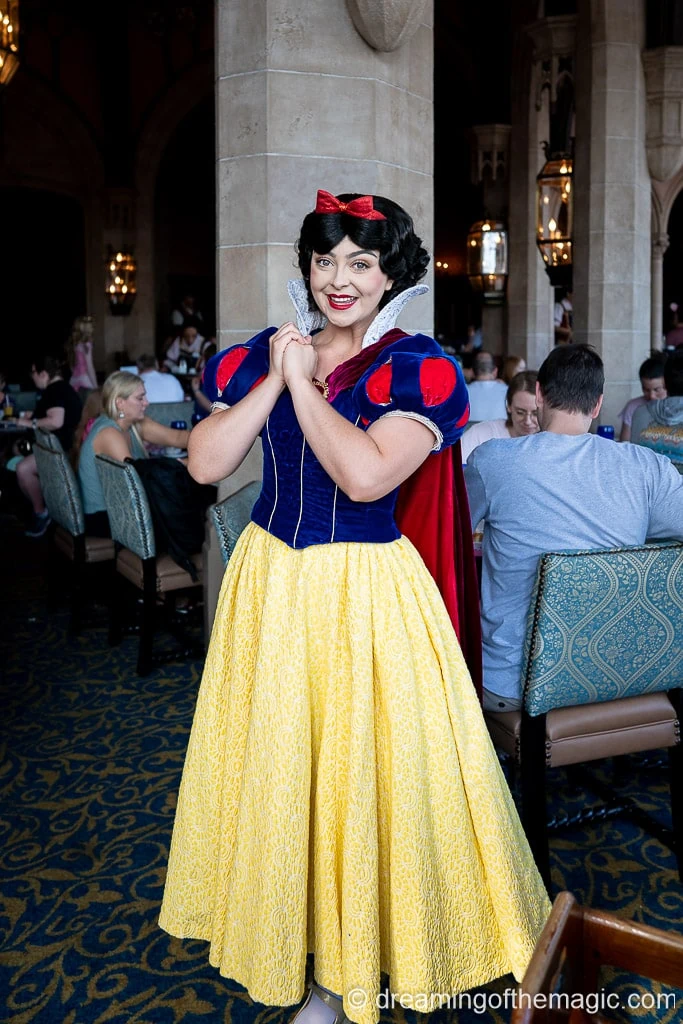 For more on where to meet the Princesses at Walt Disney World, check out our guide which includes all the Princess Meet and Greets, dining, attractions and parades across Magic Kingdom, Epcot, Hollywood Studios and Animal Kingdom.
Is there anything else Snow White related at Disney World?
Yes! Make sure to ride the Seven Dwarfs Mine Train where you will race through the diamond mine on this Magic Kindom rollercoaster.