As one of Disney's biggest stars, seeing and meeting Mickey Mouse is high on the wish list of many Disneyland Paris visitors. So, if you are wondering where to find Mickey Mouse at Disneyland Paris then we have you covered! From his permanent meet and greet in Fantasyland to character dining and surprise appearances with his friends, it's possible to meet Mickey Mouse all over the Disneyland Paris parks.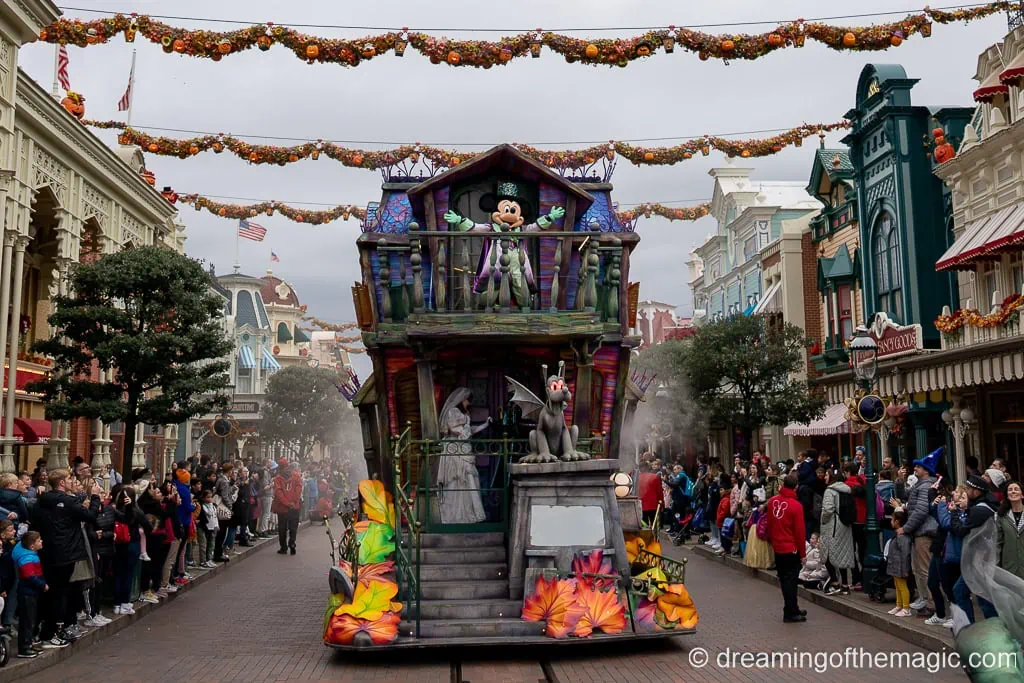 Where to Meet Mickey Mouse at Disneyland Paris
There are a few ways to meet Mickey Mouse at Disneyland Paris:
1 | Meet Mickey Mouse
Location: Fantasyland
There is one spot in the park where you are almost certain to find Mickey Mouse – at his permanent meet and greet location, the Meet Mickey Mouse theatre in Fantasyland. It is from here that Magician Mickey greets guests in between his magic shows when he hangs out in his dressing room backstage of the theatre!
The Meet Mickey Mouse meet and greet typically runs between 10am and 5pm daily and guests queue inside the theatre.
Meet Mickey Mouse Disneyland Paris tip: it's not surprising that Mickey Mouse is one of the park's most popular meet and greets. As a result, the wait time often exceeds one hour. There are usually cartoons playing on the tv screens to help pass the time in the queue.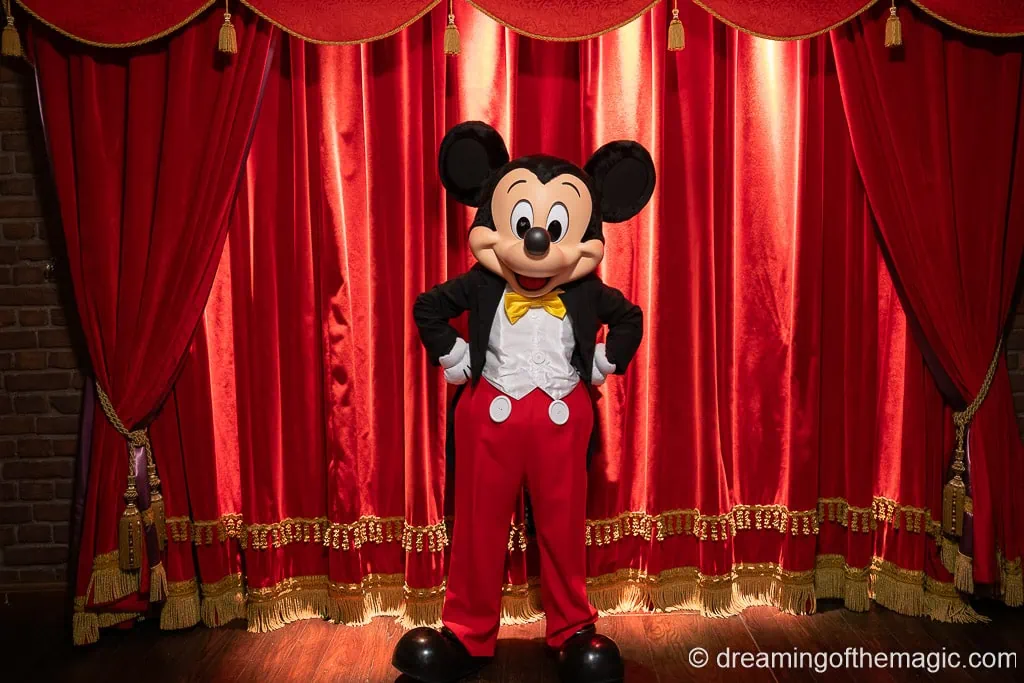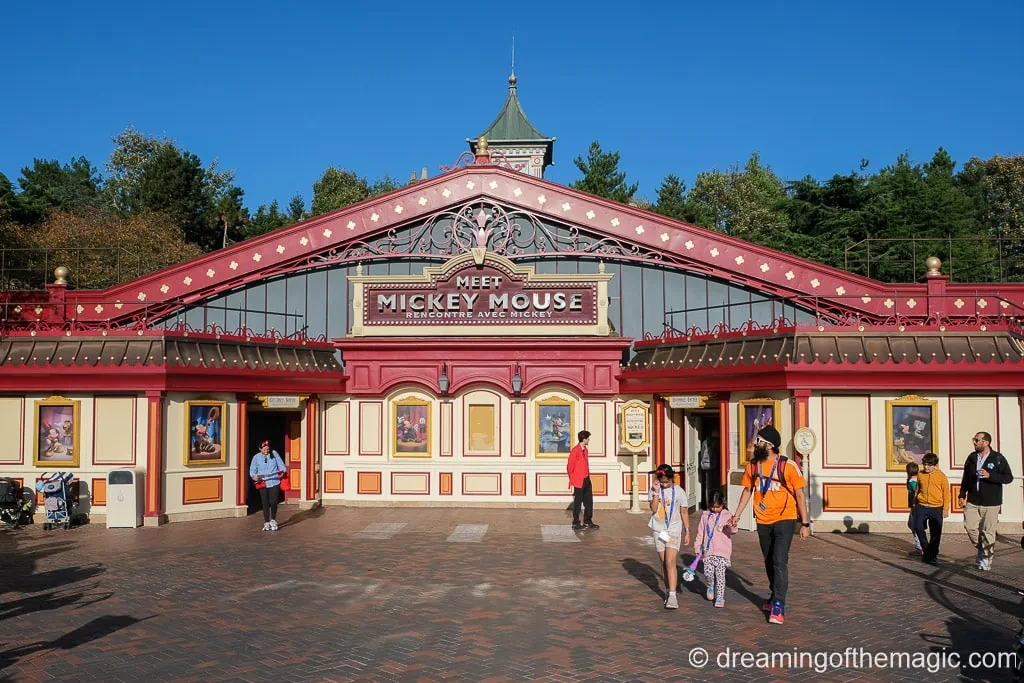 Disneyland Paris Tickets
Tickets for Disneyland Paris must be purchased in advance so you need to plan ahead. You cannot buy Disneyland Paris tickets at the entrance.
Only special-rate tickets for guests with disabilities, their accompanying guests, and certain tickets related to Annual Pass holder benefits can be purchased at the gate on the day. We recommend booking your tickets directly on the Disneyland Paris site. You can check prices and availability for each day directly on the site – check prices now!
Tickets are also included when you book a hotel and ticket package. Staying onsite at Disneyland Paris is a real treat and the Disney hotel and ticket packages are amazing value– check prices now!
Book your Disneyland Paris tickets and hotels now
2 | Character Dining (Dinner)
Location: Plaza Gardens Restaurant
Character dining is one of our favourite experiences in Disneyland Paris and it always brings such treasured memories. It is also one of the best ways to meet the Disney characters – Mickey Mouse attends the character dinner in Plaza Gardens every evening. He is accompanied by a selection of his friends – this can include characters such as Minnie Mouse, Goofy, Pluto, Tigger, Donald Duck, Daisy Duck, Eeyore and Rabbit. Note, specific character attendance is not guaranteed but it is rare for Mickey Mouse not to make an appearance at the evening character dining.
Guests are served a buffet-style dinner with a selection of starters, mains and desserts in the Victorian-themed restaurant.
Character dining is extremely popular at Disneyland Paris and the reservations are often snapped up well in advance. Guests who have booked a hotel and tickets package at Disneyland Paris are able to reserve dining slots 12 months in advance. You can add character dining at the time of booking or log into your account to add it to your reservation – click here to add character dining to your booking.
This is one of our favourite benefits of staying in a Disney hotel – it allows us to reserve character breakfasts and dinners as well as princess dining at the time of reserving our hotel and also gives early access to reservations at the most popular restaurants including Captain Jack's, Walt's, Chez Remy and Downtown at the New York Art of Marvel hotel – check Disney hotel prices here!
The character dinner costs €80 for an adult and €40 for a child or, if you have a meal plan, a supplement may be payable depending on your level of meal plan.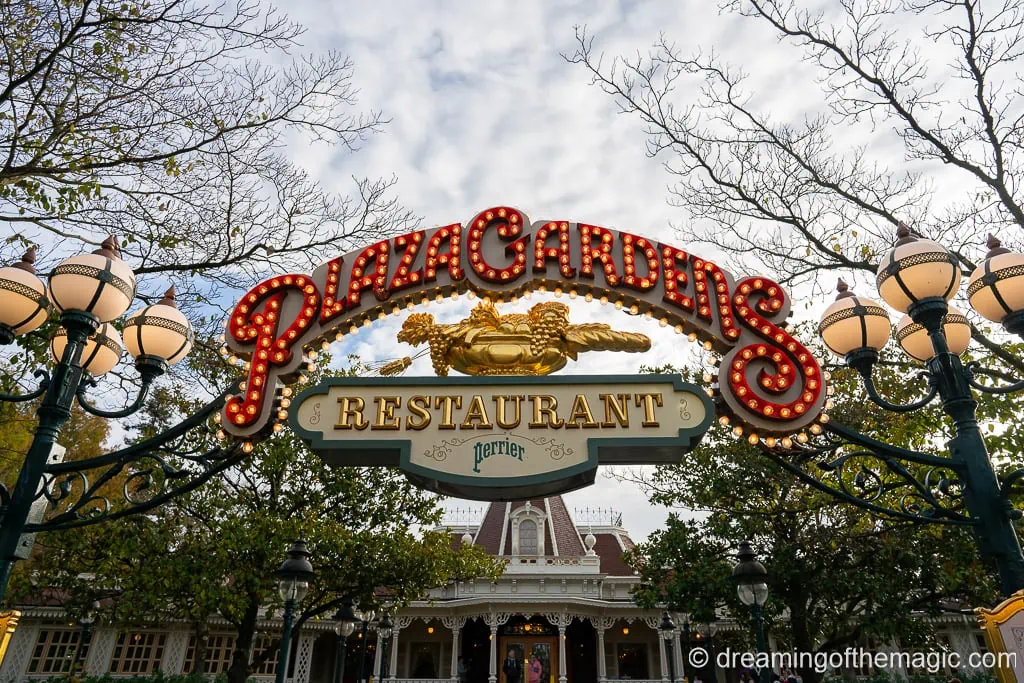 Meet Mickey Mouse Disneyland Paris tip: Mickey Mouse does not attend the character dining breakfasts in Plaza Gardens. He is busy greeting guests as they arrive at the park so it's unlikely you will meet him during breakfast!
3 | Hotel character meet and greets
Location: Newport Bay Club, Sequoia Lodge, Santa Fe
If you are staying onsite at a Disneyland Paris hotel then you might have the opportunity to meet Mickey Mouse at a hotel-specific meet and greet. Every evening characters from the Mickey Mouse and Friends gang stop by the character meets at Newport Bay Club, Sequoia Lodge and Santa Fe hotel. We've met Mickey and Minnie Mouse, Donald and Daisy Duck, and Pluto and Max on various evenings throughout our stays in recent months.
Meet Mickey Mouse Disneyland Paris tip: the characters at the hotel meet and greets are a surprise each evening. There's no gurantee you will meet Mickey Mouse on any given evening but we love meeting each and every one of the characters – it's all part of the Disneyland Paris fun!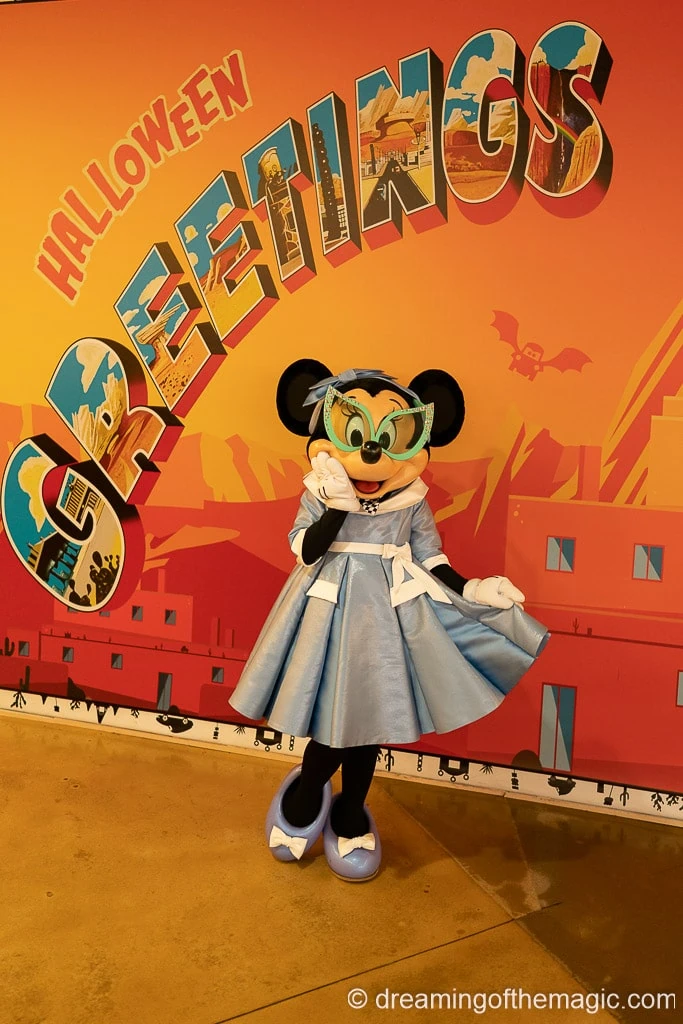 The hotel character meet and greets are an awesome perk of staying onsite at Disneyland Paris. Queues can be long for meet and greets in the parks so this is a wonderful opportunity to meet the characters without the long queues: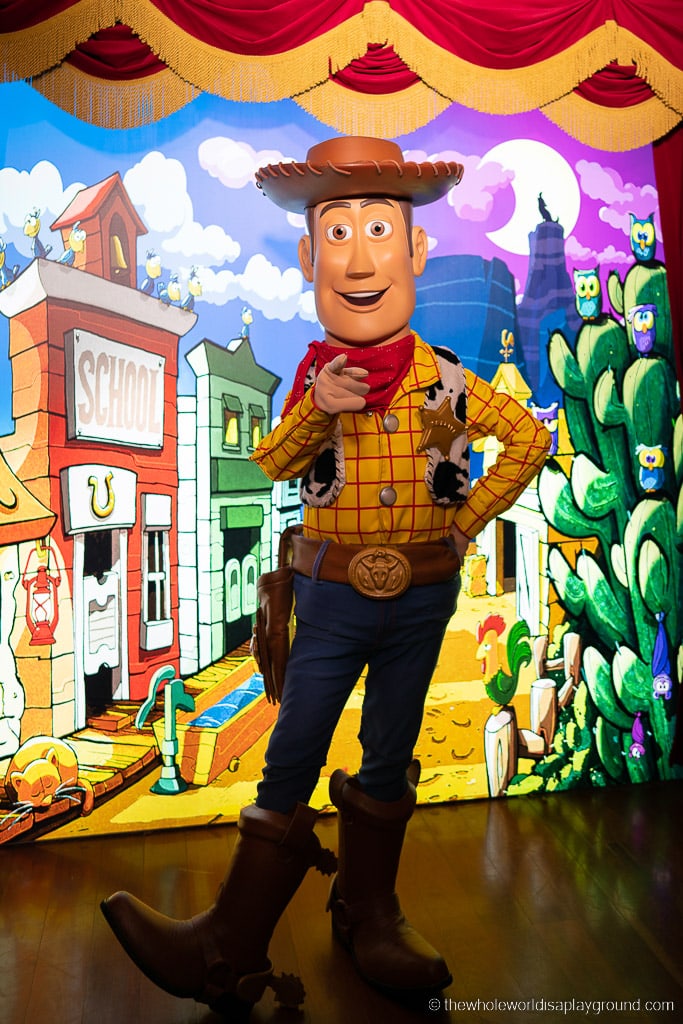 4 | Pop-up Meet and Greets
As soon as you plan your visit make sure to download the official Disneyland Paris app – it is an absolute must-have for any visit to Disneyland Paris. The app lists all the information you need to know about the Disneyland and Walt Studios parks – it includes park opening hours, and parade times and lists the regular character meet and greets:
Meet Mickey Mouse: included under the attractions list alongside the rides.
Other meet and greets: included under characters and split between Walt Disney Studios and Disneyland Park.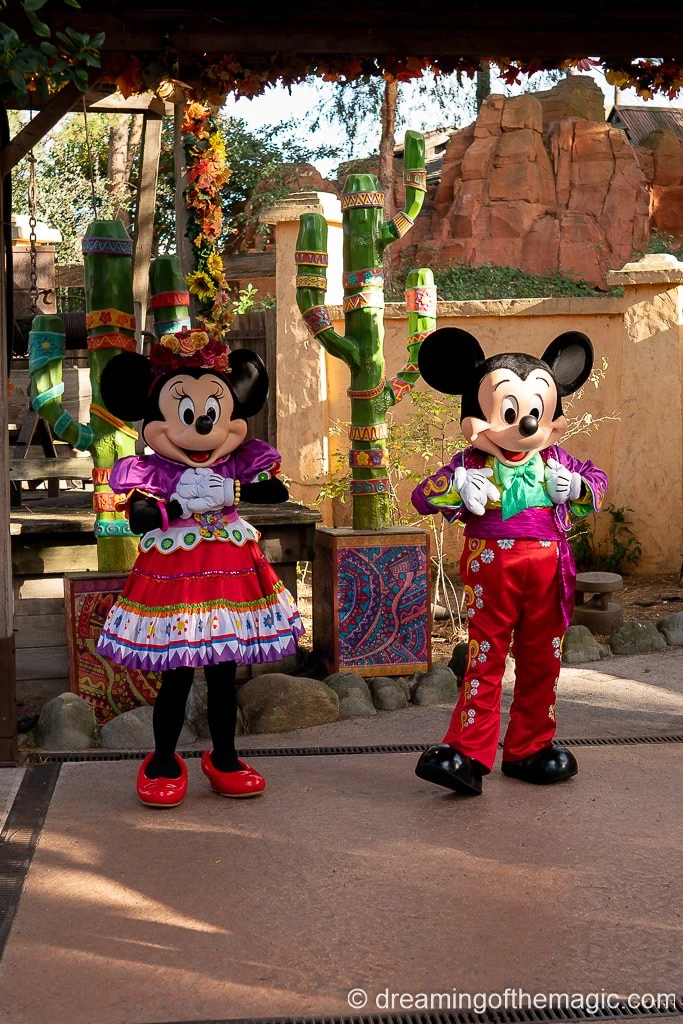 As well as the listed meet and greets there are pop-up meet and greets which take place throughout the park. We have managed to meet Mickey Mouse at pop up meet and greets including:
Phantom Manor: Mickey Mouse regularly hosts meet and greets in the pagoda close to Phantom Manor (it is the same spot where Jack Skellington hosts his Halloween and Christmas meet and greets). Mickey wears his Phanom Manor uniform.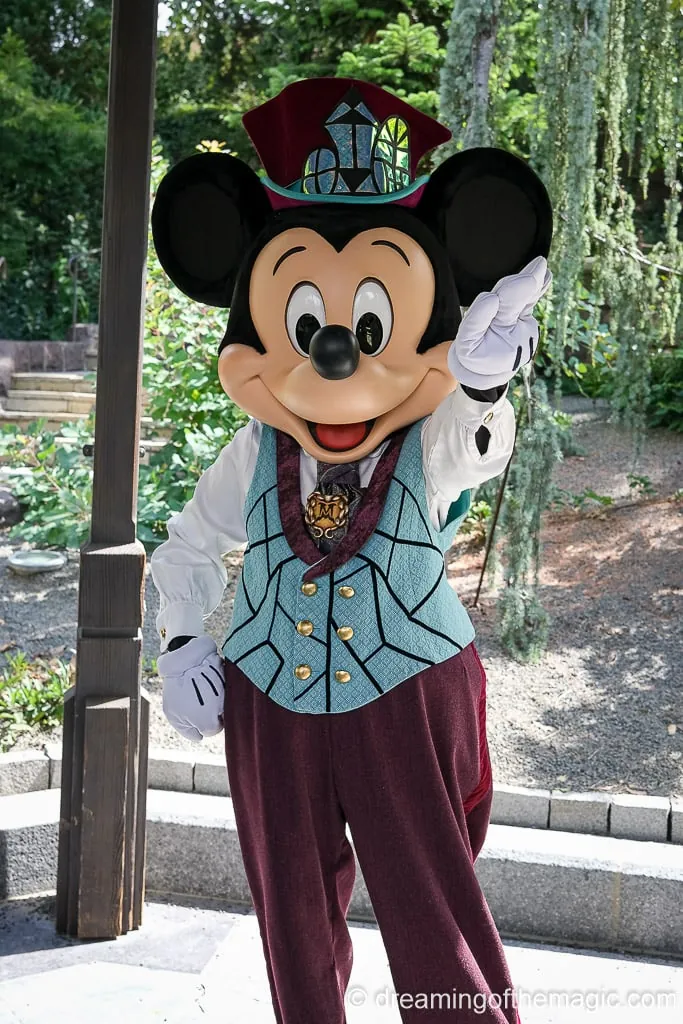 Cowboy Cookout: Mickey and Minnie usually host a meet and greet near Cowboy Cookout in Frontierland during the Halloween season. We met them here in early November 2022.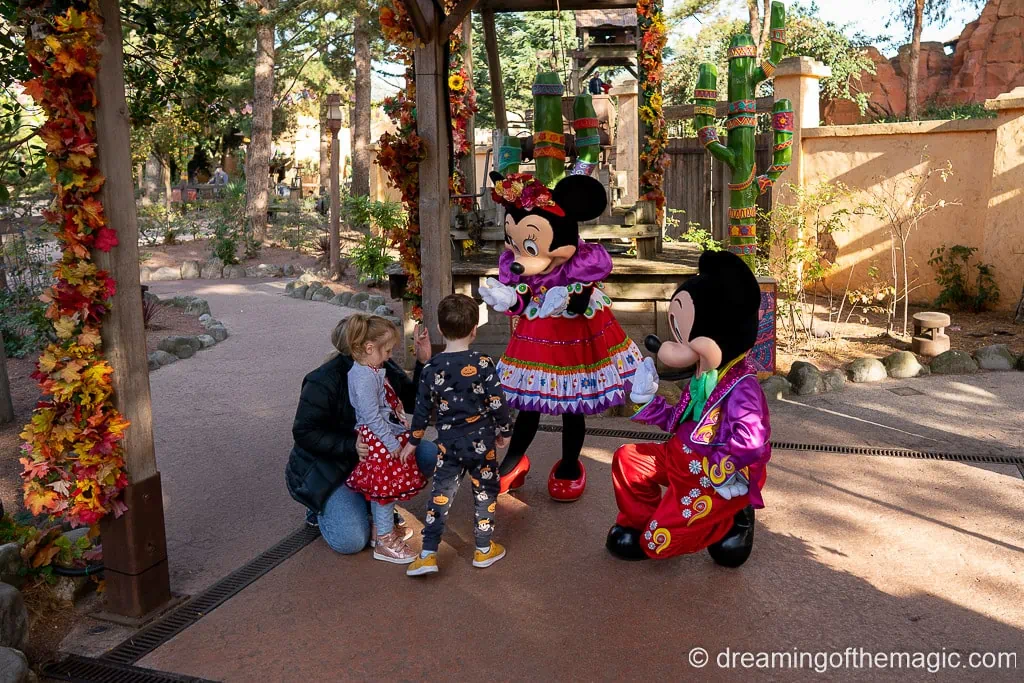 5 | Minnie Mouse Meet and Greets
Sometimes Mickey Mouse and his friends attend each other's meet and greets. Mickey Mouse has recently been making an appearance at the fabulous Minnie Mouse Meet and Greet in Walt Disney Studios.
Minnie hosts a Meet and Greet with Minnie and Friends in the theatre in the Front Lot – we met her recently when she hosted a Parisian day in early November and the meet and greet is themed to Broadway, New York for the Christmas season.
Minnie's friends randomly accompany her at the meet and greet and Mickey Mouse has made appearances here recently. Other characters to join Minnie include Clarabelle, Clarice and Donald and Daisy Duck.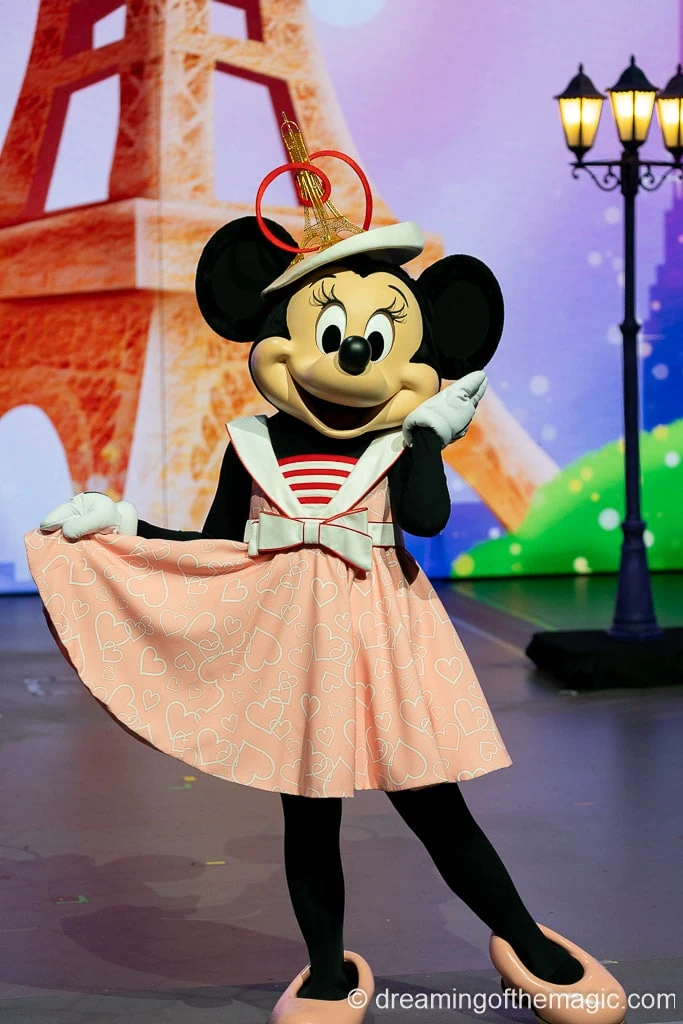 Where to see Mickey Mouse in Disneyland Paris
There are plenty of opportunities to catch a glimpse of Mickey Mouse at other times in the parks:
6 | Extra Magic Hour
Extra Magic Hour is one of the best perks of staying at one of the Disneyland Paris Disney hotels. It describes the hour before the standard park opening time when Disney Hotel Guests and Magic Plus and Infinity Annual Pass Holders are granted early access to the park – it's an amazing opportunity to experience the park when it is less crowded and enjoy the rides when there are low queues.
As a special treat during Extra Magic Hour, Mickey Mouse welcomes guests from the train station balcony overlooking Town Square – and sometimes he's even joined by Minnie Mouse! It's a really great time to interact with Mickey Mouse and it's often quiet as many guests take advantage of the limited crowds to make their way straight to the popular rides like Big Thunder Mountain. We always have so much fun waving and dancing while Mickey blows kisses and sends love hearts from the balcony!
Click here to check out our full guide to Extra Magic Hour at Disneyland Paris!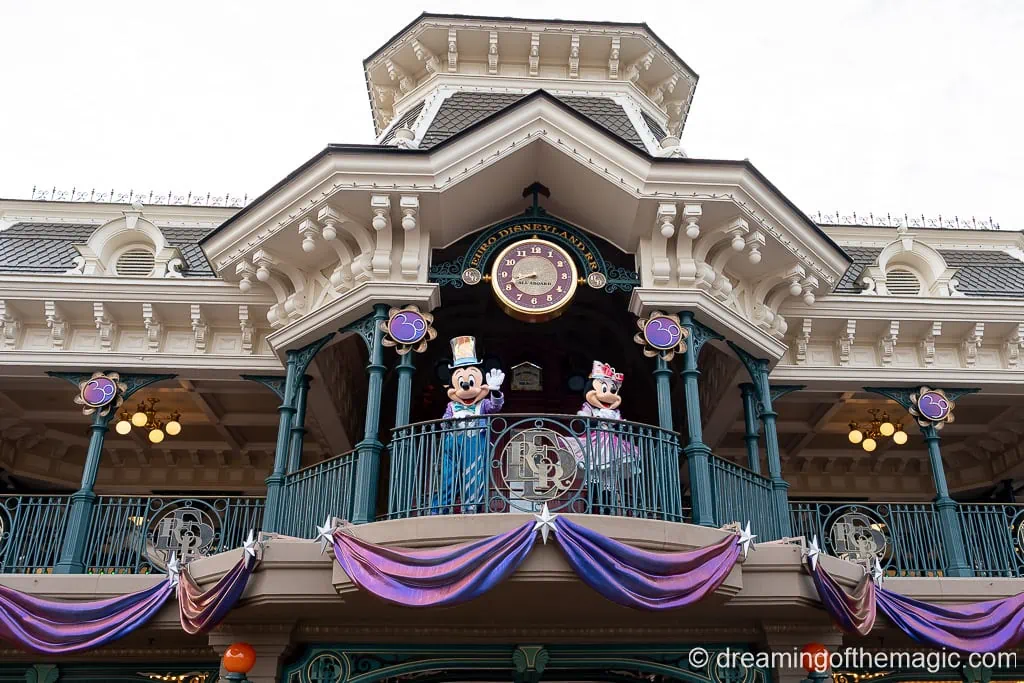 7 | Parades
Mickey Mouse always leads the Disney stars in the main parades at Disneyland Paris and it is one of the highlights of a day in the park.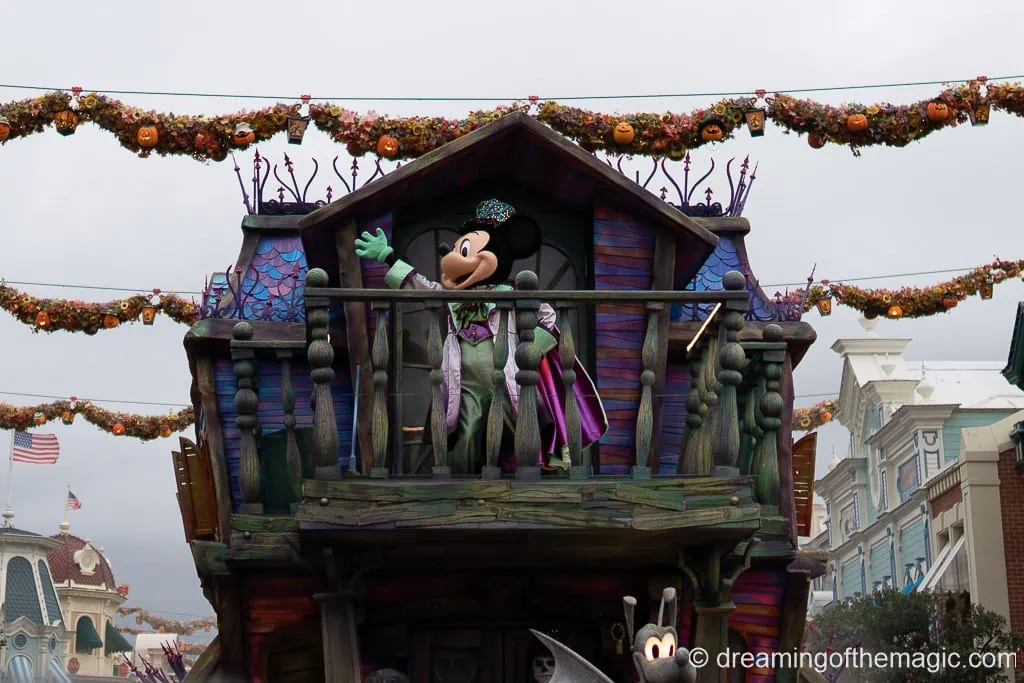 As soon as the music blasts through the speakers and the floats start winding along the parade route the energy is electric as the park almost comes to a standstill – our 3-year-old loves to dance up a storm, our 5-year-old adores the Disney characters that adorn the array of colourful floats and our 6-month-old is blown endless kisses. It's hard to put into words how magical the parades are!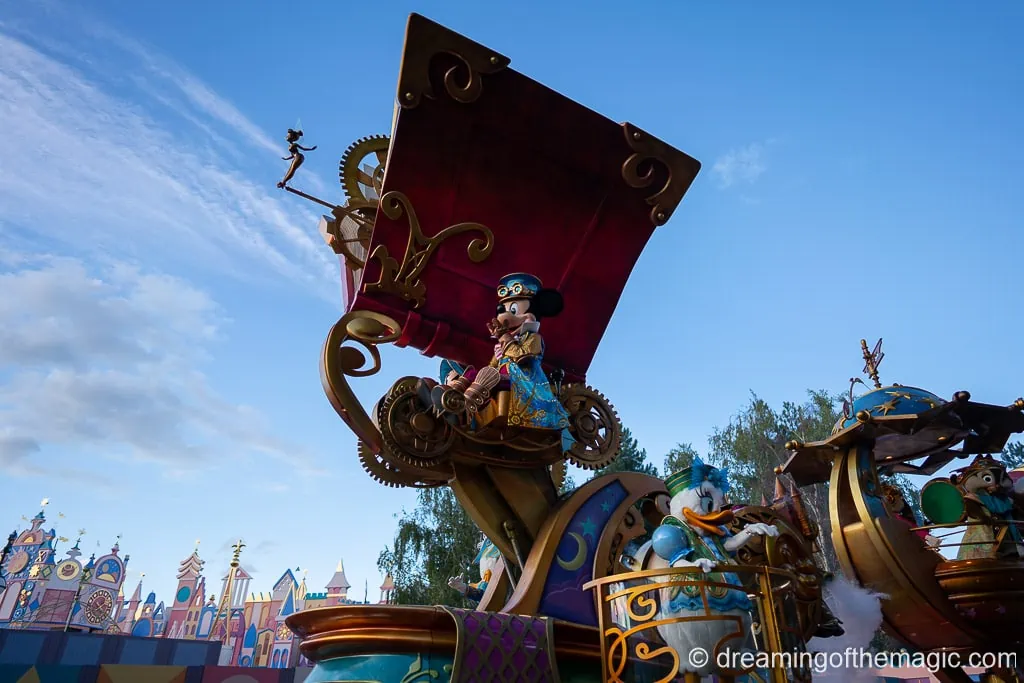 8 | Live Shows
There are some incredible theatre shows at Disneyland Paris and some offer the chance to see Mickey Mouse live on stage.
Mickey and the Magician is one of the best shows to see Mickey Mouse. It runs in Walt Disney Studios and the long-running show is a must-see. It follows Mickey as he learns the tricks of the trade as a magician's assistant and features some of Disney's most popular characters including Belle, Beast, Cinderella, Elsa and Olaf.
The performance is spectacular as is the featured music!
Meet Mickey Mouse Disneyland Paris: Mickey and the Magician is extremely popular so make sure you arrive at least 30 minutes before the performance to secure your seat. Access to the show is included in your park ticket but you can reserve a guaranteed seat at the show if you don't want to worry about having to queue early – this means you can show up for the show at the recommended time and know you have a seat. Another perk of reserved tickets is that guests can access the best section of seats in the theater – click here to check out Mickey and the Magician!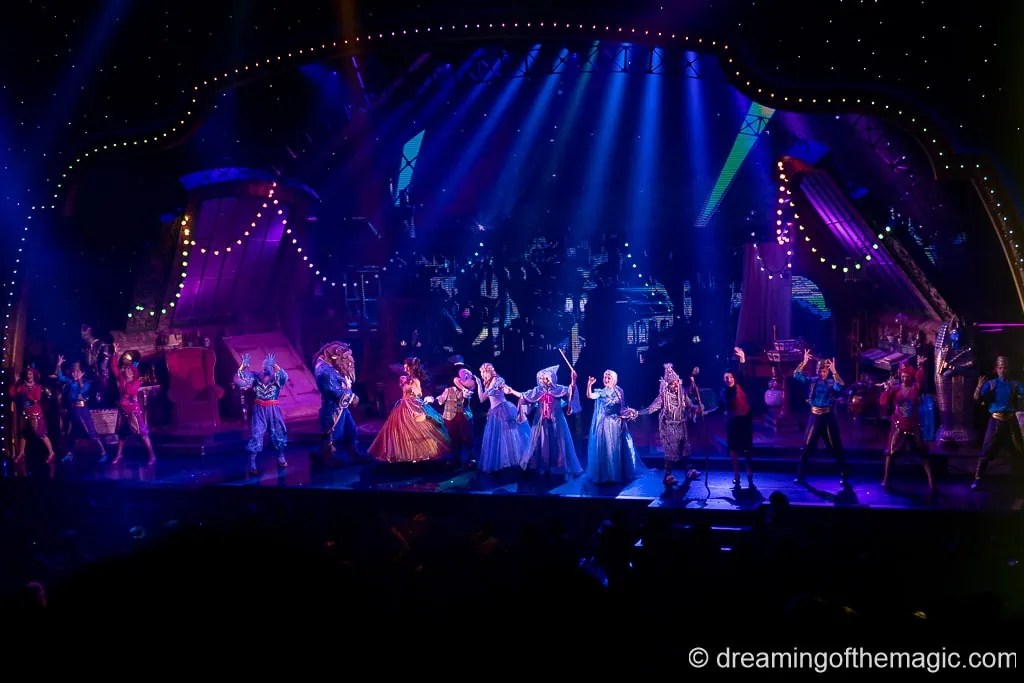 9 | Saying goodbye to guests at the end of the day
Mickey Mouse waves goodbye to guests from the train station balcony at the end of the day. A wave from Mickey Mouse is always a lovely way to end the day at Disneyland Paris!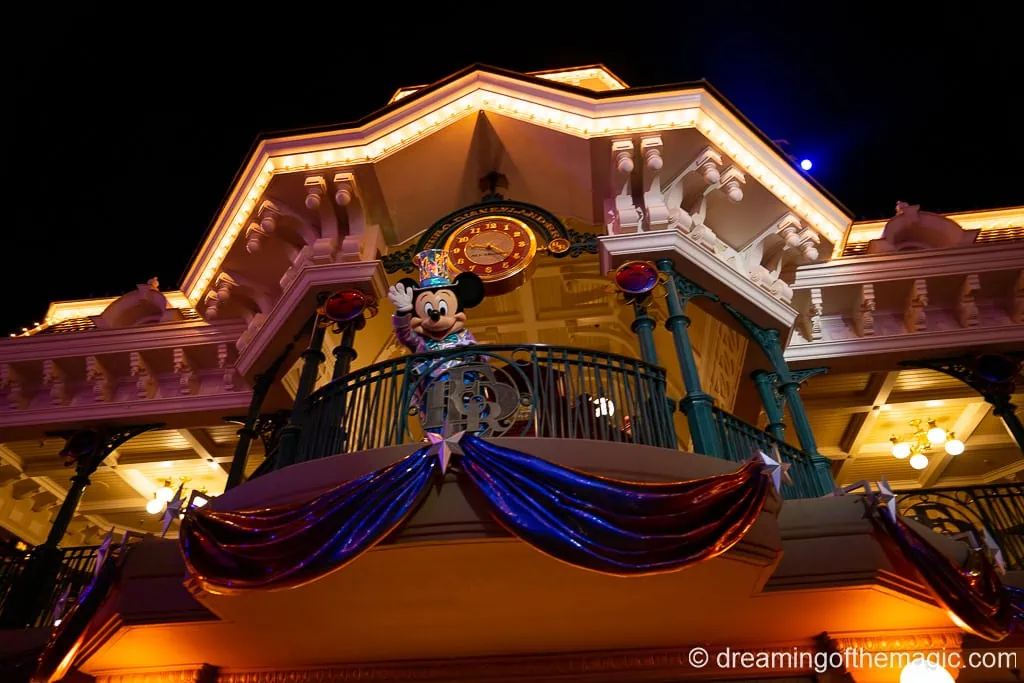 Bonus Sightings…
Sometimes you never know when you might spot Mickey Mouse walking through the park. With the Disney characters making their way to various meet and greets and shows throughout the park there's a chance you might spot Mickey Mouse and get a wave!