Peppa Pig World, part of Paultons Park in the New Forest, is a dream day out for many toddlers and our 2 and 3 year old absolutely love spending a day surrounded by all things Peppa Pig! After our most recent visit, we wanted to share our guide and tips for visiting Peppa Pig World with toddlers so you can plan for a fantastic family day out!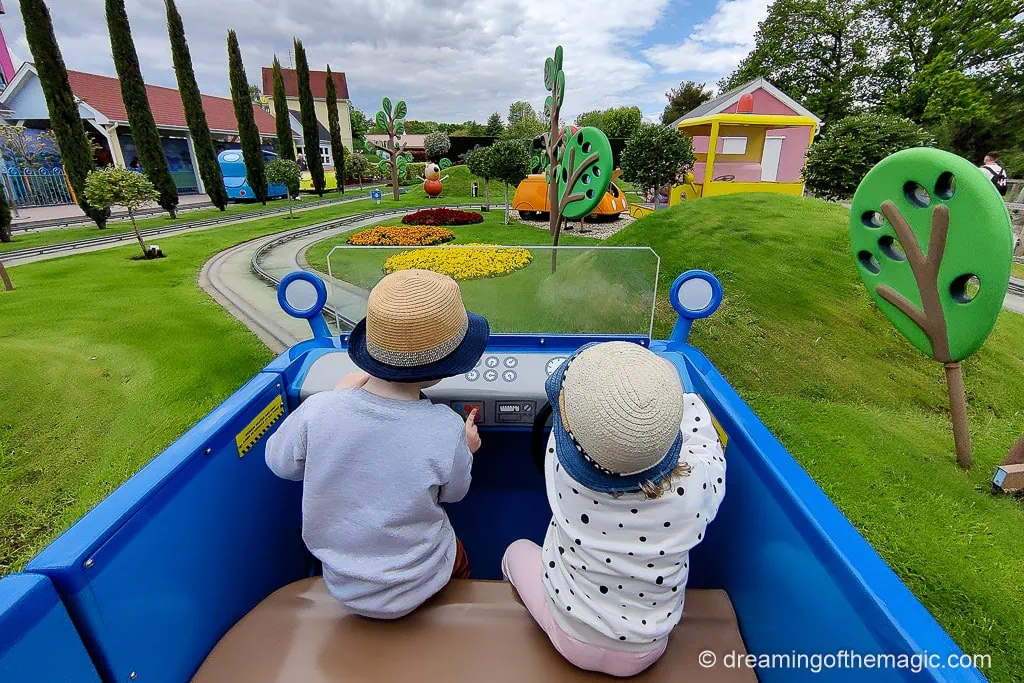 Peppa Pig World
Located near the charming village of Lyndhurst, Peppa Pig World/Paultons Park is one of the best things to do in the New Forest with kids. With 9 rides dedicated entirely to Peppa Pig and her family and friends, the park is a must-visit for fans of the show. From the colourful rides to the character appearances and the merchandise everything in Peppa Pig World is, as the name suggests, Peppa Pig themed!
Peppa Pig World is incredibly family-friendly and most of the rides are suitable for younger toddlers who are over 12 months. Only one ride, George's Dinosaur Adventure, has a height restriction with riders needing to measure 0.85 metres tall.
Peppa Pig World is part of the larger Paultons Park, a family theme park with over 70 rides.
Peppa Pig World Tickets
Purchasing your Peppa Pig World tickets in advance will save time when you get to Paulton's Park. Remember you are purchasing a ticket to Paultons Park, which includes Peppa Pig World access (you don't need a separate ticket for Peppa Pig World). We recommend purchasing your Peppa Pig tickets in advance during peak times when tickets can sell out. – check prices now!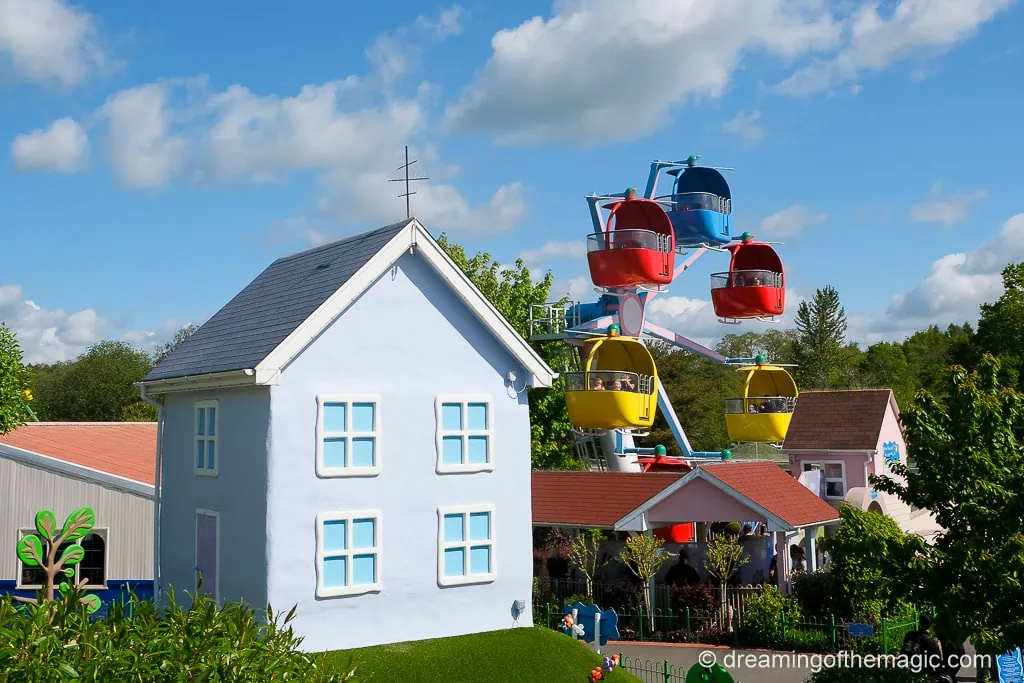 Where to stay at Peppa Pig World
There are some great family-friendly accommodation options near Peppa Pig World. Our favourites include:
Forest Lodge Hotel: our New Forest favorite, the hotel is located just 5 miles from Peppa Pig World and offers family rooms with 1 double and a bunk bed (plus the option of extra beds/cots). The hotel also has a swimming pool – check prices now!
Mortimer Arms: located across the road from Peppa Pig World, it's a 10-minute stroll to Peppa Pig World! The Mortimer Arms is a traditional inn and has standard rooms which can fit one extra bed and superior rooms which can fit two extra beds for families – check prices now!
Peartree Serviced Apartments: with a choice of studios, 1 and 2 bedroom apartments, and family suites, the Peartree Serviced Apartments are a great self-catering option in nearby Salisbury. Stonehenge and Salisbury Cathedral are also nearby – check prices now!
Click here for all hotels near Peppa Pig World
For more accommodation options, check out our full guide to hotels near Peppa Pig World!
Peppa Pig World: The Rides
There are 9 rides in Peppa Pig World and they are fantastic fun!
Daddy Pig's car ride: beep, beep! Daddy's Pig car ride is a fun jaunt around a car track in Daddy Pig's car.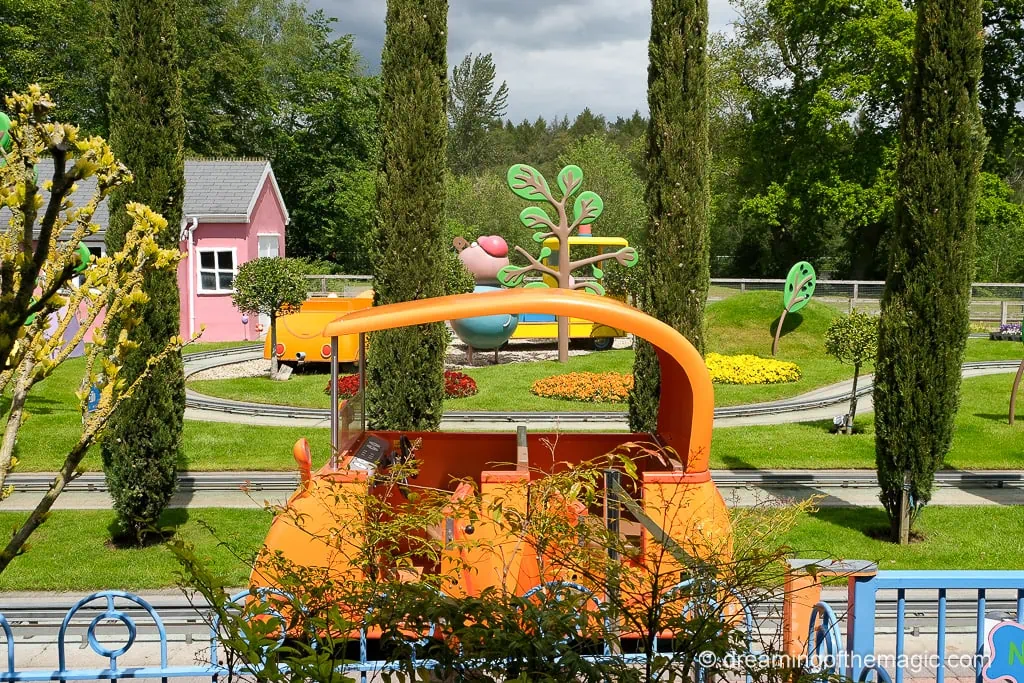 Windy Castle: Peppa and family visited the castle on a day trip and Windy Castle takes riders round and round the castle
Miss Rabbit's Helicopter Flight: riders climb into Miss Rabbit's helicopter for a jaunt around a giant wheel.
Peppa Pig World tip: Miss Rabbit's Helicopter Flight is one of the slowest queues in the park. The ride is boarded two helicopters at a time so it takes a fair amount of time to board the 6 helicopters and start the ride. If there is a queue we'd skip this one!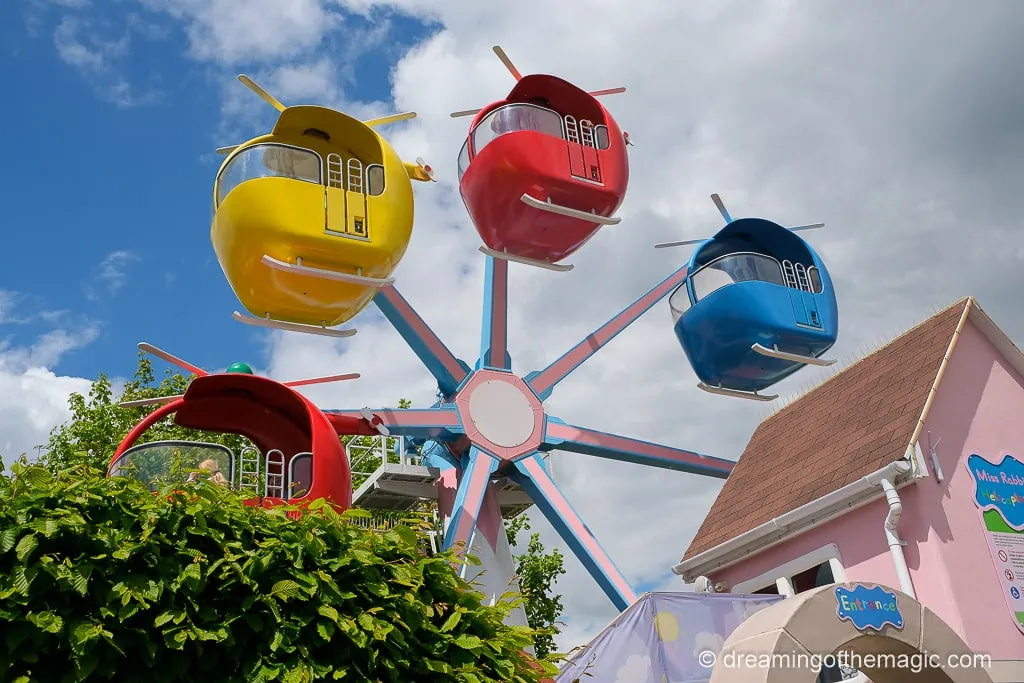 Grandpa Pig's Little Train: all aboard Grandpa Pig's train, Gertrude, for a ride through his gardens. My lasting memories of this ride are lots of waving and Grandpa's Little Train song (Grandpa's little train goes choo, choo, choo, choo, choo, choo to the Wheel's on the Bus) playing on a loop but it is one of the kid's favourites!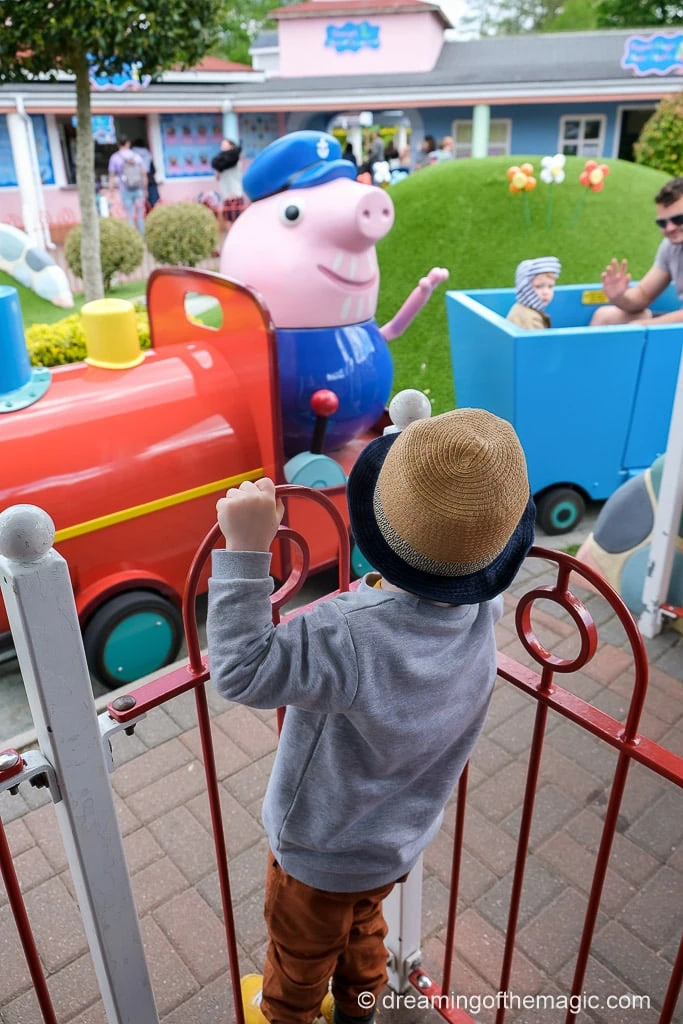 Peppa Pig's Balloon Ride: jump aboard a hot air balloon which rises above the park for some awesome views.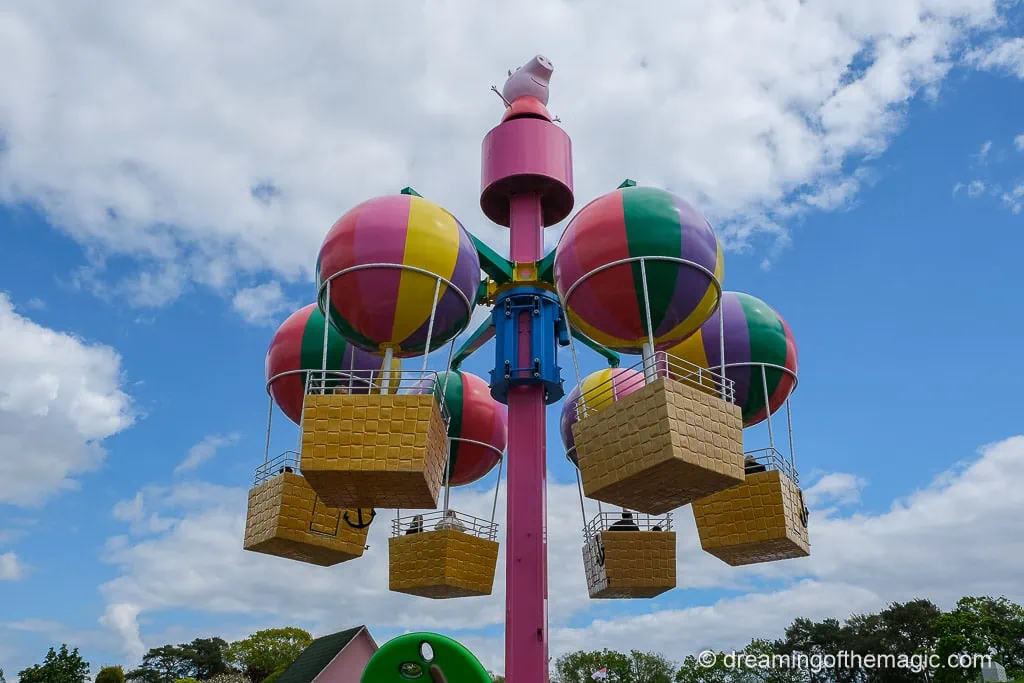 Georges Dinosaur Adventure: we all know that George's favourite toy is a dinosaur and George's Dinosaur Adventure sees riders hop on a rocking dinosaur. Another of our toddler favorites!
Peppa Pig World tip: George's Dinosaur Adventure is the only ride with a height restriction in Peppa Pig World. Riders must be 0.85 metres tall to ride George's Dinosaur Adventure. Children under 1.1 metres need to be accompanied by an adult who sits with them at the front of the dinosaur.
The Queen's Flying Coach Ride: in a nod to the episode where Peppa visits the Queen, the Queen's Flying Coach Ride is a series of royal carriages which chug along a monorail above the park.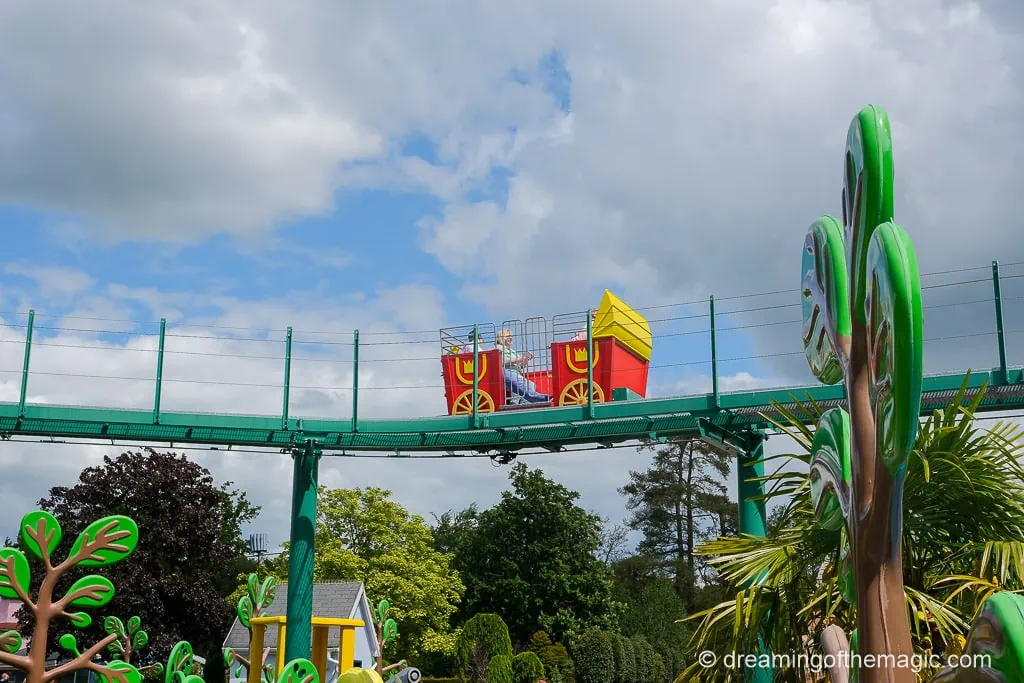 Grandpa Pig's Boat Trip: a short ride over some gentle waves. We were joined by some of the park's resident ducks which brought huge excitement!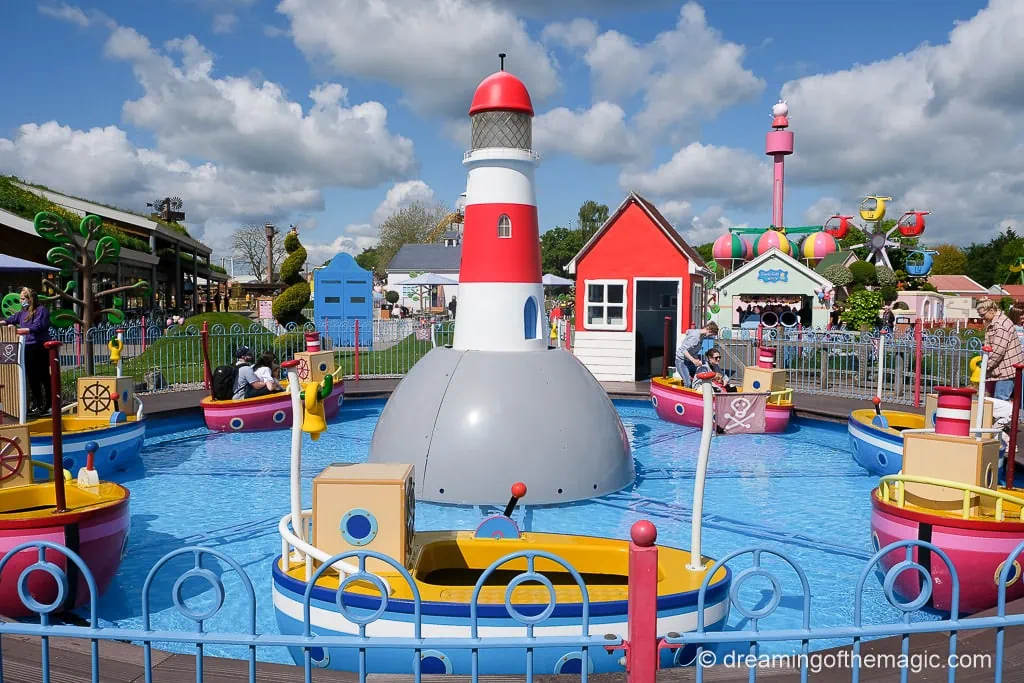 Grampy Rabbit's Sailing Club: individual boats spin and float along this lazy river past Peppa and her friends on a journey to Pirate Island.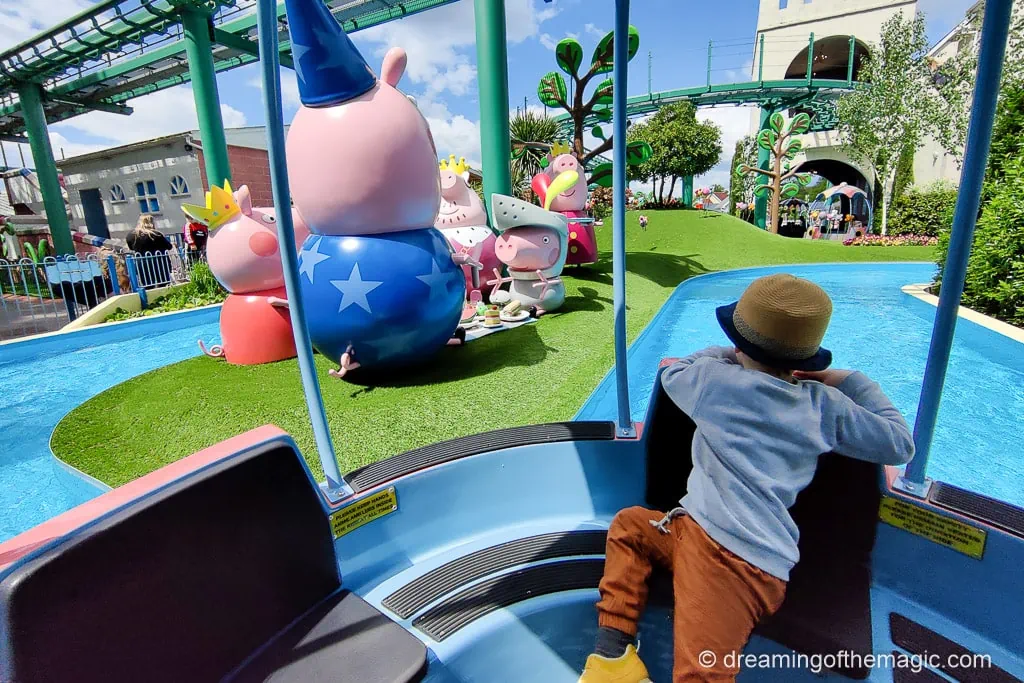 This is one of my 3 year old's favourites, he almost bursts with excitement every time he spots Grandpa Pig fast asleep while Peppa and her friends wait patiently on Pirate Island!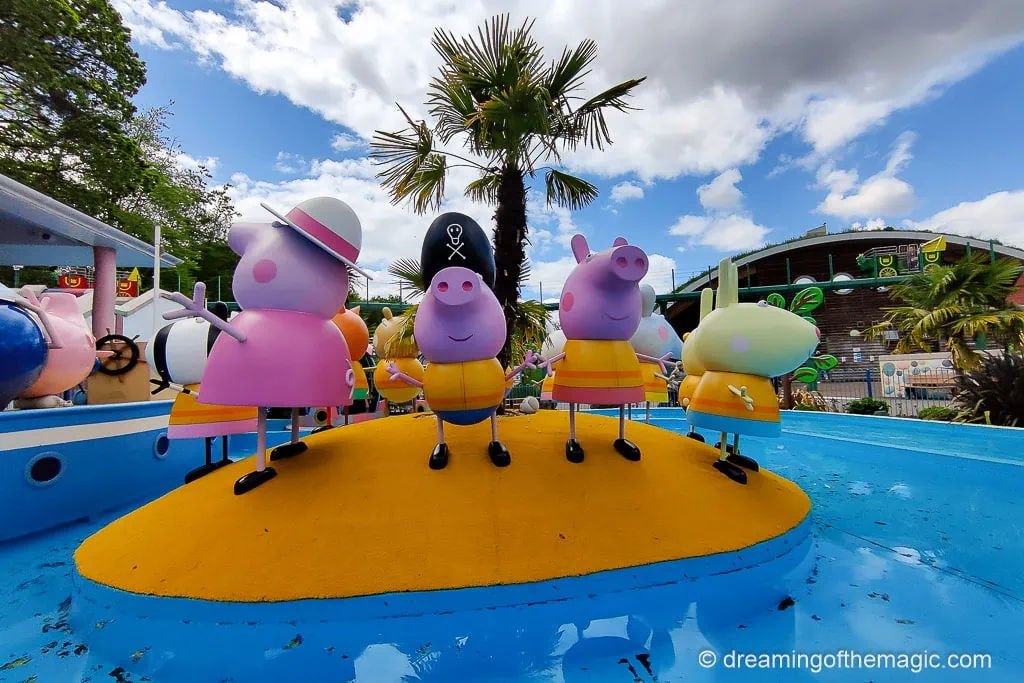 Peppa Pig World: other highlights
Mr Potato's Playground: a Mr Potato statue greets visitors to this fun play park. There are slides, tunnels, bridges and a fun treehouse to play on. It's an awesome spot for burning off some steam or for some time out if the queues are looking long. We have a hard time getting our toddlers to leave the playground they have so much fun!
Peppa Pig houses: there are replicas of Grandpa Pig's house, Peppa's house and Madame Gazelle's School House. You can even walk through Peppa Pig's house and see Daddy Pig getting ready to prepare some pancakes!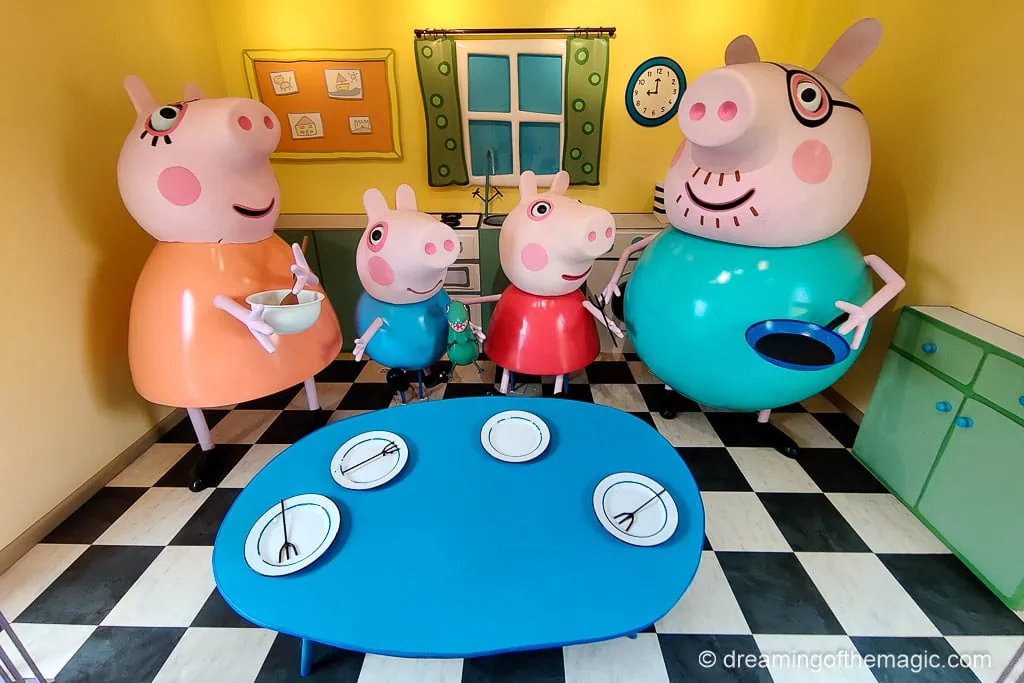 Muddy Puddles: of course there are muddy puddles at Peppa Pig World! The splash zone is perfect for summer months (and only opens from spring) and it's worth bringing a change of clothes for the inevitable soaking that will occur!
Meet the ducks: my 2-year-old will happily stand for half an hour watching the yellow ducks go round and round the duck pond!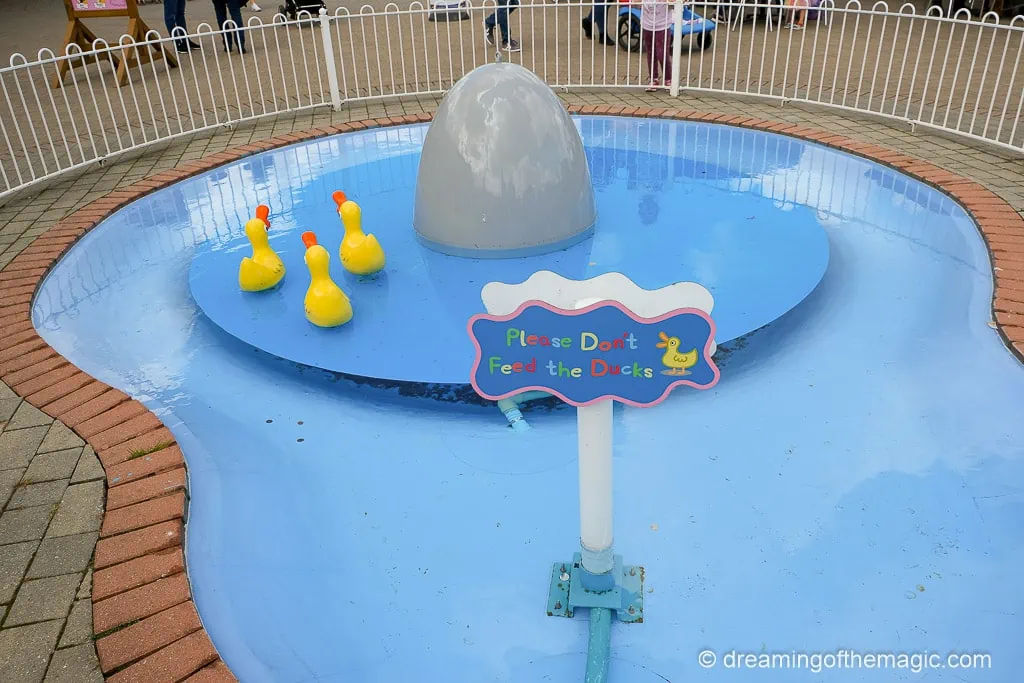 There are also real ducks roaming around, as I mentioned previously they swam alongside us on Grandpa Pig's boat ride!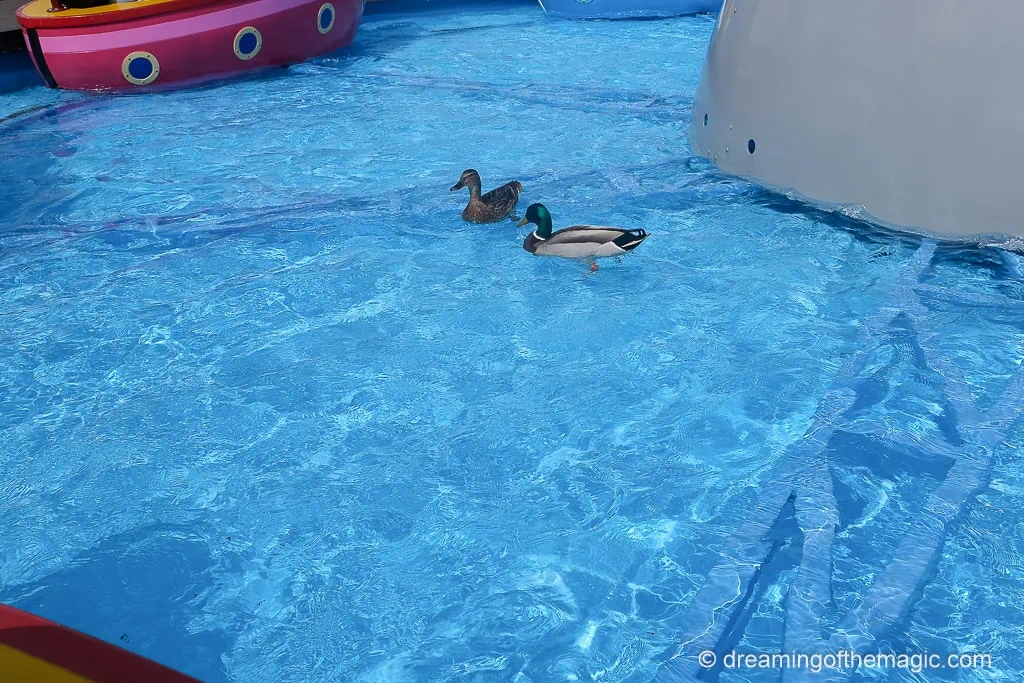 George's Space-Themed Play Zone: an indoor soft play area with slides, climbing frames and tunnels. It's a great distraction when bad weather appears!
Peppa Pig World Tips: this attraction is currently closed. If it has reopened by the time you visit then make sure to pack some socks as they are required.
Peppa themed replicas and characters: there are lots of show replicas such as Peppa's camper van, Mr Bull and his digger, Gerald Giraffe and the duck pond dotted through the park.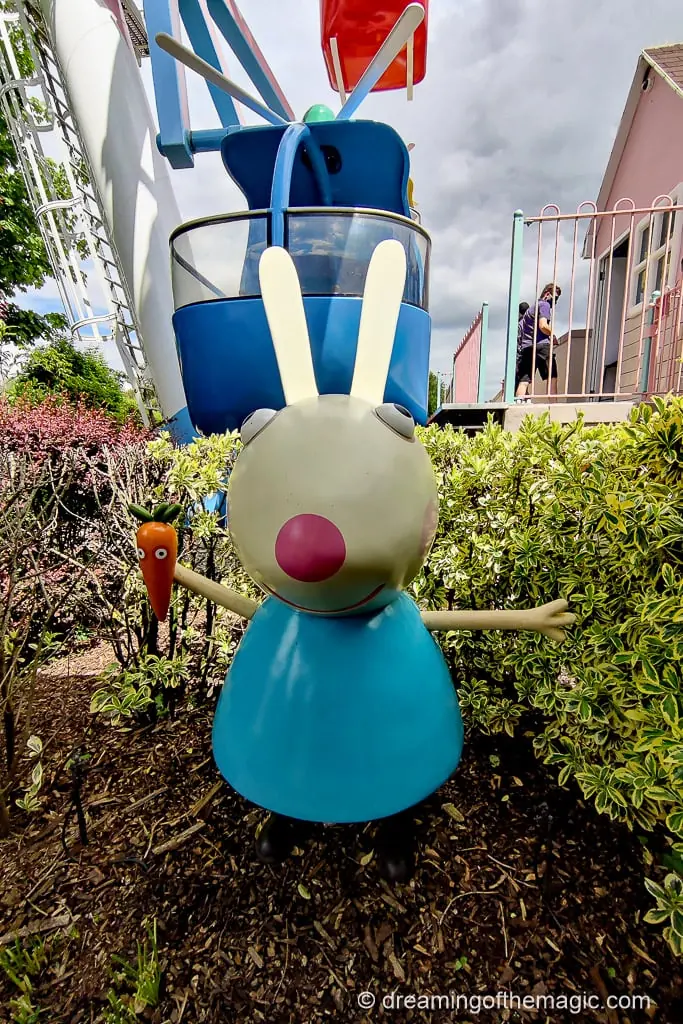 Peppa Pig Shop: a highlight or one to avoid depending on how much cash you want to part with! It carries some exclusive Peppa Pig merchandise that isn't available in other stores. I know this because my three year old opted for one of these exclusives, Mr Bull and his digger, on our recent visit!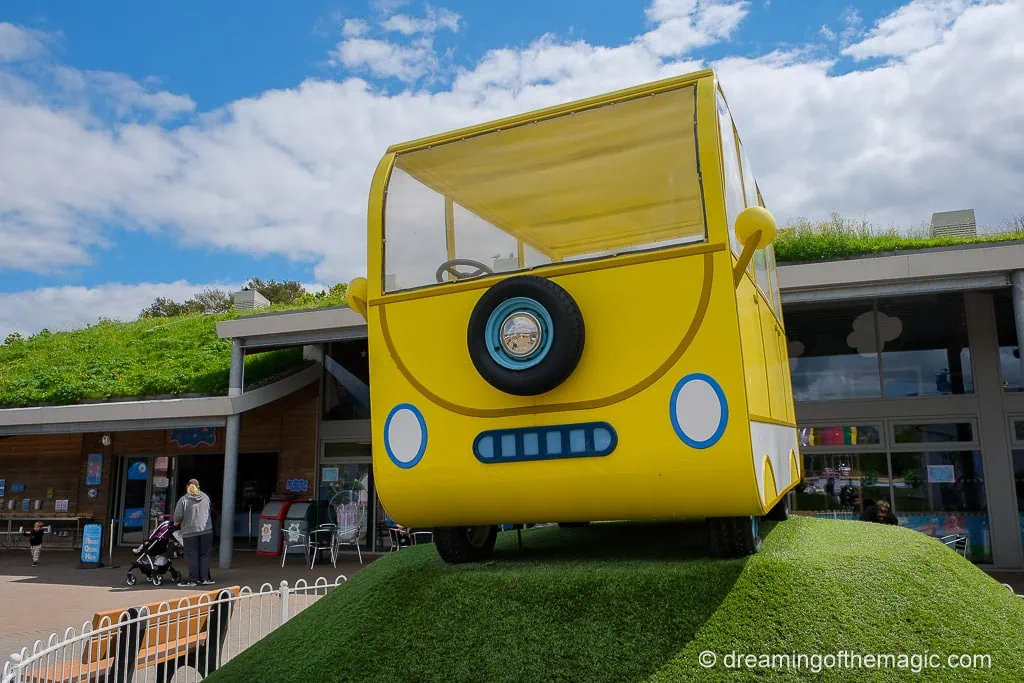 Outside Peppa Pig World: Paultons Park
A great thing about Peppa Pig World is that there are lots of toddler-friendly rides and attractions within the larger Paulton's Park. There are water slides, roller coasters, tractor and digger rides and a Pirate Boat.
One thing we love about the Paulton's rides is that they are family-friendly and appeal to older kids while offering a great introduction to typical theme park offerings like roller coasters for younger visitors – we find them great for our 3-year-old to build his confidence while having lots of fun.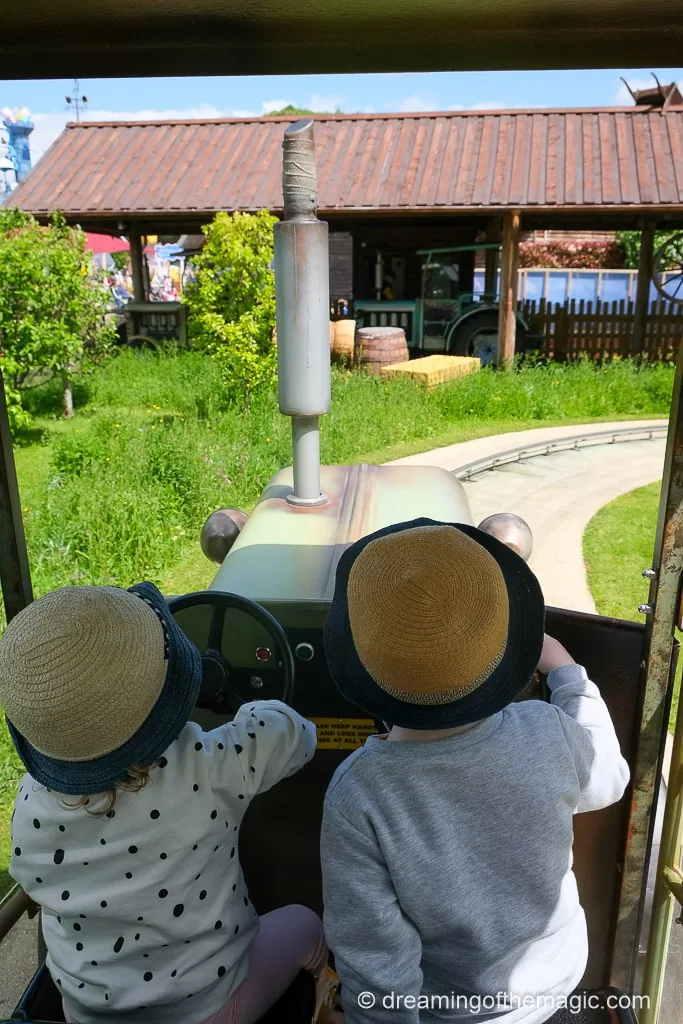 Peppa Pig World tip: we haven't managed to have a go on all the rides but everything we've tried has been awesome! We just hop on whatever takes the kids' fancy as we walk around – Trekking Tractors, Buffalo Falls, Velociraptor and the Digger Ride are among my 3 year old's favourites!
There are also some beautiful gardens and lots of wildlife and nature attractions to explore.
Our current favorites are the Japanese Gardens, the meerkats in Little Africa and Beastie Burrow, a bug emporium, in Critter Creek.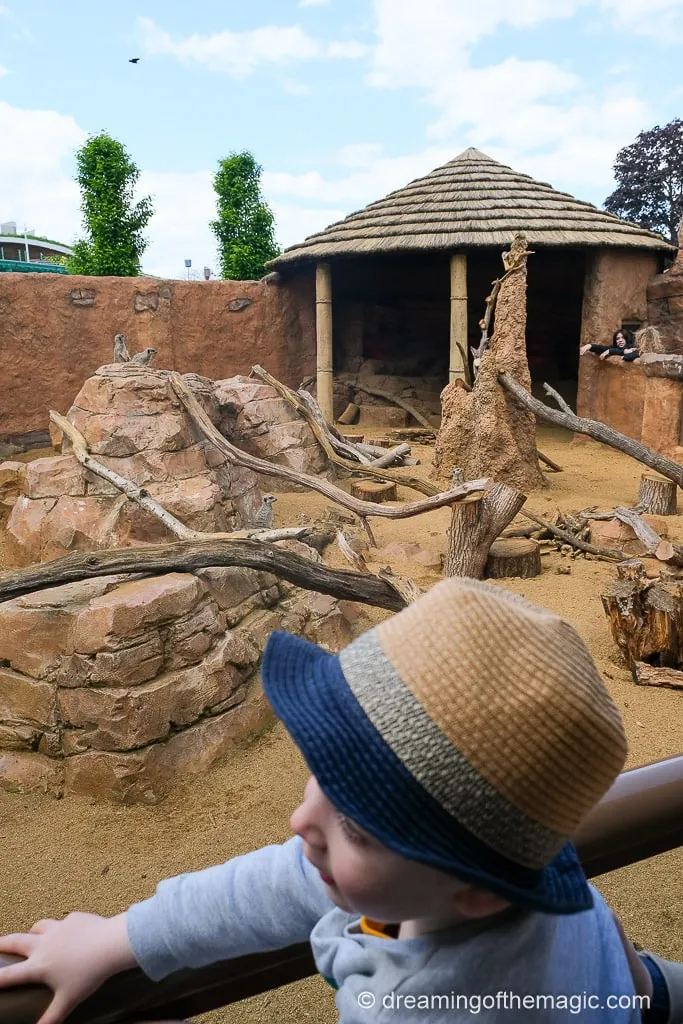 Peppa Pig World: Tips
These are our top tips for Peppa Pig World fun:
1 | Best Day to Visit Peppa Pig World
Weekdays in term time are typically quieter but Peppa Pig World can still be busy given its target market of toddlers who don't have school commitments! Wet days also tend to attract lower crowds but the prospect of rain-drenched toddlers and parents doesn't really appeal!
The Park's ticket calendar highlights days when tickets are selling out so it's easy to spot the busiest days in advance.
Peppa Pig World tip: we last visited on a Wednesday during term time and, while the park as a whole was relatively quiet, Peppa Pig World seemed fairly busy. We were scanning the app for queue times throughout the day and most of the rides had half-hour waits outside of lunchtime.
2 | Book tickets in advance
At the moment (summer 2021), tickets must be reserved in advance with all children measuring above 1 metre requiring a ticket. Tickets cover both Peppa Pig World and the larger Paulton's Park that Peppa Pig World is a part of.
Tickets are discounted when you purchase in advance so it is cheaper to buy online even during times when tickets are available to purchase on the day at the park. check prices now!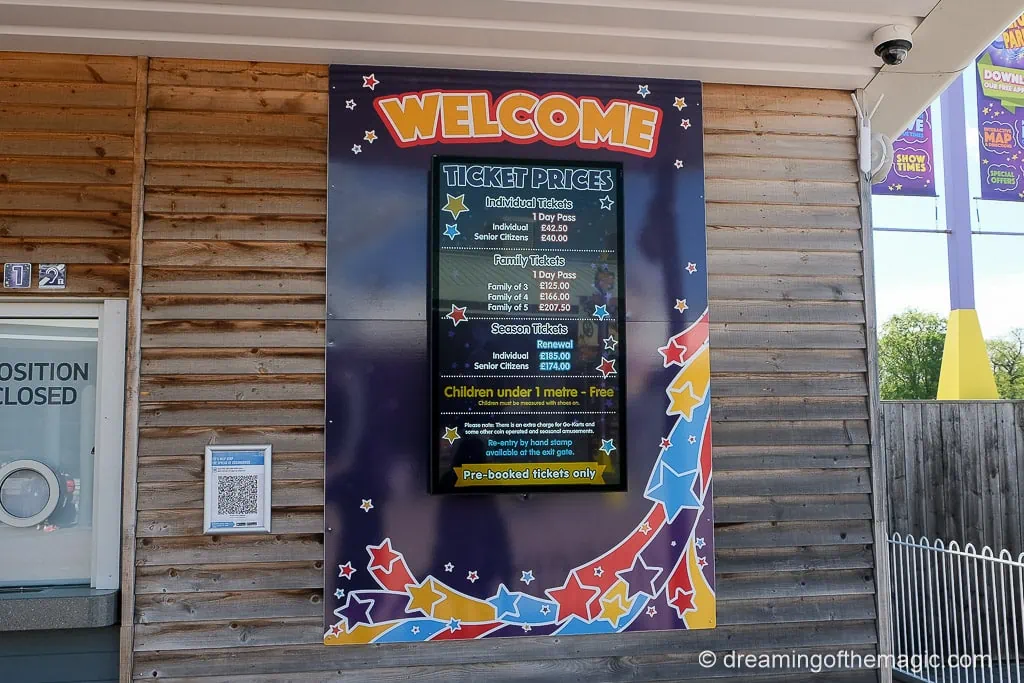 3 | Download the app
The Paulton's Park app is fantastic for monitoring queuing times. Our toddlers wanted to ride everything but don't do well with queues after about 10 minutes – the app meant that we were able to hop around the park catching the most popular rides when they had short queues.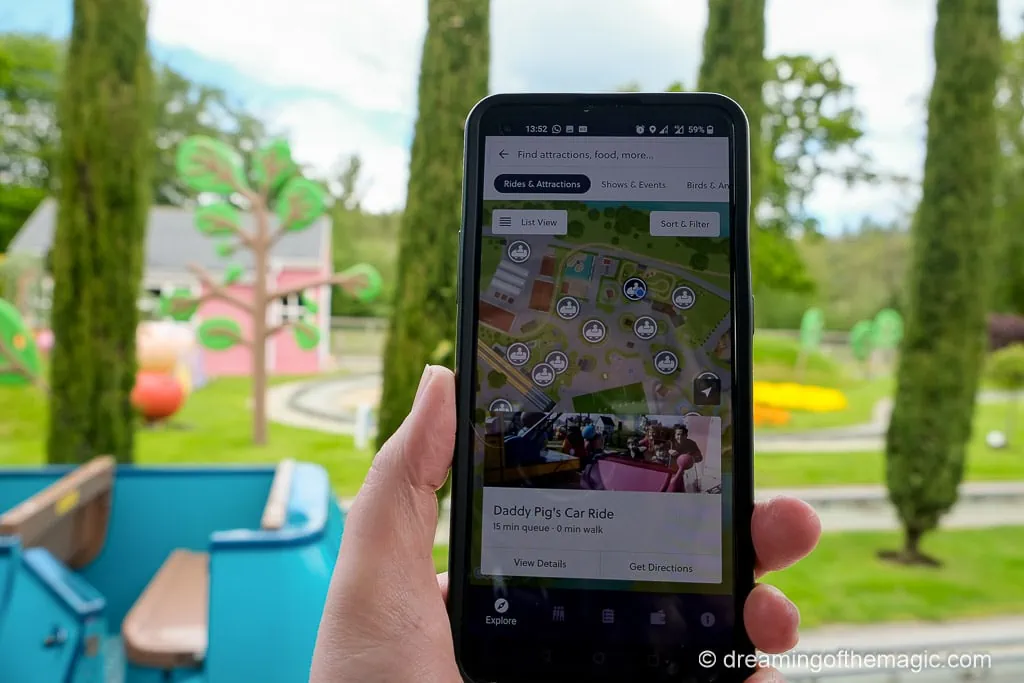 4 | Plan your day in advance
Peppa Pig World tends to ebb and flow in terms of busyness with the late morning/early afternoon attracting the most crowds.
We recommend entering Paulton's at around 9:45am and follow the steady stream of strollers and families with young kids towards the Peppa Pig World area!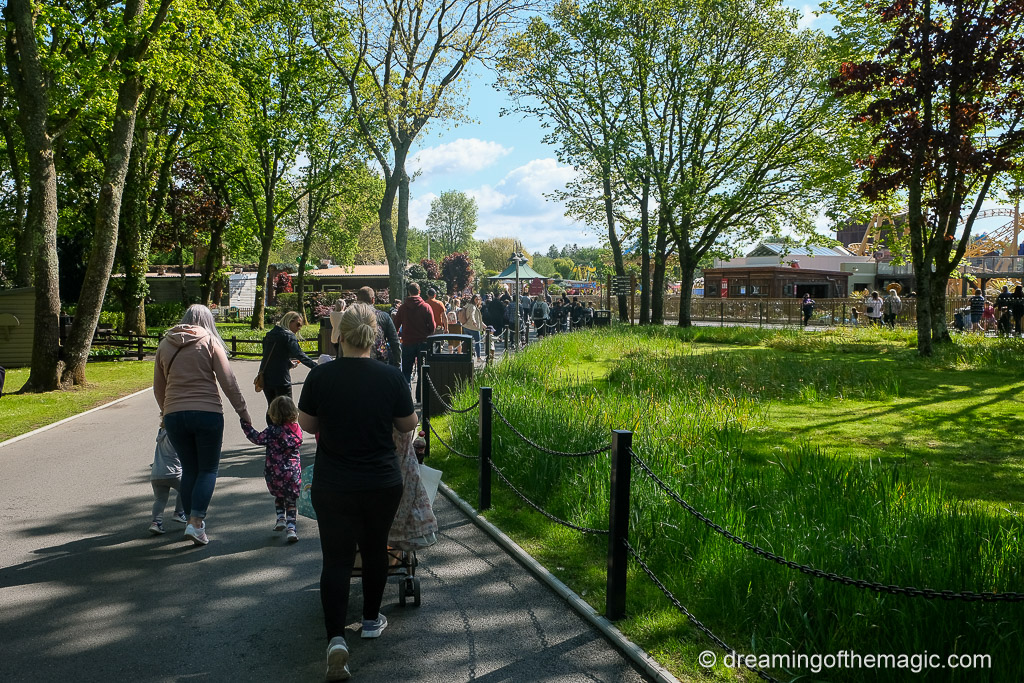 It opens up at 10am and tends to be relatively quiet for about 90 minutes. We usually find Peppa Pig World is then much busier from 11:30am to 2pm before things started to quieten down again.
Use the quieter times and the app queue lengths to tick off the more popular rides – Daddy Pig's Car Ride, Miss Rabbit's Helicopters, Grampy Rabbit's Sailing Club and George's Dinosaurs are popular rides to keep an eye on for short queues.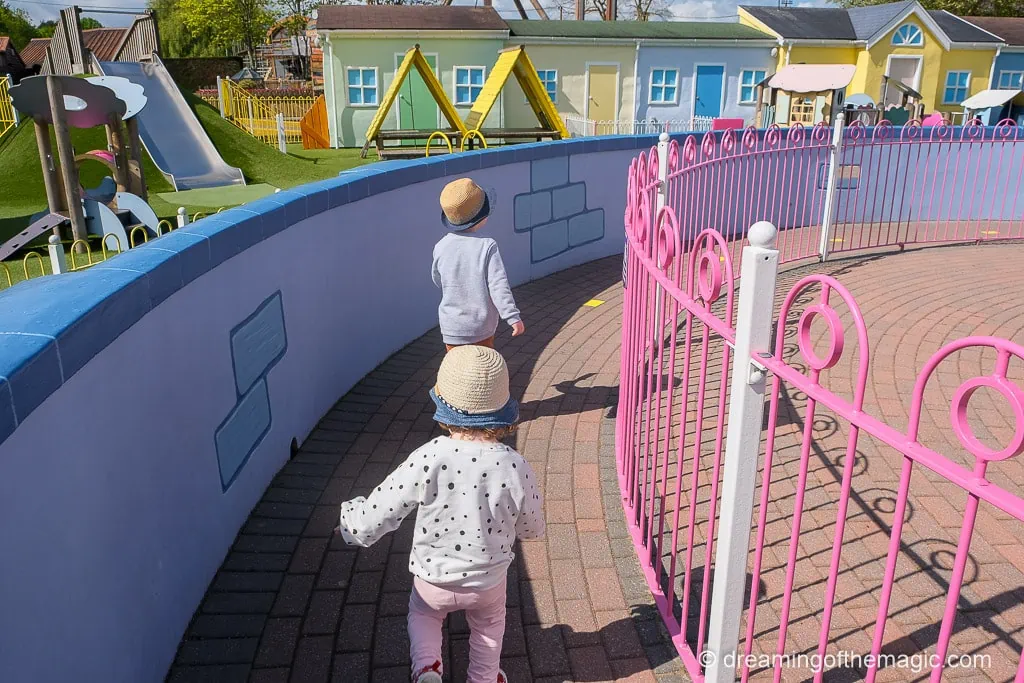 5 | Strollers
The park, and especially Peppa Pig World, is stroller friendly and there is lots of stroller parking around the rides.
Single and double plastic strollers with sunshades are also available to rent in advance. It is currently £10 for a single stroller and £14 for a double.
We don't use a stroller often but we find it really useful at Peppa Pig World. It's great for nap time, carrying snacks and drinks and changes of clothes, and for the walk back to the car park when little legs are inevitably worn out!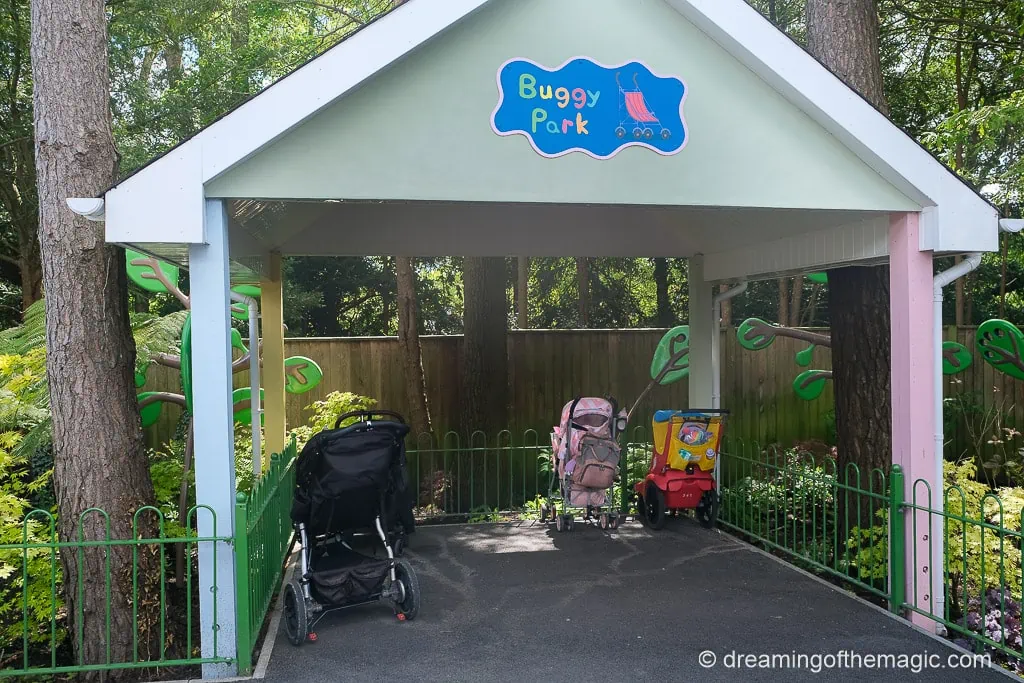 6 | Meet Peppa and George!
Peppa and George make scheduled appearances at Madame Gazelle's schoolhouse throughout the day. You can check the app or the notice board by the schoolhouse for times – there's a queue marked out so families can line up for a photo prior to their arrival.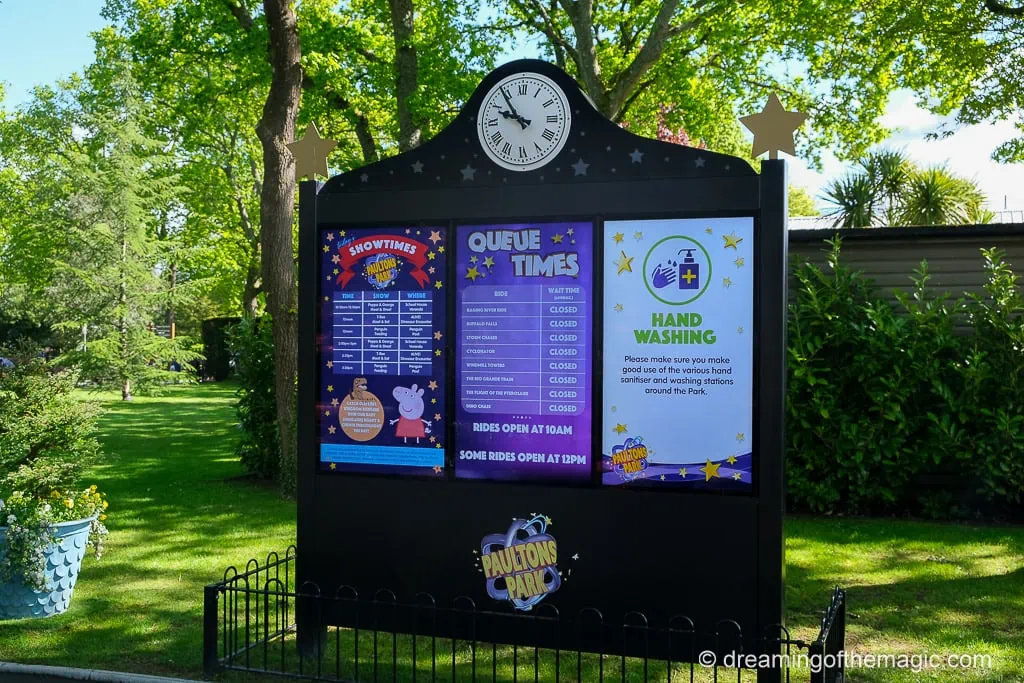 Peppa Pig World tip: current guidelines mean that Peppa and George stand on a raised platform and kids can stand in front of them for a photo.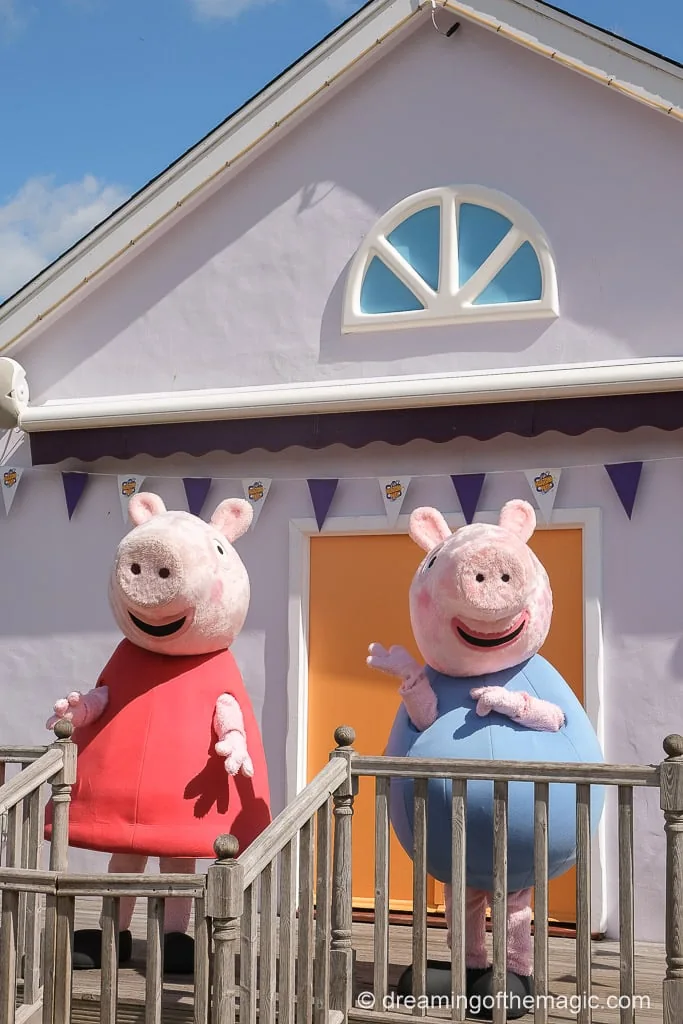 7 | Snacks and drinks
You can bring your own or purchase from one of the food vendors on site.
If you bring your own food and drinks, there are tables located towards the back of Peppa Pig World. It can also be nice to have a picnic in the main gardens.
There are 3 food spots within Peppa Pig World and we find them reasonably priced and convenient. The food options in Peppa Pig World are:
The Hay Barn: burritos and loaded fries
Daddy Pig's Cafe and The Queen's Kitchen: drinks and hot (pizza, sausage rolls and Cornish pasties) and cold snacks (sandwiches and salads)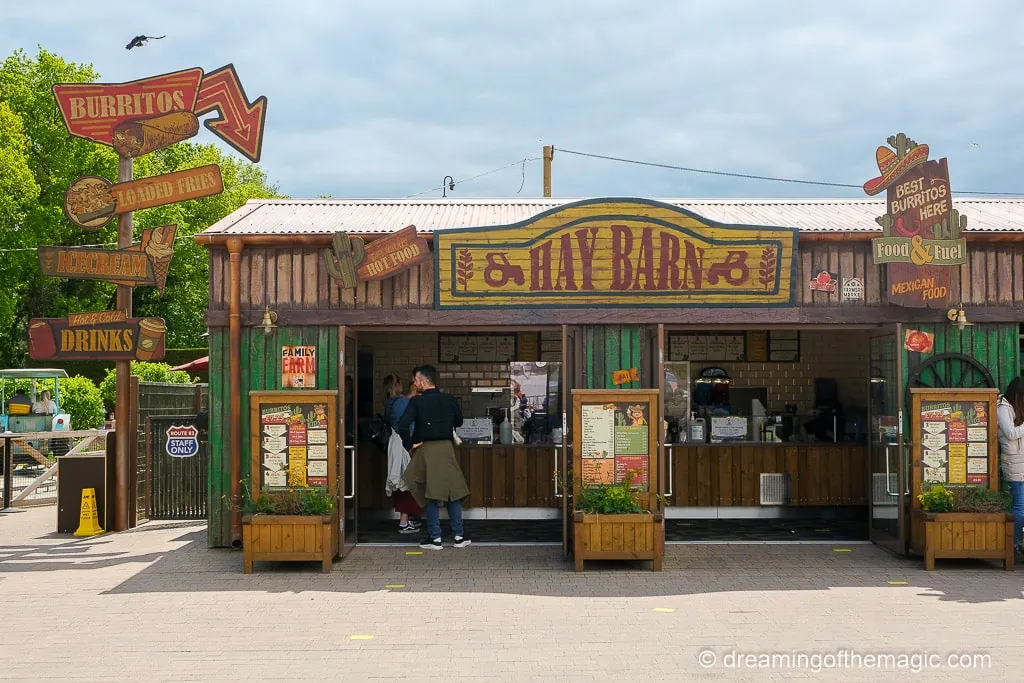 8 | Plan for the weather
The park is all outdoors so hats and sunscreen are essential on sunny days.
If a wet day is forecasted then make sure to pack ponchos or rain suits, a rain cover for the stroller and plenty of changes of clothes. If the adverse weather seems too much it is possible to change the ticket date but a fee does apply.
9 | How long to spend at Peppa Pig World
Our two and three year old can make it from open to close so we find a one day visit allows plenty of time to experience all of Peppa Pig World and a taster of the wider Paulton's Park.
If you want to ride everything then allow two days – you can sometimes get an offer for 2 park days for the price of 1 if you book your accommodation through Paulton's.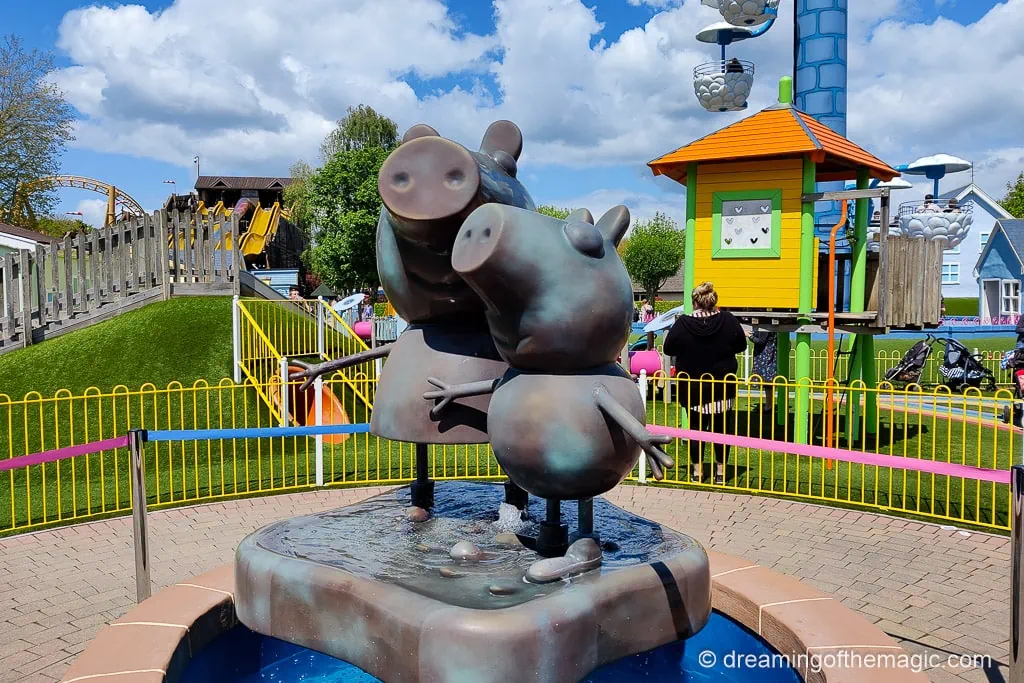 10 | Skip out rides if the queue time is long
It's tempting to want to ride everything but, if your toddlers are anything like ours, queuing is likely not their favorite activity! Don't be afraid to skip out on some of the rides if the wait times are long – Miss Rabbit's Helicopters is the one we'd be most likely to skip as the queue moves at a slow pace and you can see similar views from above the park on the Queen's Flying Coach Ride, Peppa Pig's Balloons and Windy Castle.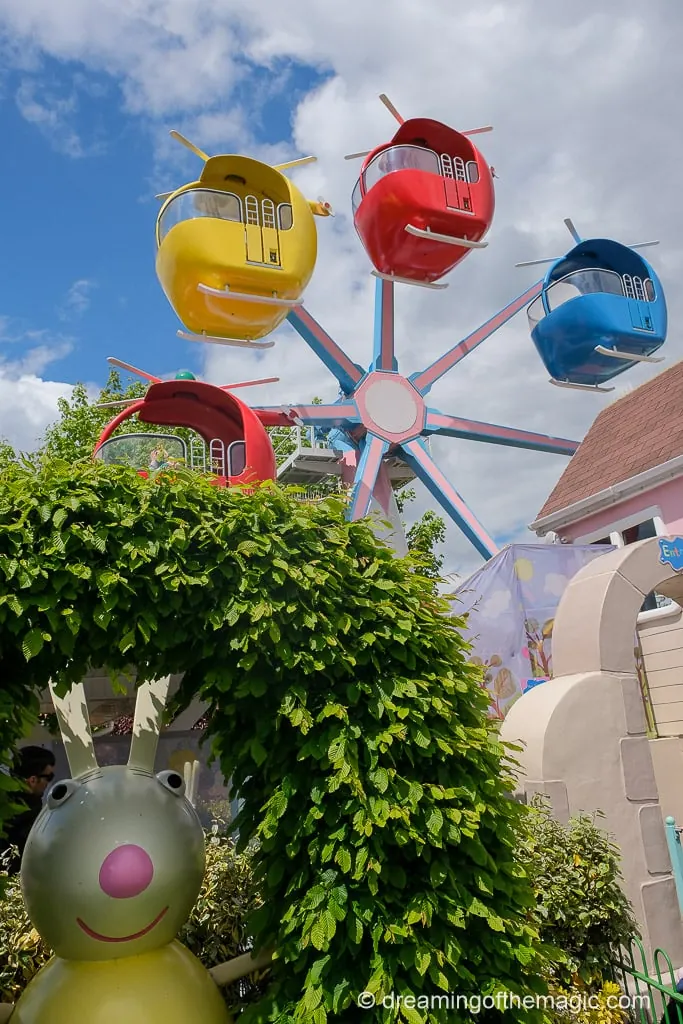 11 | Don't fret over toddler tantrums!
Peppa Pig World is vibrant, colourful, loud and busy and is a theme park toddler dreams are made of! It can also be exhausting and overwhelming for little minds and then add in the extra patience needed in the queues. Let's just say it is highly unlikely you will make it through the day without witnessing a few toddler meltdowns!
12 | Make sure to check out the rest of Paulton's Park
As I mentioned earlier, there are lots of toddler-friendly rides and attractions within the larger Paulton's Park and we like to grab a few rides as we pass through.
Little Africa, Trekking Tractors and Buffalo Falls are all adjacent to Peppa Pig World and are a great option for some time out or when the queues are longer.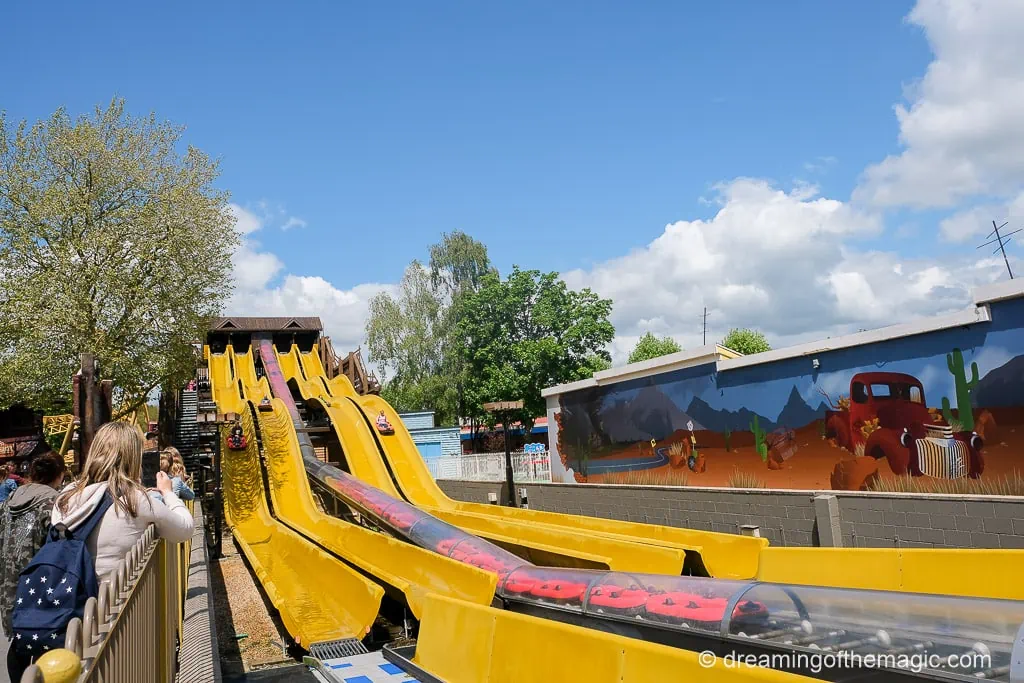 13 | Have fun!
Most of all, make sure to have fun and let your little ones guide your day. After all, they're the reason we watch countless episodes of Peppa Pig!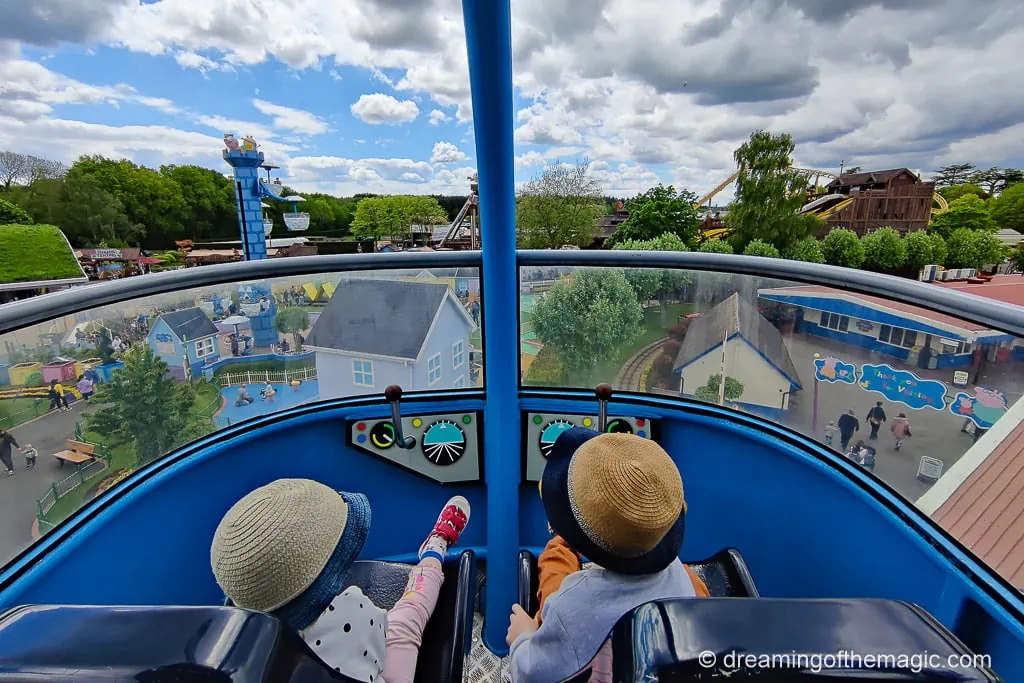 Useful Info for visiting Peppa Pig World
Tickets: A ticket for a family of three currently costs £104.75 and it's £139 for a family of four – reentry is possible with a stamp. Only kids measuring 1 metre and over (in shoes) require a ticket. If you live nearby and plan to visit at least 5 or 6 times in a year then a season ticket might be a good option but sales are currently suspended due to current restrictions.
Opening hours: opening hours are dependent on day and time of year. During summer the typical hours at 10am to 5:30pm.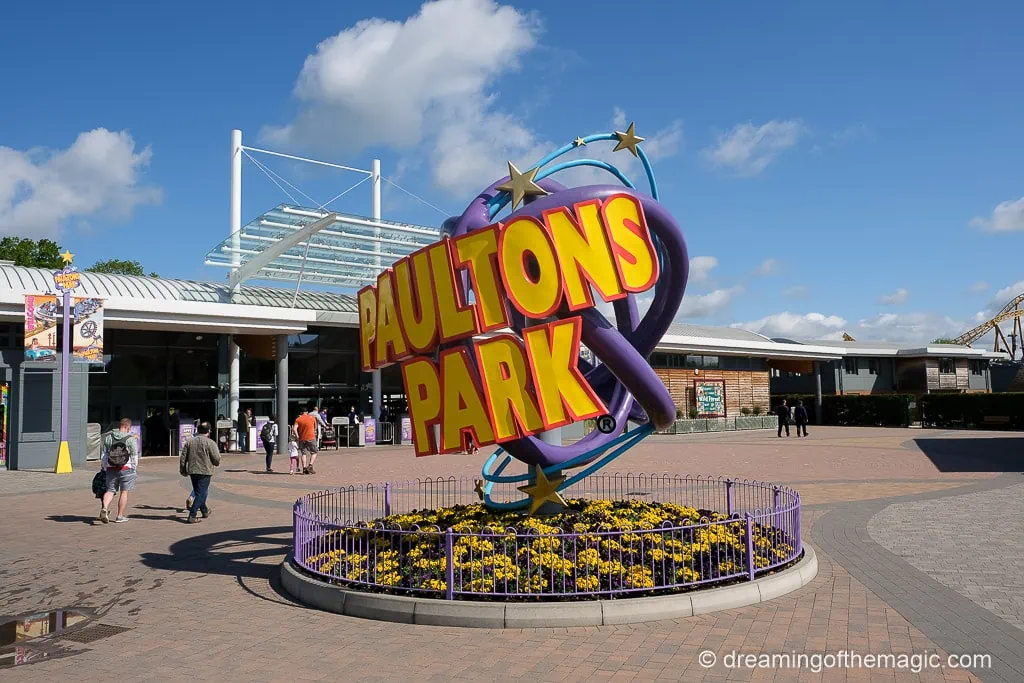 Babies: Peppa Pig World has its own bathrooms and baby changing centre. The baby facilities include changing mats, a microwave and a private cubicle. Babies under 12 months cannot go on the rides.
Bathrooms: there is a set of bathrooms beside Grampy Rabbit's Sailing Club. The baby room is also located here.
Parking: parking is free at Paulton's Park