The adorable and mischievous Stitch is one of the highlights of Disneyland Paris and there's a whole lot of Stitch fun to be had when visiting! From his wonderful meet and greet to Stitch-themed snacks, Stitch merchandise and a Stitch live show, we've got you covered for where to find everything Stitch at Disneyland Paris!
Stitch at Disneyland Paris tip: in recent weeks Stitch has moved to a new location close to the Old Mill in Fantasyland. Chip and Dale have taken over his previous location at Casey's Corner.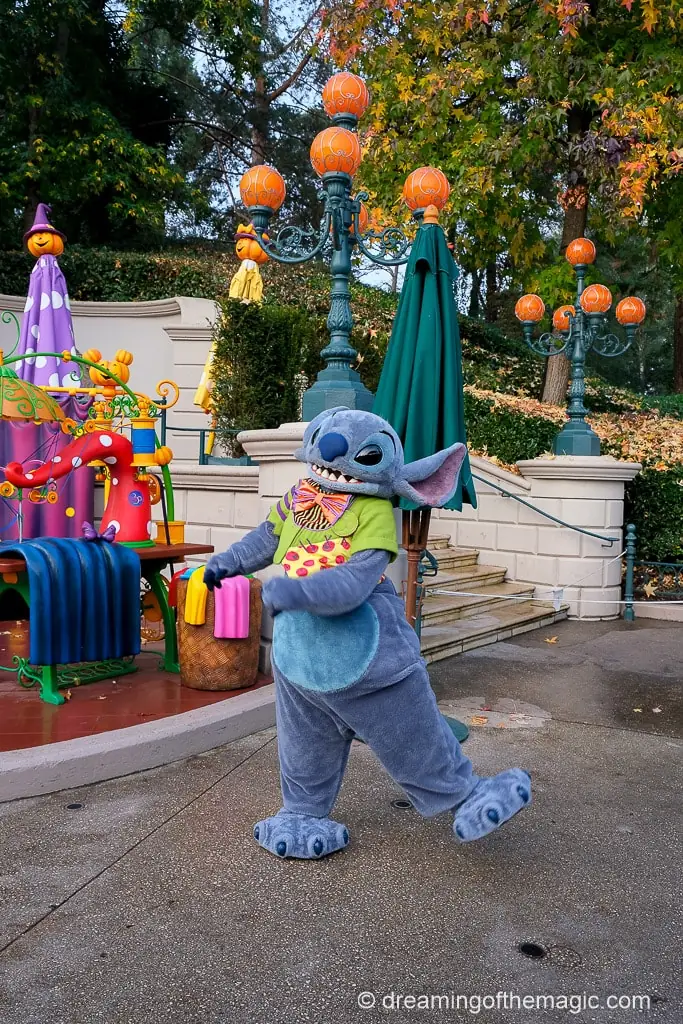 1| Stitch Meet and Greet at Disneyland Paris
Location: Old Mill, Fantasyland (previously Casey's Corner) Disneyland Park
Times: 9.30am to 2pm (official app times, see below for more details)
Stitch hosts one of the most popular meet-and-greets at Disneyland Paris and he is always so much fun to interact with. Our kids absolutely adore meeting Stitch and we always have such a lovely time with him.
In recent weeks Stitch has moved to a new location close to the Old Mill in Fantasyland. Chip and Dale have taken over his previous location at Casey's Corner at the end of Main Street U.S.A. Make sure to check the app on the day of your visit so you know exactly where Stitch will be!
He is hugely popular and his line can often extend to over 1.5/2 hours so make sure to budget plenty of time if you are determined to meet Stitch – he is most definitely worth the wait!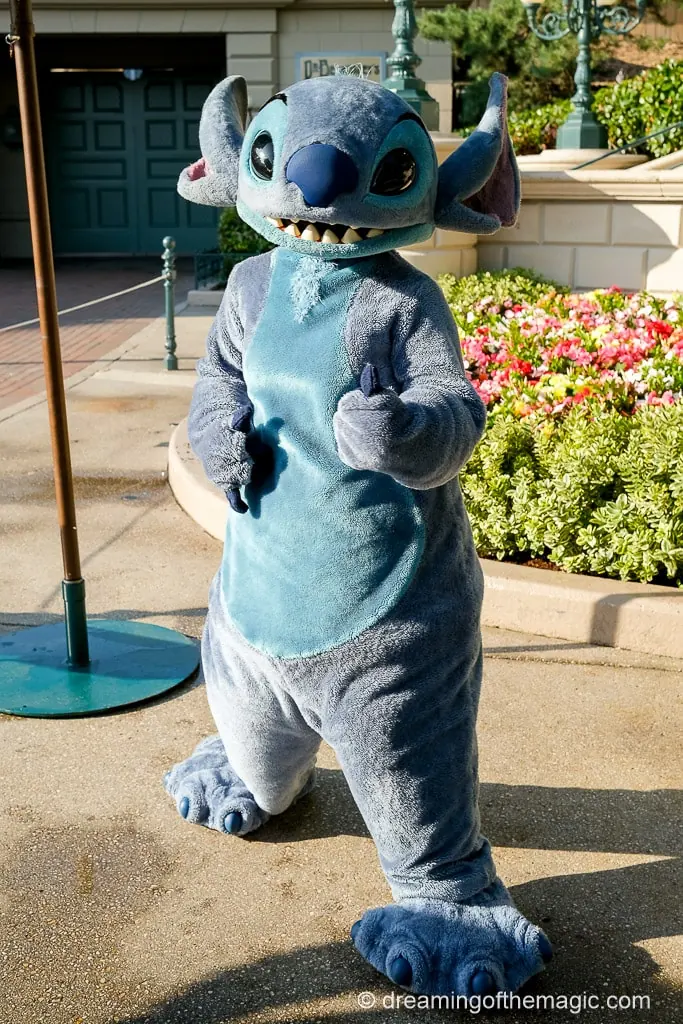 Stitch at Extra Magic Hour
Stitch often arrives for his meet and greet at the beginning of Extra Magic Hour. If you arrive early, this can be a great time to meet him with less of a wait.
However, the line still fills up really quickly, even during Extra Magic Hour. Make sure you are over at the park early (at least 15/30 minutes before Extra Magic Hour begins) if you want to be one of the first in line for Stitch. When the park opens to guests make your way straight to the Stitch Meet and Greet as soon as you pass through the ticket turnstiles.
If you arrive a little later then check how the line is when you arrive in the Park as Stitch's line can still be really long even during Extra Magic Hour.
Stitch at Disneyland Paris tip: guests staying at the Disneyland Paris hotels are granted access to the parks 1 hour before the regular opening time – this benefit is known as Extra Magic Hour. It allows Disney hotel guests to enjoy the parks when they are less crowded and have lower wait times. It's a great opportunity to ride the most pouplar rides like Spider-Man Web Adventure, Crush's Coaster, Big Thunder Mountain and Peter Pan. Usually, there are two meet and greets that start during Extra Magic Hour – at the moment it's Winnie the Pooh in Town Square and Stitch at Casey's Corner. It's one of our favourite perks of staying onsite at Disneyland Paris – check hotel prices here!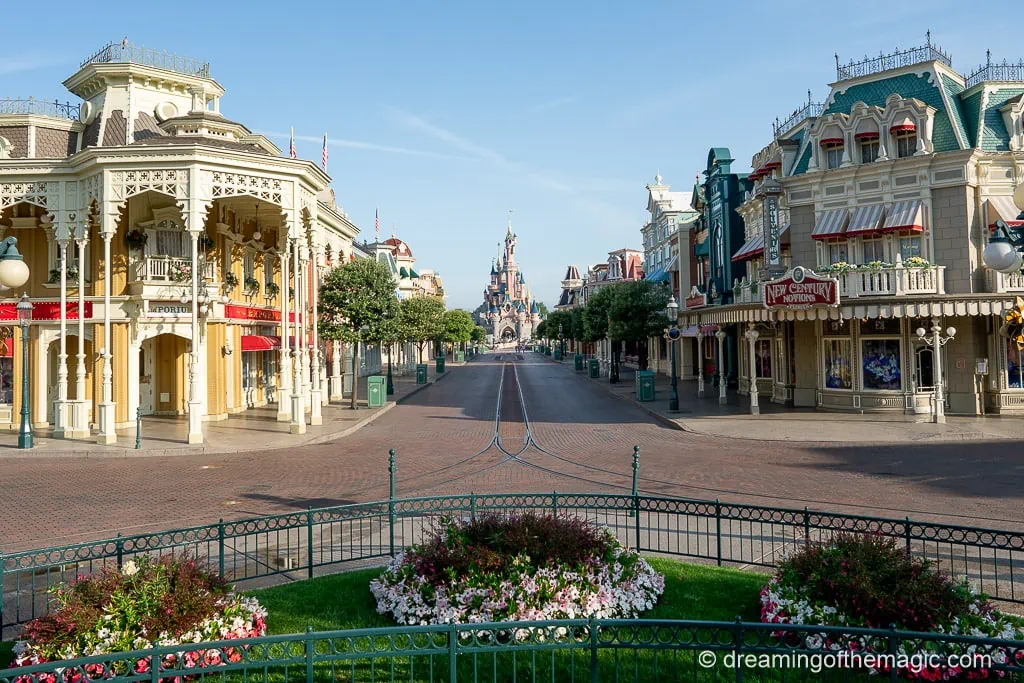 Our experience meeting Stitch at Disneyland Paris
On our last visit (September 2023) we arrived at the park entrance around 8am and managed to join the Stitch Meet and Greet line second from the top. We greeted Stitch with 'Aloha' which he loved and he admired one of our children's Stitch T-shirts and made a huge fuss over the word Ohana on the t-shirt. Stitch was amazing with our 1 year old and gave her lots of hugs and danced with her and our other 2 children.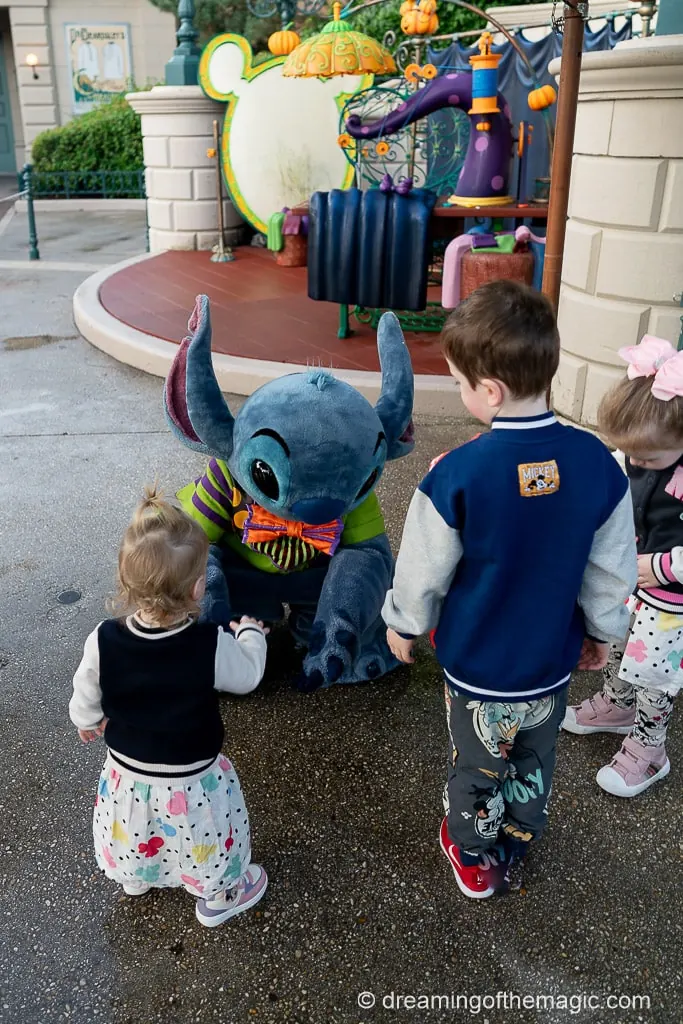 Stitch Meet and Greet with DAS Pass
For holders of a DAS Pass, the Cast Member will issue a return time for meeting Stitch. These can book up really quickly so make sure to reserve a return time as early as possible – the slots start to fill up during Extra Magic Hour so we'd recommend stopping by as soon as you enter the park.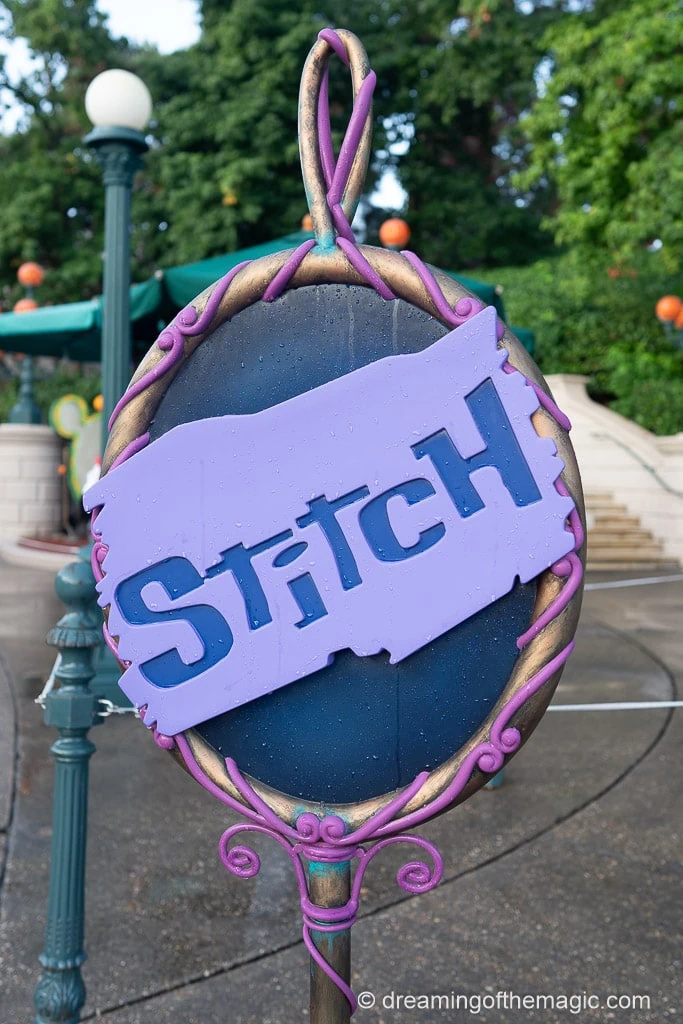 Christmas and Halloween Stitch
Stitch dresses up for Halloween and Christmas and his meet-and-greet area is also styled for the season! We just met Stitch (September 2023) on the first day he switched to his Halloween outfit and it was amazing!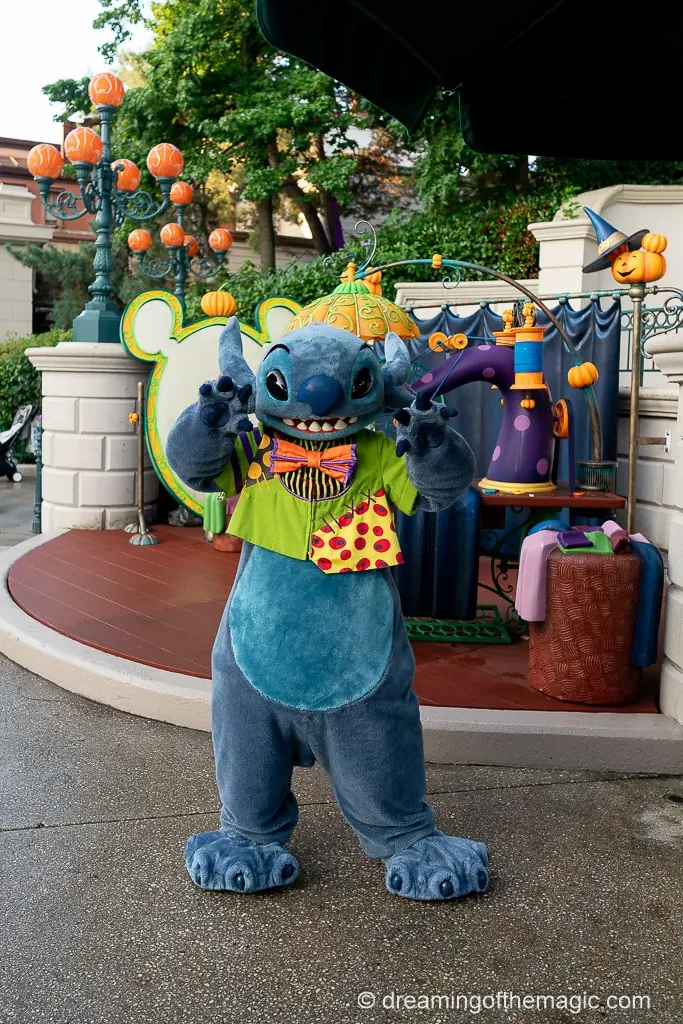 2 | Stitch Live!
Location: Production Courtyard, Walt Disney Studios
Times: every 20 minutes from10am (see app for English/French showtimes)
Stich Live! is a live show where an on-screen animated Stitch interacts with the audience having fun with both children and adults alike. Stitch is on board a stolen space cruiser and a Cast Member talks to him via satellite link-up. Kids are invited to sit on cushions at the front of the theatre and Stitch calls on some audience members (adults and kids) to ask some questions and his responses will raise a giggle!
Shows take place every 20 minutes from 10am and are around 15 minutes long. The majority of the Stitch Live! shows are in French but there are some English shows during the day – check the app for the specific times on the day you are visiting.
Stitch at Disneyland Paris tip: Stitch Live! is one of many fabulous shows in Disneyland Paris. In Walt Disney Studios there is Together: a Pixar Musical, Mickey and the Magician, The Disney Junior Dream Factory and Frozen: a Musical Invitation. The Lion King: Rhythm of the Pride Lands is in the Frontierland Theatre in Disneyland Park.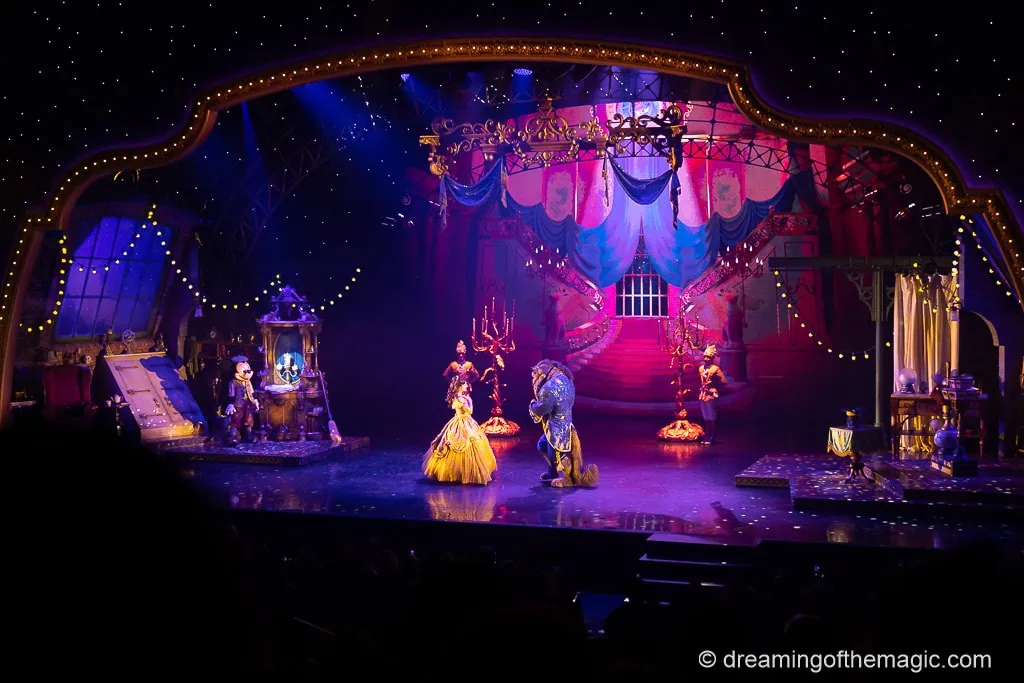 3 | Stitch Ice Cream
Location: Disney Village
Price: €5.50
An adorable sweet treat for Stitch fans! Glace Stitch is comprised of vanilla ice cream, blue topping and some cute pink Stitch ears. It's a simple snack but it delights our little Stitch fans every time we visit!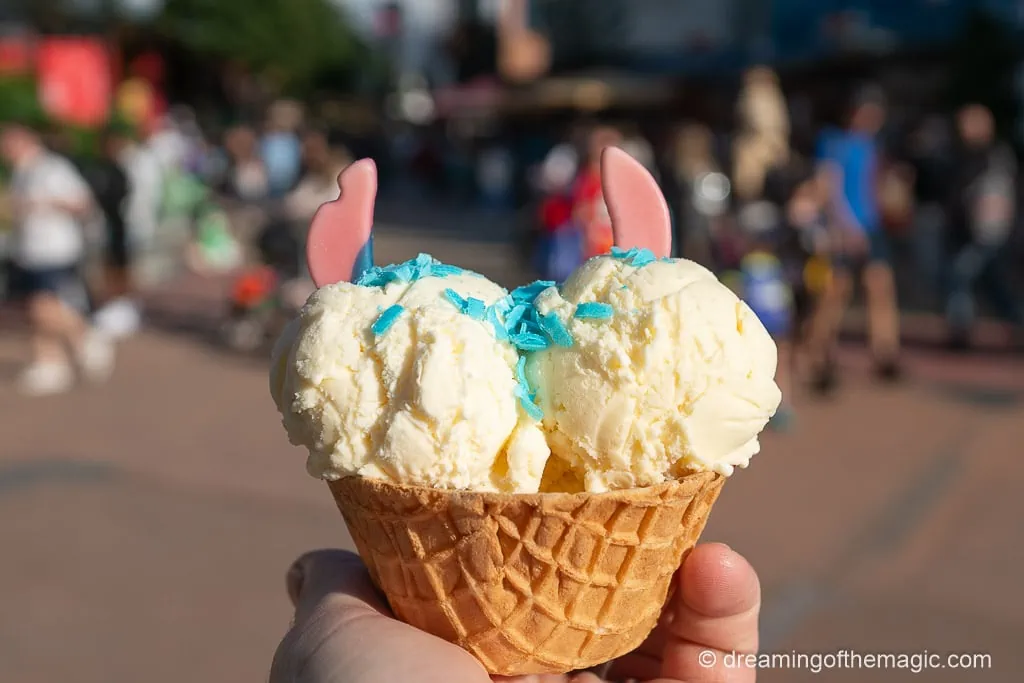 4| Stitch Goodies
Stitch merchandise is available across Disneyland Paris. You can find everything from Stitch Plushes to shoulder buddies, money boxes, water bottles and ears.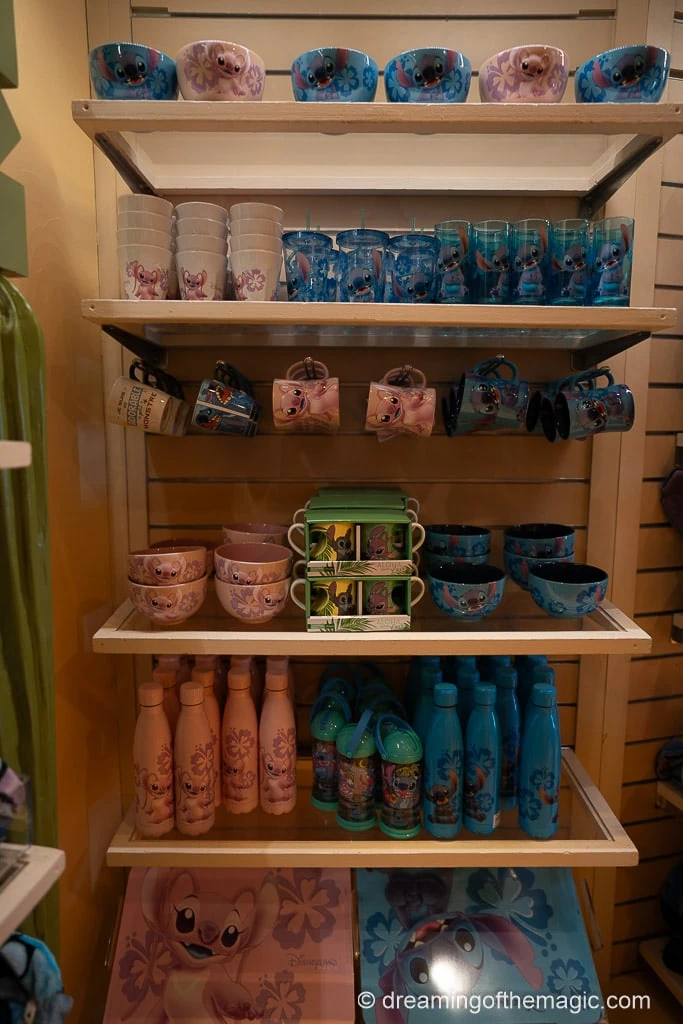 Stitch at Disneyland Paris tip: shoulder buddies are extremly popular at Disneyland Paris and stock can sell out relatively quickly. We found some in the Emporium on Main Street on our last visit (September 2023) but apparently they don't stick around for long! Ask an instore Cast Member if you are searching for a shoulder buddie during your visit.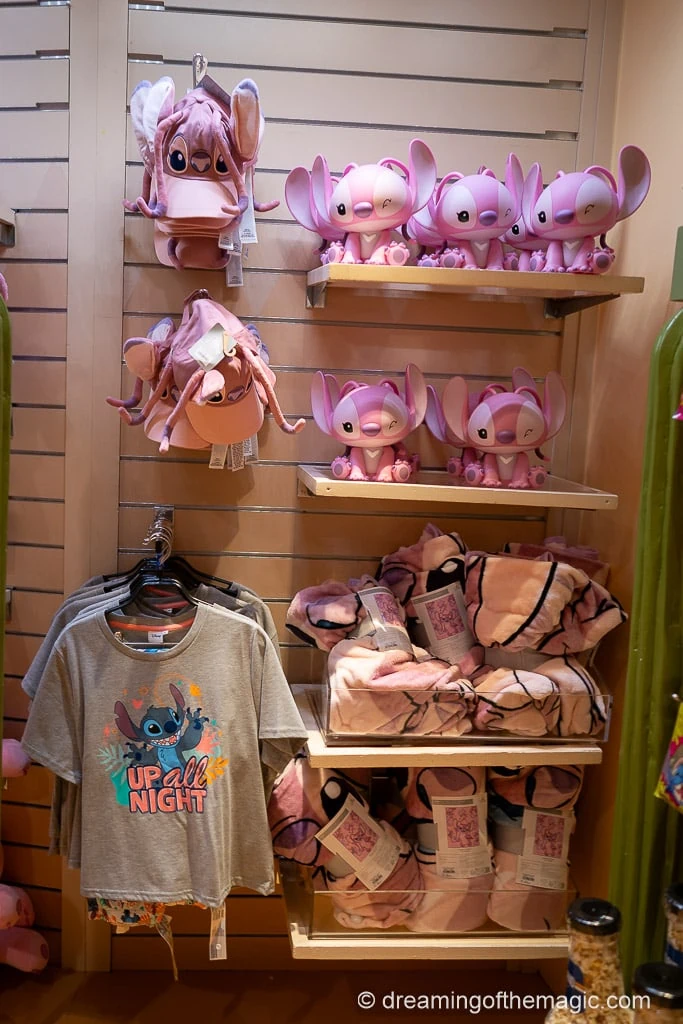 5| Parades
Stitch doesn't feature in the regular parades at Disneyland Paris but he has appeared in the most recent Christmas and Pride Parades.
During the 2022 Christmas Season, Stitch joined Mickey Mouse on his float in the magical Mickey's Dazzling Christmas Parade. In 2023, Stitch also appeared in the Pride Parade during Disneyland Paris' huge celebration for Disneyland Paris Pride.