With three huge Minnie Mouse fans in our family, we try to meet Minnie Mouse at every possible opportunity on our Disneyland Paris trips! So, if you are wondering where to find Minnie Mouse at Disneyland Paris then we have you covered! From pop-up meet and greets to character dining and get-togethers with Minnie and her friends, here's our guide to meeting Minnie Mouse at Disneyland Paris.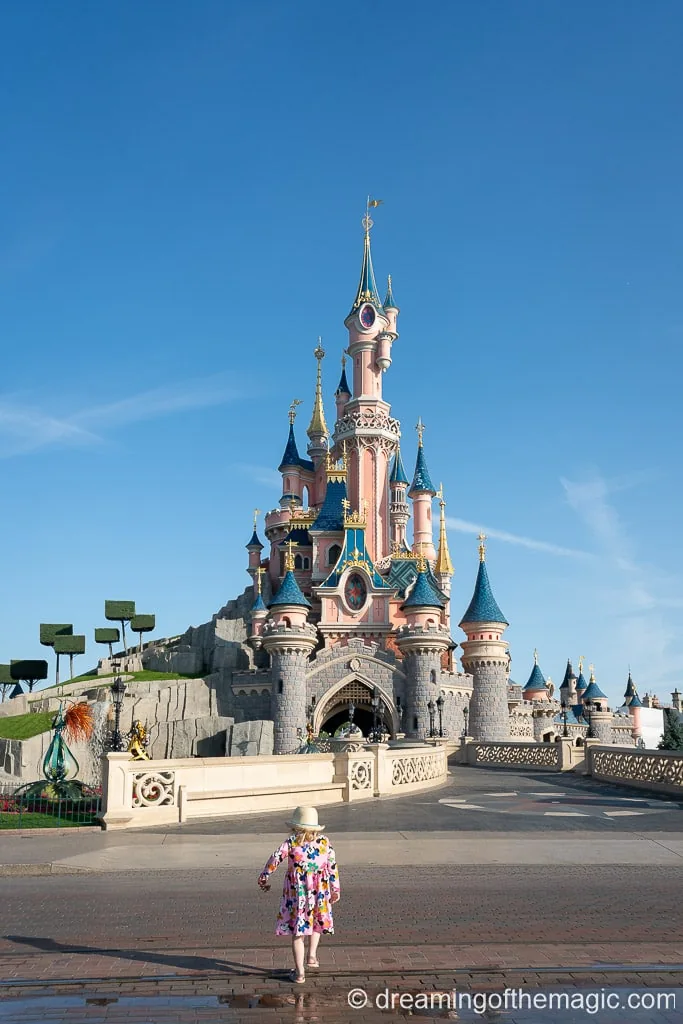 Where to Meet Minnie Mouse at Disneyland Paris
Minnie Mouse doesn't have a permanent meet and greet at Disneyland Paris – only Mickey Mouse (Meet Mickey Mouse in Fantasyland) and the Princesses (the Princess Pavillion) have permanent spots in Disneyland Paris. However, it's still possible to meet the fabulous Minnie Mouse at a few locations throughout Disneyland Paris:
1 | Character dining at Plaza Garden
Location: Plaza Gardens, Disneyland Park
A selection of Disney characters join guests at a buffet-style meal held in the Plaza Gardens Restaurant every evening. Minnie Mouse attends frequently (although no specific character appearance is guaranteed) and is accompanied by some of Mickey and their friends – this can include characters such as Goofy, Pluto, Tigger, Donald Duck, Daisy Duck, Eeyore and Rabbit.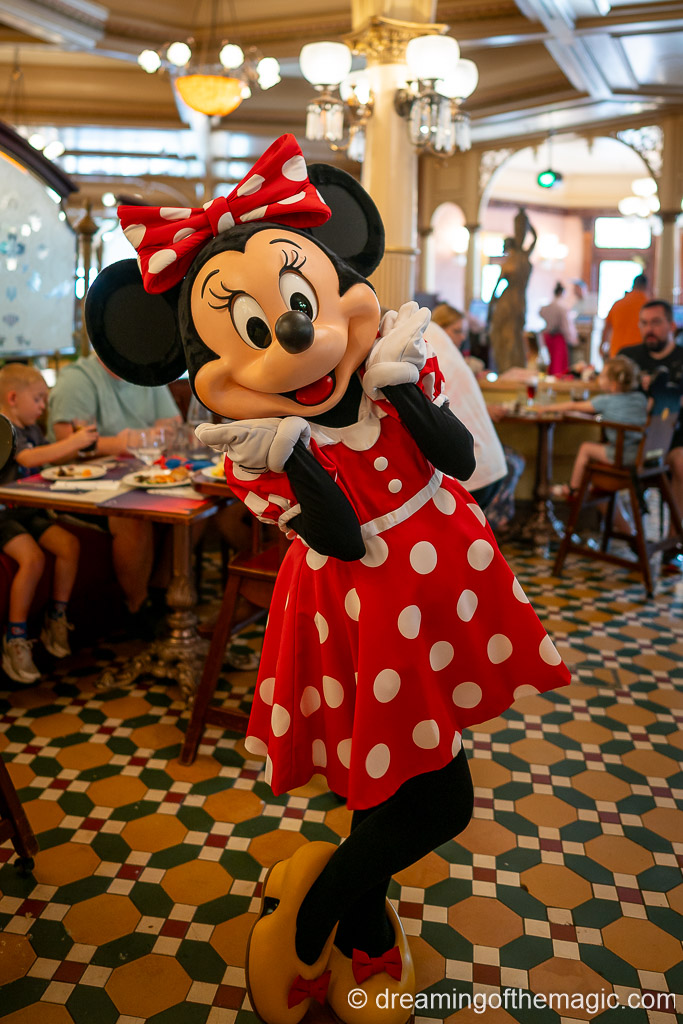 We met both Mickey and Minnie Mouse at our August 2023 character dinner but Minnie didn't attend our previous dinner in November 2022.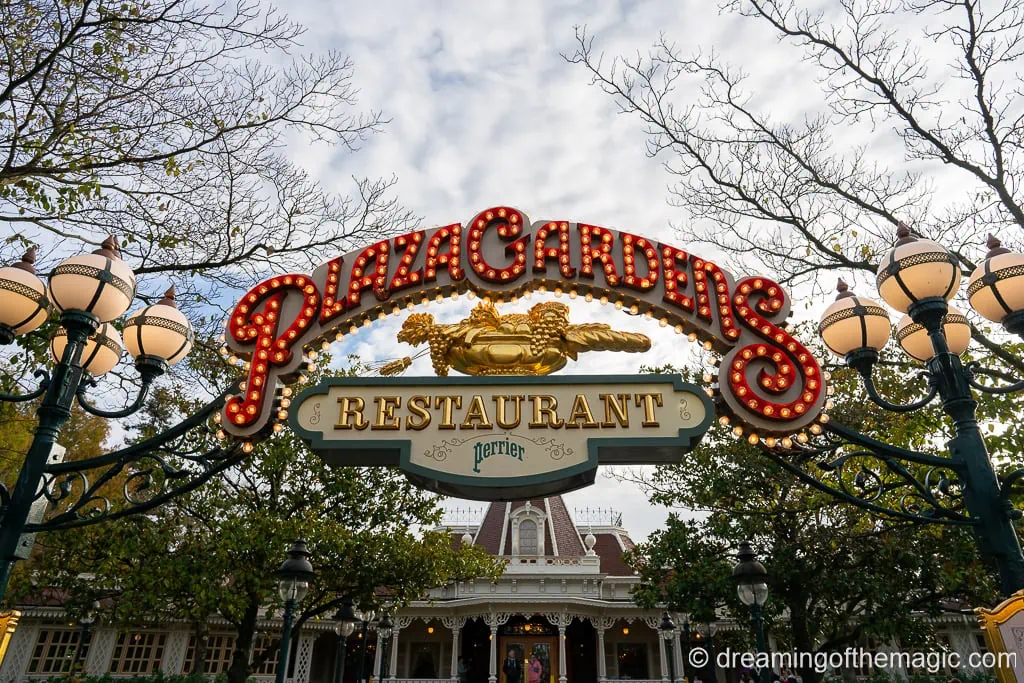 Meet Minnie Mouse at Disneyland Paris: If you want to be in with a chance of meeting Minnie Mouse then you must make a reservation in the evening for character dining. If you reserve breakfast, you can expect characters like Geppetto, Pinocchio, Rabbit, Tigger, Captain Hook and Mr Smee.

During the breakfast slots, Mickey, often accompanied by Minnie Mouse, is busy welcoming guests to the park from the balcony at the train station close to Main Square. As the Disneyland Paris 30th Anniversary celebrations draw to a close on September 30th 2023 who knows what might change!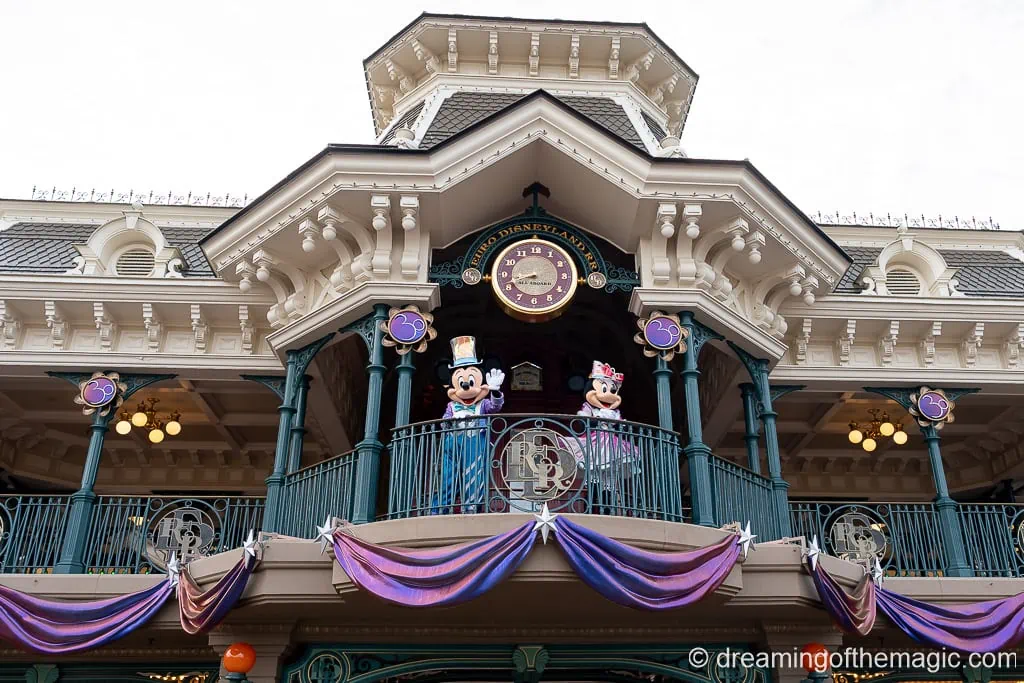 2 |Meet and Greet across Europe with Minnie or her friends
Since June 2023, Minnie Mouse has made frequent appearances at the Meet and Greet Across Europe with Minnie or her friends. As the name suggests, it is not guaranteed that you will meet Minnie on any given day – on our most recent visit Minnie Mouse, Clarabelle, Daisy Duck and Clarice each hosted the meet and greet on separate days.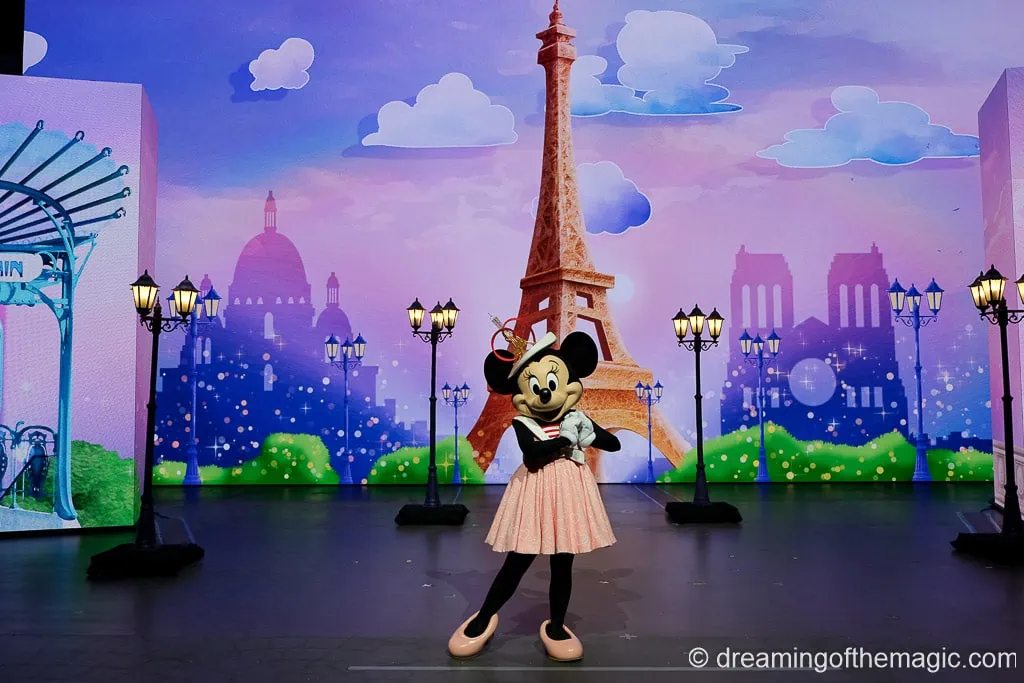 Minnie and her friends greet guests against a backdrop of iconic landmarks including the Eiffel Tower and Big Ben in Arcade Beta in Videopolis.
Meet Minnie Mouse at Disneyland Paris tip: prior to June 2023, this meet and greet took place in Production Courtyard at Walt Disney Studios. This is now the venue for the new live show, Together: A Pixar Muscial Adventure – make sure to check this out when you are at Disneyland Paris, it is a wonderful show!
3 | Pop up Meet and Greet at Cowboy Cookout
Not all meet and greets are listed in the Disneyland Paris app. In fact, there are lots of surprise meet and greets throughout the parks!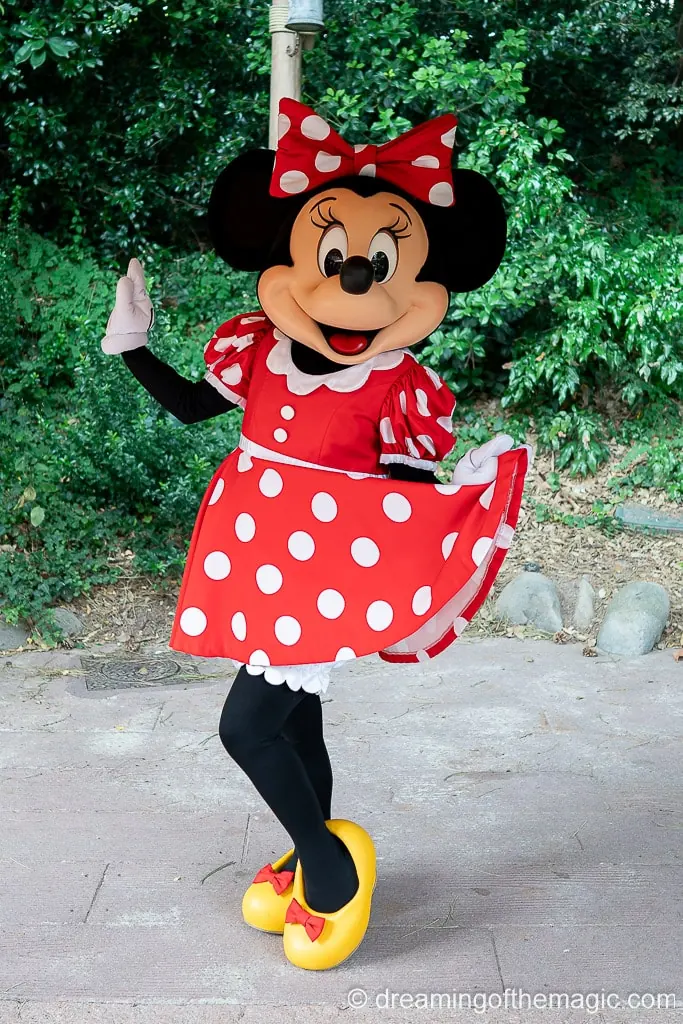 Minnie Mouse is regularly spotted around Cowboy Cookout in Frontierland. Currently she hosts a regular meet and greet directly outside the quick-service restaurant.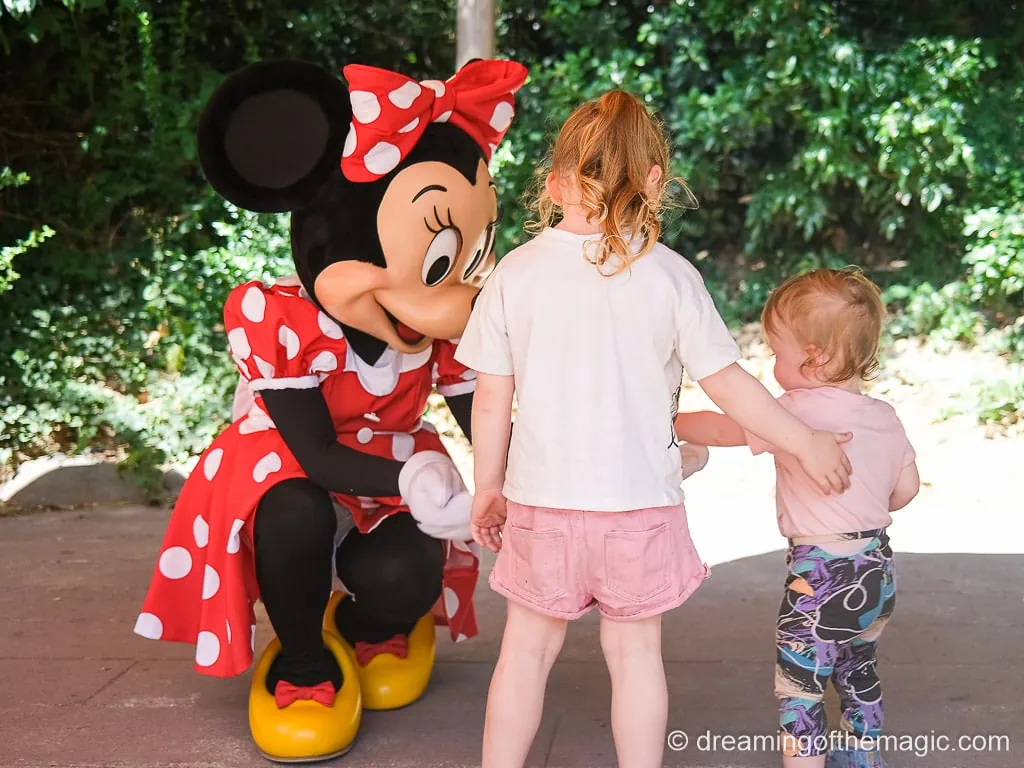 Meet Minnie Mouse at Disneyland Paris tip: this is a fantastic area for meet and greets. Goofy is close by (outside the Frontierland Playground near the Premier Access entrance to Big Thunder Mountain), Scrooge McDuck is often found on the other side of Thunder Mountain in front of the water. If you're in search of Minnie Mouse, he is often outside Phantom Manor outside of Halloween and Christmas – during these season Jack Skellington hosts his meet outside Phantom Manor and Mickey often joins Minnie close to Cowbook Cookout instead.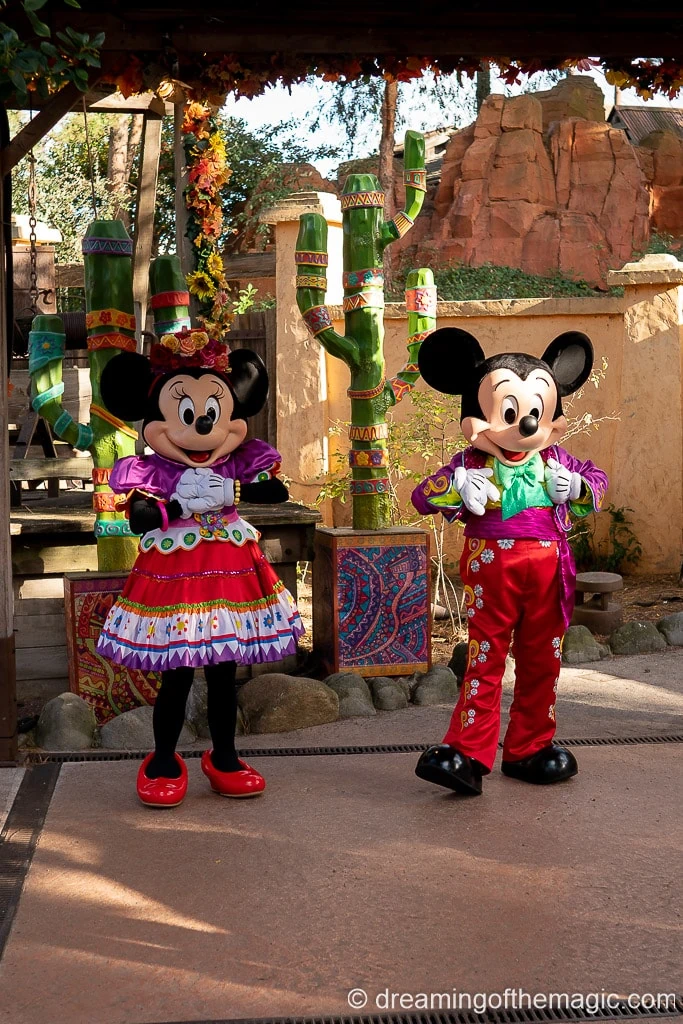 4 | Disney Hotels at Disneyland Paris
If you are staying onsite at a Disneyland Paris hotel then you might meet Minnie Mouse at one of the onsite hotel meet and greets.
Minnie often appears at two of the hotels – Disney Newport Bay Club and Disney Hotel Santa Fe. She also stops by Sequoia Lodge but we've only seen Max, Goofy and Pluto on our visits. The meet and greets are themed to the hotel so Minnie is usually wearing nautical at Newport Bay and goes retro at Santa Fe.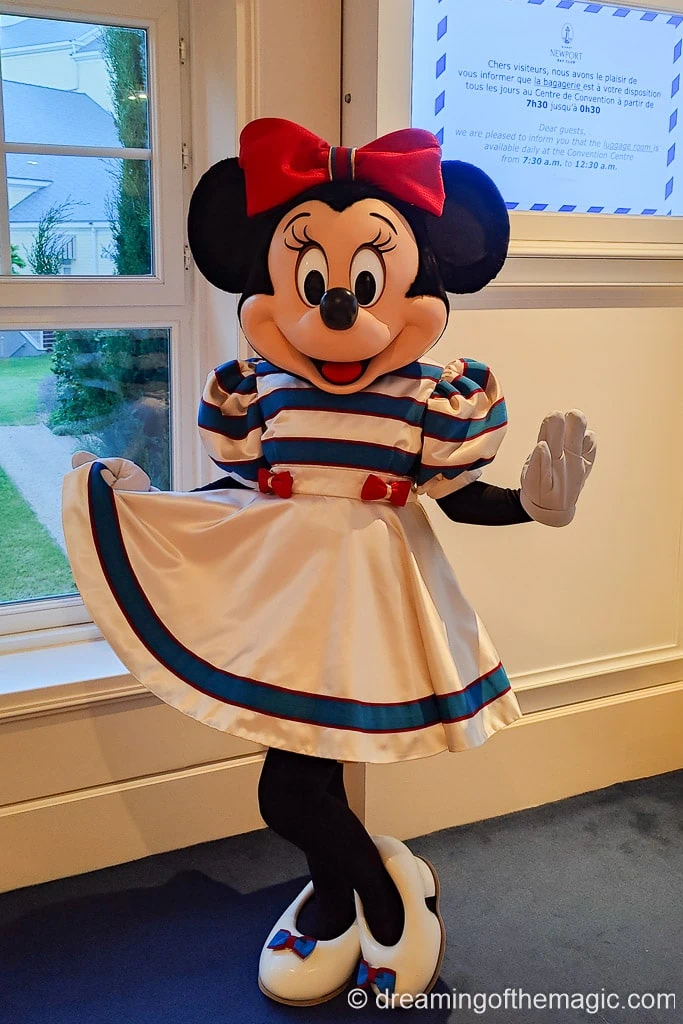 The meet and greets currently (Summer 2023) take place in the evening at Disney Newport Bay Club and in the morning at Disney Sequoia Lodge and Disney Hotel Santa Fe.
Meet Minnie Mouse at Disneyland Paris tip: it's unlikely you'll meet Minnie Mouse at at Disney Hotel Cheyenne. Toy Story's Woody and Jessie host at Disney Hotel Cheyenne.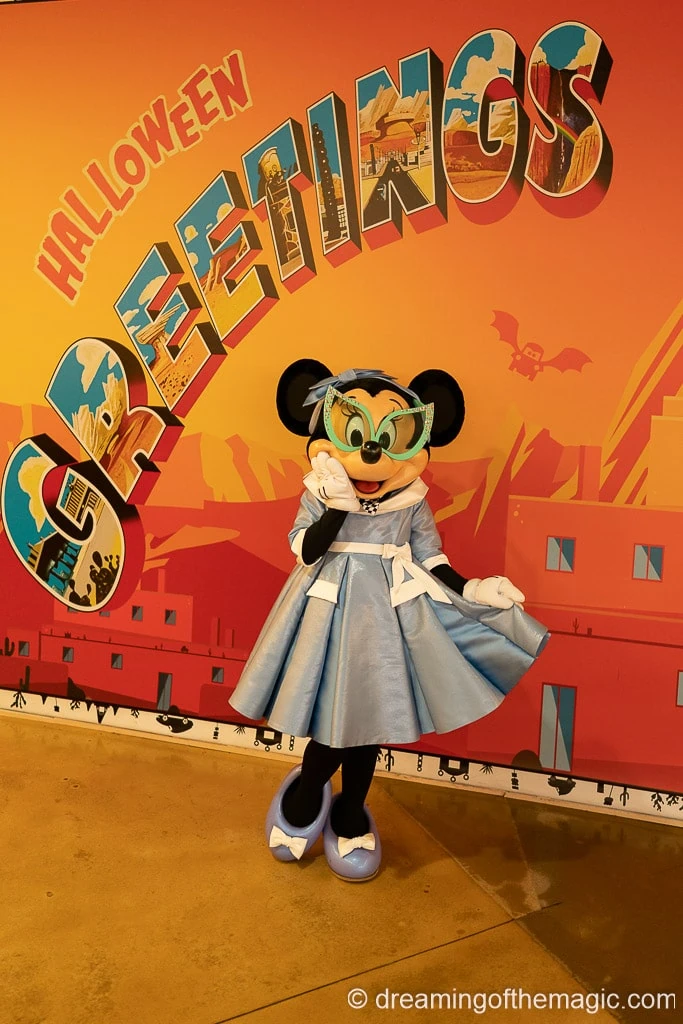 Other spots see Minnie Mouse in Disneyland Paris
There are opportunities to catch a glimpse of Minnie Mouse at Disneyland Paris:
5 | Extra Magic Hour
During Extra Magic Hour, Mickey Mouse welcomes guests from the train station balcony overlooking Town Square and he's often joined by Minnie Mouse! It's such a great interaction even though they don't meet guests directly – Mickey and Minnie dance and wave and blow kisses to guests. It is always such a fun way to start the day at Disneyland Paris.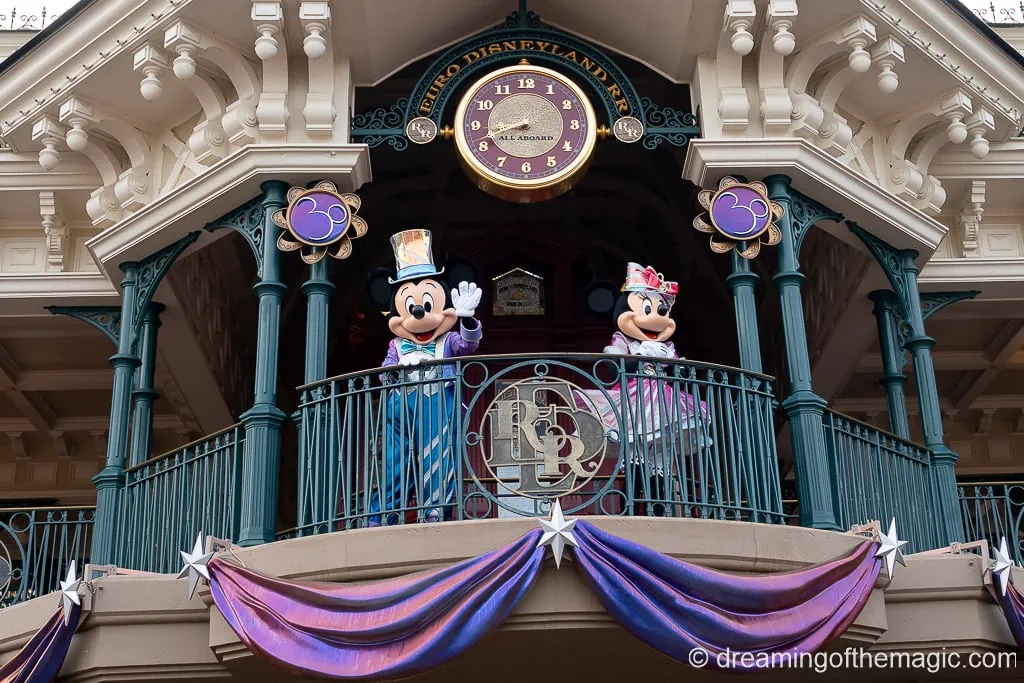 Extra Magic Hour: if you are not familiar with Extra Magic Hour it is a benefit of staying at one of the Disney Hotels at Disneyland Paris. It describes the hour before the regular park opening time when Disney Hotel Guests and Gold Disney Pass holders (Disneyland Paris' Annual Pass) are granted early access to the park. We have a full guide to Extra Magic Hour at Disneyland Paris.
Meet Minnie Mouse at Disneyland Paris tip: Mickey and Minnie greeting guests is part of the 30th Annivesary celebrations – these end on September 30 2023 so it will be interest to see if the morning welcome continues. We hope so!
6 | Parades
Minnie Mouse always joins the Disney stars in the main parades at Disneyland Paris and it is one of the highlights of a day in the park.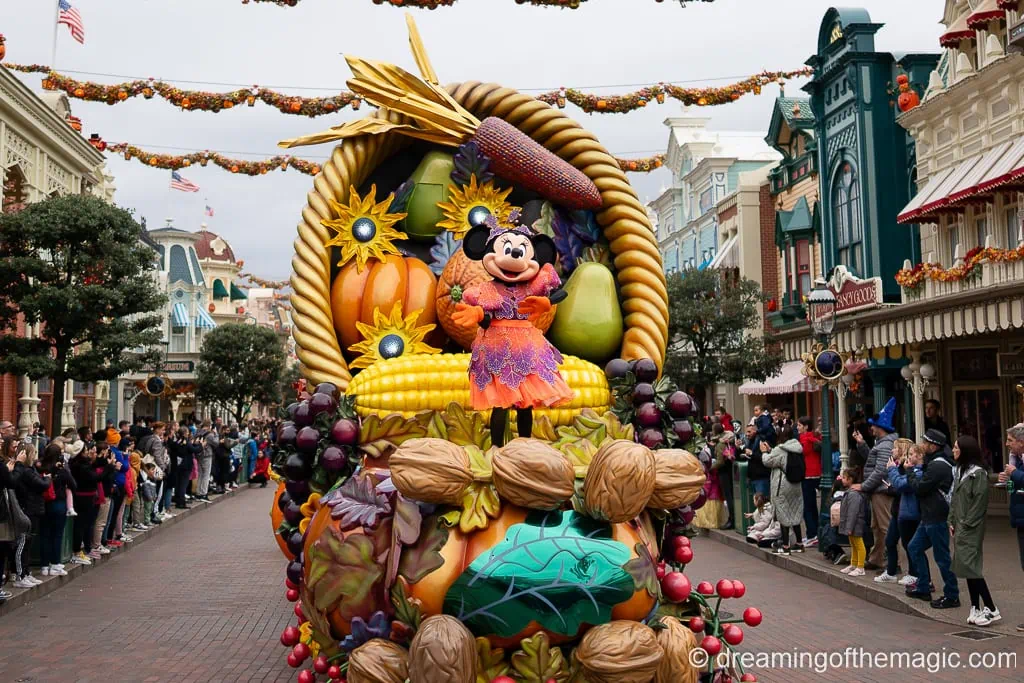 7 | Live Shows
There are some incredible theatre shows at Disneyland Paris and some offer the chance to see Minnie Mouse live on stage.
Minnie appears in the Disney Junior Dream Factory alongside Micky Mouse, Fancy Nancy Clancy, Vampirina and Timon. She and Mickey star as dream-making experts in this wonderful, feel-good show. The show is held in Production Courtyard in Walt Disney Studios.
Meet Minnie Mouse at Disneyland Paris tip: Disney Junior Dream Factory is one of the highlights of Disneyland Paris for my 1 and 4 year old – they both absolutely love it! There are other wonderful shows including Together: a Pixar Musical Adventure, the Lion King, Stich Live and Frozen: a Musical Invitation.