As a special treat for our Disney princess fan, we reserved Princess Dining at Auberge de Cendrillion in Disneyland Paris.
It's one of the hottest reservations at Disneyland Paris and guests are treated to a three-course French meal with the wonderful Disney princesses in attendance.
For those of you considering princess dining, we wanted to share our 2023 Auberge de Cendrillion review and our thoughts on whether princess dining is worth it at Disneyland Paris.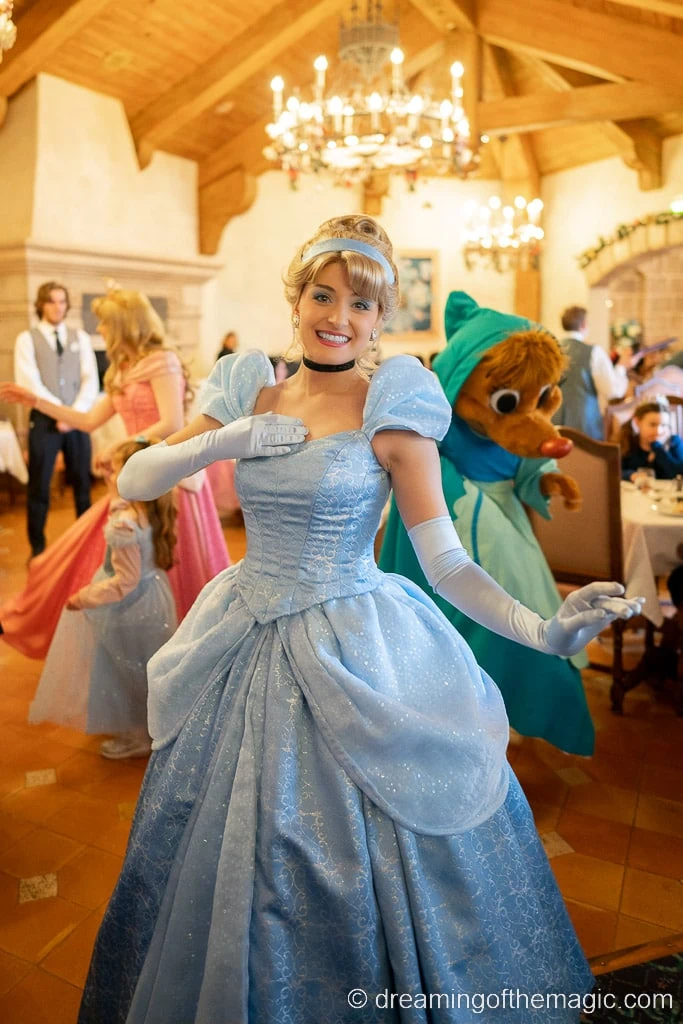 Princess Dining at Auberge de Cendrillion
Auberge de Cendrillon, or 'Cinderella's Inn', is the setting for princess dining in Disneyland Paris. Guests are served a 3-course French meal while enjoying meet and greets with 3 or 4 of the Disney Princesses and Cinderella's mice, Suzy and Perla.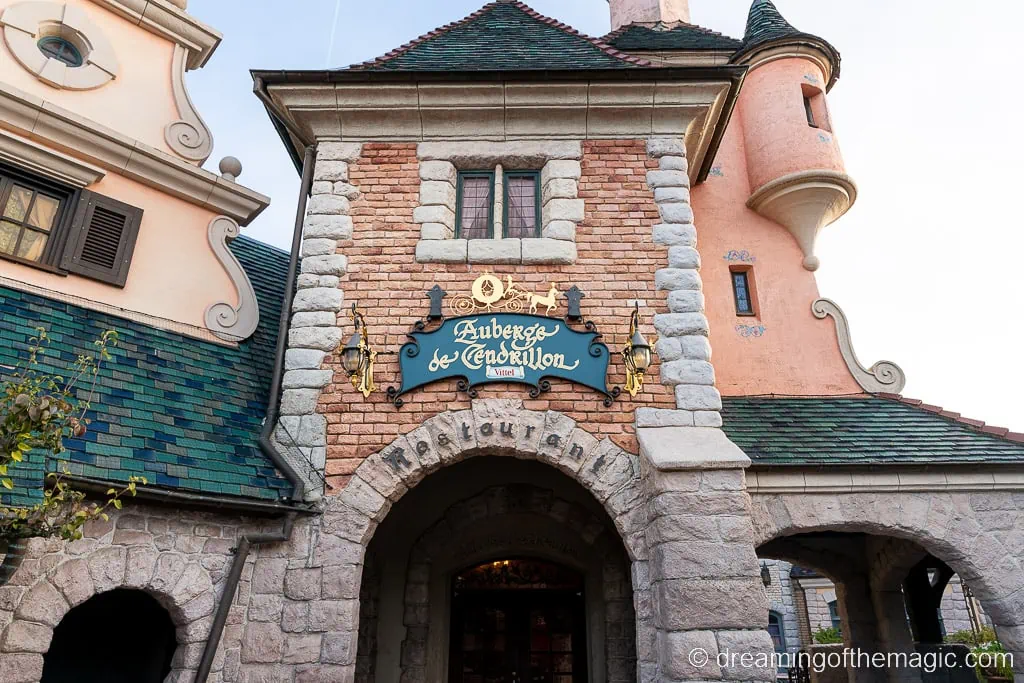 The princess dining is served in the beautiful Auberge de Cendrillion dining hall, a medieval banquet hall. It's a magnificent backdrop with stone archways, princess-themed artwork and stained glass windows. Cinderella's Carriage resides in the courtyard outside.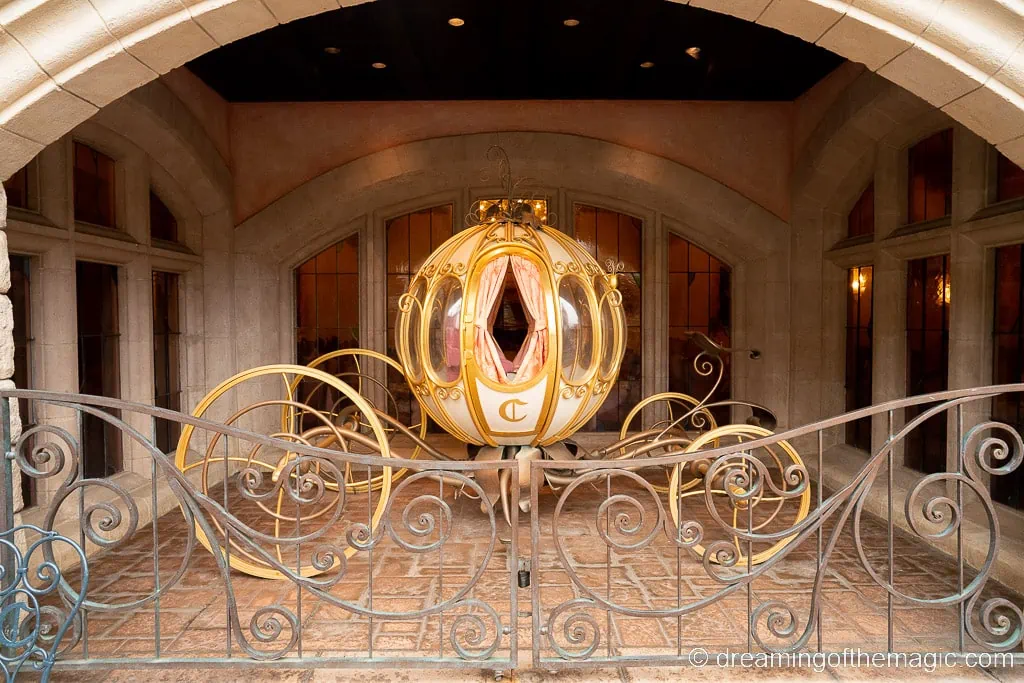 Disneyland Paris Tickets
Tickets for Disneyland Paris must be purchased in advance so you need to plan ahead. You cannot buy Disneyland Paris tickets at the entrance.
Only special-rate tickets for guests with disabilities, their accompanying guests, and certain tickets related to Annual Pass holder benefits can be purchased at the gate on the day. We recommend booking your tickets directly on the Disneyland Paris site. You can check prices and availability for each day directly on the site – check prices now!
Tickets are also included when you book a hotel and ticket package. Staying onsite at Disneyland Paris is a real treat and the Disney hotel and ticket packages are amazing value– check prices now!
Book your Disneyland Paris tickets and hotels now
The Princesses
On our most recent visit, we met Cinderella, Rapunzel, Aurora and Cinderella's mice, Suzy and Perla. Typically, during princess dining, guests meet 3 or 4 princesses as well as Suzy and Perla, Cinderellas mice.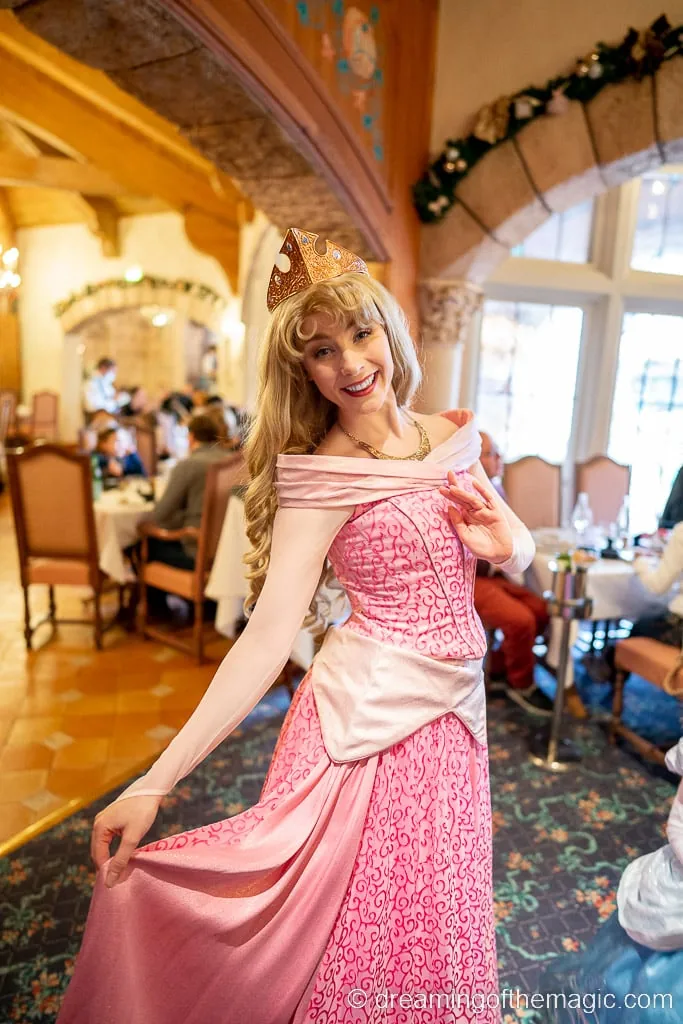 The Princesses walk through the restaurant stopping by each table to greet guests. We had lovely chats with each of the princesses and they made a huge fuss of the children. We were able to take lots of photos of our party with the princesses.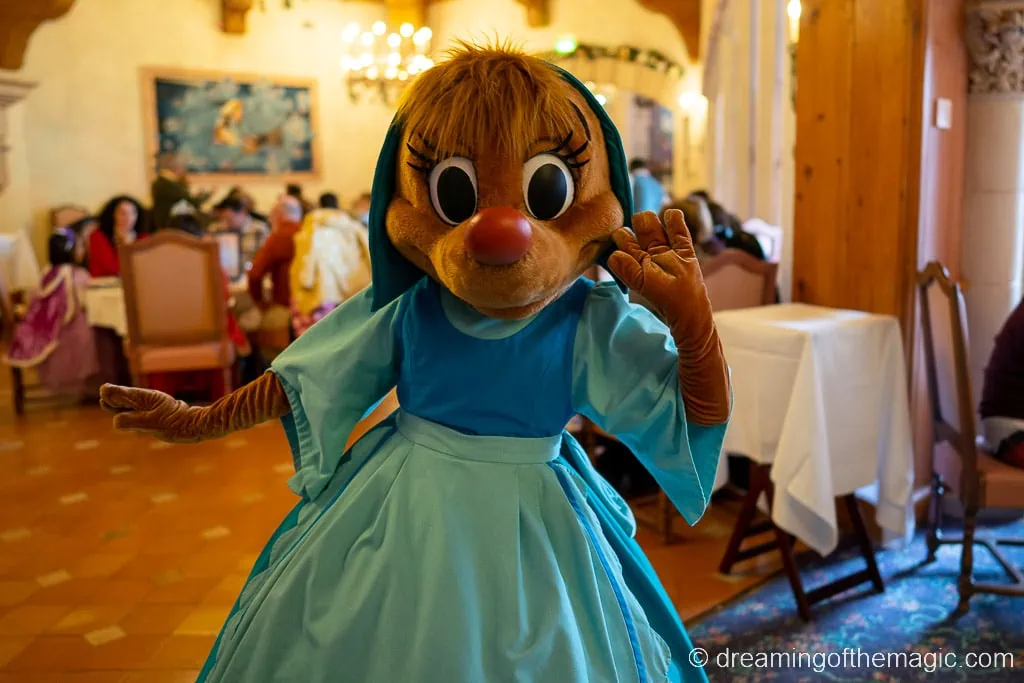 The Food
Guests are served a 3-course sit-down meal focused on fine French cuisine.
On arrival, we were served a Royal Cocktail (non-alcoholic) and a Cheese Madeleine Amuse-Bouche. This was served to both the adults and the children at the table.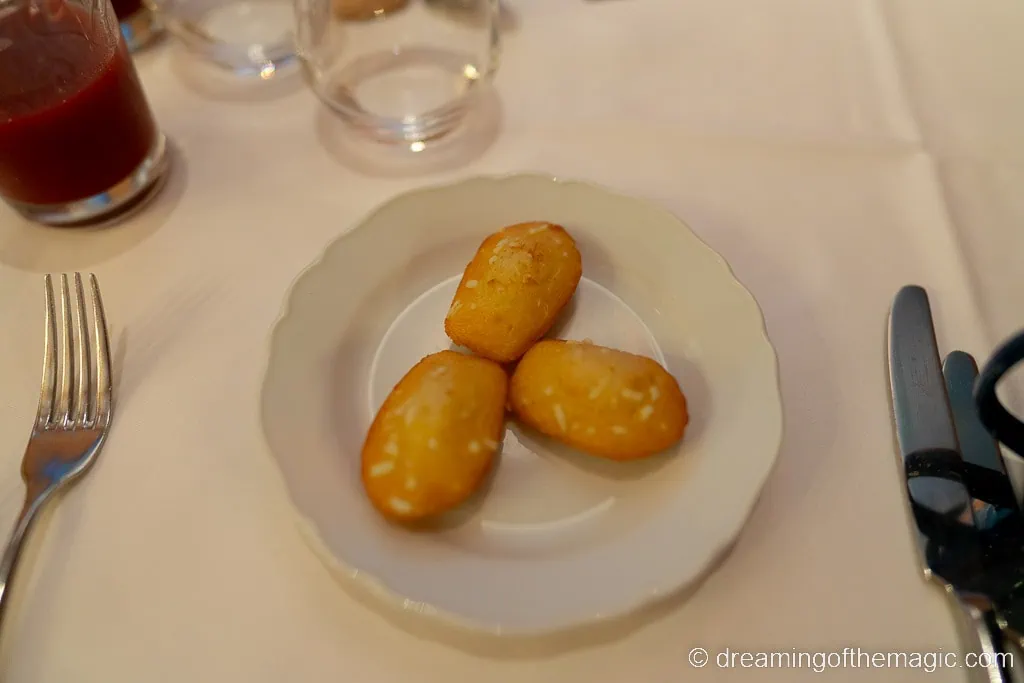 The starters available were:
Pumpkin Soup and Pumpkin Puree Flavoured with Ceps and Squash Seeds (vegan)
Warm Scallops and Cauliflower in a Creamy Lemon and Thyme Sauce
Duck, Pear and Chestnut Pâté en Croûte with Fig and Meaux Mustard Chutney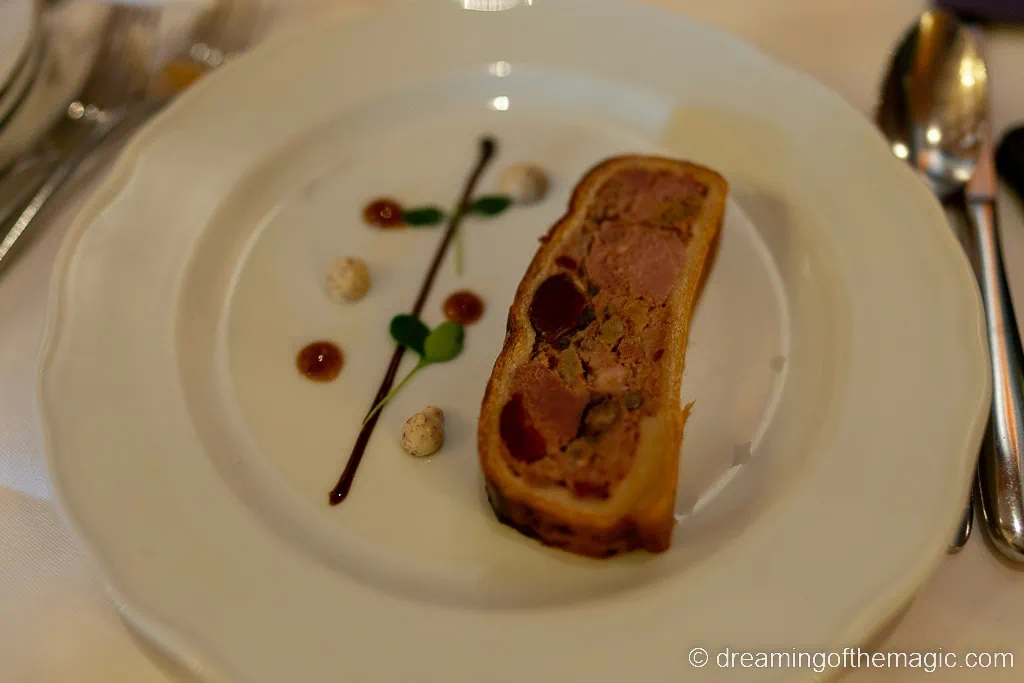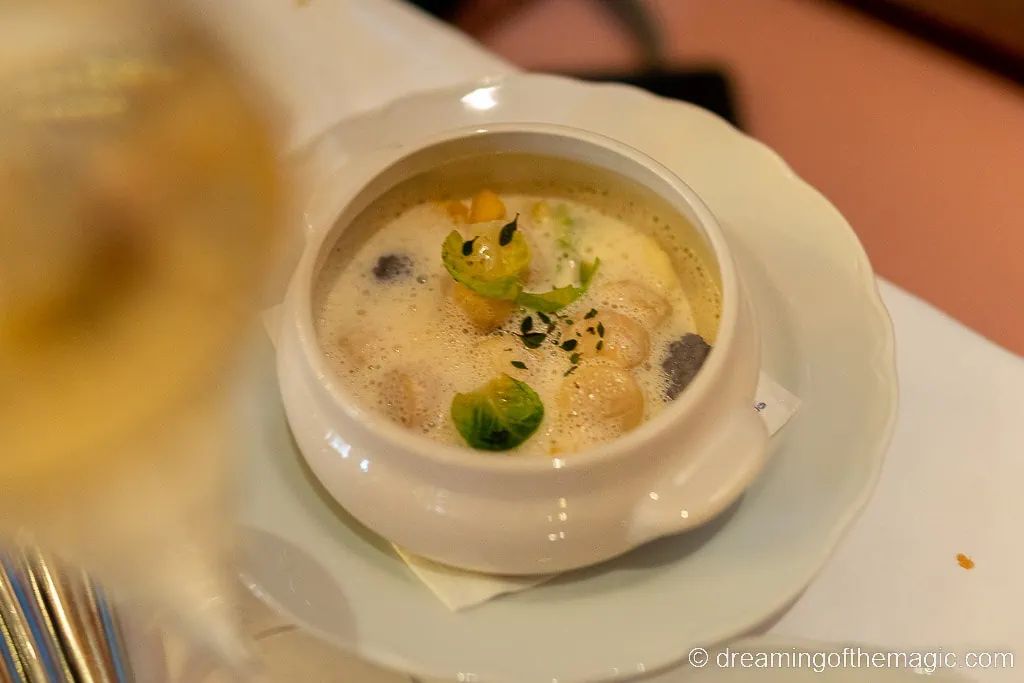 The mains were a choice of
Beef Casserole in a Red Wine Sauce, Glazed Carrots and Truffle Cream Sauce
Pan-Fried Turbot Fillet in a Champagne Sauce, Braised Leeks and Asparagus
Roasted Supreme of Chicken, Morel Sauce and Glazed Carrots
Pea and Herb Finger, Piquillo Pepper Coulis and Vegetable Crisps (vegan)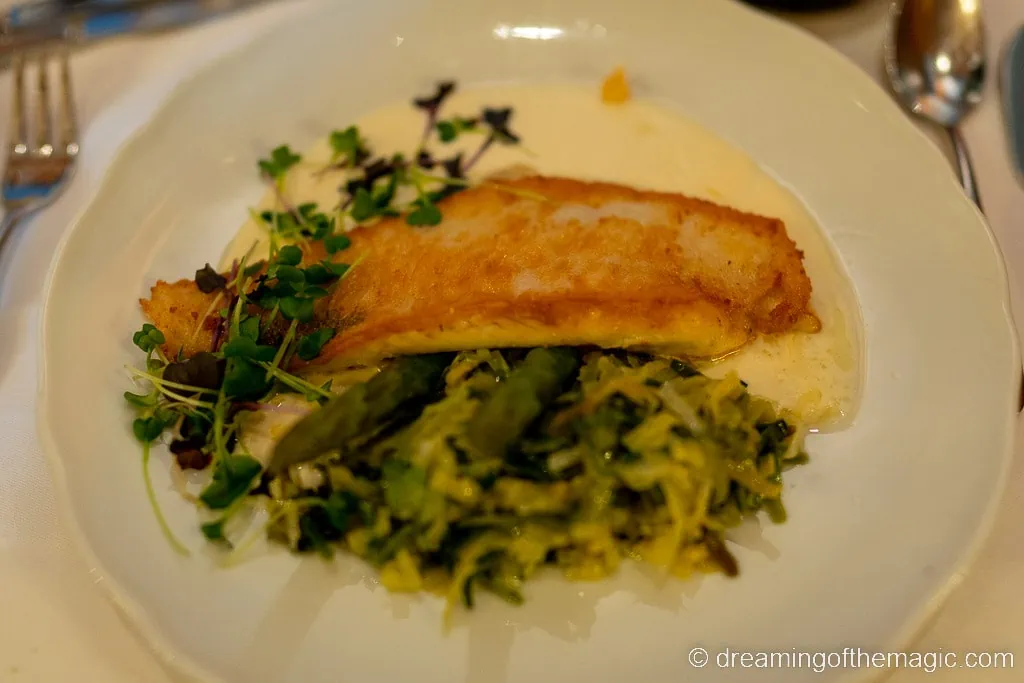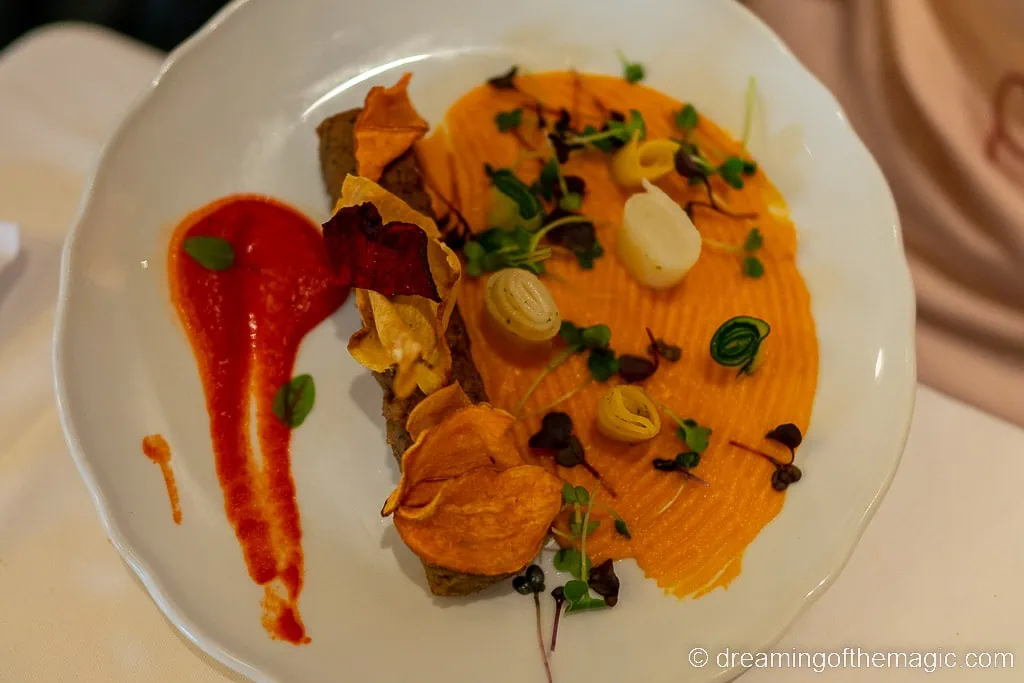 For dessert the choices were:
Cinderella's Dessert
Warm Chocolate Lava Cake with Morello Cherries, Soya and Cherry Emulsion (vegan)
Seasonal Fruit and Red Berries with Peppermint
Celebration Cake
White Chocolate Mousse, Strawberry and Almond Shortbread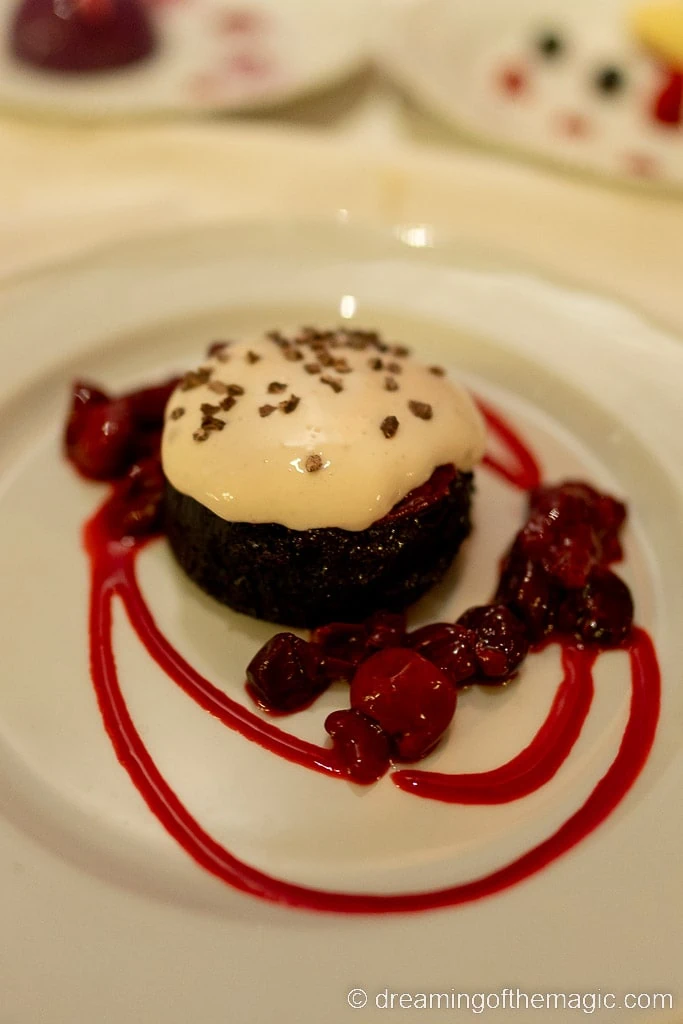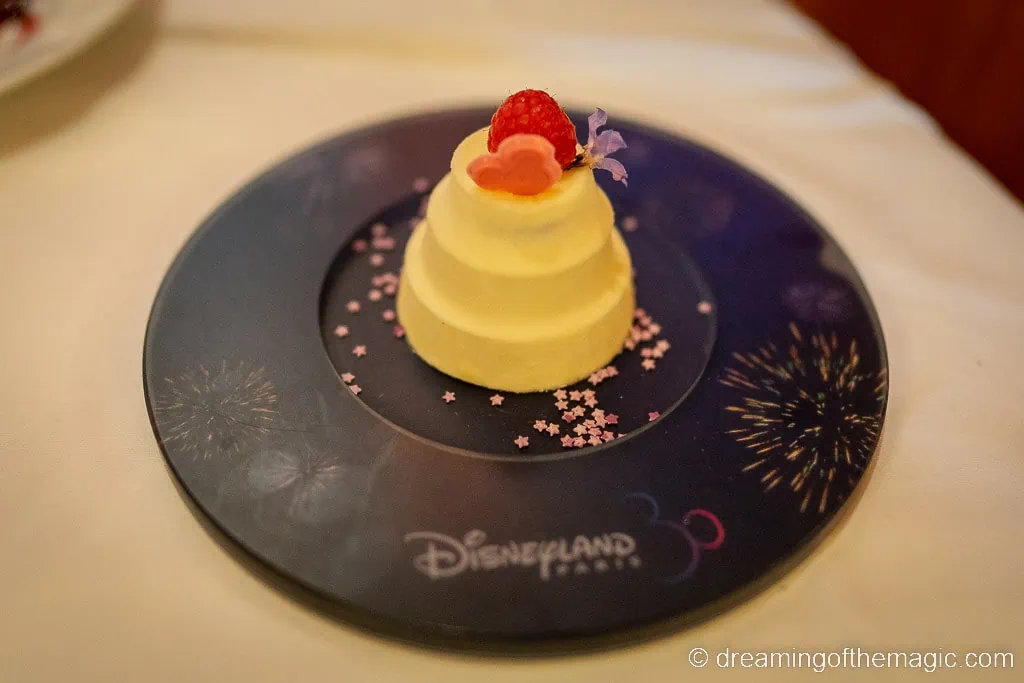 There was a separate menu for children aged 3 to 11:
The starters were:
Fairy Canapé: Pumpkin Soup and Open Sandwich with Squash Seeds
Fairy Canapé: Smoked Salmon with Herbs on Mickey Mouse Toast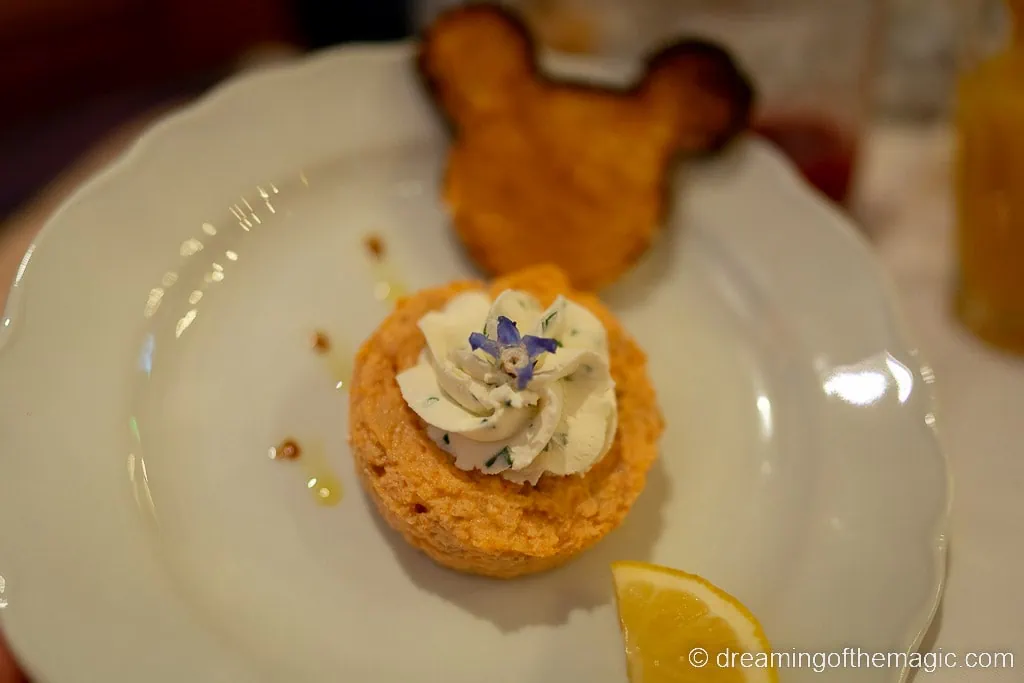 Dinner was a choice of:
Roast Chicken, Crushed Violet Potatoes with Vegetables
Cod Fillet, Crushed Violet Potatoes with Vegetables and Lemon Sauce
Auberge Pasta in Tomato Sauce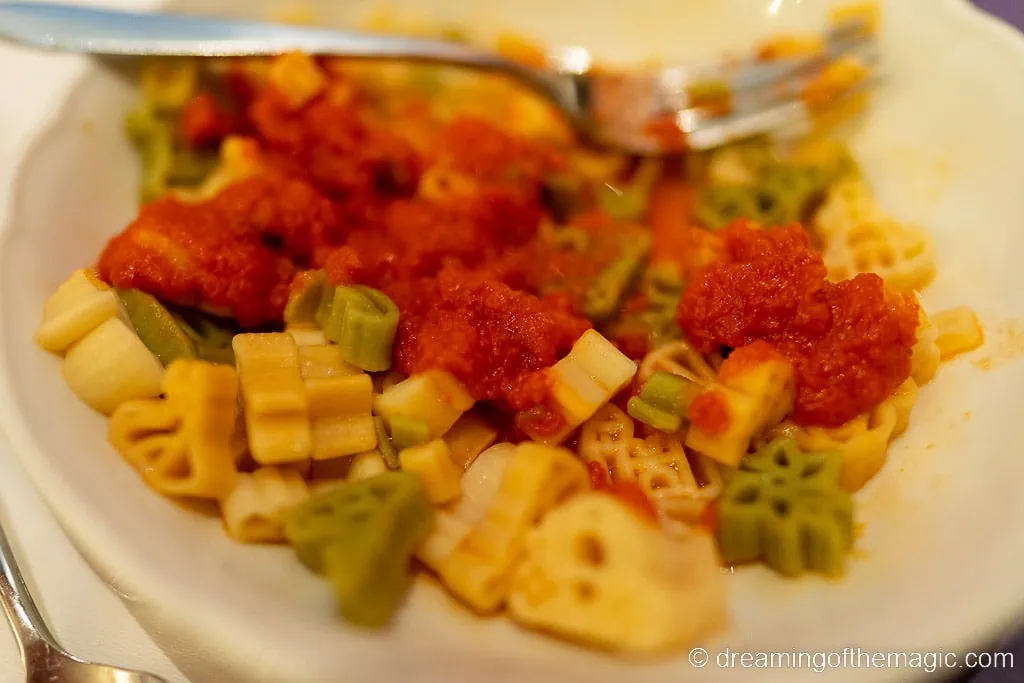 The dessert options were:
Cinderella's Surprise
Fruit Salad with Mint
Mickey Mini Dome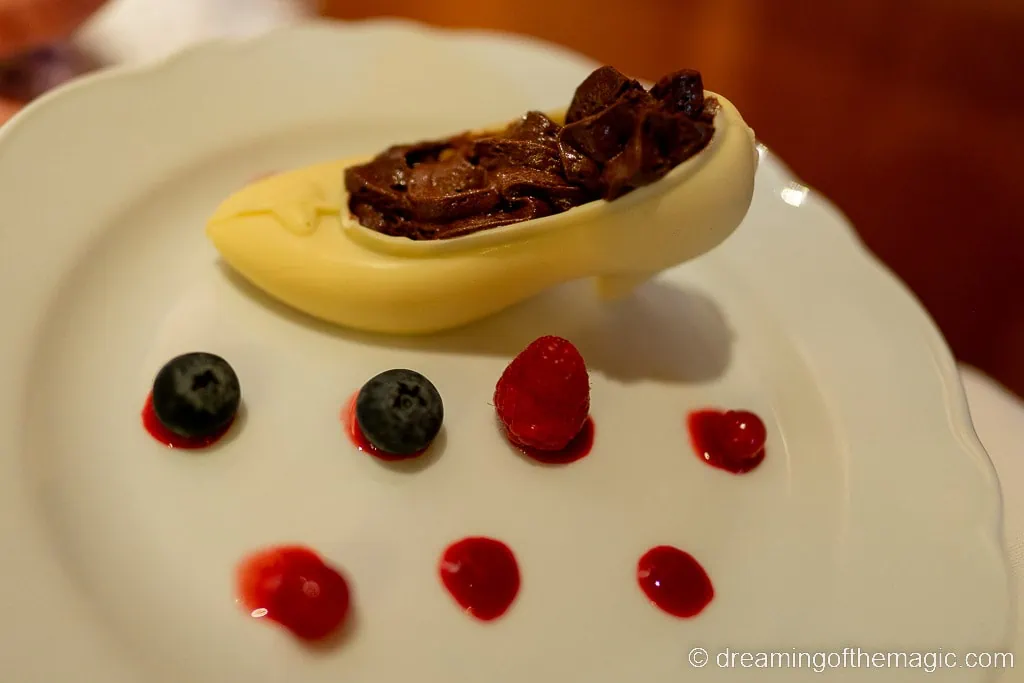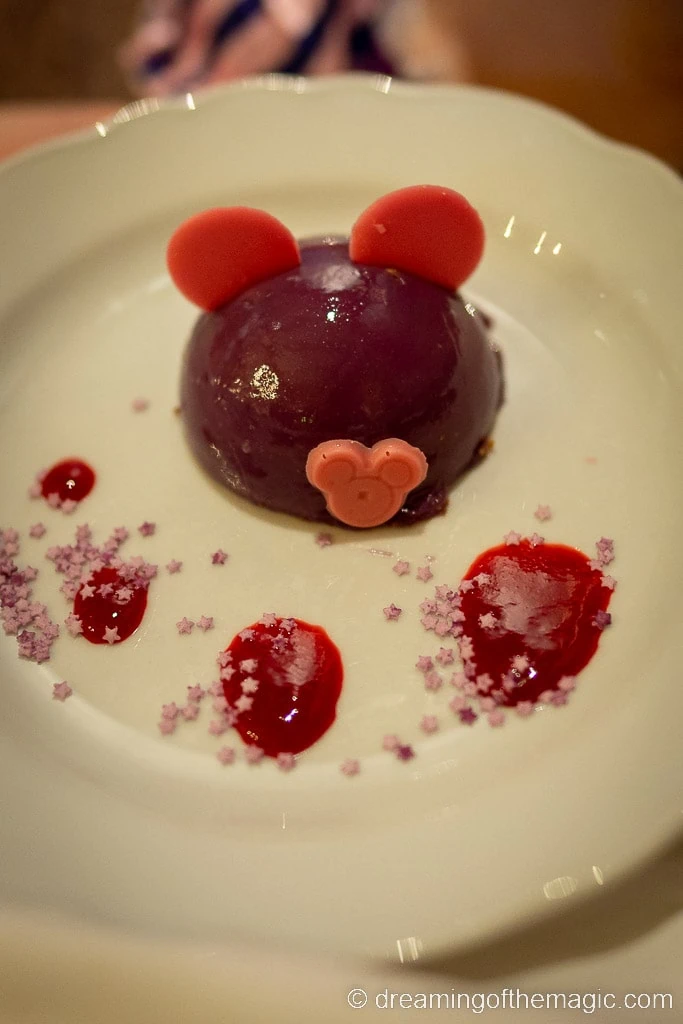 The children's meal included a drink – our kids were offered water, orange juice, apple juice or milk.
We were really impressed with the entire 3 courses of French food and the wonderful princess-themed desserts.
Is Princess Dining worth the cost?
When we reserved our princess dining, we did wonder if it was worth the high cost on top of all the regular Disneyland Paris expenses – our Princess Dining cost €95 per person for adults and €50 for each child so it was almost €300 for the 4 of us (2 adults, a 4-year-old and a 3-year-old).
After dining at Auberge de Cendrillion, we all agreed it was worth the cost. We really enjoyed our meal and it was wonderful to meet the princesses and have multiple interactions with them during our meal.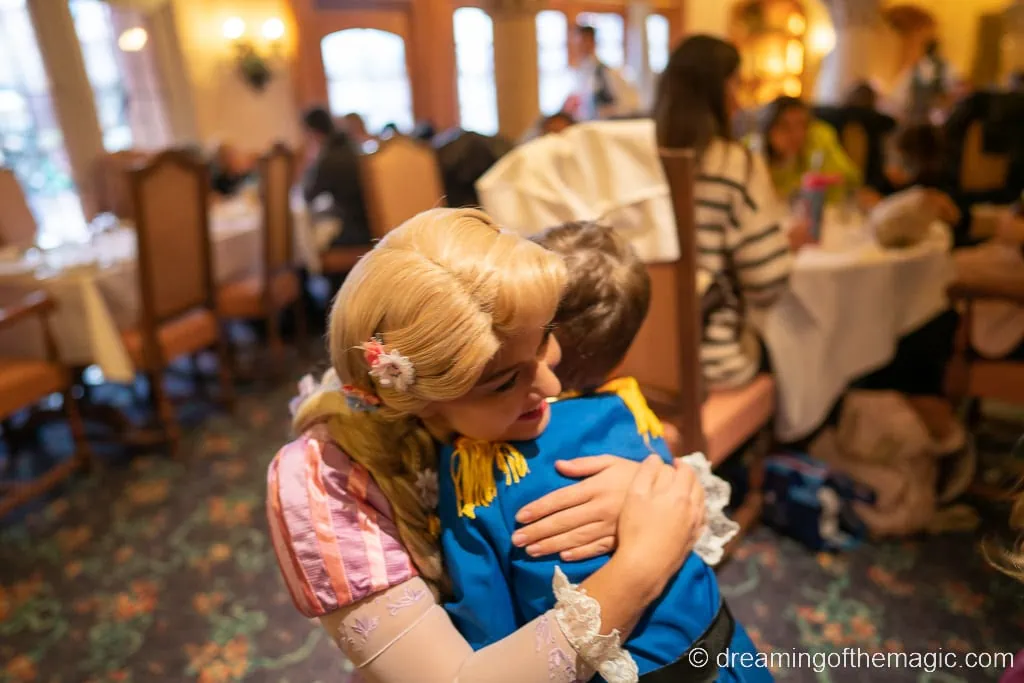 Before we visited we were a little concerned that our kids wouldn't enjoy the food but they managed fine with their meals – the desserts were a huge success and they both ate the pasta and the Mickey Mouse toast.
Obviously, the princess meet and greets are a huge part of the experience. There are only two opportunities to meet the princesses at Disneyland Paris – either at Princess Dining or in the Princess Pavillion. There are long queues at the Princess Pavillion (often upwards of 90 minutes) and guests only meet one princess so we would have had to spend a lot of time queuing to have a similar experience.
Auberge de Cendrillion is a beautiful setting, the Princesses were wonderful and the food and service were excellent. We spent 2 hours enjoying a leisurely lunch and enjoyed every second!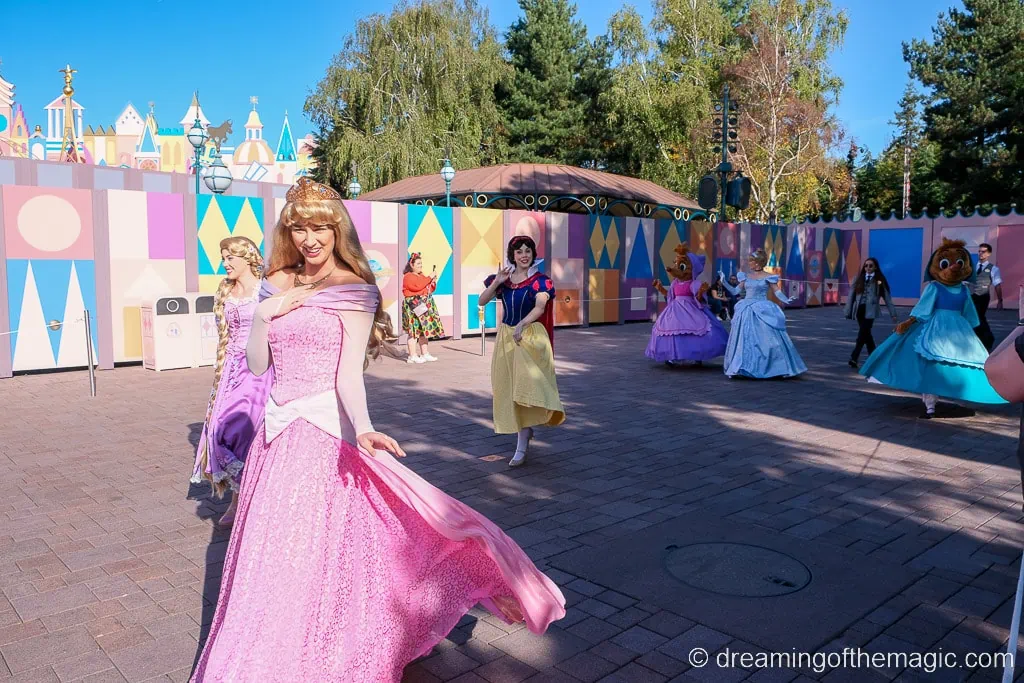 Everything you need to know about Princess Dining in Auberge de Cendrillion
Here's everything else you might be wondering about Princess Dining at Disneyland Paris:
Which Princesses attend Princess Dining?
Typically, 3 or 4 princesses attend princess dining.
Cinderella almost always holds court at Auberge de Cendrillion, which is no surprise given it's her inn!
Ariel, Aurora, Rapunzel and Snow White make frequent appearances while Belle, Merida and Tiana are there less frequently.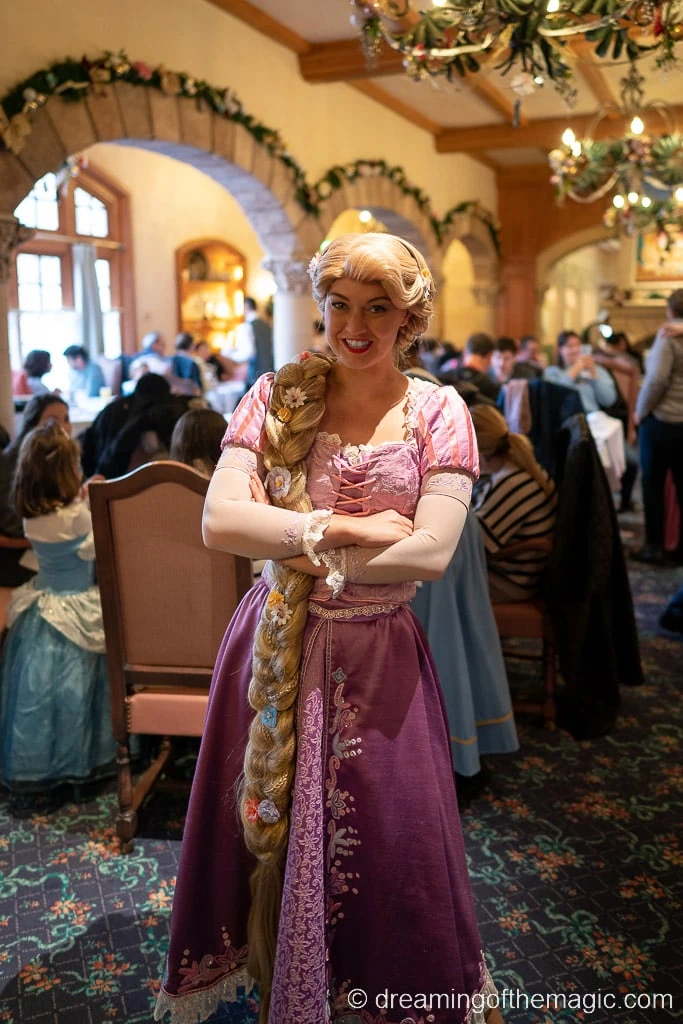 Mulan and Jasmine make rare appearances (I've seen a couple of recent appearances) while Moana, Raya and Pocahontas are very unlikely.
Minnie Mouse occasionally attends in her princess outfit.
Frozen's Anna and Elsa do not attend princess dining at present.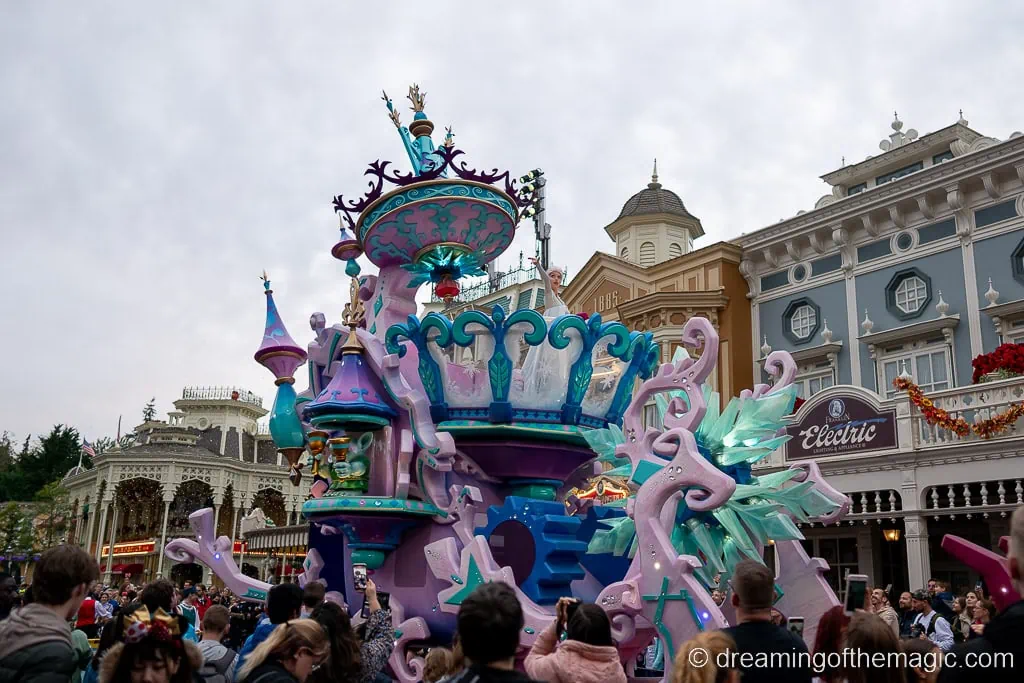 What days/times is the Princess Breakfast served?
Currently, princess dining is available daily. Reservations run from 12pm to 3pm and, depending on when you visit, there may be a dinner sitting with reservations from 6pm to 7pm.
How much is Princess Dining?
As of March 2023, princess dining costs €95 per person for adults and €50 for each child aged 3 to 11.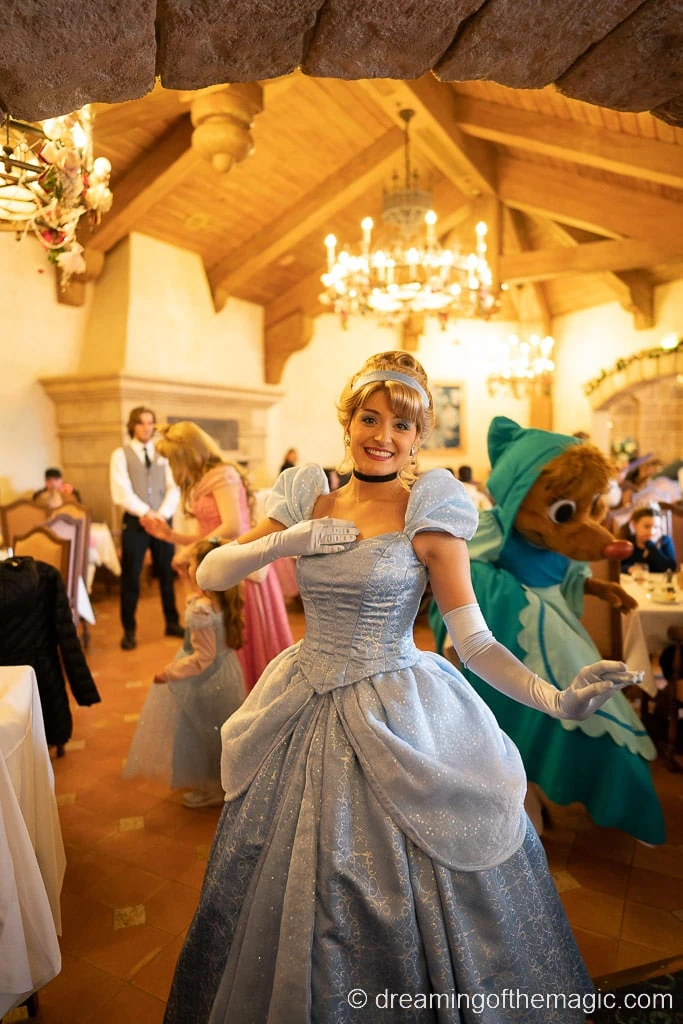 Is Princess Dining included in the meal plan at Disneyland Paris?
The full cost of princess dining is covered if you have the Extra Plus dining option otherwise a supplement will apply. For example, a €37 per person supplement applies for the half-board dining plan.
Do I need to reserve princess dining at Auberge de Cendrillon?
Princess dining is hugely popular and reservations can be hard to come by. There are two ways to book princess dining:
Guests staying at a Disney hotel onsite: Reservations open 12 months in advance for guests who reserve a Disney hotel and tickets package (and have paid the balance in full) – we book our princess and character dining at the time of booking. Along with Extra Magic Hour and the easy walk to the parks from the onsite hotel, this is one of the best perks. We've stayed in all 5 of the onsite hotels – if you are planning to stay onsite click here to read our guide to the best Disneyland Paris Disney Hotels and the benefits of staying onsite.
Other guests: Park guests staying outside of the Disney hotels (or those who reserve room-only rates, for example through booking.com) will have access to princess dining up to 1 month in advance on the app. During busy periods, it is often booked up well in advance of this although you might get a late cancellation.
Do kids dress up in Princess costumes?
Yes, for sure! Many of the young guests wear prince and princess costumes for their Royal dining – we picked up some lovely (and relatively inexpensive) outfits prior to travelling. Our 5-year-old was adorable in his Prince Charming costume as was our 3-year-old in her Rapuzenel dress. You can also purchase dresses in the park but I didn't spot any Prince Charming costumes.
Adults were dressed casually and we wore our regular theme park clothes.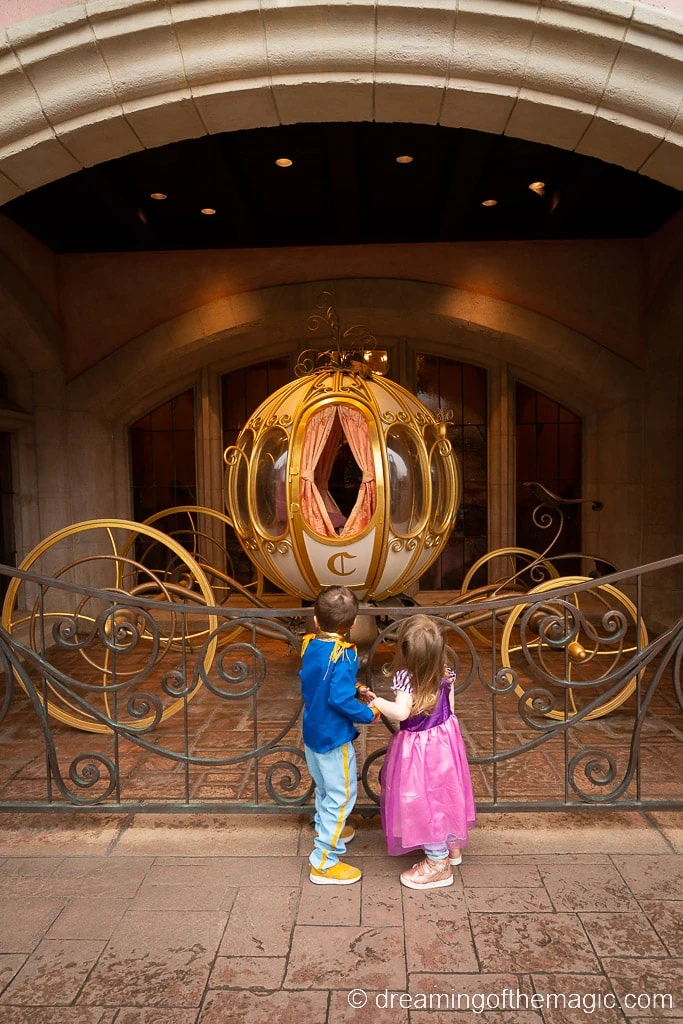 Is there a PhotoPass photographer at princess dining?
No, generally there isn't a PhotoPass photographer at Auberge de Cendrillion. However, you can take your own photos with the princesses.
How long does the Princess Dining take?
I'd say allow around 1.5 hours to dine. We spent 2 hours in the restaurant and enjoyed a very leisurely late lunch.
Do I need a theme park reservation to attend the Princess Dining at Auberge de Cendrillion?
Yes, Auberge de Cendrillion is in Disneyland Park and a park reservation is required to enter the park.
Is there a Princess Breakfast at Disneyland Paris?
We attended the Princess Breakfast in Auberge de Cendrillion in August and September 2023 – breakfast dining then ended at the end of September 2023.
It seems like the only Princess Breakfast will now be held in the Castle Club Lounge in the newly reopening Disneyland Hotel. Guests with access to the Castle Club lounge will be visited by the Princesses during their breakfast.