Together with the awesome rides, wonderful characters, and magical parades, there are also a lot of delicious snacks at Disneyland Paris. From Mickey Mouse-shaped everything to Alice in Wonderland-themed ice creams and sipping champagne in from of the Castle, here's our guide to the best snacks at Disneyland Paris!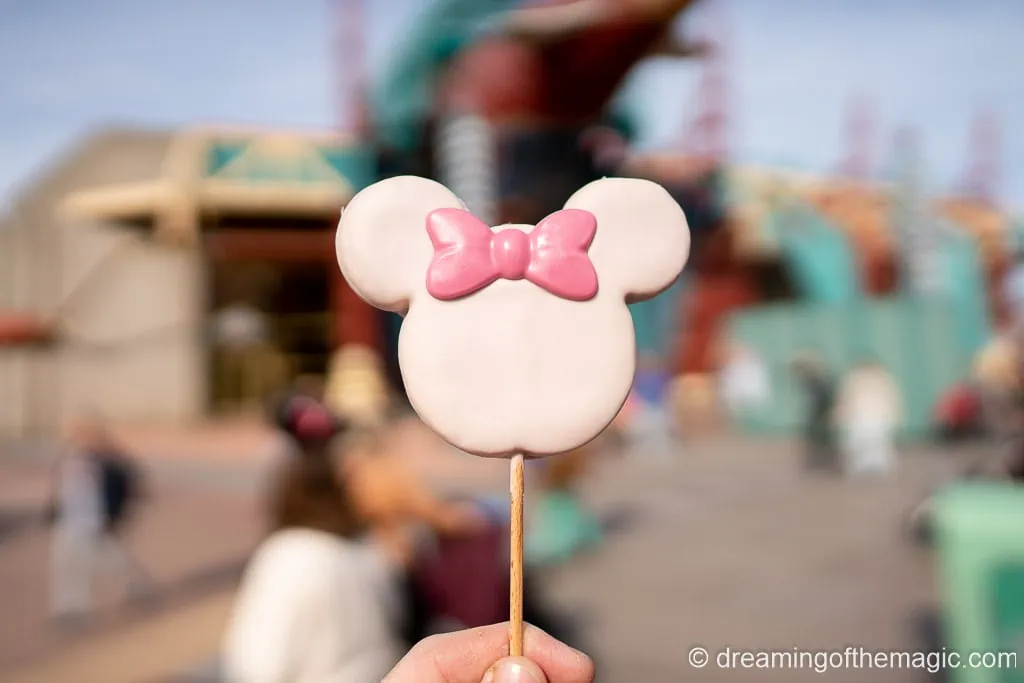 1 | Ice Cream Creations by Magnum
Location we purchased snack: Ice Cream Creations, Production Courtyard, Walt Disney Studios
The made-to-order Magnums at Ice Cream Creations are one of our favourite snacks at Disneyland Paris. Located close to the exit of Studio 1 in Walt Disney Studios, there are three themed magnums available: Minnie Mouse, Up and The Lion King custom magnums.
We got the Up Magnum which was a dark chocolate Magnum with white chocolate shavings, M+M chunks and coloured chocolate-coated balls, finished with a print of the Up house. We love Up and we love Magnums so this was a perfect match for us!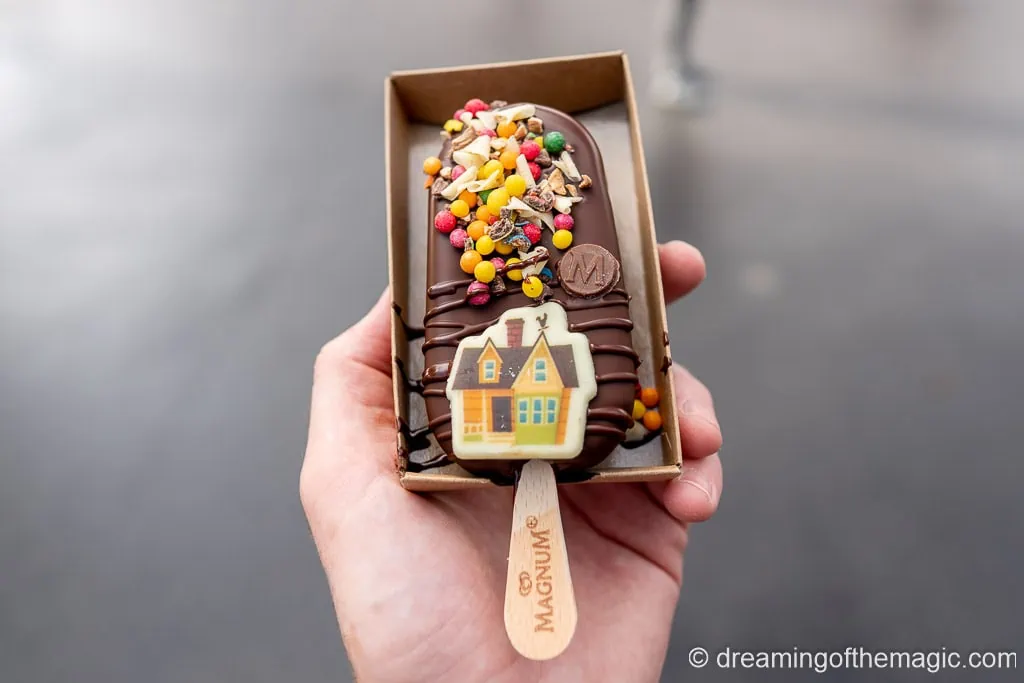 Disneyland Paris Tickets
Tickets for Disneyland Paris must be purchased in advance so you need to plan ahead. You cannot buy Disneyland Paris tickets at the entrance.
Only special-rate tickets for guests with disabilities, their accompanying guests, and certain tickets related to Annual Pass holder benefits can be purchased at the gate on the day. We recommend booking your tickets directly on the Disneyland Paris site. You can check prices and availability for each day directly on the site – check prices now!
Tickets are also included when you book a hotel and ticket package. Staying onsite at Disneyland Paris is a real treat and the Disney hotel and ticket packages are amazing value– check prices now!
2 | Minnie Mouse Cookie Pop
Location we purchased snack: Boardwalk Candy Palace, food truck opposite Buzz/adjacent to Orbitron in Discoverland
These Minnie and Mickey Mouse cookie pops were created to celebrate the 30th anniversary at Disneyland Paris.
The Minnie Mouse Cookie Pop is a shortbread cookie dipped in pink icing and topped with a pink bow. It is served lolly style on a stick and is both tasty and filling. The Mickey Mouse offering is similar but comes without a bow.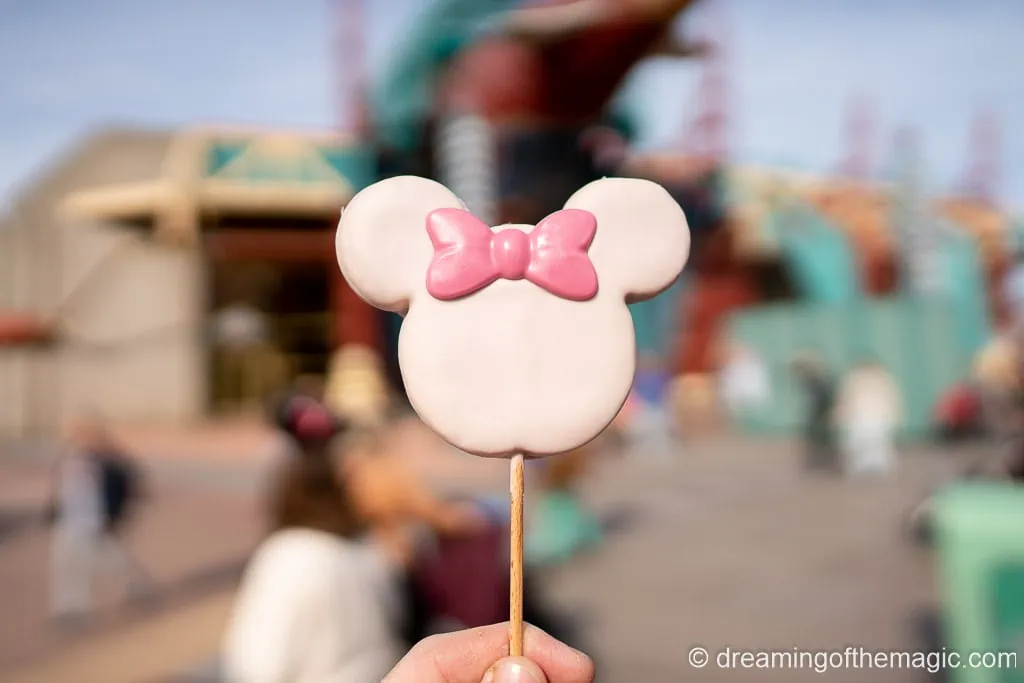 3 | Sweet or Salty Popcorn
Location we purchased snack: various food trucks across the park
Popcorn is a really popular snack in Disneyland Paris and there are popcorn trucks aplenty across the parks. You can choose between a sweet and salty popcorn option and have it served in a cardboard box or in this (more expensive) reusable ear-topped bucket which was created for the 30th anniversary celebrations – if you purchase the reusable bucket you can refill at the regular price.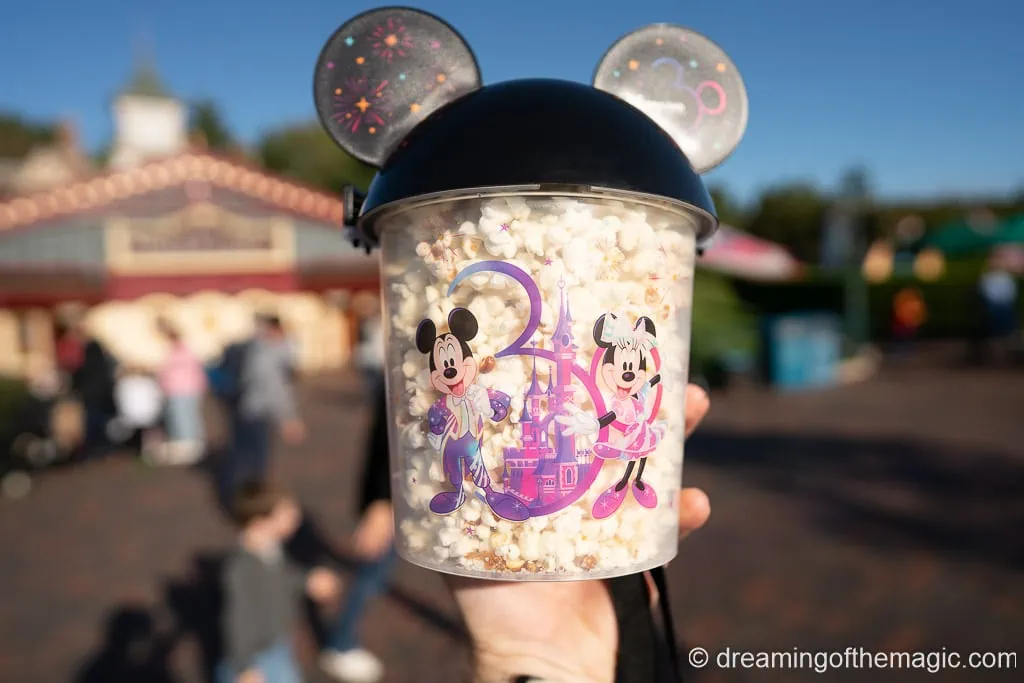 4 | Candyfloss
Location: Boardwalk Candy Palace, Main Street (and food carts/stores throughout the parks)
Candyfloss, or cotton candy, is another cute treat available at candy stores and stalls across the parks. It's sweet and filling and this little tub lasted us for a weekend in Disneyland Paris!
Disneyland Paris snacks: we've only spotted tubs of candy floss in the parks recently. There are some stalls in the Disney Village which serve candy floss on a stick.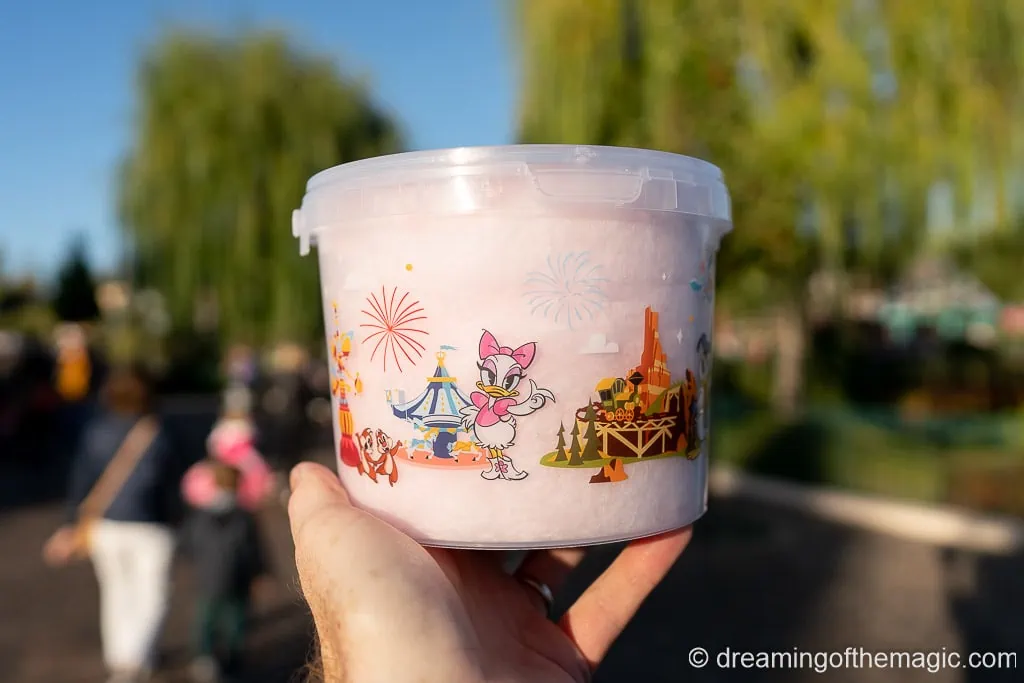 5 | Giant St Michel shortbread
Location we purchased snack: food truck opposite Buzz/adjacent to Orbitron in Discoverland
There's no doubt that this 30th Anniversary St Michel shortbread was the largest snack we came across in Disneyland Paris! It comes with either Mickey or Minnie Mouse imprinted on the biscuit and it is a delicious, buttery treat. We easily shared it between 2 adults and 2 kids and it lasted for ages!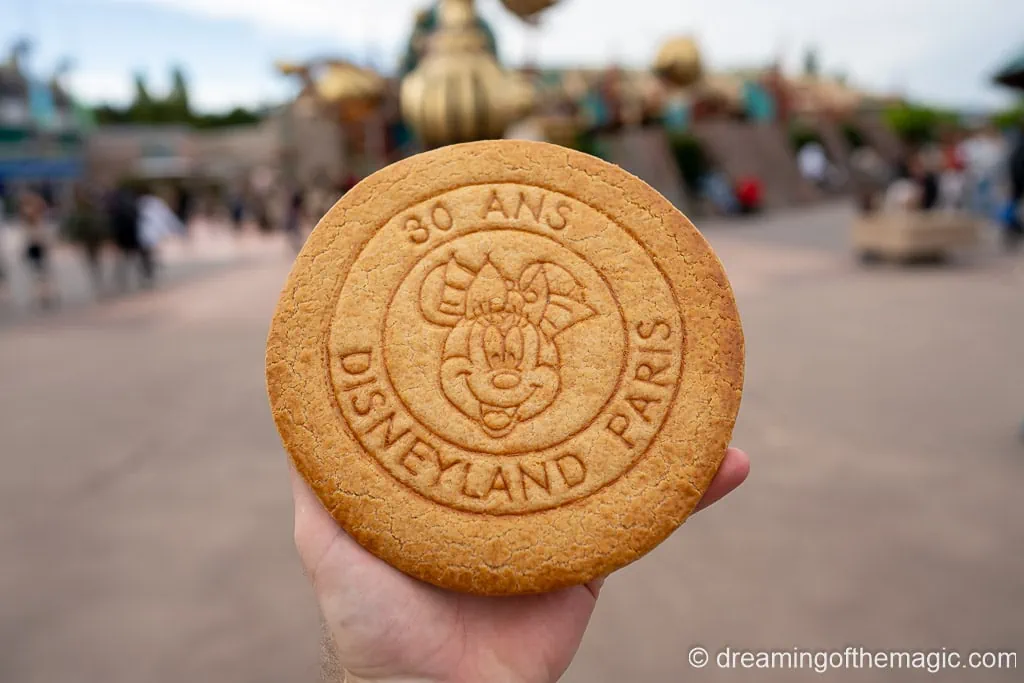 6 | Mickey Mouse Waffles
Location we purchased snack: Cool Post, Adventureland
Covered in marshmallows and Nutella, these mini Mickey Mouse waffles are one of the best snacks at Disney. The waffles are made to order and the mix of freshly made waffles and melted Nutella is a real treat.
Disneyland Paris snacks: the Cool Post kiosk is really easy to miss but it's best not to as it's snacks are among the best in the park! The kiosk is between Adventure Isle, Indiania Jones and Big Thunder Mountain and it's a few steps down from the regular path.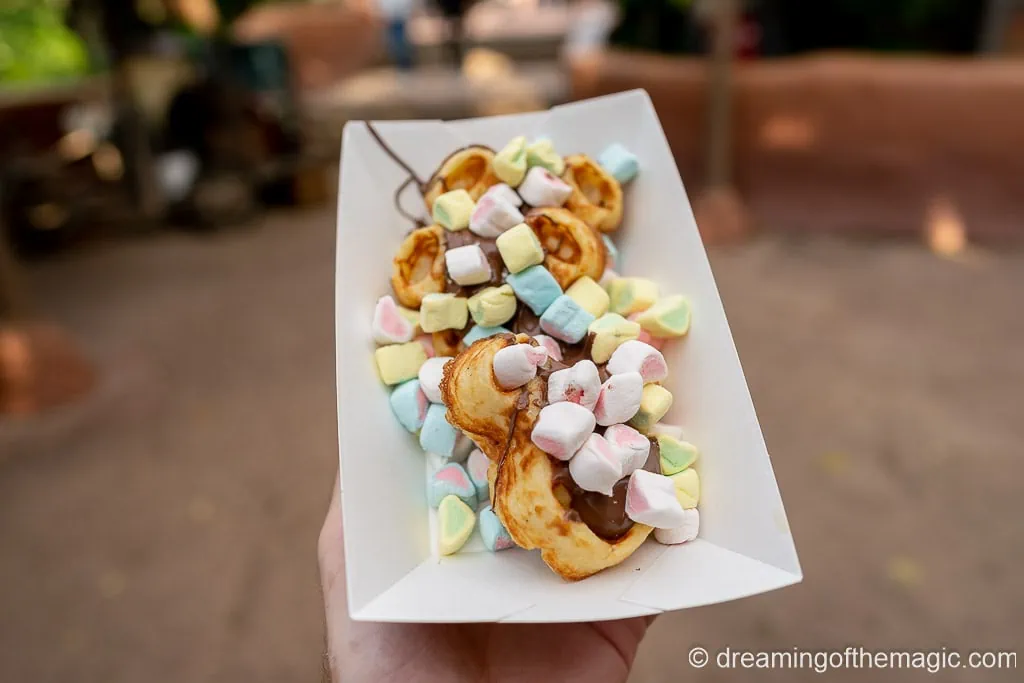 7 | Mickey Mouse Beignet
Location we purchased snack: Cable Car Bake Shop, Main Street
The Mickey Mouse Beignet is a wonderful pastry treat at Disneyland Paris. Available with a Nutella or Apricot filling, the deep-fried pasty is one of the best snacks on Main Street.
Disneyland Paris snacks: the Mickey Mouse Beignet is available from the Cable Car Bake shop on Main Street. The Cable Car Bake shop is one of the few food places open during Extra Magic Hour in Disneyland Paris so, if you have access to Extra Magic Hour, then make this your breakfast snack of choice!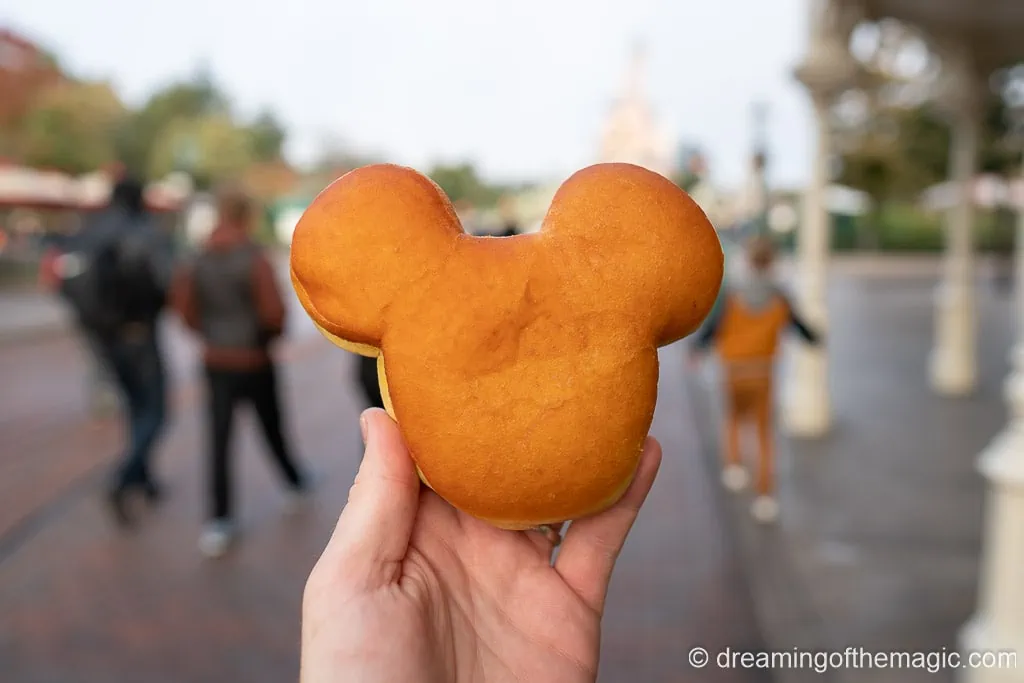 8 | French Fries
Location we purchased snack: Hollywood Catering Food Truck, close to Tower of Terror Entrance in Walt Disney Studios
French fries are the ultimate comfort snack at Disneyland Paris, especially on a cold day! The quick and easy snack is available from the Hollywood Catering Food Truck in Walt Disney Studios and there is an outdoor seating area close by to sit down and enjoy your fries!
9 | Hot Dogs
Location we purchased snack: Casey's Corner (Disneyland Park), FAN-tastic Food Truck (Walt Disney Studios)
Hot dogs are the perfect theme park snack and there are plenty of hot dog options in Disneyland Paris.
Casey's Corner does some great hot dogs and you can preorder through the app to save queuing at busy times. We also like the hotdogs from the FAN-tastic Food Truck in the Avengers Campus at Walt Disney Studios.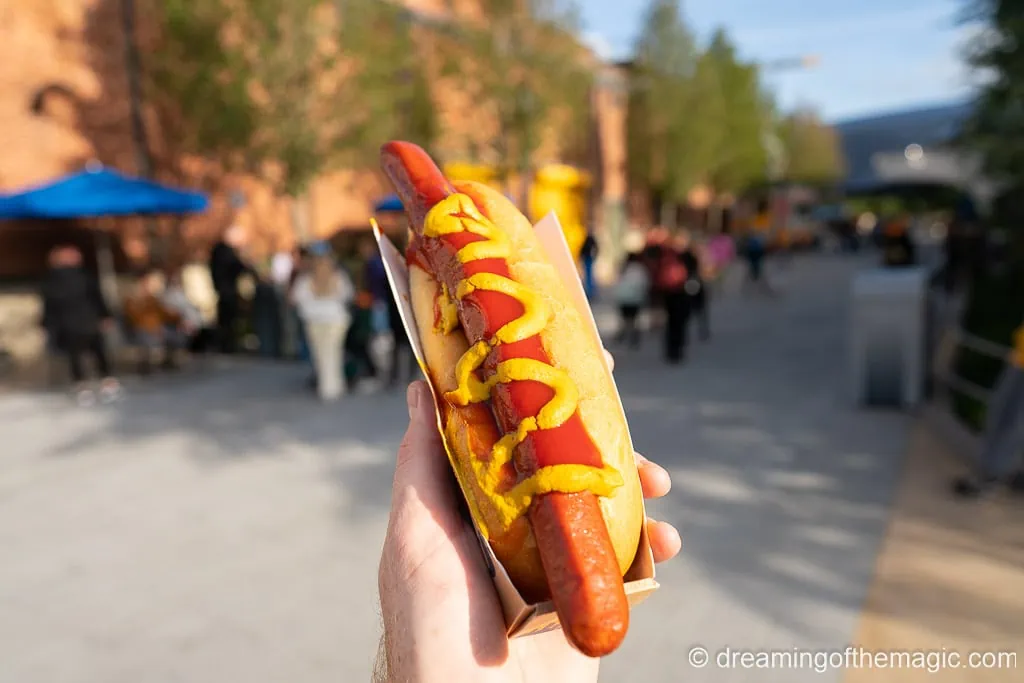 10 | Groot Shortbread Cookie
Location: Hep Cat Corner, Front Studios Walt Disney Studios
Marvel fans will delight in this Marvel-themed snack from the Avengers Campus in Walt Disney Studios. The tasty Groot-shaped shortbread cookie is available with two fillings – chocolate and hazelnut or raspberry – the only problem is that it's too cute to eat!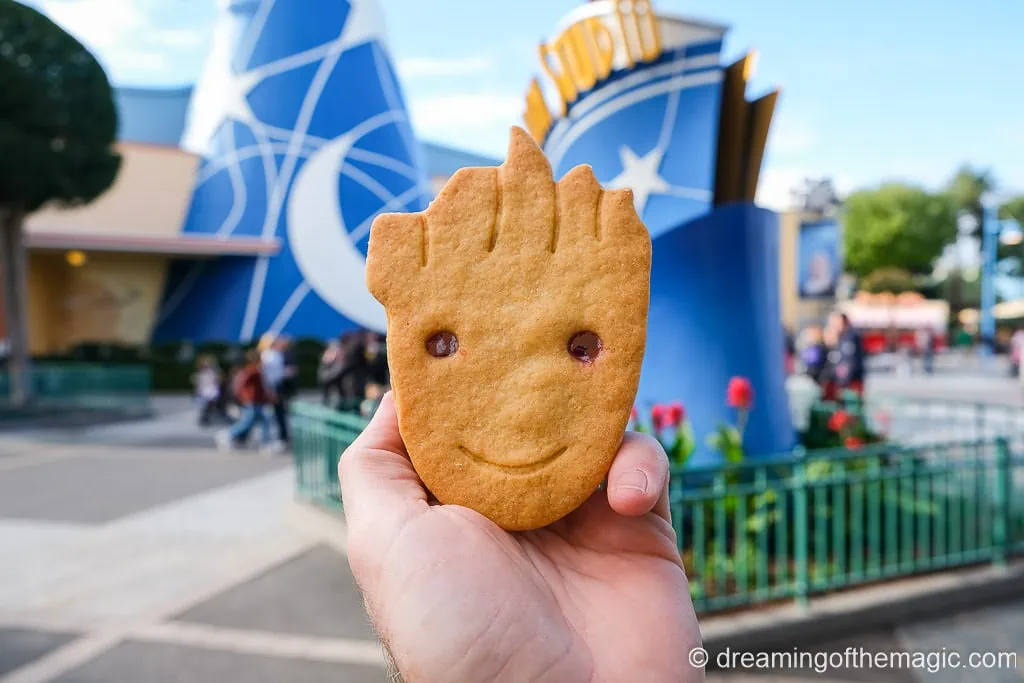 11 | March Hare Ice Cream
Location: Fantasy Land, close to Alice's Curious Labyrinth
Straight from the Mad Hatters Tea Party in Alice and Wonderland, the ice creams at the March Hare are one of the most beautiful treats at Disneyland Paris. There are 3 delicious ice creams available: we loved our Ace of Hearts Ice Cream and the We're all mad here ice cream and the Unbirthday Ice Cream are equally as delicious.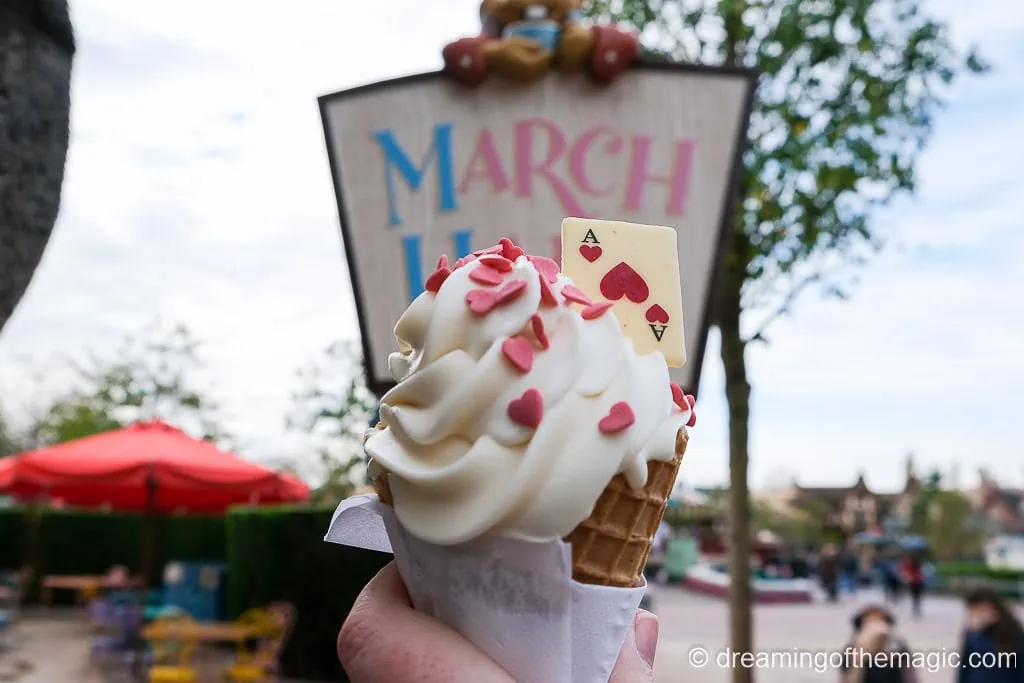 12 | Boardwalk Candy Palace
Location: Main Street
Main Street's Boardwalk Candy Palace is a must for sweet snacks and it is the place to go if you are in search of Mickey-Mouse shaped treats.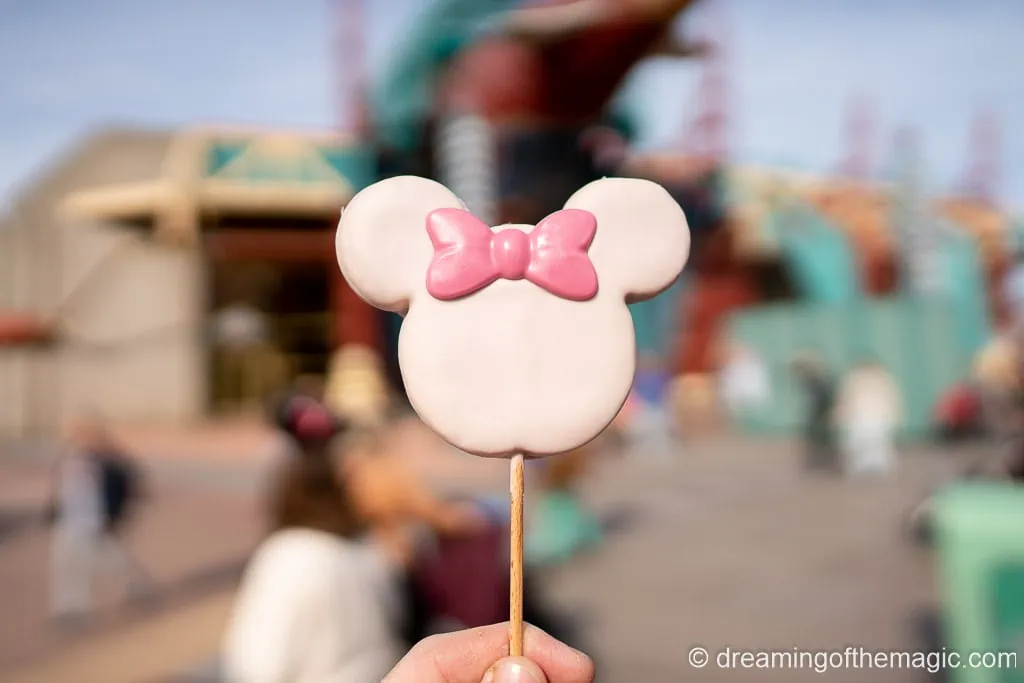 There are Mickey Mouse-shaped delights including meringues, marshmallows, cookies and macarons. Other highlights include the Boardwalk Candy fudge and the cupcakes.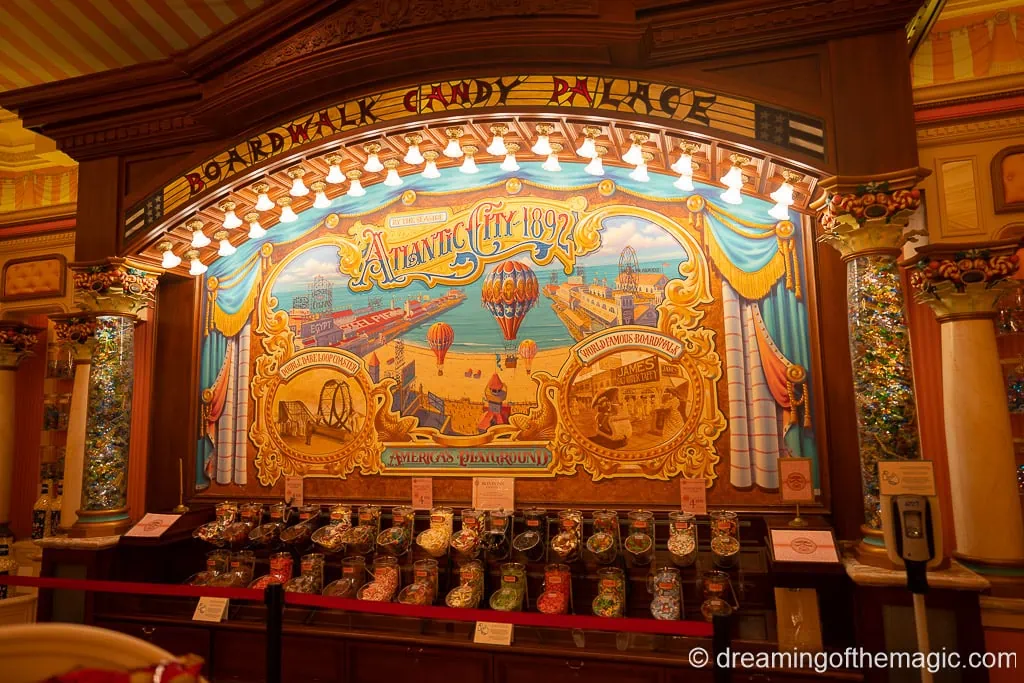 13 | Champagne (with souvenir glass)
Location: at the Castle end of Main Street (outside the Gibson Girl Ice Cream Parlour)
If champagne is your treat of choice then keep your eyes peeled for the champagne cart at the end of Main Street. Served in a keepsake glass adorned with the Sleeping Beauty Castle, the champagne marks the celebration of the 30th Anniversary of Disneyland Paris.
There's something really special about sipping a beautiful glass of champagne in front of the Sleeping Beauty Castle while soaking up the wonderful energy at Disneyland Paris.
Disneyland Paris snacks: the champagne cart usually appears in the afternoon or early evening. We didn't see it everyday but it's quite easy to miss so keep a lookout for other guests sipping on champagne!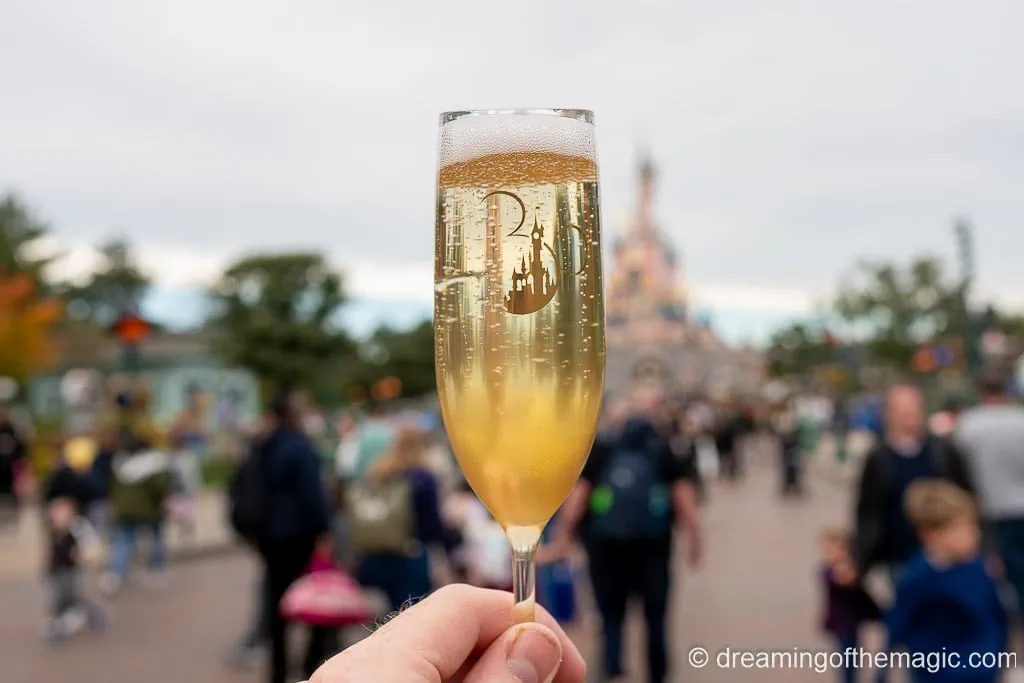 14 | Mickey Mouse Pizza
Location we purchased snack: Pizzeria Bella Notte and Colonel Hathi's Pizza Outpost
If you are going to eat pizza at Disneyland Paris then you had better make sure it's Mickey Mouse-shaped pizza! The Mickey Mouse pizza is available with cheese or pepperoni toppings and is tasty as well as super cute!
The large pizza (pictured) is from Pizzeria Bella Notte and it and a smaller, kids' version is on sale at Colonel Hathi's Pizza Outpost.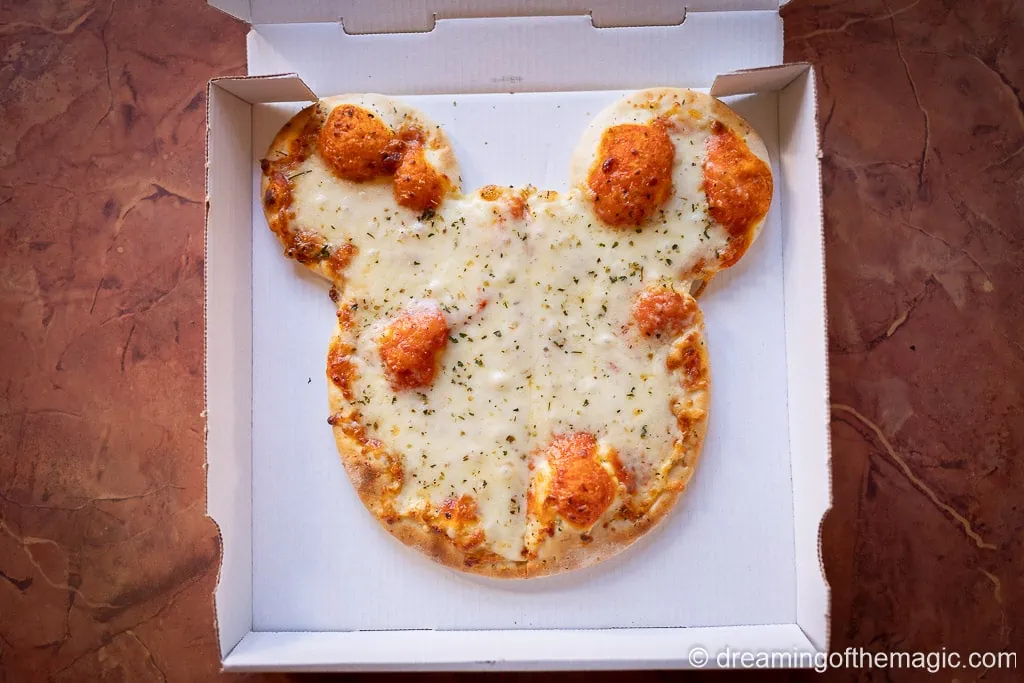 15 | L'Hiver Gourmand/Rendez-vous Gourmand
Location: La Place de Rémy
Depending on when you visit Disneyland Paris, you might spot some food trucks close to Ratatouille and Chez Remy. The little huts usually appear in the Christmas season as part of the Christmas market and again in the summer for the food and wine festival. This tiny collection of food trucks offers some of the best snacks in Disneyland Paris.
The Raclette Cheese is one of the stars of the food truck's offerings and is available in a sandwich or melted over pasta.
Disneyland Paris snacks: there's an excellent vegan truck, the Vegan Gourmet Food Stand, which sells a vegan chocolate cake/vegan Christmas log. It's one of the few vegan chocolate treats that we came across in the parks and it's a delicious treat.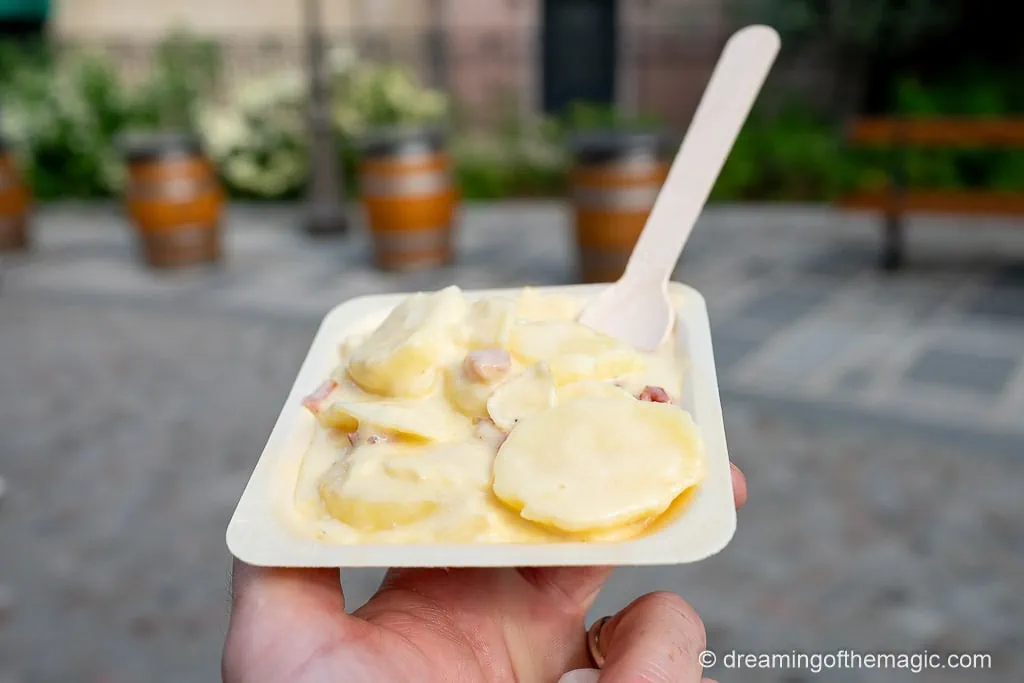 16 | Mustafar's Bites
Location we purchased snack: Rocket Café, Tomorrowland
This tiny snack truck tucked behind Hyperspace Mountain in Discoveryland serves our current favourite Disneyland Paris Sanck – Mustafar's Bites! These black-crusted cheddar cheese and jalapeno bites are the perfect balance of spice and cheese and are a must if you like some spice in your snacks!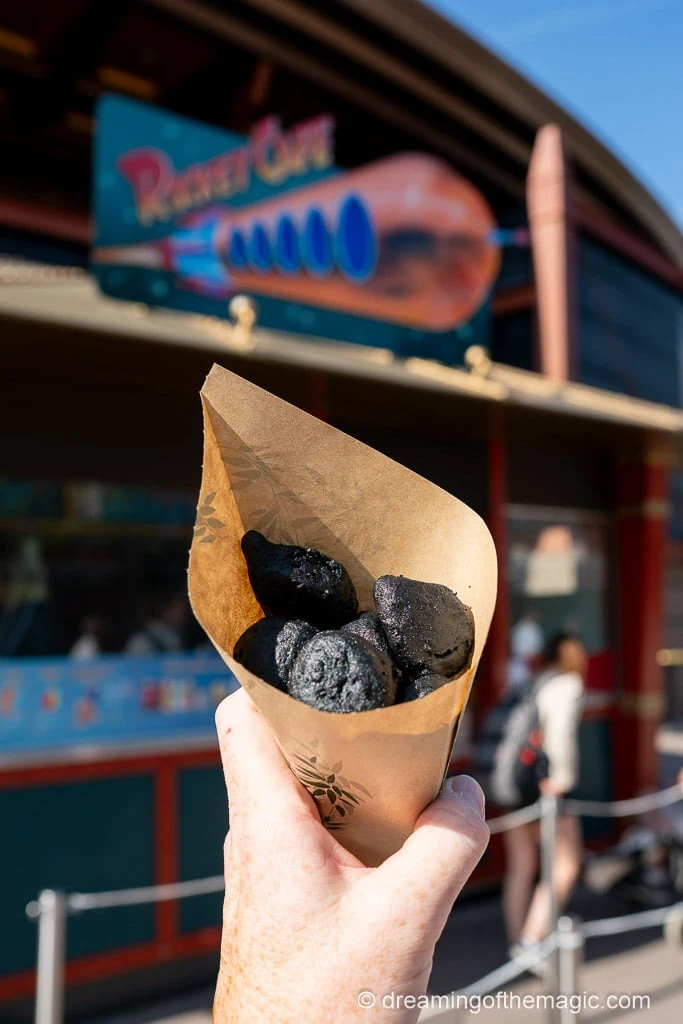 Rocket Café also offers other Star Wars-themed snacks including the Darth Vader and Stormtrooper Waffels and the Boba Fett Shortbread. These are all fun to try but the Mustafar Bites are our standout!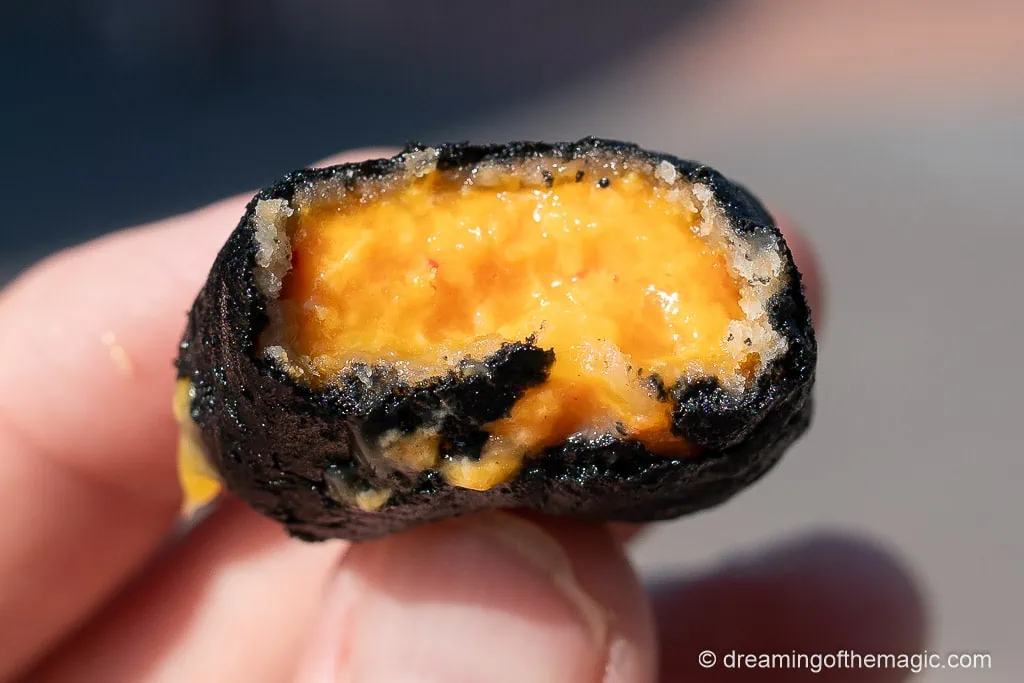 17| Buzz Lightyear Eclair
Location we purchased snack: Toon Studio Catering Co in Worlds of Pixar, Walt Disney Studios
After snacking our way Toy Story Land in Disney World's Hollywood Studios, we're huge fans of any Toy Story related treats! The 'Infinity and Beyond' Eclair is a Buzz Lightyear-themed eclair with green icing and a rich Hazelnut cream. You will need to be a Hazelnut fan for this one as the filling has a strong nutty taste – we are so we love this snack tribute to Buzz!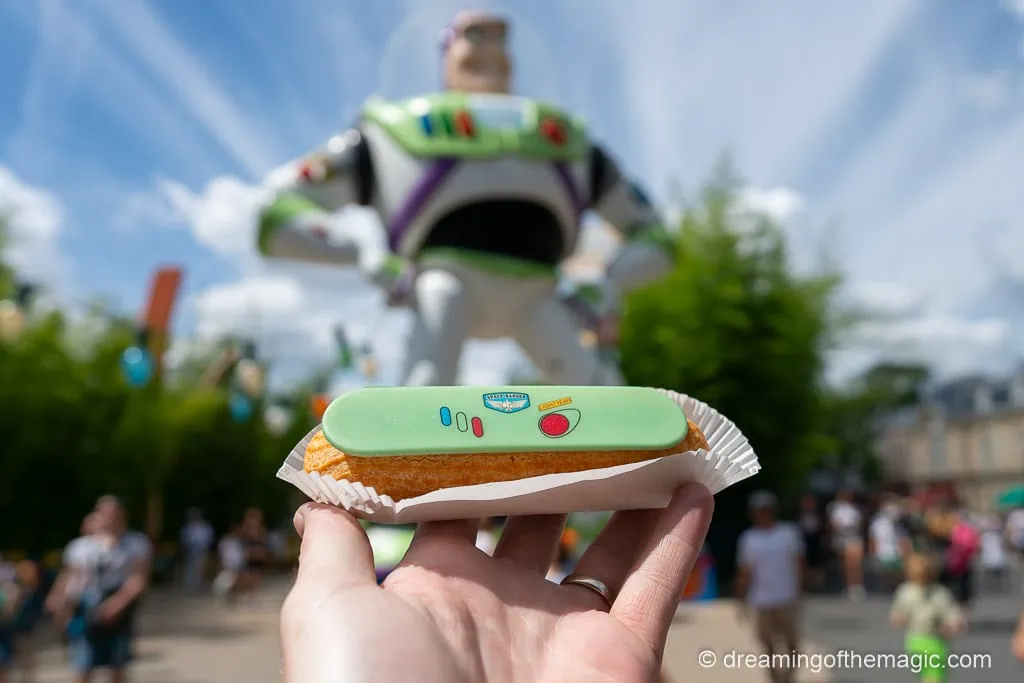 Check out our guide to Toy Story at Disneyland Paris for more on Buzz Lightyear and Friends.
18 |Sweet Treats at Victoria's
Location we purchased snack: Victoria's Home-Style Restaurant, Main Street, Disneyland Park
For sweet treats check out Victoria's Home Style Restaurant at the end of Main Street.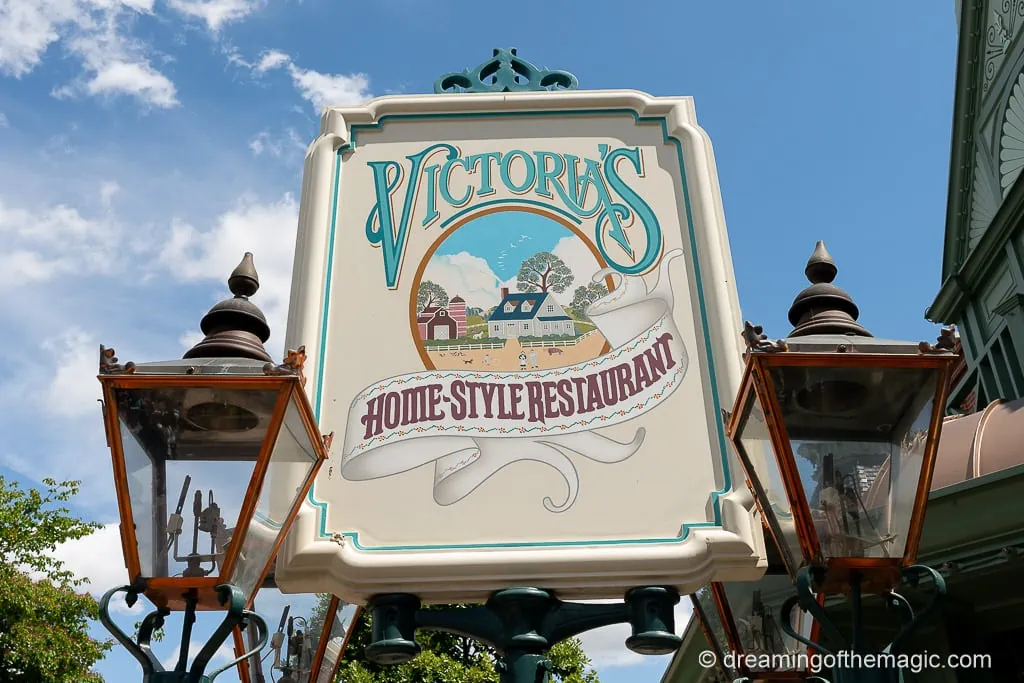 Victoria's is small and charming and offers dessert plates themed to the latest Disneyland Paris celebration – we've enjoyed wonderful Halloween, Christmas and Princess-themed snacks. The desserts are cute and easy to share and it's the perfect spot to take a break.
19 | Stitch Ice Cream
Location we purchased snack: Ben and Jerries, Disney Village
This Stitch ice cream is an adorable sweet treat for Stitch fans! Glace Stitch is comprised of vanilla ice cream, blue sprinkles and some cute pink Stitch ears. It's a simple snack but a delight for Stitch fans!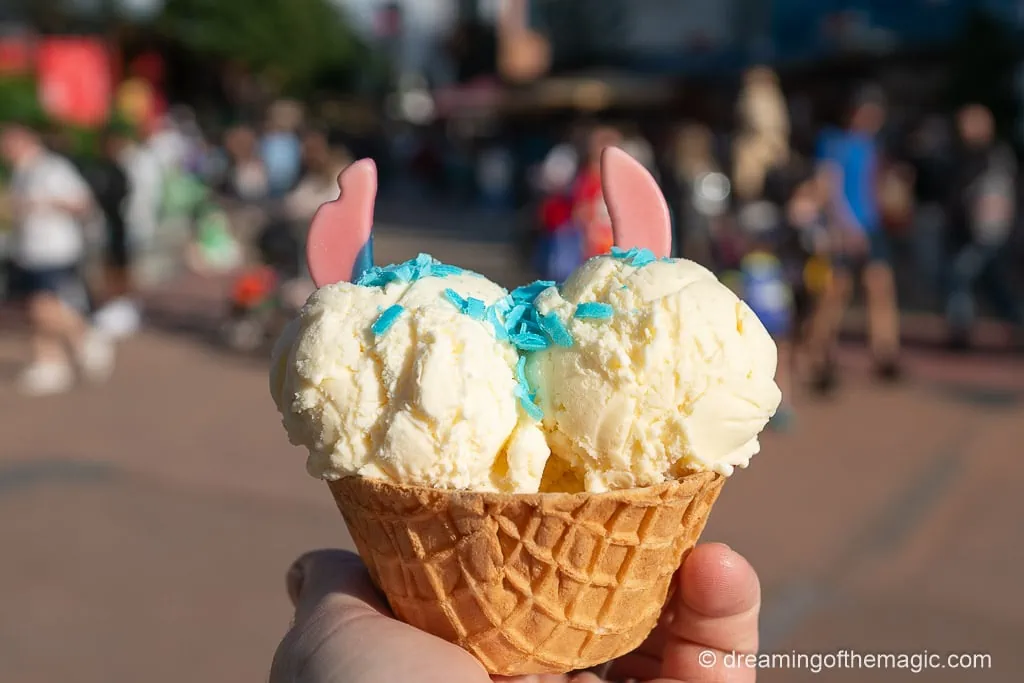 Check out our guide to Stitch at Disneyland Paris for more on Stitch!
20 | Cocktails at the Skyline Bar
Location we purchased snack: Skyline Bar, Disney Hotel New York – the Art of Marvel
It's not technically a snack but a cocktail at the Skyline Bar is one of our absolute favourite treats in Disneyland Paris. Served under the backdrop of the New York skyline, the bartenders mix up amazing cocktails and always spoil our kids with colourful non-alcoholic versions which they adore.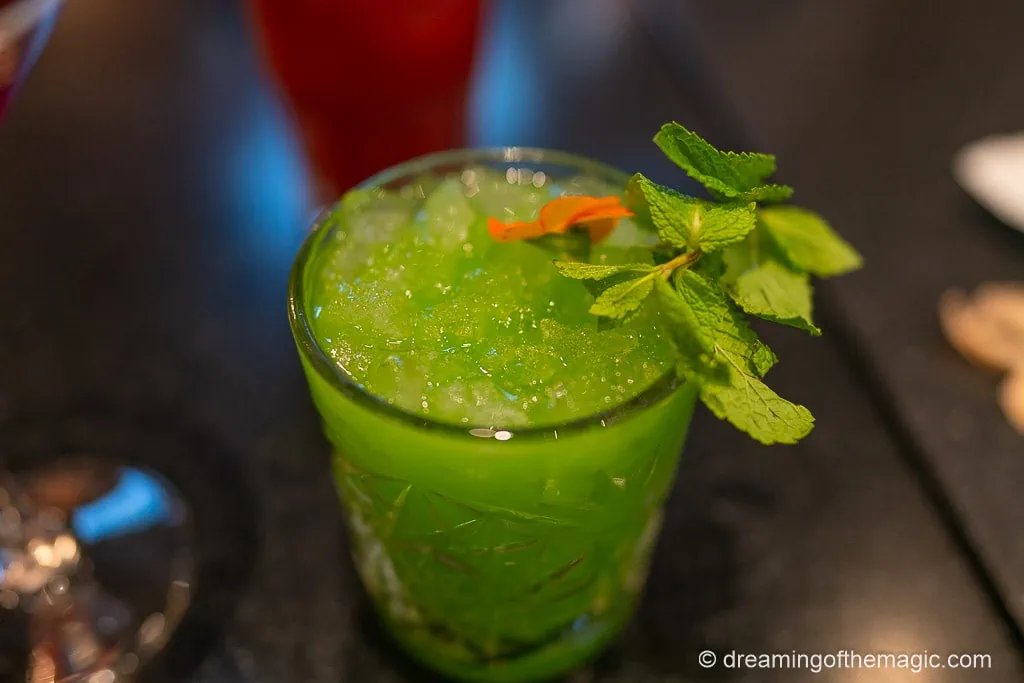 The Skyline Bar is located in Disney Hotel New York – the Art of Marvel and the hotel is a must visit for Marvel fans. Check out our full review of the Marvel Hotel at Disneyland Paris here!
21 | Glace Mickey
There's a general rule we follow at Disney – if it's a Mickey or Minnie Mouse-shaped treat then we have to try it! This vanilla-flavoured Mickey Mouse ice cream bar is a Disneyland Paris staple and the perfect treat for a sunny day in the parks.